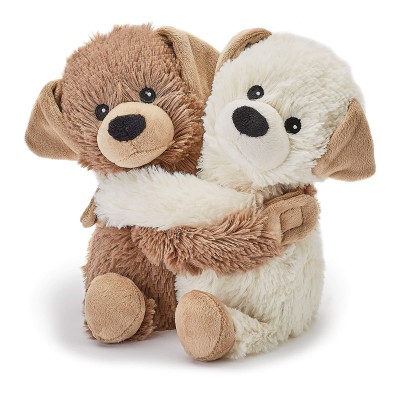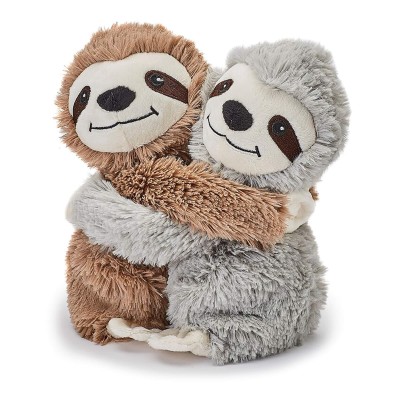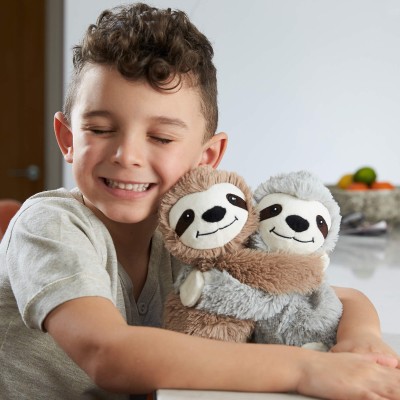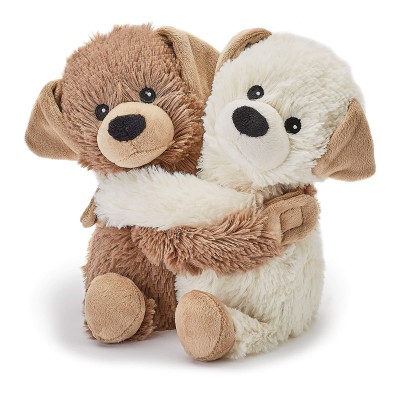 Warmies Heatable Soft Toy - Warm Hugs
BS8433
Description
Warmies Warm Hugs are a great heatable soft toy for all age groups and have hours of fun using their Warmies® Warm Hugs, knowing that they can be warm all night long. The Warm Hugs are a fully microwavable heatable soft toy yet entirely safe to hold tight. Simply heat them together or separate for hours of fun. Each Warm Hugs are gently scented with French lavender that is carefully sourced from local growers in Provence France.
Warm Hugs quick facts
Simple to use - just warm in a microwave – together or apart
Can be reheated hundreds of times
Surface clean regularly with a lightly damp cloth, allow to dry at room temperature
Beware of cheaper imitations.
Reviews
Sloths
- These were bought by my 13 year old son for his 2 younger sisters as a pair. They smell delicious and were perfect cuddle size, retain the heat well and are still requested at bedtime 6 months on (Rachel, 27/05/22)
So Cute
- I have bought these as a present. They look very cute together and I'm sure they will be enjoyed for that reason alone! (Deb, 15/03/21)
Fantastic!
- These arrived in super quick time. They're so soft and adorable, excellent quality. I bought for my daughter who is always stealing my wheatybag. She has slept with them every night since she had them. I would highly recommend! (Raine , 27/02/21)
Valentine's Day gift
- Excellent quality,just what I needed for my doggie mad wife, would recommend this product and company, good service (Dean, 27/02/21)
Warm Hugs
- I live these little sloths, they were for my niece and nephew as I have the bigger sloth, they are brilliant warmed up in the microwave or chilled in the fridge and have helped the children get to sleep quicker giving them one each and then hugging them together in the morning, we absolutely love them 😁 (MommaDuck, 23/10/20)
Great quality and quick delivery
- Our little ones love them. Feels much safer using these than a hot water bottle. Lovely and soft too. (Fay, 15/09/20)
Best gift ever.
- They are so cute .????❤️ (Dorthe denmark, 06/07/20)
Katy
- Bought this duo for my twin niece and nephew. They were the perfect gift for over the winter months, and they can have one each. Two cute heatable teddy's, for two cute snuggable babies. (Katy, 07/06/20)
son loves it
- gave it to my 4 year old son who keeps them with him 24/7 can't get them off him great present. (Leo m, 27/02/20)
Cute
- I've had warmies heatable toys in the past but these sloth hugs are by far the cutest of them all. (Ellie James, 27/02/20)
cute kitties
- Cute little hugging kitties. They smell so good! (nicole, 27/02/20)
My son's new best friend!
- All of the character styles looked great, but I bought my son the sloths version. He has hold of them and gives them hugs a lot and has even named them. Amazing quality! Amazing product! (Keith, 27/02/20)
Perfect kids warmer for winter
- Puppy heat packs for my son and kittens and sloths for my daughters so they all have these kids toy heat packs in bed every night. Brilliant warmer gifts for kids. (Simone, 26/02/20)
Instructions
This product is safety tested by the manufacturer and has important heating instructions attached to the product when we send it to you.
Please refer to the manufacturers heating instructions provided with your product.
Please retain the heating instructions and follow them very carefully.
FAQs
Do these microwave toys come with lavender?
Yes. Each heat pack comes with lavender as standard and there is no option to remove it.
What are the contents inside the heat pack?
Each supplier uses their own content and each may vary. Typically a toy heat pack may be filled with wheat, millet, other seeds or even silica so if this is important to you to know in advance, please select the toy you are interested in and contact us to ask for the precise contents before placing your order. Each item will be clearly labelled on each product.
Can I wash the heat pack toy?
Each manufacturer we use for the toy heat pack have their own special instructions that will come supplied with your product. As a guide all the heat packs can be sponge cleaned with a damp sponge being careful not to get the contents wet, though some of our suppliers allow machine washing.
What are the covers made from?
Typically all heat pack toys are made from polyester though please look at the labelling that will be supplied with your product to be sure. If you have any concerns or want to know for sure in advance of your purchase please contact us before placing your order.
How long do I heat the product for?
Please refer to the manufacturers instructions that will be clearly labelled on the product you purchase.
Do you offer size and colour options on these products?
All options are shown to you when ordering the product. If non are shown then all information you may need about the size and colours will be shown in the description text on our web site or images shown otherwise, there will be no options to select from.
Are these heat packs suitable for toddlers?
The manufacturer of these items says that they should not be used by children under the age of 3 years at the time of writing. Adult supervision should always be given when in use with children.
Delivery
The information below is for guidance. Actual delivery costs and dates depend on the delivery address, weight and time your order is placed. Cut-off time for Overnight Orders is 12 noon.
| Price | Method | Manufacture Time | Delivery Time | Est. Delivery Date |
| --- | --- | --- | --- | --- |
| £4.99 | 2nd Class (Tracked) | 0-1 Days | 2-3 Days | Mon 11 Dec - Wed 13 Dec |
| £7.99 | 1st Class (Tracked) | 0-1 Days | 1-2 Days | Fri 8 Dec - Tue 12 Dec |
| £13.15 | DHL Courier (Economy M-F Pre 6pm) | 0-1 Days | 2-3 Days | Mon 11 Dec - Wed 13 Dec |
| £14.99 | Royal Mail Special Delivery (Overnight Mon-Sat Pre 1pm) | Today | Next Day (Mon-Sat) | Fri 8 Dec |
More Information
| | |
| --- | --- |
| Despatch | Today (Cut off time 3pm M-F) |
| Brand | Warmies (Intelex) |
| RRP | £14.99 |
| Filling | Millet Seed |
| Country of Origin | China |
| SKU | FGWAR026 |
| Gtin | 5060075686696 |
| Tariff Code | 9503004100 |
| Tariff Description | Stuffed Toys |
| Product Weight | 480 g |
| Product Dimensions | 20 x 17 x 9cm |
Product Options
Character
Puppies, Kittens, Sloths
Product Type
Heatable Toys
Warmers For > Microwavable Heating Pad
heating pad
heat pack > microwave heat pack
warmies

Warmies Heatable Soft Toy - Warm Hugs
- Puppies
FGWAR026
5060075686696
£14.99
480 g
20 x 17 x 9cm
Warmies Heatable Soft Toy - Warm Hugs
- Kittens
FGWAR024
5060075686672
£14.99
480 g
20 x 17 x 9cm
Warmies Heatable Soft Toy - Warm Hugs
- Sloths
FGWAR025
5060075686702
£14.99
480 g
20 x 17 x 9cm
Warmies Heatable Soft Toy - Warm Hugs