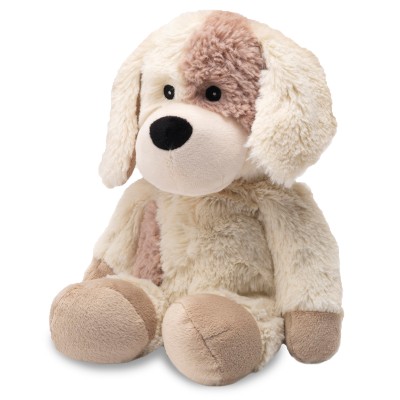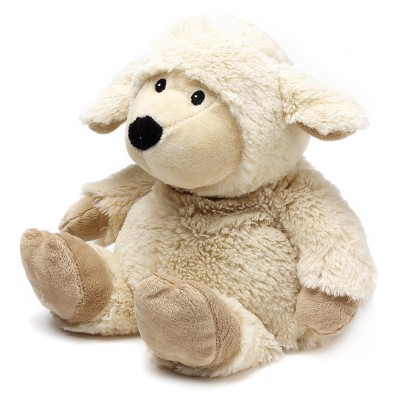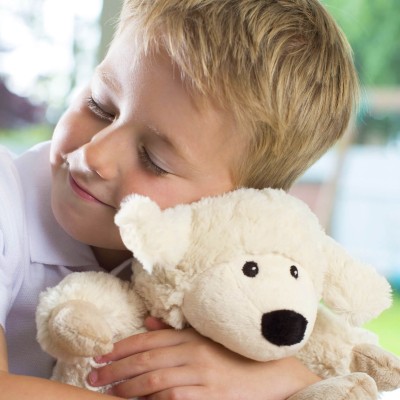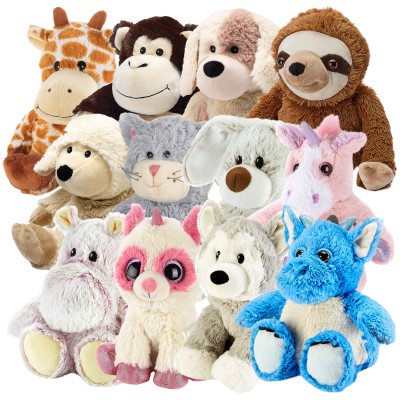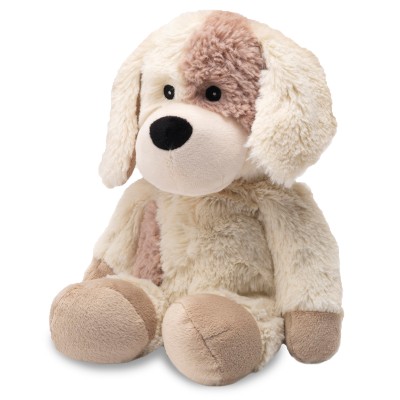 Warmies Heatable Soft Toy Plush Microwave Heat Pack
BS8433
Natural Filling
Description
Warmies® Plush Heatable Toys are our most popular heat pack for children in our softest plush furs.
Easily warmed in the microwave.
The most popular microwave toy in the UK.
Incredible value.
Supersoft plush furs.
Fun, friendly characters
Approx 30 cm by 15cm
Great for all ages.
Trusted Warmies® brand.
Cozy Plush microwave toys are a cuddly collection of heat packs which come in a range of animal designs. Each item is filled with millet seeds which have the same effect as a wheat filling but feels finer to the touch. Cosy Plush toys are also gently scented with lavender to provide a soothing effect.
Reviews
Perfect!
- I was looking for a safe hot water bottle for my little boy. This tiger is amazing! It is the perfect cosy temperature and maintains the heat for a really long time. He also loves it as a cuddly toy. Going to buy one for my daughter for Xmas as it exceeded my expectations. (Leanne, 14/10/23)
Wonderful
- 'Bella' is now very much-loved comforter. The company could not have been more helpful with their swift despatch - thank you. (Helen, 05/10/23)
Gorgeous and toasty
- A gorgeous soft toy for a child, with the added bonus you can heat it in the microwave. Keeps my son lovely and toasty and smells gorgeous. Would highly recommend (Nat, 25/10/22)
Perfect for any unicorn lover
- My daughter loves this. It's beautiful, so soft and snuggly. Heat up really well in the microwave and retains its heat well and smells gorgeous. (Nat, 25/10/22)
Purchased as a gift
- Bought this lamb for a friend who has lots of aches and pains and she absolutely loves it! She finds it very comforting and relaxing and uses it constantly (Liz, 06/04/22)
Perfect
- Just what a 3 year old wanted to snuggle up with now called Sparkles and 'is so cute'. (Lynne, 17/06/21)
Just right
- A 7 year old warms her husky up herself which helps her to relax and go to sleep. (Lynne, 17/06/21)
Good quality
- Fantastic quality and speedy delivery. Exactly what I needed. Thank you (Lauz , 28/05/21)
An absolute must have
- A cute adorable looking product. Soft to touch. A lovely lavender smell and excellent pain soothing. (Bernard Dale , 26/05/21)
Microwave heat pack- bunny
- Product is exactly as described and arrived promptly. The fur is really soft and good quality My bunny got adopted by my neice aged 5.. so I have purchased a second one to replace the original. Lovely product for all ages. (Christine Davies, 01/03/21)
Paddy the Sheep
- He's lovely, soft and cuddly and he smells lovely. He arrived promptly. I will say that I was slightly disappointed to see he was made in China (PEARL, 19/02/21)
Warmies bunny
- Very soft and cuddly. My daughter adores her bunny and it keeps her really warm in this cold weather. Feels well made. (Amy, 09/02/21)
Excellent hot monkey
- I've now replaced my parents with this wonderful monkey. He keeps me warm and doesn't complain when I squeeze him. The microwave likes him too, he's never had so much action. (Harry , 09/02/21)
Amazing maternity gift!
- I purchased this for a pregnant friend who sleeps with it every night! She loves it! (Kal, 01/01/21)
Unicorn Warmie
- Bought for my granddaughter for Christmas- she loves her unicorn with a hot bottom! Soft, cuddly and attractive- great idea. (Jeeves97 , 31/12/20)
Adorable
- Soft, fluffy. Sweet. Perfect gift for a snuggle in bed (Lottie, 29/12/20)
Cheeky
- Cheeky, soft . Full of wheat... (Lottie, 29/12/20)
Bunny
- Excellent (Gaynor, 13/12/20)
Monkey and Puppy
- Bought as Xmas presents so not used yet but look very good quality and am sure they will be fun and cosy to take to bed. (Sarah, 03/12/20)
very cuddlly
- It is well made value for the money my granddaughter loves it (MURIEL, 30/11/20)
lovely
- It was a gift to my great daughter who lves very much so it is value for the money and well made (MURIEL, 30/11/20)
puppy
- thank you for your letter but I never received my puppy and thought I must have made a mistake ordering it as my computer skills are not good due to me being in my nineties. (margaret graham, 28/11/20)
Puppy
- Thank you. No I haven't tryed it out. It a gift for my grandson x. I love it , he will as well (Wendy , 29/10/20)
Dragon Heatable Soft Toy
- Quality product, arrived quickly, son loves it. Would recommend. (JoeOC, 24/07/20)
monkey
- got this for my son and he wont go to bed without it. (Louby46, 16/07/20)
Blue dragon
- This was a replacement for an owl we had 6 year previous this was better quality and well nade (Elvis , 11/07/20)
Lovely teddy
- Arrived in good time. Lovely soft teddy (Spanna , 08/07/20)
Best gift ever.
- This one is definitely worth buying .it has made my child sleep ? it is working???? (Dorthe denmark, 06/07/20)
.
- My boys loved these! Can also be good for when growing pains kick in. (fallnothingoff, 01/07/20)
.
- My boys loved these! (fallnothingoff, 01/07/20)
I love him!
- The day I got Teddy Bear was the best day of my life. I love him. <3 (Kirsty, 21/06/20)
Winter bedtime
- These wheaty bags were a big hit with our grandchildren. Easy and safe to heat, they loved cuddling them when they came to us at Christmas (Booklover, 18/06/20)
Excellent quality.
- Excellent quality. Super soft and cuddly. The lavender is subtle, just right . My two boys aged 7 and 4 love theirs. (Alex, 17/06/20)
Grandkids all loved them
- Grand kids all loved them . . . . . (Joanie, 17/06/20)
Cuddly and warming
- Cuddly and warming . . . . . . . . (Fiona Williams, 16/06/20)
Mrs P
- Bought this for my 20 yr old goddaughter who had travelled to UK and was feeling the cold. She loved it so much she took it back to Oz as hand luggage! It's softy cuddly and a great comforter even if you don't microwave it! (Mrs P, 06/06/20)
Great for granny
- Bought wheaty puppy for my elderly Mum which she loves. Carers heat him up so she can take him to bed but also during the day if she needs a heat boost as she feels the cold even in a hot summer. Thank you so much (Morwenna)
Happy little boy now
- My little boy loves his monkey, A fabulous comforter when he is scared, unwell or can't sleep. A quality product that meets all expectations. (anonymous)
Excellent product
- Bought this to replace a worn out wheatie absolutely wonderful take it into work on cold days most of my colleagues have ordered one (Lilian Findlater)
My granddaughter loves it.
- Great, and safer than a hot water bottle as long as you follow heating guidelines. (Looby C)
Best birthday present ever
- Excellent product.Purchased as a birthday gift for my daughter who was very pleased with her cushion. The cushion is of an excellent quality and so soft and plushy. (Lorraine Price)
This wheaty dog is so comforting
- I was absolutely delighted to receive my wheaty dog. Its so cute and will be a great help to me to help ease arthritic pain. (Bev)
Love these cute WheatyBags
- Have bought Wheaty Bags before and they are brilliant. Love the fact they are safe for the children to snuggle into bed with. They are very well made and so, so soft they quickly become a favourite at bedtime. Have bought more as gifts as I think everyone should have one :o) (PaulaM)
A surprise Christmas present for a friend
- I'm sure this will be enjoyed. I have tried it out and am happy with my purchase. (Valerie)
perfect companion
- my son loves his monkey. A great companion to keep him warm on these cold evenings. The lavender scent soothes him off to sleep. It's just perfect. Thank you (keona)
Lovely present
- Really pleased great present for my friend (anonymous)
I love my Wheat Bag
- I love my Puppy Wheat bag. (Sandra)
I love it!
- Just what I wanted. Keeps me lovely and warm and wouldn't be without him. (Kate)
Cozy Plush Microwave Toy
- Ordered the puppy one. He's adorable, plus keeps you nice and warm! Looks lovely on my bed. (Ann)
Cosy plush soft toy
- Good quality, lovely soft 'fur' my grand daughters loved them! (Helen)
Well received Christmas present
- Just delightful (Gelamonica)
My daughter (2) loves her warm monkey!
- Bought for my daughter to try and help her sleep in her own bed. Although she still doesn't stay in her bed all night, she does cuddle monkey all night long! The heat lasts for ages. (Elly)
son loves monkey wheat bag
- Excellent item son loves the monkey!! (Louise limbert)
This Was The Perfect Gift
- Super fast delivery ... Purchased this for my friend how has just been diagnosed with Crohn's and she loves it. Highly recommended (PaulH)
Wife and daughter both adore this product
- Daughter suffers from sore neck, this product is soft enough to mould around her neck resulting in relief. (Felix12)
Plush wheaty toy
- Good quality, arrived promptly and reasonably priced, what more can I say! (Lesleyc)
Scented Gorilla
- I love the feel and scent of this gorilla. A lovely comfort in bed. (O Atkinson)
Peaceful bedtime!
- My granddaughter can't wait to go to bed now for her beauty sleep,her new friend Microwave,the wheat dog are inseparable.Thank you so much for your wonderful service all the family are delighted as you can imagine. (Linda Longstaff)
These were prizes for pensioners club they loved them good service
- Absolutely brilliant really good service and price will need some for Christmas (Joan Eminson)
neice & mum love the warm cuddliness of these animals
- Great delivery at xmas time Lovely soft toys that keep my neice& mum warm at night (Jeremy Smith)
Really helped settle the new puppy :)
- I bought this for my new 8 week old puppy, these are great toys to help remind them of missing litter mates, with the added lavender to calm him we have had very restful nights, with him sleeping right through the night, cuddled up to his surrogate puppy :) (anonymous)
lovely cuddly animals
- ordered a cuddly sheep and monkey as Christmas presents for friends children. Website easy to use and select items, all arrived promptly. Both animals look lovely and cute, very cuddly! (Sharon)
Can't wait to see my Grand-daughters face when she gets her micro pig
- Lovely little pig good size really cuddly (Lesley)
Very cute
- My two boys love these cosy warm polar bears. They're lovely and soft and cuddly. Brilliant for little kids and grown up too apparently. Grandma is after one!! I sense a Winter gift will be ordered for her soon. :) (Miss H)
Great bedtime friend!
- Bought this to replace a previous version. Lovely soft fur and cheeky expression means my son won't go to bed without it! Arrived ahead of scheduled time too. (Emma)
Lovely product.
- The piggy wheat bag is so soft and snuggly! The lavender smell is subtle and my little one just loves it at bedtime. I want one too! Smashing quality product. (Jen48)
son loves his monkey
- My son complained his bed was cold, i thought of hot water bottle but didnt think this was safe so ordered wheatybag. When it arrived my 6 year old was screaming with delight, he couldnt wait to use it at bedtime. Smells lovely and warms him up. Has used it every night sine purchased, excellent buy (gail)
Christmas Presents
- My 15 year old grandson asked for one of these because he liked his little brother's so much! (Gillian Thacker)
Daughter & puppy love this lamb.
- Bought the lamb some years ago for my daughter. It's soft, cuddly and easy to heat up in the microwave.(Good value for money) She loves it. When we got our puppy I used the lamb in the puppy's bed for company and warmth at night. She also loves it. The puppy won't give it up now so ordered another one for my daughter. Everyones happy now ! (Sarah)
Love the monkey!
- The monkey cozy plush heat toy is very soft and cuddly. My 3 year old loves cuddling him and most adults want one too! Good packaging and delivery. (Julie)
4 year old granddaughter thinks Lamby is great
- The sheep version of the microwaveable cuddly toy has proved adorable and useful too. It takes hardly any time to get warm enough for a small person, but she also enjoys playing with the comforting plush cuddly sheep! Reasonable price, with excellent service information and postage times. Highly recommended. (Sue Johnston)
Bought for my wife
- She loves it gets more cuddles than me. (David Hague)
So soft and lovable!!!
- Bought the Lamb cozy plush as a Christmas gift. Great present for any one at any age, wish I had bought every body one of these to stop the arguments on Christmas day. An all year round practical yet adorable present. I will most certainly be buying this type of product again. (anonymous)
More Reviews
Instructions
This product is safety tested by the manufacturer and has important heating instructions attached to the product when we send it to you.
Please refer to the manufacturers heating instructions provided with your product.
Please retain the heating instructions and follow them very carefully.
FAQs
Do these microwave toys come with lavender?
Yes. Each heat pack comes with lavender as standard and there is no option to remove it.
What are the contents inside the heat pack?
Each supplier uses their own content and each may vary. Typically a toy heat pack may be filled with wheat, millet, other seeds or even silica so if this is important to you to know in advance, please select the toy you are interested in and contact us to ask for the precise contents before placing your order. Each item will be clearly labelled on each product.
Can I wash the heat pack toy?
Each manufacturer we use for the toy heat pack have their own special instructions that will come supplied with your product. As a guide all the heat packs can be sponge cleaned with a damp sponge being careful not to get the contents wet, though some of our suppliers allow machine washing.
What are the covers made from?
Typically all heat pack toys are made from polyester though please look at the labelling that will be supplied with your product to be sure. If you have any concerns or want to know for sure in advance of your purchase please contact us before placing your order.
How long do I heat the product for?
Please refer to the manufacturers instructions that will be clearly labelled on the product you purchase.
Do you offer size and colour options on these products?
All options are shown to you when ordering the product. If non are shown then all information you may need about the size and colours will be shown in the description text on our web site or images shown otherwise, there will be no options to select from.
Are these heat packs suitable for toddlers?
The manufacturer of these items says that they should not be used by children under the age of 3 years at the time of writing. Adult supervision should always be given when in use with children.
Delivery
The information below is for guidance. Actual delivery costs and dates depend on the delivery address, weight and time your order is placed. Cut-off time for Overnight Orders is 12 noon.
| Price | Method | Manufacture Time | Delivery Time | Est. Delivery Date |
| --- | --- | --- | --- | --- |
| £4.99 | 2nd Class (Tracked) | 0-1 Days | 2-3 Days | Mon 11 Dec - Wed 13 Dec |
| £6.99 | 1st Class (Tracked) | 0-1 Days | 1-2 Days | Fri 8 Dec - Tue 12 Dec |
| £10.99 | Royal Mail (Special Delivery Overnight Mon-Sat Pre 1pm) | Today | Next Day (Mon-Sat) | Fri 8 Dec |
| £13.32 | DHL Courier (Economy M-F Pre 6pm) | 0-1 Days | 2-3 Days | Mon 11 Dec - Wed 13 Dec |
More Information
| | |
| --- | --- |
| Despatch | Today (Cut off time 3pm M-F) |
| Brand | Warmies (Intelex) |
| RRP | £12.99 |
| Filling | Millet Seed |
| Country of Origin | China |
| SKU | FGCOP011 |
| Gtin | 5060075683626 |
| Tariff Code | 9503004100 |
| Tariff Description | Stuffed Toys |
| Product Weight | 816 g |
| Product Dimensions | 34 x 18 x 10cm |
Product Options
Character
Puppy, Sheep, Pink Sparkly Unicorn, Blue Dragon, Husky Dog, Lion, Tiger, Marshmallow Hippo, Brown Sloth, Grey Hamster, Beige Hedgehog
Product Type
Heatable Toys
Warmers For > Microwavable Heating Pad
heating pad
heat pack > microwave heat pack
warmies

Warmies Heatable Soft Toy Plush Microwave Heat Pack
- Puppy
FGCOP002
5060075680397
£19.99
820 g
40 x 18 x 12cm
Warmies Heatable Soft Toy Plush Microwave Heat Pack
- Sheep
FGCOP001
5060075680342
£19.99
820 g
34 x 18 x 12cm
Warmies Heatable Soft Toy Plush Microwave Heat Pack
- Pink Sparkly Unicorn
FGCOP012
5060075684937
£19.99
822 g
35 x 19 x 15cm
Warmies Heatable Soft Toy Plush Microwave Heat Pack
- Marshmallow Hippo
FGCOP009
5060075684883
£19.99
860 g
34 x 19 x 15cm
Warmies Heatable Soft Toy Plush Microwave Heat Pack
- Husky Dog
FGCOP008
5060075682667
£19.99
844 g
28 x 19 x 13cm
Warmies Heatable Soft Toy Plush Microwave Heat Pack
- Blue Dragon
FGCOP014
5060075684555
£19.99
830 g
34 x 21 x 12cm
Warmies Heatable Soft Toy Plush Microwave Heat Pack
- Lion
FGCOP023
5060075687051
£19.99
790 g
24 x 13 x 11cm
Warmies Heatable Soft Toy Plush Microwave Heat Pack
- Tiger
FGCOP022
5060075687037
£19.99
790 g
24 x 13 x 11cm
Warmies Heatable Soft Toy Plush Microwave Heat Pack
- Grey Hamster
FGCOP025
5060075686924
£19.99
740 g
18 x 15 x 11cm
Warmies Heatable Soft Toy Plush Microwave Heat Pack
- Brown Sloth
FGCOP021
5060075687617
£19.99
790 g
23 x 15 x 11cm
Warmies Heatable Soft Toy Plush Microwave Heat Pack
- Beige Hedgehog
FGCOP019
5060075687709
£19.99
720 g
18 x 15 x 11cm
Warmies Heatable Soft Toy Plush Microwave Heat Pack