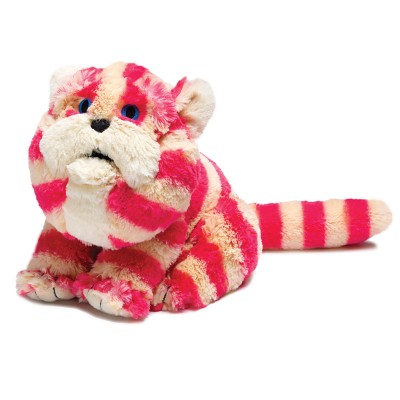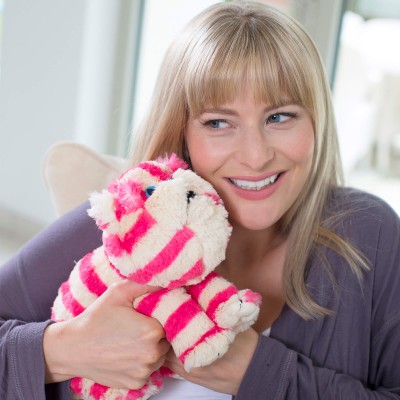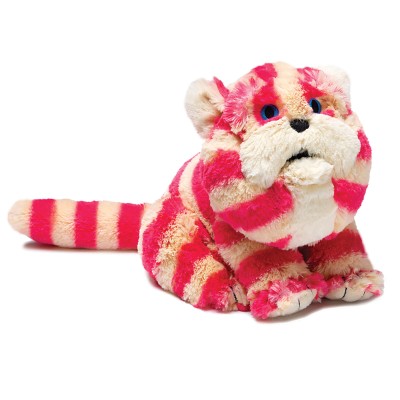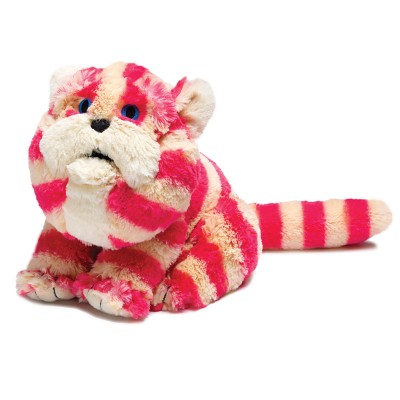 Bagpuss Heatable Soft Toy
BS8433
Description
Bagpuss Heatable Soft Toy in bright pink and cream stripes is made in a super soft fur fabric and will be loved as a cuddly toy even if the child doesn't happen to warm him in the microwave every time he is played with.
Bagpuss microwave heat pack cuddly toy.
Super soft and cuddly.
About 19cm tall.
Confirms to British Standards and is CE approved.
I was a Clangers fan at 4 years old though think I was a little old by the time Bagpuss came out in what I remember to be the late 70's or possibly early 80's but I have to say this microwave heat pack Bagpuss is truly lovely. Conforms to British Standard BS 8433:2004. CE Certified.
Reviews
Our new friend
- Bagpuss is beautifully made & extremely cuddly my husband may have to sleep in the spare room as room on the bed is running out one more soft toy and his gone,oh well. (Fifi, 11/11/23)
My Dear Old Friend Bag Puss.
- Once warmed up, my old friend Bag Puss is a comfort to all who hold him close. (Professor Yaffel , 05/09/23)
Bagpuss
- Ordered for my daughter for Christmas as she loved Bagpuss when she was little so not used the product yet but it looks lovely and the delivery service was very good. (Pat, 04/12/20)
Company
- I missed having a cat on the bed. Ours died 4 years ago. The bagpuss is lovely. Warm and weighty. Just like having a cat on the bed. (Amber, 26/10/20)
Absolutely love him!
- So happy with this little Bagpuss. He looks adorable. Fantastic quality, he holds hear well and the lavender smell is really nice and soothing, not overpowering. (Sarah, 10/10/20)
present
- brought for a friend as a thank you present and she loved it (k, 12/07/20)
Present for my granddaughter
- She loves it! (Kathy D, 27/06/20)
Love it!
- Bought for myself love it ! ! ! ! ! (Anon, 17/06/20)
so cuddly
- My granddaughter loved it, so cuddly . . . . (Fincham, 15/06/20)
Virginia
- Bagpuss keeps me warm and is very cuddly,a great help in my isolation . (Virginia , 11/06/20)
lovely soft cuddly cushion
- Arrived on time, lovely soft cuddly cushion and good value. (anonymous)
Bagpuss
- I can't believe how quickly these were delivered, living in Spain usually takes weeks to receive orders even in this day and age. After my husband burned(by accident) her other bagpuss my daughter was distraught, after only a few days I have a happy little girl again. This is 4th WheatyBag I have ordered and I am always extremely happy with the products (Honor)
Granddaughter delighted
- I gave this to my granddaughter for Christmas rather than a conventional hot water bottle. She was delighted and thought it was magic. A delight to keep her warm on those cold nights. (Janet Crowther)
my little granddaughter loves her Bagpuss
- my little granddaughter loves this Bagpuss. He smells wonderful, lavender and she likes to cuddle him at bedtime. (Patricia Houghton)
Excellent idea for a Christmas present
- My Mum has bought a Bagpuss Wheatbag for my Granddaughter for Christmas. It is well made and cute and I am sure she will love this. I would recommend this product. It is slightly bigger than I thought but that is a good thing. (HROD4394)
Bag puss a great hit
- The bag puss wheatybag is a great hit with my 9 year old. Greatly adored and simple to heat up and warm for bed time. We are in huge trouble if we dare forget to prepare it! Soft and larger than we thought, with a calming smell of lavender. An excellent gift! (Lydia)
Cushion is wonderful
- This wheatybag is wonderful. It stays hot for a long time and is great for calming my arthritic knee. Delivery service is excellent. Would definatly use this company again. (Karen)
Directors Review of Bagpuss, the microwavable heat toy
- I love these Bagpuss microwave toys.  They sell and sell every Christmas and through winter as they are made to the higtest quality and by a very reputable factory we have used for many years.  These hot toys are made in lovely soft fur and will not dissapoint anyone receiving them. Be careful of cheap copies that are available on the internet and be assured of their quality when you look for the safety markings. (Michael Robinson)
Instructions
This product is safety tested by the manufacturer and has important heating instructions attached to the product when we send it to you.
Please refer to the manufacturers heating instructions provided with your product.
Please retain the heating instructions and follow them very carefully.
FAQs
Do these microwave toys come with lavender?
Yes. Each heat pack comes with lavender as standard and there is no option to remove it.
What are the contents inside the heat pack?
Each supplier uses their own content and each may vary. Typically a toy heat pack may be filled with wheat, millet, other seeds or even silica so if this is important to you to know in advance, please select the toy you are interested in and contact us to ask for the precise contents before placing your order. Each item will be clearly labelled on each product.
Can I wash the heat pack toy?
Each manufacturer we use for the toy heat pack have their own special instructions that will come supplied with your product. As a guide all the heat packs can be sponge cleaned with a damp sponge being careful not to get the contents wet, though some of our suppliers allow machine washing.
What are the covers made from?
Typically all heat pack toys are made from polyester though please look at the labelling that will be supplied with your product to be sure. If you have any concerns or want to know for sure in advance of your purchase please contact us before placing your order.
How long do I heat the product for?
Please refer to the manufacturers instructions that will be clearly labelled on the product you purchase.
Do you offer size and colour options on these products?
All options are shown to you when ordering the product. If non are shown then all information you may need about the size and colours will be shown in the description text on our web site or images shown otherwise, there will be no options to select from.
Are these heat packs suitable for toddlers?
The manufacturer of these items says that they should not be used by children under the age of 3 years at the time of writing. Adult supervision should always be given when in use with children.
Delivery
The information below is for guidance. Actual delivery costs and dates depend on the delivery address, weight and time your order is placed. Cut-off time for Overnight Orders is 12 noon.
| Price | Method | Manufacture Time | Delivery Time | Est. Delivery Date |
| --- | --- | --- | --- | --- |
| £4.99 | 2nd Class (Tracked) | 0-1 Days | 2-3 Days | Mon 11 Dec - Wed 13 Dec |
| £7.99 | 1st Class (Tracked) | 0-1 Days | 1-2 Days | Fri 8 Dec - Tue 12 Dec |
| £13.31 | DHL Courier (Economy M-F Pre 6pm) | 0-1 Days | 2-3 Days | Mon 11 Dec - Wed 13 Dec |
| £14.99 | Royal Mail Special Delivery (Overnight Mon-Sat Pre 1pm) | Today | Next Day (Mon-Sat) | Fri 8 Dec |
More Information
| | |
| --- | --- |
| Despatch | Today (Cut off time 3pm M-F) |
| Brand | Warmies (Intelex) |
| Filling | Millet Seed |
| Country of Origin | China |
| SKU | FGBAG003 |
| Gtin | 5056656338238 |
| Tariff Code | 9503004100 |
| Tariff Description | Stuffed Toys |
| Product Weight | 800 g |
| Product Dimensions | 45 x 19 x 12cm |
Product Options
Product Type
Heatable Toys
Warmers For > Microwavable Heating Pad
heating pad
bagpuss
warmies

Bagpuss Heatable Soft Toy
Bagpuss Microwave Heatable Toy Heat Pack
FGBAG003
5056656338238
£19.99
800 g
45 x 19 x 12cm
Bagpuss Heatable Soft Toy