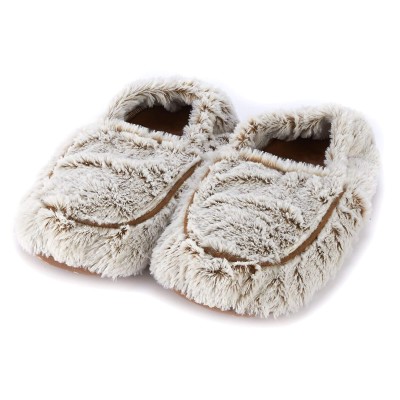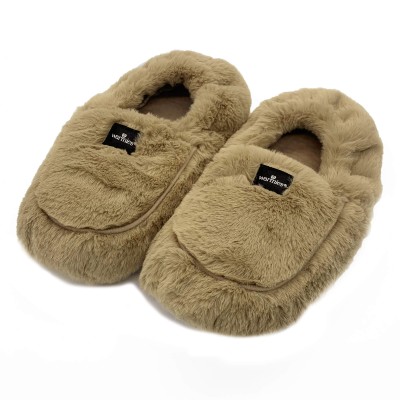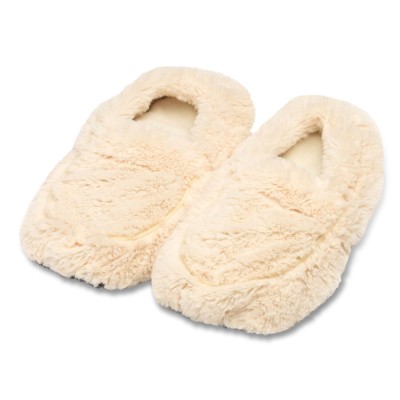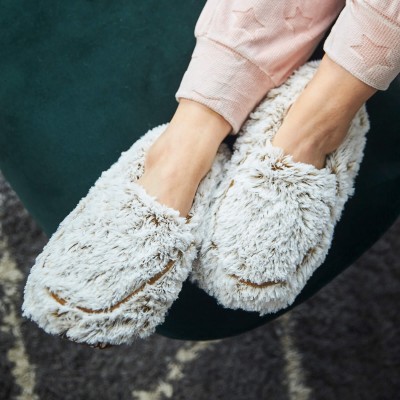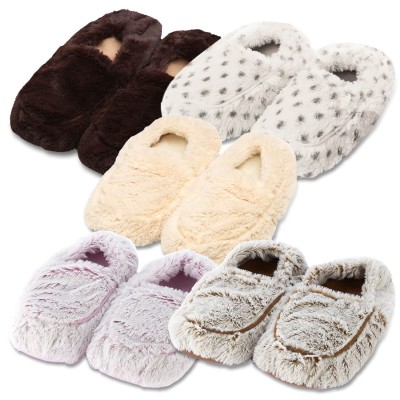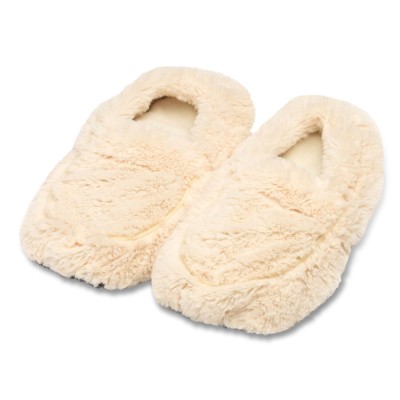 Warmies Heatable Slippers (Microwave Heat Pack)
BS8433
Natural Filling
Description
Warmies Heatable Plush Slippers Slippers manufactured from the highest quality materials and warmed in the microwave for the ultimate winter warming gift.
Warm in the microwave.
Hot Slippers are a great gift.
One size fits all (approx. size 3 to 7)
Lovely colour choices.
Non slip sole.
Instant warmth and comfort.
Gently scented with lavender.
Trusted Warmies® brand.
Reviews
Excellent
- Lovely cosy slippers, quick to warm in microwave. Long lasting, very well made (Ant, 28/01/22)
Perfect!!
- This is an amazing product.Absolutely perfect for warming freezing toes. (Izzie, 17/02/21)
Super
- Lovely product. Does a great job of heating feet up and smells good too. Should have chosen a different colour. (Dixon, 06/12/20)
Cosy slippers
- Good product slippers fit well and warm up a treat! (Angela , 30/11/20)
Excellent product
- Lovely item did the job perfectly (Lyndyloo, 22/06/20)
Toasty treat
- The perfect combination ,pretty slippers and the comfort of warmth too . (PAMELA CRUMPTON)
Slippers
- These slippers are an amazing buy and worth every penny (Kathleen Dempsey)
My 95 year old Aunt wears one slipper to warm her hands
- Wheatybags are the best way of warming her hands. She likes to put one hand in and the other on top. Since you no longer make hand warmers the slippers are a good alternative. (anonymous)
so soft
- I was so pleased with this product it was delivered very promptly and the quality was first rate. (Claire)
Good Service
- Swift and excellent service for what I ordered. (Jill)
Hot Slipper Review
- Very efficient & speedy order process. The Slippers were a spur of the moment present and were well received. They have been in regular use and do what it says on the tin. Aparently they take a little getting used to in terms of walking with them on but when seated they provide just the right amount of background warmth. (anonymous)
wheaty bags service
- The order process was so simple and delivery came when expected! So full marks for a very quick and simple ordering process. The slippers are fab and will make a great Christmas present to keep toes toasty warm. (anonymous)
Instructions
This product is safety tested by the manufacturer and has important heating instructions attached to the product when we send it to you.
Please refer to the manufacturers heating instructions provided with your product.
Please retain the heating instructions and follow them very carefully.
FAQs
Can I choose a size of the heatable slippers and boots?
No. Size or colour options are shown online in the selections you can make when ordering though size tends to be a one-size-fits-all. If non are shown then the information is provided in the text written about the product online.
Can I wash the product?
No. Please do not wash the product in a machine though you can wipe the product clean with a soft damp sponge or cloth and air dry before use.
Delivery
The information below is for guidance. Actual delivery costs and dates depend on the delivery address, weight and time your order is placed. Cut-off time for Overnight Orders is 12 noon.
| Price | Method | Manufacture Time | Delivery Time | Est. Delivery Date |
| --- | --- | --- | --- | --- |
| £4.99 | 2nd Class (Tracked) | 0-1 Days | 2-3 Days | Mon 11 Dec - Wed 13 Dec |
| £7.99 | 1st Class (Tracked) | 0-1 Days | 1-2 Days | Fri 8 Dec - Tue 12 Dec |
| £13.30 | DHL Courier (Economy M-F Pre 6pm) | 0-1 Days | 2-3 Days | Mon 11 Dec - Wed 13 Dec |
| £14.99 | Royal Mail Special Delivery (Overnight Mon-Sat Pre 1pm) | Today | Next Day (Mon-Sat) | Fri 8 Dec |
More Information
| | |
| --- | --- |
| Despatch | Today (Cut off time 3pm M-F) |
| Brand | Warmies (Intelex) |
| RRP | £19.99 |
| Filling | Millet Seed |
| Country of Origin | China |
| SKU | FGFUR011 |
| Gtin | 5060075683282 |
| Tariff Code | 6405209100 |
| Tariff Description | Heat Pack - Slippers / Boots |
| Product Weight | 780 g |
| Product Dimensions | 30 x 28 x 5cm |
Product Options
Colour
Cream, Pink Marshmallow, Beige Marshmallow, Grey Marshmallow, Luxury Latte, Luxury Steel Grey, Luxury Charcoal
Product Type
Heatable Slippers
Warmers For > Microwavable Heating Pad
heating pad > microwave heat pack
heat pack
warmies

Warmies Heatable Slippers (Microwave Heat Pack)
- Pink Marshmallow
FGFUR015
5060075686009
£19.99
836 g
30 x 28 x 5cm
Warmies Heatable Slippers (Microwave Heat Pack)
- Grey Marshmallow
FGFUR018
5056656338306
£19.99
836 g
30 x 28 x 5cm
Warmies Heatable Slippers (Microwave Heat Pack)
- Beige Marshmallow
FGFUR016
5060075685989
£19.99
836 g
30 x 28 x 5cm
Warmies Heatable Slippers (Microwave Heat Pack)
- Luxury Charcoal
FGFUR012
5060075688089
£26.99
750 g
30 x 28 x 5cm
Warmies Heatable Slippers (Microwave Heat Pack)
- Luxury Steel Grey
FGFUR019
5060075688096
£24.99
750 g
30 x 28 x 5cm
Warmies Heatable Slippers (Microwave Heat Pack)
- Luxury Latte
FGFUR020
5060075688072
£24.99
750 g
30 x 28 x 5cm
Warmies Heatable Slippers (Microwave Heat Pack)
- Cream
FGFUR011
5060075683282
£19.99
780 g
30 x 28 x 5cm
Warmies Heatable Slippers (Microwave Heat Pack)