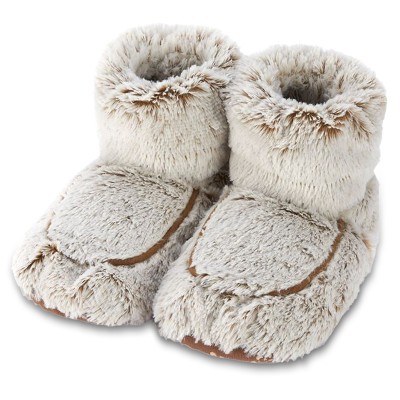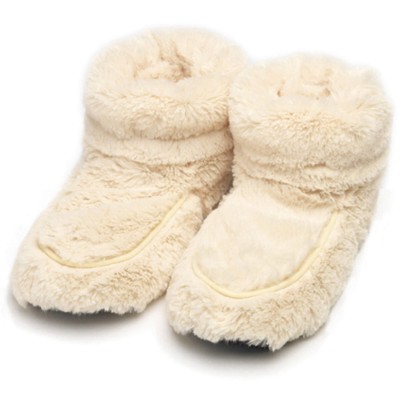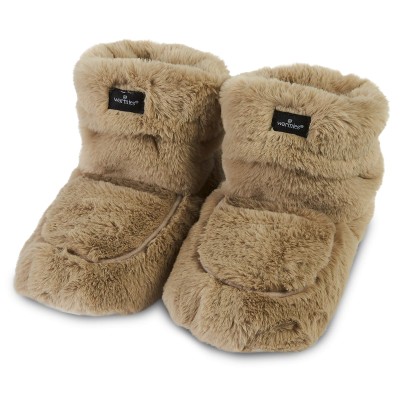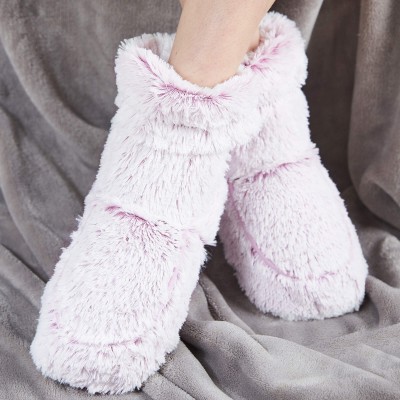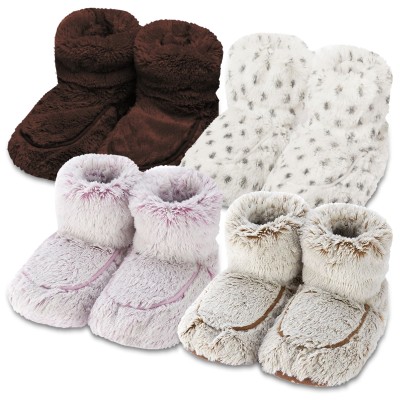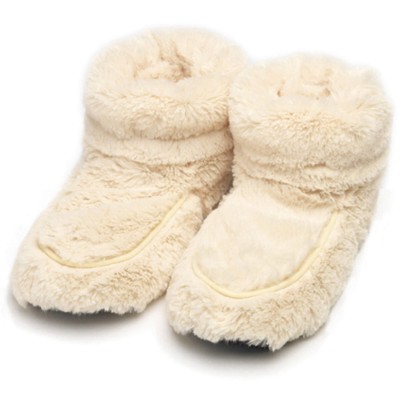 Warmies Heatable Boots (Microwave Heat Pack)
BS8433
Natural Filling
Description
Furry Warmies Heatable Boots are fully microwavable Luxury Plush Boots to provide comfort and warmth for tired aching feet.
Fully microwavable heat pack boots.
Designed for comfort and warmth.
Gently scented with lavender.
Perfect gift.
Can be worn long or short rolled around the ankles.
Non slip sole.
One size fits all (approximately 3 to 7).
We have a lovely choice of Furry Warmers Hot Boots in thick fake fur that can be microwaved for keeping your feet warm about the house. To compliment these we have also chosen a great pair of Warmies in Aqua Blue which you can also heat in the microwave though these are made from really soft touch corduroy fabric instead of fur. Conforms to British Safety Standard BS 8433 : 2004.
Reviews
Toasty toes
- I am delighted with these ´hot boots ´. They're easy to use and do exactly what I hoped they would do - heat up my freezing feet. Wished that I had discovered them sooner. (Véronique , 17/09/23)
Toasty
- Lovely and warm and comfy. But do not think you know better and overheat them. They'll smoke! (GeorgiaT, 12/02/23)
Hot feet
- Brilliant for my freezing cold feet, thank you 🙂 (Wendy, 01/01/21)
So great!
- These little foot saunas are so amazing!! (Kal, 01/01/21)
Small sized
- Received mine today and they are gorgeous Just a shame they are really tight. I'm a 7 and would say these will fit up to a size 6 as my big toe is squashed. The fit is very tight around the ankles. (Murnit, 27/11/20)
Lovely and comfortable
- These are lovely, comfy slippers and have made lockdown life cosier. The gentle lavender sent is very soothing. (Alex, 05/07/20)
Especially good for elderly or people who feel the cold
- Excellent winter/ Christmas present Especially good for elderly or people who feel the cold (Fiona Williams, 16/06/20)
Great for aching feet
- Great for aching feet and snuggling up in on a cold day (Ellie , 11/06/20)
Enid Self
- I found the slippers hard to put on, but once on they kept my feet nice and warm for quite a long time. (Enid Self, 08/06/20)
Hells bells
- Very comfy and keep my feet warm, does what it says (Hells bells , 05/06/20)
Warm Feet? YES!
- These really do work and kept my daughter's feet warm for hours. She has a medical condition which affects her circulation and often suffers with extremely cold feet. A brilliant product. (Susie Owen)
Lovely warm slippers
- Just 60 secs in microwave and straight on the feet, easy as anything warm and toasty. (ToniB52)
I love this hot slippers
- Only 60 secs in microwave and hot enough to warm the coldest feet. Easy to use and comfortable. (ToniB52)
great company!
- Absolutely love everything this company sells. Excellent customer service and extremely fast shipping,even at Christmas time!have recommended to friends and family. (Abbie)
Cozy Plush Boots
- I suffer with arthritis, so these microwave boots (with clear instructions)been brilliant this cold winter! Well made, lovely soft and comfortable. Good variety of colours and designs. Recommend if problems with your feet! (anonymous)
Cosy boots
- Bought for a Xmas present so I have not taken out the packaging but have arrived in good condition Look really snuggly struggling not to open for myself (anonymous)
She loved them
- These were a Christmas present for my daughter and she loved them. We have had products from you before and they have all been excellent. The time especially delivery was better than expected. I ordered late and the website stated I would not receive them until after Christmas but I went ahead as she had picked them for a present. They actually arrived in time for Christmas - absolutely excellent. Thank you. (Caz)
wheaty bag slipper
- I was delighted with my purchase, thanks (isbelle hunter)
Lovely cosy slippers
- I recently purchased the microwave fluffy slippers for my daughter as she suffers from cold feet. She absolutely loves them. The slippers themselves are so fluffy and warm with the added bonus that you can alsopop them in the microwave for those extra chilly nights. I would definately buy them again. (Sonia Batts)
Really comfy and soothing
- I am an MS sufferer and my feet get extremely cold. These hot boots are v comfy and provide a lot of comfort. (anonymous)
Wife loves slippers
- After initial problems with my order, Wheatybags reacted very swiftly to amend the error and remedy the situation leaving me and my wife (recipient) very pleased. Nice to be treated with respect when purchasing!!!! (Tony Grainger)
My wife loves having nice warm feet.
- My wife always has cold feet, bought these slippers for christmas and she has worn them every night since. Top present. (Tony Phelps)
Mum's the word
- Purchased the slippers for my mum for Xmas and she really loves them. At her age her feet suffer with the cold, so this was a great idea. (Helen Miller)
Much welcomed gifts
- Bought these for Christmas for a pensioner and a student - both think they're a fantastic product. (anonymous)
Fab microwave slippers
- I bought my mum some microwave slippers for my mum. arrived on time incredibly soft. They are a Christmas present so don't know what they will be like on but incredibly good quality. Thank you (Nancy11kate)
Hot Boot Review
- Very efficient & speedy order process. The Boots were a spur of the moment present and were well received. They have been in regular use and do what it says on the tin. Aparently they take a little getting used to in terms of walking with them on but when seated they provide just the right amount of background warmth. (anonymous)
More Reviews
Instructions
This product is safety tested by the manufacturer and has important heating instructions attached to the product when we send it to you.
Please refer to the manufacturers heating instructions provided with your product.
Please retain the heating instructions and follow them very carefully.
FAQs
Can I choose a size of the heatable slippers and boots?
No. Size or colour options are shown online in the selections you can make when ordering though size tends to be a one-size-fits-all. If non are shown then the information is provided in the text written about the product online.
Can I wash the product?
No. Please do not wash the product in a machine though you can wipe the product clean with a soft damp sponge or cloth and air dry before use.
Delivery
The information below is for guidance. Actual delivery costs and dates depend on the delivery address, weight and time your order is placed. Cut-off time for Overnight Orders is 12 noon.
| Price | Method | Manufacture Time | Delivery Time | Est. Delivery Date |
| --- | --- | --- | --- | --- |
| £4.99 | 2nd Class (Tracked) | 0-1 Days | 2-3 Days | Mon 11 Dec - Wed 13 Dec |
| £7.99 | 1st Class (Tracked) | 0-1 Days | 1-2 Days | Fri 8 Dec - Tue 12 Dec |
| £13.36 | DHL Courier (Economy M-F Pre 6pm) | 0-1 Days | 2-3 Days | Mon 11 Dec - Wed 13 Dec |
| £14.99 | Royal Mail Special Delivery (Overnight Mon-Sat Pre 1pm) | Today | Next Day (Mon-Sat) | Fri 8 Dec |
More Information
| | |
| --- | --- |
| Despatch | Today (Cut off time 3pm M-F) |
| Brand | Warmies (Intelex) |
| RRP | £24.99 |
| Filling | Millet Seed |
| Country of Origin | China |
| SKU | FGFUR001 |
| Gtin | 5060075683206 |
| Tariff Code | 6405209100 |
| Tariff Description | Heat Pack - Slippers / Boots |
| Product Weight | 896 g |
| Product Dimensions | 30 x 25 x 5cm |
Product Options
Colour
Cream, Beige Marshmallow, Pink Marshmallow, Luxury Latte, Luxury Charcoal, Luxury Steel Grey
Product Type
Heatable Boots
Warmers For > Microwavable Heating Pad
heating pad
heat pack > microwave heat pack
warmies

Warmies Heatable Boots (Microwave Heat Pack)
Pink Marshmallow
FGFUR005
5060075685972
£24.99
896 g
Warmies Heatable Boots (Microwave Heat Pack)
- Beige Marshmallow
FGFUR006
5056656338290
£24.99
896 g
31 x 22.5 x 5.5cm
Warmies Heatable Boots (Microwave Heat Pack)
- Cream
FGFUR001
5060075683206
£24.99
896 g
30 x 25 x 5cm
Warmies Heatable Boots (Microwave Heat Pack)
- Luxury Charcoal
FGFUR002
5060075688058
£31.99
840 g
29 x 21 x 18cm
Warmies Heatable Boots (Microwave Heat Pack)
- Luxury Steel Grey
FGFUR009
5060075688065
£31.99
840 g
29 x 21 x 18cm
Warmies Heatable Boots (Microwave Heat Pack)
- Luxury Latte
FGFUR010
5060075688041
£31.99
840 g
29 x 21 x 18cm
Warmies Heatable Boots (Microwave Heat Pack)