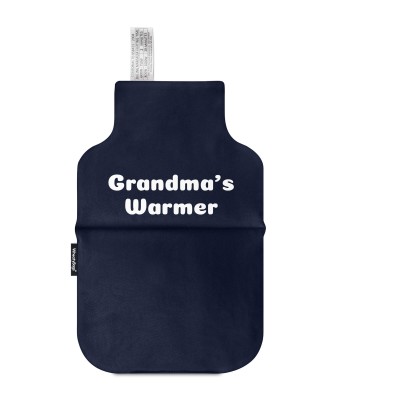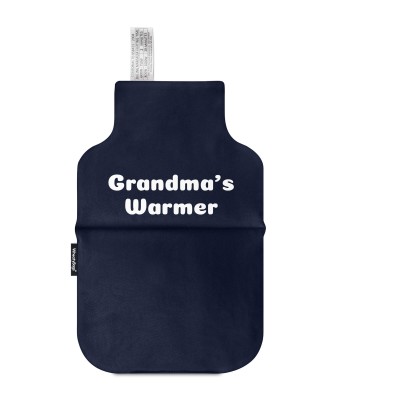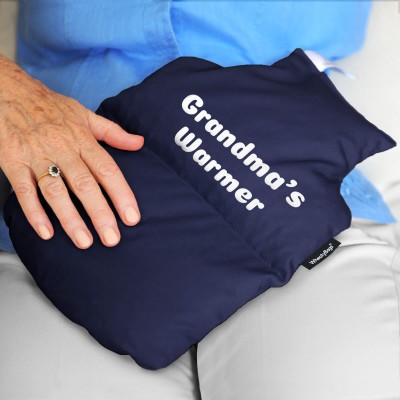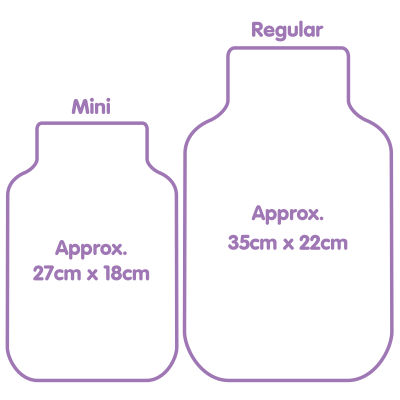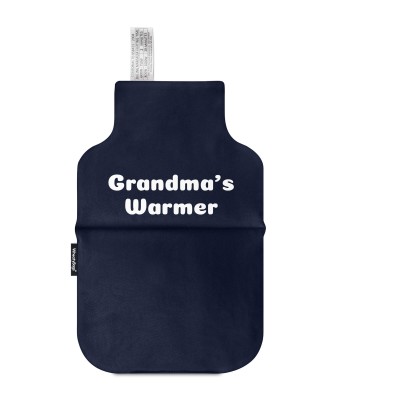 Wheat Bag Microwavable Heating Pad (Bottle Shape)
UK Made
BS8433 : 2004
Natural Filling
Organic Options *
Description
Wheat Bag Microwaveable Heating Pad Bottle Shaped Heat Pack provides soothing warmth and comfort as an alternative to conventional hot water bottles.
Microwaveable Wheat Bag.
WheatyBags® (BS8433) Safety Tested.
Size options.
Removable cover option for cleaning.
Optional lavender aroma scented or unscented.
Can be personalised with text.
Trusted WheatyBags® UK Made brand.
The Wheat Bag Microwaveable Heating Pad Bottle Shaped Heat Pad is filled with natural wheat and can be scented with soothing lavender as an option to make this scented or unscented. Its traditional design is well recognised and excellent for comfort and warmth.
The heat pack comes with an optional removable cover which is made in a wide range of premium quality fabrics and can also personalised with the text of your choice.
Reviews
good purchase
- This is safer for me to use than filling a hot water bottle at my advanced age and I'm pleased with it though it doesn't get quite as hot as I would like. However it comforts my cold feet. There are many warnings online about the dangers of overheating, so I give it 2 mins 40 seconds, only a little more than the recommendation. (Mary Foote, 05/12/23)
C
- Haven't used it yet as it's a present, but looks all ok. Ordered one a while ago and still using it. This one just as good, good quality and good size (C, 30/11/23)
Warmth in a bag
- I've always loved wheat filled bags. So easy to heat up in the microwave for hours of warmth🔥, and I received mine in time for the very cold weather❄️ (Lisa, 30/11/23)
Very good quality
- Struggled to find other wheat packs online that weren't just thin strips - the product is well made and I'm sure will last a long time. (Caroline , 17/11/23)
Pleased
- Have used these for years and buy them for gifts, Heat well, stay warm and if I get under a warm throw no need for central heating to be on. (Maggie Kurc, 02/11/23)
Just the job
- I brought this for my mum who's in her 80s as a safe alternative to hot water bottles. Total peace of mind. (Sherlock , 01/11/23)
Purple Wheatybag
- Very satisfied with the hot water bottle bought two ! (Toni, 01/11/23)
Hotties
- Great product (Snoopy, 31/10/23)
My mum loved it
- I bought this for my elderly mum as I think traditional bottles are too dangerous when she tries to fill them and struggles to thighten the stopper. This is the perfect solution. It's easy and safe to heat and smells lovely. (Jill, 27/10/23)
Very good : Brilliant as a thoughtful gift too.
- Yes; pleased that we purchased it. Better than a hot water bottle from safety considerations and because of not chilling. The additional fleece provides worthwhile added cosiness. The smaller size (27 cm) is perfect for use on neck. We have been careful not to overheat but the lavender fragrance has faded somewhat. Would be good if heat lasted longer with a thermally denser core but that is about the only trade off. Overall - very pleased. Who can you give one to? (Kenneth Hale, 18/10/23)
Unusual
- Bottle is in 2 parts so folds in middle. So fits well in microwave Not over hot. (Fred, 14/10/23)
Snuggly
- The wheat bags are great! Warm and large enough to snuggle up to when the weather gets cold. (Geoff Lawrence, 19/09/23)
Great
- Heats up well and helps with aches (Dmp70, 12/09/23)
Invaluable
- I used this microwaveable wheatybag to help with an episode of back pain. The warmth from the bag really helped to relieve my back. (PennyB, 10/09/23)
Microwave bottle
- Excellent, have used it every day/night. Could not manage without it. (BellaDeana, 09/09/23)
Best thing ever
- My wheat bag is used almost every day from September to April and some days in the summer. Don't know what I'd do without it. (Lia, 06/09/23)
Better than a hot water bottle.
- Better than hot water bottle because when the heat is gone it does not go cold, so if your feet touch it in the middle of the night , it does not wake you up . (Tom, 25/08/23)
wheaty bag
- very good product does the job (Graham Hoyland, 22/08/23)
a present
- I haven't had a complaint. (Els, 17/08/23)
Wheat heat bag
- Does exactly what it's meant to do. Better than a hot water bottle and you don't pour boiling water over your hand. Retains heat longer. Can feel a little damp when first heated, but shake it and give it another 30 seconds and it's good. Used it on sore muscles and cold feet! (John, 28/05/22)
Quality product
- I love the shape of this - so nice to snuggle down with in bed on a cold winter's night. (Happy , 14/04/22)
Convenient
- Excellent substitute for a conventional hot water bottle. 2 mins in the microwave and it's ready to use and stays warm for a long time (Brian , 26/03/22)
Great wheat bag.
- This is a great product and does what it says it will do - heats up quickly and retains the heat for a good period. Also soft and tactile. (SK, 09/06/21)
Wheat bags
- They are great just what I wanted (Fran, 25/05/21)
Amazing
- Love the wheat bag . It's safe and remains warm for a long time . (Sk, 19/05/21)
My hottie
- Love my hottie, I cuddle it every night. (Sue, 19/05/21)
Great present
- Gave this to a friend for his birthday... and he has used it every day since! Personalising ... made it that little bit more special. (Nicola, 12/05/21)
Review
- I have four different sizes which I use for pain from rheumatoid arthritis and bursitis. I bought one for a friend with a spigelian hernia. She says it's wonderful. The pain just melts away. (Jean, 05/05/21)
Fantastic Product
- I brought this Heating Pad for my mum. She had an old one which had seen better days. The fleece fabric feels super soft and I went for the option of adding lavender which smells absolutely amazing. Would definitely recommend. (Char, 26/04/21)
Wheaty bag
- Love this , it's a good size , cozy fleece cover , stays warm well into night ,a good delivery service . Excellent service would definitely recommend (Lindi, 09/04/21)
Wheat bags
- Love these bags - helps my sore back (Evelyn, 08/04/21)
Very Good
- Bought 2. One for my Father and one for myself - and we are both very happy to use to relieve back pain - a great comfort. (Linda, 08/04/21)
Great
- Great heat pack, easy to use and retains heat well - bought for my daughter's period pains and she's really happy with it (Jennie, 06/04/21)
Purple heat pack
- Sent as present which was much appreciated. Very prompt service.Have always had good experience from this firm. (Liz, 20/03/21)
A present for partners mum.
- She is happy with her wheat bag. Another who uses it for pain relief rather than taking pills. Also having a removable cover is popular. (Imogene , 12/03/21)
WheatyBags
- Very good and well made and allows by the different bags to be use all over the body could have a little more filling (Mark, 11/03/21)
Great product
- This item was bought as a present and the recipient was really pleased. Just what she needed and the personalisation made it extra special. (Pam, 27/02/21)
My mom loves it!
- Thank you very much for the quick turnaround on this product. Mom loved the personalisation and the quality of the cover etc was great. No complaints. Very happy customer. Would recommend. (Sharonpoolan , 26/02/21)
Sheath bag .
- Very pleased thank you (Roaf Head , 26/02/21)
Cuddly wheaty bag
- Great product, lovely and cozy when heated. 5 star rating (Dids, 25/02/21)
Cuddly wheaty bag
- Great product. I can recommend. 5star rating (Dids, 25/02/21)
Pink Bottle
- all that it says it is, a great comfort and more, easy to apply to the painful spot glad I chose this shape. (Beryl, 25/02/21)
Great product
- First class service from WheatyBags I've used these bags in the past and would highly recommend this product for use in busy physiotherapy clinic (Gerry , 17/02/21)
Mrs
- Excellent - everything you said it was. (Eunice, 12/02/21)
Great
- Very good product. (Pat, 10/02/21)
Does what it says on the label 😊
- A wonderful product that helps calm and relax you, so important in these difficult times. Well worth the money. (Cathy, 09/02/21)
Excellent bag
- This bag is perfect for your back, shoulders or tummy. It hold heat for a good amount of time and has a soft, removable cover. I recommend this 100% (Colin, 02/02/21)
Good Product
- lives up to expectations, so 5 stars from me. (Eric Gawler, 29/01/21)
Great
- I love this wheat bag, fleece cover is so cosy, I cuddle this every night. (Sue, 27/01/21)
Cosy toes
- Happy with my purchase. Nice to know it won't leak water in my bed. (Helen, 26/01/21)
Hot water bottle replacement for toddler
- Excellent. Safe for a toddler in a cot. Delighted with the product. (NancyDann, 25/01/21)
Wheat bag
- Fabulous and cosy (Jan, 21/01/21)
Microwaveable Heating Pad
- I purchased the bag and cover to enable me to give my whippet a heat pad treatment between sessions of physiotherapy. It has proved to be popular and she happily lies with the heated pad on her back until it cools. It is quite weighty so I do make sure that she is lying down before putting it on her but there does not appear to be any sign that it is too heavy for her to bear. (Paul, 21/01/21)
Wheaty bag
- Just as good as I hoped. (Betsy, 19/01/21)
Perfect gift !
- My mother lives in a lovely care home but due to H&S cannot have an electric blanket or water bottle....This is the perfect gift. Easier to heat ( x2 mins in the microwave), safe, and has her name on it so can't go missing! Postage was very quick, but too expensive - my only negative comment. Otherwise, great quality , great product. Thank you. (Clare, 03/01/21)
Correct
- Good product, as described. Delivered promptly as usual. Would recommend. (Elaine Harris, 02/01/21)
Great product
- This does exactly what it says on the tin. I am pleased with the product. (Diane , 02/01/21)
Great product
- This does 3xactly what it says on the tin. I am pleased with the product. (Diane , 02/01/21)
heat comfort
- Very usfull , I am using it for lower back pain and is helpfull.a, allows heat to be placed where it is required (Robert, 31/12/20)
Love it.
- It's great ,took me years to be a convert from hot water bottle with always a worry of a leak but no more thank you. (Frank, 28/12/20)
Great product
- Perfect size to fit under my T-shirt (Churchie, 25/12/20)
Nursy Pursy
- Well made bag and keeps warm for a few hours (Nursy Pursy, 22/12/20)
Wheaty Bag
- The Bag arrived well packed lovely colour and really soft to the touch. I have to admit to not using it yet but will no doubt find it very useful as the one I had before burst so this one is in reserve. (John, 19/12/20)
Bottle shaped heat pack
- Does the job! (Joan bok, 16/12/20)
Wheat bag
- 5 stars (Gramps, 15/12/20)
Heat pack
- Excellent (Sally, 12/12/20)
Cosy.
- Brilliant product,beautifully made soothes away aches and pains. Highly recommend. (Country lad, 09/12/20)
Mrs
- Not opened yet as it is a present. It arrived safely and was well packed (Mon, 09/12/20)
A happy wife Hooray
- My wife is achingly mortal and sufferers with ice cold feet and hands. Two minutes in the microwave and she's a happy bunny (Hertfordshire Dave, 05/12/20)
All postive
- Great product and service, at a good price. Can't say more than that ! (Joe, 03/12/20)
Heating pad
- The bottle shaped pack is excellent, being easy to heat in the microwave and the cover will be easily cleaned should this be necessary. It retains its heat for a good time and is everything I wanted from the item (Vera, 29/11/20)
For That Warming Feeling!
- Love this item, from ordering online may I say not too easy to understand, I thought I was getting the weary bag in the navy cover and then a spare 5 pound white cover extra so had a replacement while washing. But no only got the weary bag and the navy cover that I paid extra 5 pound for, so need to update what you get! However the bottle when heated 2 mins in microwave out the cover then put back in is amazing and as winter starts to take hold is very comforting and warms brilliantly. Very happy with the bottle. Thank you. (Lovely, 28/11/20)
Great warm feeling !
- This bottle is so good two mins in microwave and all set, used to be up 2 or three times in the night and now sleep right through. Thank you (Lovely, 28/11/20)
Bottle shaped heat pack
- Very good product. Warms up my cold feet when I go to bed. (Dot, 28/11/20)
Replacement hotty
- Great product, was worried about not being big enough but normal hot water bottle size, definitely would buy again. (Chalky White, 28/11/20)
Fleece fabric heat bag
- I brought 2 new wheaty bags to replace my old one which I have had for years, I went for the fleece fabric with the lavender I fleece fabric is very snug. I would be recommending to my friends (Anne, 14/11/20)
William
- A good size wheat bag and nice traditional shape. It works well and gives a good spread of heat. I would recommend it. (William, 11/11/20)
SMALL WHEATY BAG
- Bag warmed up nicely in Microwave as instructed. Just the right size for my wife's shoulder. (TP, 05/11/20)
retired
- excellent service. Heat pack performs well and is very comforting. (Terry, 04/11/20)
Very Good
- Much better than the conventional Water bottle, no leaks. (MikeD, 02/11/20)
Excellent
- Excellent wheatybag and looks good in pink (Pauline, 30/10/20)
Snuggly
- I do I love this heat pad. It is lovely and snuggly in bed. I would recommend it. (Doreen, 28/10/20)
Toasty
- Great alternative to a hot water bottle - safe and easy to use and nice and warm (Tom, 26/10/20)
Another great purchase
- My 3rd from this company. Always add Lavender scent and when personalised and given as a gift they're so well received:) Use one every night to warm my toes when getting into a cold bed. Well made and prefer to support a UK company. Keep going WheatyBags you're great! (sussexgal, 24/10/20)
Like a comforter for adults
- In the winter I put my bottle shaped pack in to microwave and out comes my cosy, comforting hot wheat bag that feels like a large toy for this old woman isolated because of Covid! This is almost making up for lack of contact with human touch! Just love it! (Mandy, 22/10/20)
Very pleased
- This is the second WheatyBag I've had and love them. Can think of no better recommendation than to say I wouldn't buy a wheat bag from anywhere else. Great quality and fair price (Jean , 15/10/20)
Does as promised
- Quality build well worth the money (Simba, 05/10/20)
Warm toes!!!
- Just the job for warming my toe spot in bed on the cooler nights. Especially good in not having to fear a traditional hot water bottle leaking. (dotty, 17/09/20)
Great comforter
- Had one for years but it wore out so now have a new one and couldn't sleep without it such a comfort and safer than a hot water bottle I thoroughly recommend it and it has a nickname George (Patricia. Pattielou, 07/09/20)
Better Than a Rubber Bottle
- I bought this bag on the recommendation of a friend, as I was experiencing muscle pain around my hip. Advantages Over Conventional Hot Water Bottle are....... 1. Easy and quick to heat by microwave oven. No need to heat water in a kettle and then fill a bottle with risk of scalding.Safer. 2 The Wheat Bag shapes completely to body curves so is much more effective. 3 The Wheat Bag stays warmer longer than a rubber hot water bottle. 4 The Wheat Bag won't burst or leak if weight is put on it, so it is safer to use anywhere, particularly in bed. The Wheat Bag unhesitatingly gets 5 /5 from me. Excellent product. (Malcolm, 19/08/20)
great!
- this is my second and as I was offered a 10% discount I added the lavender and personalised text for fun - these make great gifts and they are easy to use, very good quality and perfect for chilly evenings (Kate 55, 04/08/20)
Love this
- My husband bought me one about 3 years ago, best one I have ever had and lasted until recently even though I use it every day, It doesn't have that dampness after microwaving , perfect every time Highly recommended (Paula Grover, 29/07/20)
Wheatybag
- Couldn't be without this product much better than a hot water bottle (J hart, 28/07/20)
Wonderful Wheat Bag
- Great size. Fits in nicely in my small microwave. Holds the heat really well. Good price and quality. Recommended (Roberta, 27/07/20)
perfect purchase
- Its very helpful to alleviate pain and lasting its heat long hours.Also ,its shape and size is very comfortable to use (simi, 27/07/20)
Absolutely lovely!
- I have been looking for a microwaveable heating pad with a removable cover to replace an old one when I came across this website. I'm so glad I did. I chose the lavender filled wheaty bag which smells lovely and the cover is very soft. Very happy with my purchase and happy to recommend. (Julie P, 20/07/20)
Wheat bag
- Really good well made (Lynn, 17/07/20)
Do not know what you mean
- Very pleased with colourful fleece material although we did order purple. As it happened it didn't matter. (Sue Chambers , 16/07/20)
Wheat bag
- Good, well made product. Does what it is meant to do. (Jan, 16/07/20)
These are great
- I love these, the heat is perfect at my back and feet to help me get off to sleep. And even hours later my cold feet get warmer when they touch the bag. PS Well done for only asking for a review months later when I've had time to try them properly. Reviews written the day after delivery are useless. (Margaret, 14/07/20)
More Reviews
Instructions
This product is entirely natural and easy to use. It is designed as a gentle warming or chilling product though it is EXTREMELY IMPORTANT to take great care not to over-heat or over-chill the product.
Please follow our heating and chilling instructions carefully and use your own judgment - if you are experiencing any discomfort from the pack then stop using immediately. If you want medical advice, please ask your Doctor.
GENERAL INSTRUCTIONS: Please take care heating this wheat filled product and be careful not to burn the contents inside. If you smell a burnt smell, the heat pack is best thrown away and a new one purchased.
Remove all tags and ensure the product is clean and dry before use.
Use the maximum heating guide (below) to determine the correct heating times.
Ensure all grilling / browning facilities are turned off and do not place near a direct heat source.
When first heated, the product will feel damp though this is quite normal and will stop after a few uses.
After this time we recommend placing a small cup of water in the microwave when heating.
In order to comply with BS8433 : 2004 we are obliged to tell you of the following.
WARNING - THIS PRODUCT CAN CAUSE BURNS.
AVOID PROLONGED DIRECT CONTACT WITH THE SKIN.
TAKE CARE WHEN REMOVING FROM THE MICROWAVE OVEN.
DO NOT INGEST CONTENTS.
DO NOT OVERHEAT.
FOR MICROWAVE USE ONLY.
HEATED PRODUCTS SHOULD NOT BE GIVEN TO CHILDREN.
MAXIMUM HEATING (AND CHILLING) TIMES FOR THE PRODUCT ARE ATTACHED TO THE PRODUCT BY SEWN-ON LABEL AND CARD SWING TAG WHICH SHOULD BE RETAINED FOR FUTURE REFERENCE.
ONLY REHEAT FROM ROOM TEMPERATURE.
DO NOT FOLD ITEM IN HALF TO HEAT.
HEAT WITHOUT REMOVABLE COVERS IF SUPPLIED WITH THIS ITEM.
SURFACE CLEAN WITH A DAMP CLOTH.
CARE INSTRUCTIONS
Do not wash the heat pack with the wheat inside.
Only clean this part with a damp cloth.
Optional removable covers if available for this product can be removed and cleaned in accordance with the washing instructions label on the cover.
Asthma Sufferers should be aware this product contains wheatgerm.
In the event of overheating, let the item stand in a safe place and do not touch until cooled.
Dispose of in the normal household waste if worn or damaged.
Store in a cool dry place.
Ensure that the microwave turntable can rotate freely.
TO USE COLD:
Wrap the pack in a plastic bag (to keep it clean).
Place in the FRIDGE or FREEZER for 1-3 hours.
Remove from plastic bag before use.
Be cautious and check your skin to avoid any possibility of freezer-burn and use a towel on your body with the pack on top to avoid direct contact with the skin.
DO NOT PLACE THIS ITEM IN THE FREEZER IF USING ON THE EYES.
MAXIMUM MICROWAVE HEATING TIMES FOR THIS PRODUCT: MAXIMUM HEATING (AND CHILLING) TIMES FOR THE PRODUCT ARE ATTACHED TO THE PRODUCT BY SEWN-ON LABEL AND CARD SWING TAG WHICH SHOULD BE RETAINED FOR FUTURE REFERENCE.
Please do not machine wash this product or get it wet. If it becomes marked or dirty, please take good care not to wet the inner contents and wipe clean with a damp cloth.
Removable Covers: If you purchase this Product with the option for "Removable Cover" for cleaning, the outer removable cover will be supplied in the fabric and colour of your choice. The inner pack will be manufactured from a fabric and colour of our choice depending on supplies available at the time of manufacture (usually our natural value cotton fabric depending on the product).
Do not wash or get the inner wheat or other filled heat packs wet.
CARELESSNESS CAUSES FIRE.
Do not wash or get the inner wheat or other filled heat packs wet.
For 100% Cotton, 100% Polycotton & 100% Polyester Fabrics (eg Fleece) Removable Covers.
Remove the outer cover before carefully cleaning the outer cover only.
Only warm hand or machine wash and cold rinse the removable cover.
Wash with like colours max. 40 degree temperature.
For best results, lay flat on a suitable surface to air-dry.
Do not bleach.
1 spot iron (Cotton / Fleece) or 2 spot iron (Polycotton).
Do not tumble dry.
FAQs
Are these products a medical product?
No. Clear Prospects Ltd manufactures WheatyBags® microwave heat packs which have been tested to safety standard BS8433:2004. We are not Doctors and our products are not medical products (our heat packs are simple microwave heat packs that provide warmth and comfort). If you are unsure about their use, we recommend you consult your doctor before using heat packs in general.
How long should the heat pack be put into the microwave or chill in the freezer?
Please read the "Instructions" shown on our website for each Product as the heating and cooling instructions vary by product. All our heat packs have been safety tested and come with instructions labels sewn into the product itself and on a card attachment to be retained for safe reference.
Is it normal that my heat pack feels damp when microwaving?
Yes. When you first microwave the heat pack the contents inside will feel damp. This will subside after a few heating cycles and is quite normal especially if you have selected the (polyester) fleece fabric covers. Cotton is much more absorbent and breathable and will lessen the initial damp effect. Do not overheat the wheat bag to attempt to dry it out.
What happens if I microwave the heat pack for too long or it burns?
Please be very careful not to overheat the heat pack. If overheated they can catch fire which is very dangerous. Overheating can be caused by food or contamination from your microwave so it is important that the microwave is clean before you heat the product.
If overheating occurs, remove it from the microwave and put it in a safe place while it cools (perhaps outside). Do not use again until the product has returned to room temperature. If it is giving off a 'burnt' smell or has small burn marks on the fabric, you have overheated the product and it must be disposed of being careful that the product is not actually burning. A replacement product would then have to be purchased.
Can I wash my Heat Pack?
Do not place the full heat pack in the washing machine or get the contents wet as it can damage the product. It is advised that you surface clean with a damp cloth or sponge to clean the product. If the product becomes wet then it needs to be dried out before the wheat inside germinates and we suggest placing the product in a warm room to dry at room temperature. If the wheat inside does germinate then we do not recommend that you use the wheat bag.
Can I purchase removable covers that can be washed for my heat pack?
On most of our products, you will see the option to purchase a removable cover for cleaning. If this is shown as an option then this cover is removable from the main heat pack and can be washed with like colours in the washing machine or by hand at a low temperature of 30 to 40 degrees.
Is it possible to warm the heat pack other than the microwave?
No. Our heat packs are safety tested to be exclusively heated in a microwave.
How do I fit a larger heat pack in my small microwave?
Some of our products are larger when flat than the size of smaller microwaves. It is ok to "loosley scrunch up" the heat pack lightly to fit into the microwave but is important not to fold the pack in half tightly as this can create hot spots when heating.
Are these heat packs suitable for young children?
No. We do not recommend that heat packs are given the very young children under the age of 3 years old. Adult supervision should always be provided and should only be heated by an adult with great care.
What are the Organic Fabric Options?
Where shown, this product has an Organic Fabric Option. We purchase organic fabric from trusted UK Fabric Merchants who are registered under the Global Organic Textile Standard (GOTS) to enable full traceability of the fabric we use through to the final product you are purchasing today.
Is the Lavender Organic?
Yes. We purchase Organic Lavender from our Grain & Seed Merchant in the UK and they have sourced genuine lavender buds for our heat packs. This is not a scent, we add the flower buds from Organic Lavender for the most exquisite fragrance.
Delivery
The information below is for guidance. Actual delivery costs and dates depend on the delivery address, weight and time your order is placed. Cut-off time for Overnight Orders is 12 noon.
| Price | Method | Manufacture Time | Delivery Time | Est. Delivery Date |
| --- | --- | --- | --- | --- |
| £4.99 | 2nd Class (Tracked LLH) | 0-3 Days | 2-3 Days | Mon 11 Dec - Fri 15 Dec |
| £5.99 | 1st Class (Tracked LLH) | 0-3 Days | 1-2 Days | Fri 8 Dec - Thu 14 Dec |
| £13.31 | DHL Courier (Economy M-F Pre 6pm) | 0-3 Days | 2-3 Days | Mon 11 Dec - Fri 15 Dec |
| £14.99 | Royal Mail Special Delivery (Overnight Mon-Sat Pre 1pm) | Today | Next Day (Mon-Sat) | Fri 8 Dec |
More Information
| | |
| --- | --- |
| Despatch | 0-3 Days (Made to Order) or Upgrade for Overnight Delivery at Chekout |
| Brand | WheatyBags® |
| RRP | £12.99 |
| Filling | Wheat, Optional Lavender |
| Country of Origin | United Kingdom |
| SKU | FGWHE023(B27x18)COT-BNA |
| Gtin | 5056656338351 |
| Tariff Code | 1001912020 |
| Tariff Description | Heat Pack - Common Wheat |
| Product Weight | 750 g |
| Product Dimensions | 27 x 18 x 3cm |
Product Options
Size
The Mini (27cm x 18cm), Regular (35cm x 22cm)
Filling
Wheat
Fabric
Cotton, Luxury Cotton, Organic Cotton, Fleece
Fabric Colour
Navy Blue, Purple, Natural, Chocolate, Gothic Blue, Tartan Check
Removable Cover (Click to Select)
Without Removable Cover, Removable Cover +
Aroma (Click to Select)
Unscented, Organic Lavender Buds +
Product Type
Wheat Bag
Warmers For > Microwavable Heating Pad
Heat Pad Filling > Wheat
heating pad
heat pack > microwave heat pack

Wheat Bag Microwavable Heating Pad (Bottle Shape)
(35cm) - Purple Fleece Fabric
FGWHE023(B35x22)FLE-PUR
5056261007529
£14.99
900 g
35 x 22 x 2cm
Wheat Bag Microwavable Heating Pad (Bottle Shape)
(35cm) - Purple Fleece Fabric (Personalised with Text)
FGWHE023(B35x22)FLE-PUR(P)
5056261007222
£17.94
900 g
35 x 22 x 2cm
Wheat Bag Microwavable Heating Pad (Bottle Shape)
(35cm) - Purple Fleece Fabric Removable Cover
FGWHE023(B35x22)FLE-PUR(RC)
5056261007581
£24.99
972 g
35 x 22 x 2cm
Wheat Bag Microwavable Heating Pad (Bottle Shape)
(35cm) - Purple Fleece Fabric Removable Cover (Personalised with Text)
FGWHE023(B35x22)FLE-PUR(RC)(P)
5056261007307
£27.94
972 g
35 x 22 x 2cm
Wheat Bag Microwavable Heating Pad (Bottle Shape)
(35cm) - Tartan Fleece Fabric
FGWHE023(B35x22)FLE-TA01
5056261006935
£16.99
900 g
35 x 22 x 2cm
Wheat Bag Microwavable Heating Pad (Bottle Shape)
(35cm) - Tartan Fleece Fabric (Personalised with Text)
FGWHE023(B35x22)FLE-TA01(P)
5056261007055
£19.94
900 g
35 x 22 x 2cm
Wheat Bag Microwavable Heating Pad (Bottle Shape)
(35cm) - Tartan Fleece Fabric Removable Cover
FGWHE023(B35x22)FLE-TA01(RC)
5056261007291
£26.99
972 g
35 x 22 x 2cm
Wheat Bag Microwavable Heating Pad (Bottle Shape)
(35cm) - Tartan Fleece Fabric Removable Cover (Personalised with Text)
FGWHE023(B35x22)FLE-TA01(RC)(P)
5056261007598
£29.94
972 g
35 x 22 x 2cm
Wheat Bag Microwavable Heating Pad (Bottle Shape)
(35cm) - Natural Cotton Fabric
FGWHE023(B35x22)COT-NAT
5056261007079
£14.99
900 g
35 x 22 x 2cm
Wheat Bag Microwavable Heating Pad (Bottle Shape)
(35cm) - Natural Cotton Fabric (Personalised with Text)
FGWHE023(B35x22)COT-NAT(P)
5056261007062
£17.94
900 g
35 x 22 x 2cm
Wheat Bag Microwavable Heating Pad (Bottle Shape)
(35cm) - Natural Cotton Fabric Removable Cover
FGWHE023(B35x22)COT-NAT(RC)
5056261006850
£24.99
972 g
35 x 22 x 2cm
Wheat Bag Microwavable Heating Pad (Bottle Shape)
(35cm) - Natural Cotton Fabric Removable Cover (Personalised with Text)
FGWHE023(B35x22)COT-NAT(RC)(P)
5056261007024
£27.94
972 g
35 x 22 x 2cm
Wheat Bag Microwavable Heating Pad (Bottle Shape)
(35cm) - Navy Blue Cotton Fabric
FGWHE023(B35x22)COT-BNA
5056261007239
£14.99
900 g
35 x 22 x 2cm
Wheat Bag Microwavable Heating Pad (Bottle Shape)
(35cm) - Navy Blue Cotton Fabric (Personalised with Text)
FGWHE023(B35x22)COT-BNA(P)
5056261007178
£17.94
900 g
35 x 22 x 2cm
Wheat Bag Microwavable Heating Pad (Bottle Shape)
(35cm) - Navy Blue Cotton Fabric Removable Cover
FGWHE023(B35x22)COT-BNA(RC)
5056261007031
£24.99
972 g
35 x 22 x 2cm
Wheat Bag Microwavable Heating Pad (Bottle Shape)
(35cm) - Navy Blue Cotton Fabric Removable Cover (Personalised with Text)
FGWHE023(B35x22)COT-BNA(RC)(P)
5056261007277
£27.94
972 g
35 x 22 x 2cm
Wheat Bag Microwavable Heating Pad (Bottle Shape)
(35cm) - Purple Cotton Fabric
FGWHE023(B35x22)COT-PUR
5056261007567
£14.99
900 g
35 x 22 x 2cm
Wheat Bag Microwavable Heating Pad (Bottle Shape)
(35cm) - Purple Cotton Fabric (Personalised with Text)
FGWHE023(B35x22)COT-PUR(P)
5056261007086
£17.94
900 g
35 x 22 x 2cm
Wheat Bag Microwavable Heating Pad (Bottle Shape)
(35cm) - Purple Cotton Fabric Removable Cover
FGWHE023(B35x22)COT-PUR(RC)
5056261053359
£24.99
972 g
35 x 22 x 2cm
Wheat Bag Microwavable Heating Pad (Bottle Shape)
(35cm) - Purple Cotton Fabric Removable Cover (Personalised with Text)
FGWHE023(B35x22)COT-PUR(RC)(P)
5056261007628
£27.94
972 g
35 x 22 x 2cm
Wheat Bag Microwavable Heating Pad (Bottle Shape)
(35cm) - Gothic Blue Luxury Cotton Fabric
FGWHE023(B35x22)COL-BGO
5056261060142
£19.99
900 g
35 x 22 x 2cm
Wheat Bag Microwavable Heating Pad (Bottle Shape)
(35cm) - Gothic Blue Luxury Cotton Fabric (Personalised with Text)
FGWHE023(B35x22)COL-BGO(P)
5056261060197
£22.94
900 g
35 x 22 x 2cm
Wheat Bag Microwavable Heating Pad (Bottle Shape)
(35cm) - Gothic Blue Luxury Cotton Fabric Removable Cover
FGWHE023(B35x22)COL-BGO(RC)
5056261060210
£29.99
972 g
35 x 22 x 2cm
Wheat Bag Microwavable Heating Pad (Bottle Shape)
(35cm) - Gothic Blue Luxury Cotton Fabric Removable Cover (Personalised with Text)
FGWHE023(B35x22)COL-BGO(RC)(P)
5056261053311
£32.94
972 g
35 x 22 x 2cm
Wheat Bag Microwavable Heating Pad (Bottle Shape)
(35cm) - Chocolate Luxury Cotton Fabric
FGWHE023(B35x22)COL-BMO
5056261053335
£19.99
900 g
35 x 22 x 2cm
Wheat Bag Microwavable Heating Pad (Bottle Shape)
(35cm) - Chocolate Luxury Cotton Fabric (Personalised with Text)
FGWHE023(B35x22)COL-BMO(P)
5056261060234
£22.94
900 g
35 x 22 x 2cm
Wheat Bag Microwavable Heating Pad (Bottle Shape)
(35cm) - Chocolate Luxury Cotton Fabric Removable Cover
FGWHE023(B35x22)COL-BMO(RC)
5056261060159
£29.99
972 g
35 x 22 x 2cm
Wheat Bag Microwavable Heating Pad (Bottle Shape)
(35cm) - Chocolate Luxury Cotton Fabric Removable Cover (Personalised with Text)
FGWHE023(B35x22)COL-BMO(RC)(P)
5056261060173
£32.94
972 g
35 x 22 x 2cm
Wheat Bag Microwavable Heating Pad (Bottle Shape)
(35cm) - Natural Organic Cotton
FGWHE023(B35x22)COO-NAT
5056261007246
£21.99
900 g
35 x 22 x 2cm
Wheat Bag Microwavable Heating Pad (Bottle Shape)
(35cm) - Natural Organic Cotton (Personalised with Text)
FGWHE023(B35x22)COO-NAT(P)
5056261007369
£24.94
900 g
35 x 22 x 2cm
Wheat Bag Microwavable Heating Pad (Bottle Shape)
(35cm) - Natural Organic Cotton Removable Cover
FGWHE023(B35x22)COO-NAT(RC)
5056261007444
£31.99
972 g
35 x 22 x 2cm
Wheat Bag Microwavable Heating Pad (Bottle Shape)
(35cm) - Natural Organic Cotton Removable Cover (Personalised with Text)
FGWHE023(B35x22)COO-NAT(RC)(P)
5060089257592
£34.94
972 g
35 x 22 x 2cm
Wheat Bag Microwavable Heating Pad (Bottle Shape)
(35cm) - Purple Fleece Fabric Scented (Organic Lavender Buds)
FGWHE023(B35x22)FLE-PUR(LAV)
5056261006928
£15.99
901 g
35 x 22 x 2cm
Wheat Bag Microwavable Heating Pad (Bottle Shape)
(35cm) - Purple Fleece Fabric Scented (Organic Lavender Buds) (Personalised with Text)
FGWHE023(B35x22)FLE-PUR(LAV)(P)
5056261007499
£18.94
901 g
35 x 22 x 2cm
Wheat Bag Microwavable Heating Pad (Bottle Shape)
(35cm) - Purple Fleece Fabric Scented (Organic Lavender Buds) Removable Cover
FGWHE023(B35x22)FLE-PUR(LAV)(RC)
5056261007642
£25.99
973 g
35 x 22 x 2cm
Wheat Bag Microwavable Heating Pad (Bottle Shape)
(35cm) - Purple Fleece Fabric Scented (Organic Lavender Buds) Removable Cover (Personalised with Text)
FGWHE023(B35x22)FLE-PUR(LAV)(RC)(P)
5056261007543
£28.94
973 g
35 x 22 x 2cm
Wheat Bag Microwavable Heating Pad (Bottle Shape)
(35cm) - Tartan Fleece Fabric Scented (Organic Lavender Buds)
FGWHE023(B35x22)FLE-TA01(LAV)
5056261007208
£17.99
901 g
35 x 22 x 2cm
Wheat Bag Microwavable Heating Pad (Bottle Shape)
(35cm) - Tartan Fleece Fabric Scented (Organic Lavender Buds) (Personalised with Text)
FGWHE023(B35x22)FLE-TA01(LAV)(P)
5056261006881
£20.94
901 g
35 x 22 x 2cm
Wheat Bag Microwavable Heating Pad (Bottle Shape)
(35cm) - Tartan Fleece Fabric Scented (Organic Lavender Buds) Removable Cover
FGWHE023(B35x22)FLE-TA01(LAV)(RC)
5056261007000
£27.99
973 g
35 x 22 x 2cm
Wheat Bag Microwavable Heating Pad (Bottle Shape)
(35cm) - Tartan Fleece Fabric Scented (Organic Lavender Buds) Removable Cover (Personalised with Text)
FGWHE023(B35x22)FLE-TA01(LAV)(RC)(P)
5056261007574
£30.94
973 g
35 x 22 x 2cm
Wheat Bag Microwavable Heating Pad (Bottle Shape)
(35cm) - Natural Cotton Fabric Scented (Organic Lavender Buds)
FGWHE023(B35x22)COT-NAT(LAV)
5056261007123
£15.99
901 g
35 x 22 x 2cm
Wheat Bag Microwavable Heating Pad (Bottle Shape)
(35cm) - Natural Cotton Fabric Scented (Organic Lavender Buds) (Personalised with Text)
FGWHE023(B35x22)COT-NAT(LAV)(P)
5056261053366
£18.94
901 g
35 x 22 x 2cm
Wheat Bag Microwavable Heating Pad (Bottle Shape)
(35cm) - Natural Cotton Fabric Scented (Organic Lavender Buds) Removable Cover
FGWHE023(B35x22)COT-NAT(LAV)(RC)
5056261007352
£25.99
973 g
35 x 22 x 2cm
Wheat Bag Microwavable Heating Pad (Bottle Shape)
(35cm) - Natural Cotton Fabric Scented (Organic Lavender Buds) Removable Cover (Personalised with Text)
FGWHE023(B35x22)COT-NAT(LAV)(RC)(P)
5056261007451
£28.94
973 g
35 x 22 x 2cm
Wheat Bag Microwavable Heating Pad (Bottle Shape)
(35cm) - Navy Blue Cotton Fabric Scented (Organic Lavender Buds)
FGWHE023(B35x22)COT-BNA(LAV)
5056261006997
£15.99
901 g
35 x 22 x 2cm
Wheat Bag Microwavable Heating Pad (Bottle Shape)
(35cm) - Navy Blue Cotton Fabric Scented (Organic Lavender Buds) (Personalised with Text)
FGWHE023(B35x22)COT-BNA(LAV)(P)
5056261007192
£18.94
901 g
35 x 22 x 2cm
Wheat Bag Microwavable Heating Pad (Bottle Shape)
(35cm) - Navy Blue Cotton Fabric Scented (Organic Lavender Buds) Removable Cover
FGWHE023(B35x22)COT-BNA(LAV)(RC)
5056261007130
£25.99
973 g
35 x 22 x 2cm
Wheat Bag Microwavable Heating Pad (Bottle Shape)
(35cm) - Navy Blue Cotton Fabric Scented (Organic Lavender Buds) Removable Cover (Personalised with Text)
FGWHE023(B35x22)COT-BNA(LAV)(RC)(P)
5056261007383
£28.94
973 g
35 x 22 x 2cm
Wheat Bag Microwavable Heating Pad (Bottle Shape)
(35cm) - Purple Cotton Fabric Scented (Organic Lavender Buds)
FGWHE023(B35x22)COT-PUR(LAV)
5056261006898
£15.99
901 g
35 x 22 x 2cm
Wheat Bag Microwavable Heating Pad (Bottle Shape)
(35cm) - Purple Cotton Fabric Scented (Organic Lavender Buds) (Personalised with Text)
FGWHE023(B35x22)COT-PUR(LAV)(P)
5056261007475
£18.94
901 g
35 x 22 x 2cm
Wheat Bag Microwavable Heating Pad (Bottle Shape)
(35cm) - Purple Cotton Fabric Scented (Organic Lavender Buds) Removable Cover
FGWHE023(B35x22)COT-PUR(LAV)(RC)
5056261007512
£25.99
973 g
35 x 22 x 2cm
Wheat Bag Microwavable Heating Pad (Bottle Shape)
(35cm) - Purple Cotton Fabric Scented (Organic Lavender Buds) Removable Cover (Personalised with Text)
FGWHE023(B35x22)COT-PUR(LAV)(RC)(P)
5056261053342
£28.94
973 g
35 x 22 x 2cm
Wheat Bag Microwavable Heating Pad (Bottle Shape)
(35cm) - Gothic Blue Luxury Cotton Fabric Scented (Organic Lavender Buds)
FGWHE023(B35x22)COL-BGO(LAV)
5056261060180
£20.99
901 g
35 x 22 x 2cm
Wheat Bag Microwavable Heating Pad (Bottle Shape)
(35cm) - Gothic Blue Luxury Cotton Fabric Scented (Organic Lavender Buds) (Personalised with Text)
FGWHE023(B35x22)COL-BGO(LAV)(P)
5056261060258
£23.94
901 g
35 x 22 x 2cm
Wheat Bag Microwavable Heating Pad (Bottle Shape)
(35cm) - Gothic Blue Luxury Cotton Fabric Scented (Organic Lavender Buds) Removable Cover
FGWHE023(B35x22)COL-BGO(LAV)(RC)
5056261060166
£30.99
973 g
35 x 22 x 2cm
Wheat Bag Microwavable Heating Pad (Bottle Shape)
(35cm) - Gothic Blue Luxury Cotton Fabric Scented (Organic Lavender Buds) Removable Cover (Personalised with Text)
FGWHE023(B35x22)COL-BGO(LAV)(RC)(P)
5056261060203
£33.94
973 g
35 x 22 x 2cm
Wheat Bag Microwavable Heating Pad (Bottle Shape)
(35cm) - Chocolate Luxury Cotton Fabric Scented (Organic Lavender Buds)
FGWHE023(B35x22)COL-BMO(LAV)
5056261053298
£20.99
901 g
35 x 22 x 2cm
Wheat Bag Microwavable Heating Pad (Bottle Shape)
(35cm) - Chocolate Luxury Cotton Fabric Scented (Organic Lavender Buds) (Personalised with Text)
FGWHE023(B35x22)COL-BMO(LAV)(P)
5056261053328
£23.94
901 g
35 x 22 x 2cm
Wheat Bag Microwavable Heating Pad (Bottle Shape)
(35cm) - Chocolate Luxury Cotton Fabric Scented (Organic Lavender Buds) Removable Cover
FGWHE023(B35x22)COL-BMO(LAV)(RC)
5056261060227
£30.99
973 g
35 x 22 x 2cm
Wheat Bag Microwavable Heating Pad (Bottle Shape)
(35cm) - Chocolate Luxury Cotton Fabric Scented (Organic Lavender Buds) Removable Cover (Personalised with Text)
FGWHE023(B35x22)COL-BMO(LAV)(RC)(P)
5056261060241
£33.94
973 g
35 x 22 x 2cm
Wheat Bag Microwavable Heating Pad (Bottle Shape)
(35cm) - Natural Organic Cotton Scented (Organic Lavender Buds)
FGWHE023(B35x22)COO-NAT(LAV)
5060089257547
£22.99
901 g
35 x 22 x 2cm
Wheat Bag Microwavable Heating Pad (Bottle Shape)
(35cm) - Natural Organic Cotton Scented (Organic Lavender Buds) (Personalised with Text)
FGWHE023(B35x22)COO-NAT(LAV)(P)
5056261007215
£25.94
901 g
35 x 22 x 2cm
Wheat Bag Microwavable Heating Pad (Bottle Shape)
(35cm) - Natural Organic Cotton Scented (Organic Lavender Buds) Removable Cover
FGWHE023(B35x22)COO-NAT(LAV)(RC)
5056261007345
£32.99
973 g
35 x 22 x 2cm
Wheat Bag Microwavable Heating Pad (Bottle Shape)
(35cm) - Natural Organic Cotton Scented (Organic Lavender Buds) Removable Cover (Personalised with Text)
FGWHE023(B35x22)COO-NAT(LAV)(RC)(P)
5056261007413
£35.94
973 g
35 x 22 x 2cm
Wheat Bag Microwavable Heating Pad (Bottle Shape)
(27cm) - Purple Fleece Fabric
FGWHE023(B27x18)FLE-PUR
5056656338337
£12.99
750 g
27 x 18 x 3cm
Wheat Bag Microwavable Heating Pad (Bottle Shape)
(27cm) - Purple Fleece Fabric (Personalised with Text)
FGWHE023(B27x18)FLE-PUR(P)
5056656337491
£15.94
750 g
27 x 18 x 3cm
Wheat Bag Microwavable Heating Pad (Bottle Shape)
(27cm) - Purple Fleece Fabric Removable Cover
FGWHE023(B27x18)FLE-PUR(RC)
5056656341245
£22.99
822 g
27 x 18 x 3cm
Wheat Bag Microwavable Heating Pad (Bottle Shape)
(27cm) - Purple Fleece Fabric Removable Cover (Personalised with Text)
FGWHE023(B27x18)FLE-PUR(RC)(P)
5056656341528
£25.94
822 g
27 x 18 x 3cm
Wheat Bag Microwavable Heating Pad (Bottle Shape)
(27cm) - Tartan Fleece Fabric
FGWHE023(B27x18)FLE-TA01
5056656337477
£14.99
750 g
27 x 18 x 3cm
Wheat Bag Microwavable Heating Pad (Bottle Shape)
(27cm) - Tartan Fleece Fabric (Personalised with Text)
FGWHE023(B27x18)FLE-TA01(P)
5056656341276
£17.94
750 g
27 x 18 x 3cm
Wheat Bag Microwavable Heating Pad (Bottle Shape)
(27cm) - Tartan Fleece Fabric Removable Cover
FGWHE023(B27x18)FLE-TA01(RC)
5056656341375
£24.99
822 g
27 x 18 x 3cm
Wheat Bag Microwavable Heating Pad (Bottle Shape)
(27cm) - Tartan Fleece Fabric Removable Cover (Personalised with Text)
FGWHE023(B27x18)FLE-TA01(RC)(P)
5056656341634
£27.94
822 g
27 x 18 x 3cm
Wheat Bag Microwavable Heating Pad (Bottle Shape)
(27cm) - Natural Cotton Fabric
FGWHE023(B27x18)COT-NAT
5056656337415
£12.99
750 g
27 x 18 x 3cm
Wheat Bag Microwavable Heating Pad (Bottle Shape)
(27cm) - Natural Cotton Fabric (Personalised with Text)
FGWHE023(B27x18)COT-NAT(P)
5056656337538
£15.94
750 g
27 x 18 x 3cm
Wheat Bag Microwavable Heating Pad (Bottle Shape)
(27cm) - Natural Cotton Fabric Removable Cover
FGWHE023(B27x18)COT-NAT(RC)
5056656341306
£22.99
822 g
27 x 18 x 3cm
Wheat Bag Microwavable Heating Pad (Bottle Shape)
(27cm) - Natural Cotton Fabric Removable Cover (Personalised with Text)
FGWHE023(B27x18)COT-NAT(RC)(P)
5056656341566
£25.94
822 g
27 x 18 x 3cm
Wheat Bag Microwavable Heating Pad (Bottle Shape)
(27cm) - Navy Blue Cotton Fabric
FGWHE023(B27x18)COT-BNA
5056656338351
£12.99
750 g
27 x 18 x 3cm
Wheat Bag Microwavable Heating Pad (Bottle Shape)
(27cm) - Navy Blue Cotton Fabric (Personalised with Text)
FGWHE023(B27x18)COT-BNA(P)
5056656337545
£15.94
750 g
27 x 18 x 3cm
Wheat Bag Microwavable Heating Pad (Bottle Shape)
(27cm) - Navy Blue Cotton Fabric Removable Cover
FGWHE023(B27x18)COT-BNA(RC)
5056656341313
£22.99
822 g
27 x 18 x 3cm
Wheat Bag Microwavable Heating Pad (Bottle Shape)
(27cm) - Navy Blue Cotton Fabric Removable Cover (Personalised with Text)
FGWHE023(B27x18)COT-BNA(RC)(P)
5056656341573
£25.94
822 g
27 x 18 x 3cm
Wheat Bag Microwavable Heating Pad (Bottle Shape)
(27cm) - Purple Cotton Fabric
FGWHE023(B27x18)COT-PUR
5056656337422
£12.99
750 g
27 x 18 x 3cm
Wheat Bag Microwavable Heating Pad (Bottle Shape)
(27cm) - Purple Cotton Fabric (Personalised with Text)
FGWHE023(B27x18)COT-PUR(P)
5056656337552
£15.94
750 g
27 x 18 x 3cm
Wheat Bag Microwavable Heating Pad (Bottle Shape)
(27cm) - Purple Cotton Fabric Removable Cover
FGWHE023(B27x18)COT-PUR(RC)
5056656341320
£22.99
822 g
27 x 18 x 3cm
Wheat Bag Microwavable Heating Pad (Bottle Shape)
(27cm) - Purple Cotton Fabric Removable Cover (Personalised with Text)
FGWHE023(B27x18)COT-PUR(RC)(P)
5056656341580
£25.94
822 g
27 x 18 x 3cm
Wheat Bag Microwavable Heating Pad (Bottle Shape)
(27cm) - Gothic Blue Luxury Cotton Fabric
FGWHE023(B27x18)COL-BGO
5056656337446
£17.99
750 g
27 x 18 x 3cm
Wheat Bag Microwavable Heating Pad (Bottle Shape)
(27cm) - Gothic Blue Luxury Cotton Fabric (Personalised with Text)
FGWHE023(B27x18)COL-BGO(P)
5056656337576
£20.94
750 g
27 x 18 x 3cm
Wheat Bag Microwavable Heating Pad (Bottle Shape)
(27cm) - Gothic Blue Luxury Cotton Fabric Removable Cover
FGWHE023(B27x18)COL-BGO(RC)
5056656341344
£27.99
822 g
27 x 18 x 3cm
Wheat Bag Microwavable Heating Pad (Bottle Shape)
(27cm) - Gothic Blue Luxury Cotton Fabric Removable Cover (Personalised with Text)
FGWHE023(B27x18)COL-BGO(RC)(P)
5056656341603
£30.94
822 g
27 x 18 x 3cm
Wheat Bag Microwavable Heating Pad (Bottle Shape)
(27cm) - Chocolate Luxury Cotton Fabric
FGWHE023(B27x18)COL-BMO
5056656337453
£17.99
750 g
27 x 18 x 3cm
Wheat Bag Microwavable Heating Pad (Bottle Shape)
(27cm) - Chocolate Luxury Cotton Fabric (Personalised with Text)
FGWHE023(B27x18)COL-BMO(P)
5056656341221
£20.94
750 g
27 x 18 x 3cm
Wheat Bag Microwavable Heating Pad (Bottle Shape)
(27cm) - Chocolate Luxury Cotton Fabric Removable Cover
FGWHE023(B27x18)COL-BMO(RC)
5056656341351
£27.99
822 g
27 x 18 x 3cm
Wheat Bag Microwavable Heating Pad (Bottle Shape)
(27cm) - Chocolate Luxury Cotton Fabric Removable Cover (Personalised with Text)
FGWHE023(B27x18)COL-BMO(RC)(P)
5056656341610
£30.94
822 g
27 x 18 x 3cm
Wheat Bag Microwavable Heating Pad (Bottle Shape)
(27cm) - Natural Organic Cotton
FGWHE023(B27x18)COO-NAT
5056656337460
£19.99
750 g
27 x 18 x 3cm
Wheat Bag Microwavable Heating Pad (Bottle Shape)
(27cm) - Natural Organic Cotton (Personalised with Text)
FGWHE023(B27x18)COO-NAT(P)
5056656341238
£22.94
750 g
27 x 18 x 3cm
Wheat Bag Microwavable Heating Pad (Bottle Shape)
(27cm) - Natural Organic Cotton Removable Cover
FGWHE023(B27x18)COO-NAT(RC)
5056656341368
£29.99
822 g
27 x 18 x 3cm
Wheat Bag Microwavable Heating Pad (Bottle Shape)
(27cm) - Natural Organic Cotton Removable Cover (Personalised with Text)
FGWHE023(B27x18)COO-NAT(RC)(P)
5056656341627
£32.94
822 g
27 x 18 x 3cm
Wheat Bag Microwavable Heating Pad (Bottle Shape)
(27cm) - Purple Fleece Fabric Scented (Organic Lavender Buds)
FGWHE023(B27x18)FLE-PUR(LAV)
5056656341399
£13.99
751 g
27 x 18 x 3cm
Wheat Bag Microwavable Heating Pad (Bottle Shape)
(27cm) - Purple Fleece Fabric Scented (Organic Lavender Buds) (Personalised with Text)
FGWHE023(B27x18)FLE-PUR(LAV)(P)
5056656341658
£16.94
751 g
27 x 18 x 3cm
Wheat Bag Microwavable Heating Pad (Bottle Shape)
(27cm) - Purple Fleece Fabric Scented (Organic Lavender Buds) Removable Cover
FGWHE023(B27x18)FLE-PUR(LAV)(RC)
5056656341764
£23.99
823 g
27 x 18 x 3cm
Wheat Bag Microwavable Heating Pad (Bottle Shape)
(27cm) - Purple Fleece Fabric Scented (Organic Lavender Buds) Removable Cover (Personalised with Text)
FGWHE023(B27x18)FLE-PUR(LAV)(RC)(P)
5056656344017
£26.94
823 g
27 x 18 x 3cm
Wheat Bag Microwavable Heating Pad (Bottle Shape)
(27cm) - Tartan Fleece Fabric Scented (Organic Lavender Buds)
FGWHE023(B27x18)FLE-TA01(LAV)
5056656341504
£15.99
751 g
27 x 18 x 3cm
Wheat Bag Microwavable Heating Pad (Bottle Shape)
(27cm) - Tartan Fleece Fabric Scented (Organic Lavender Buds) (Personalised with Text)
FGWHE023(B27x18)FLE-TA01(LAV)(P)
5056656341795
£18.94
751 g
27 x 18 x 3cm
Wheat Bag Microwavable Heating Pad (Bottle Shape)
(27cm) - Tartan Fleece Fabric Scented (Organic Lavender Buds) Removable Cover
FGWHE023(B27x18)FLE-TA01(LAV)(RC)
5056656341894
£25.99
823 g
27 x 18 x 3cm
Wheat Bag Microwavable Heating Pad (Bottle Shape)
(27cm) - Tartan Fleece Fabric Scented (Organic Lavender Buds) Removable Cover (Personalised with Text)
FGWHE023(B27x18)FLE-TA01(LAV)(RC)(P)
5056656342020
£28.94
823 g
27 x 18 x 3cm
Wheat Bag Microwavable Heating Pad (Bottle Shape)
(27cm) - Natural Cotton Fabric Scented (Organic Lavender Buds)
FGWHE023(B27x18)COT-NAT(LAV)
5056656341436
£13.99
751 g
27 x 18 x 3cm
Wheat Bag Microwavable Heating Pad (Bottle Shape)
(27cm) - Natural Cotton Fabric Scented (Organic Lavender Buds) (Personalised with Text)
FGWHE023(B27x18)COT-NAT(LAV)(P)
5056656341696
£16.94
751 g
27 x 18 x 3cm
Wheat Bag Microwavable Heating Pad (Bottle Shape)
(27cm) - Natural Cotton Fabric Scented (Organic Lavender Buds) Removable Cover
FGWHE023(B27x18)COT-NAT(LAV)(RC)
5056656341825
£23.99
823 g
27 x 18 x 3cm
Wheat Bag Microwavable Heating Pad (Bottle Shape)
(27cm) - Natural Cotton Fabric Scented (Organic Lavender Buds) Removable Cover (Personalised with Text)
FGWHE023(B27x18)COT-NAT(LAV)(RC)(P)
5056656341955
£26.94
823 g
27 x 18 x 3cm
Wheat Bag Microwavable Heating Pad (Bottle Shape)
(27cm) - Navy Blue Cotton Fabric Scented (Organic Lavender Buds)
FGWHE023(B27x18)COT-BNA(LAV)
5056656341443
£13.99
751 g
27 x 18 x 3cm
Wheat Bag Microwavable Heating Pad (Bottle Shape)
(27cm) - Navy Blue Cotton Fabric Scented (Organic Lavender Buds) (Personalised with Text)
FGWHE023(B27x18)COT-BNA(LAV)(P)
5056656341702
£16.94
751 g
27 x 18 x 3cm
Wheat Bag Microwavable Heating Pad (Bottle Shape)
(27cm) - Navy Blue Cotton Fabric Scented (Organic Lavender Buds) Removable Cover
FGWHE023(B27x18)COT-BNA(LAV)(RC)
5056656341832
£23.99
823 g
27 x 18 x 3cm
Wheat Bag Microwavable Heating Pad (Bottle Shape)
(27cm) - Navy Blue Cotton Fabric Scented (Organic Lavender Buds) Removable Cover (Personalised with Text)
FGWHE023(B27x18)COT-BNA(LAV)(RC)(P)
5056656341962
£26.94
823 g
27 x 18 x 3cm
Wheat Bag Microwavable Heating Pad (Bottle Shape)
(27cm) - Purple Cotton Fabric Scented (Organic Lavender Buds)
FGWHE023(B27x18)COT-PUR(LAV)
5056656341450
£13.99
751 g
27 x 18 x 3cm
Wheat Bag Microwavable Heating Pad (Bottle Shape)
(27cm) - Purple Cotton Fabric Scented (Organic Lavender Buds) (Personalised with Text)
FGWHE023(B27x18)COT-PUR(LAV)(P)
5056656341719
£16.94
751 g
27 x 18 x 3cm
Wheat Bag Microwavable Heating Pad (Bottle Shape)
(27cm) - Purple Cotton Fabric Scented (Organic Lavender Buds) Removable Cover
FGWHE023(B27x18)COT-PUR(LAV)(RC)
5056656341849
£23.99
823 g
27 x 18 x 3cm
Wheat Bag Microwavable Heating Pad (Bottle Shape)
(27cm) - Purple Cotton Fabric Scented (Organic Lavender Buds) Removable Cover (Personalised with Text)
FGWHE023(B27x18)COT-PUR(LAV)(RC)(P)
5056656341979
£26.94
823 g
27 x 18 x 3cm
Wheat Bag Microwavable Heating Pad (Bottle Shape)
(27cm) - Gothic Blue Luxury Cotton Fabric Scented (Organic Lavender Buds)
FGWHE023(B27x18)COL-BGO(LAV)
5056656341474
£18.99
751 g
27 x 18 x 3cm
Wheat Bag Microwavable Heating Pad (Bottle Shape)
(27cm) - Gothic Blue Luxury Cotton Fabric Scented (Organic Lavender Buds) (Personalised with Text)
FGWHE023(B27x18)COL-BGO(LAV)(P)
5056656341733
£21.94
751 g
27 x 18 x 3cm
Wheat Bag Microwavable Heating Pad (Bottle Shape)
(27cm) - Gothic Blue Luxury Cotton Fabric Scented (Organic Lavender Buds) Removable Cover
FGWHE023(B27x18)COL-BGO(LAV)(RC)
5056656341863
£28.99
823 g
27 x 18 x 3cm
Wheat Bag Microwavable Heating Pad (Bottle Shape)
(27cm) - Gothic Blue Luxury Cotton Fabric Scented (Organic Lavender Buds) Removable Cover (Personalised with Text)
FGWHE023(B27x18)COL-BGO(LAV)(RC)(P)
5056656341993
£31.94
823 g
27 x 18 x 3cm
Wheat Bag Microwavable Heating Pad (Bottle Shape)
(27cm) - Chocolate Luxury Cotton Fabric Scented (Organic Lavender Buds)
FGWHE023(B27x18)COL-BMO(LAV)
5056656341481
£18.99
751 g
27 x 18 x 3cm
Wheat Bag Microwavable Heating Pad (Bottle Shape)
(27cm) - Chocolate Luxury Cotton Fabric Scented (Organic Lavender Buds) (Personalised with Text)
FGWHE023(B27x18)COL-BMO(LAV)(P)
5056656341740
£21.94
751 g
27 x 18 x 3cm
Wheat Bag Microwavable Heating Pad (Bottle Shape)
(27cm) - Chocolate Luxury Cotton Fabric Scented (Organic Lavender Buds) Removable Cover
FGWHE023(B27x18)COL-BMO(LAV)(RC)
5056656341870
£28.99
823 g
27 x 18 x 3cm
Wheat Bag Microwavable Heating Pad (Bottle Shape)
(27cm) - Chocolate Luxury Cotton Fabric Scented (Organic Lavender Buds) Removable Cover (Personalised with Text)
FGWHE023(B27x18)COL-BMO(LAV)(RC)(P)
5056656342006
£31.94
823 g
27 x 18 x 3cm
Wheat Bag Microwavable Heating Pad (Bottle Shape)
(27cm) - Natural Organic Cotton Scented (Organic Lavender Buds)
FGWHE023(B27x18)COO-NAT(LAV)
5056656341498
£20.99
751 g
27 x 18 x 3cm
Wheat Bag Microwavable Heating Pad (Bottle Shape)
(27cm) - Natural Organic Cotton Scented (Organic Lavender Buds) (Personalised with Text)
FGWHE023(B27x18)COO-NAT(LAV)(P)
5056656341757
£23.94
751 g
27 x 18 x 3cm
Wheat Bag Microwavable Heating Pad (Bottle Shape)
(27cm) - Natural Organic Cotton Scented (Organic Lavender Buds) Removable Cover
FGWHE023(B27x18)COO-NAT(LAV)(RC)
5056656341887
£30.99
823 g
27 x 18 x 3cm
Wheat Bag Microwavable Heating Pad (Bottle Shape)
(27cm) - Natural Organic Cotton Scented (Organic Lavender Buds) Removable Cover (Personalised with Text)
FGWHE023(B27x18)COO-NAT(LAV)(RC)(P)
5056656342013
£33.94
823 g
27 x 18 x 3cm
Wheat Bag Microwavable Heating Pad (Bottle Shape)