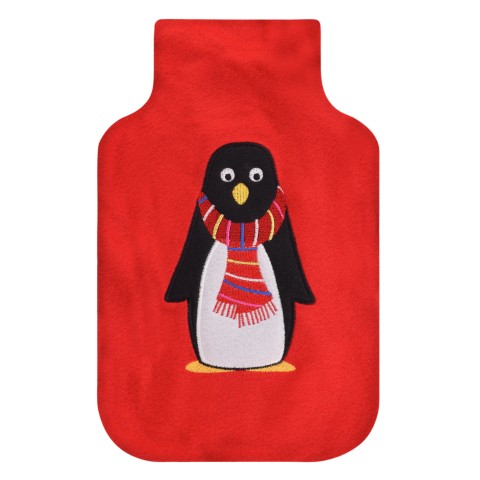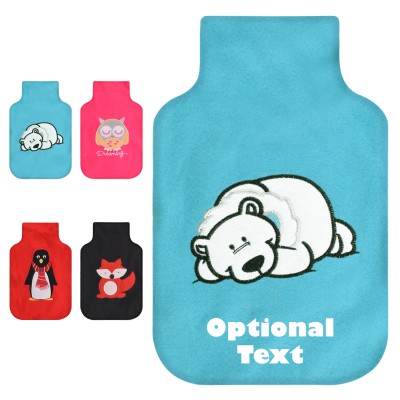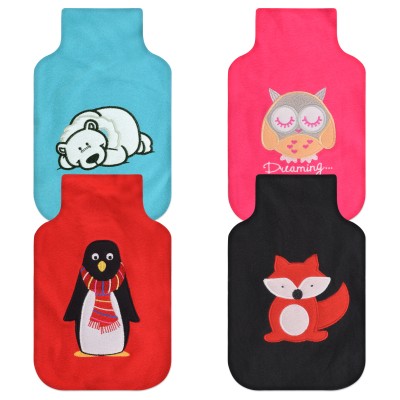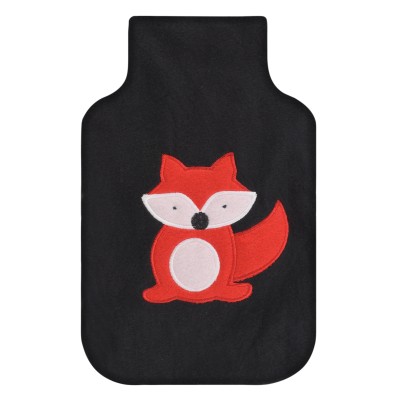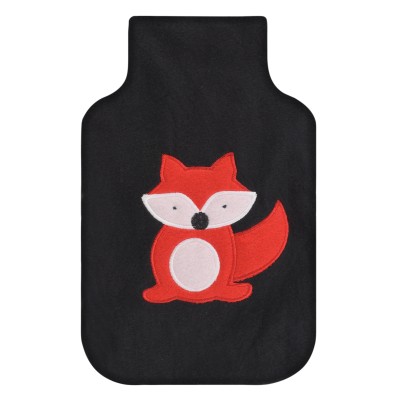 Personalised Hot Water Bottle Cover (Animal Embroidery Design)
Description
Fleece Hot Water Bottle Cover with cute animal embroidery and the option for your own personalisation.
Soft fleece fabric.
Available in black, turquoise, pink or red.
Can be personalised with a name or message of your choice.
Approx. 35cm x 20cm size.
Optional rubber hot water bottle.
Our cuddly hot water bottle covers come in four different colours each of which has it's own cute animal design embroidered onto the fabric. Perfect for kids, but also great for adults who appreciate the charming animal designs. These adorable hot water bottle covers each have their own personality and come in four different colours: black (fox), turquoise (polar bear), pink (owl) and red (penguin). Each cover measures approximately 35x20cm in size and will fit our standard 2 litre size rubber bottle if purchased.
N.B. Does NOT contain Rubber Hot Water Bottle - can be purchased separately.
Reviews
Penguin hot water bottle cover
- Lovely hot water bottle cover, snuggly and cosy with delightful penguin.
By Marion Baldwin (Jan 2017)
Excellent Quality
- I bought the penguin and the fox designs. They are excellent. The material and embroidery are excellent quality. They were delivered within 4 days, which was brilliant as it was over Xmas/ New Year period. I am so impressed with the quality of these items that I have come back to the site to buy more! Exellent quality and value for money
By Maxine M (Jan 2017)
So endearing.
- Hot water bottle covers super-duper and cosy.Lovely embroidery.
By Heather Forshaw (May 2015)
Directors Review of the Embroidered Hot Water Bottle Covers
- These hot water bottle covers are very cut and the embroidery is excellent in the detail. We wupply these covers with a free rubber hot water bottle if selected and make for excellent value if you are looking for a traditional hot water bottle with cover. Adding personalisation to the cover makes for a great personalised and low cost gift.
By Michael Robinson (Feb 2014)
Instructions
Please refer to the manufacturers instruction card that is attached to your product for your own safety.  At the time of writing, the instructions supplied are as follows:
INSTRUCTIONS FOR USE (MUST BE CARRIED OUT BY AN ADULT)
FOR MAXIMUM SAFETY AND HOT WATER BOTTLE LIFE, PLEASE OBSERVE THE FOLLOWING INSTRUCTIONS AND WARNINGS BEFORE USE.
This hot water bottle is manufactured to the specification os British Standard 1970:2012 from natural rubber.
When filling this hot water bottle, do not use boiling water and fill to a maximum of two thirds capacity or less. Do not overfill as this may cause the bottle to burst.
Hold the bottle by the neck in an upright position and fill slowly to avoid hot water splashing back.
Expel air from the bottle by lowering it carefully onto a flat surface until water appears at the opening.
Screw the stopper sufficiently tight to ensure that there is no leakage, finger tight should be adequate. Finally, make sure the funnel is empty.
If there is a possibility that prolonged contact with the skin could occur, an adequate cover should be used to prevent burns.
Under no circumstances should the hot water bottle be used as a cushion and be sat on.
Do not fill from water from the domestic hot water system as this can considerably shorten the life of the hot water bottle.
Prevent the bottle from contact with hot surfaces.
Prevent contact with oil and grease.
Check the bottle and stopper for wear and damage prior to use.
When not in use, drain completely and store with the stopper removed in a cool dry dark place. Prevent exposure to sunlight.  Do not place anything on top of the bottle during storage.
Always ensure the water bottle is not too hot before giving to a child.
Always use under adult supervision.
WARNING
Carefully inspect the entire bottle and stopper before the first use and before each subsequant use. Disgard immediately if signs of water damage or defects are found.
WARNING - HOT WATER BOTTLES CAN CAUSE BURNS. AVOID PROLONGED DIRECT CONTACT WITH THE SKIN.
Cleaning with removable cover option (where appropriate):
Remove the Inner Product from the outer fabric cover.
Do not wash or get the Inner Product contents wet.
Warm hand or delicate machine wash max. 40 degrees.
Wash with like colours or seperately by hand in warm water.
For best results, lay flat on a suitable surface to air-dry.
Cleaning without removable cover option:
Use a damp cloth or sponge to hand clean the Outer Product Fabric.
Do not get the inner contents wet.
Air dry before using the product.
FAQs
Can I personalise the hot water bottle covers with a name?
Yes. Our hot water bottle covers can be personalised if the Personalise this Product button is shown as a selection.
What size are these covers?
Size information is supplied in the Product Information and where appropriate, we may also offer Size Options to choose from.  Where no size option is shown, the covers are a generic 2 litre size appropriate for our own supplied (and possibly other) rubber hot water bottles.
What age do you suggest these covers may be suitable for?
The covers are suitable for all ages however please refer to the Instructions details we supply if you are purchasing a rubber hot water bottle to match these covers for special safety information on users of different ages.
Shipping
The information below is for guidance. Actual delivery costs and dates depend on the delivery address, weight and time your order is placed. Cut-off time for Overnight Orders is 12 noon.
| Price | Method | Manufacture Time | Delivery Time | Est. Delivery Date |
| --- | --- | --- | --- | --- |
| £2.99 | Royal Mail - 1st Class | 3-5 Days | 1-3 Days | Wed 23 Jan - Tue 29 Jan |
| £9.98 | Courier - Economy (M-F Pre 6pm) | 3-5 Days | 2-3 Days | Thu 24 Jan - Tue 29 Jan |
| £12.95 | Royal Mail - Special Delivery (Pre 1pm) | Monday | Next Working Day | Mon 21 Jan |
| £12.98 | Courier - Overnight (M-F Pre 6pm) | 3-5 Days | 1-2 Days | Wed 23 Jan - Mon 28 Jan |
| £14.95 | Royal Mail - Special Delivery (Saturday Pre 1pm) | Monday | This Saturday | Sat 19 Jan |
| £24.95 | Royal Mail - Special Delivery (Pre 9am) | Monday | Next Working Day | Mon 21 Jan |
| £29.95 | Courier - Economy (M-F Pre 6pm) | 3-5 Days | 2-4 Days | Thu 24 Jan - Wed 30 Jan |
| £34.96 | Royal Mail - Special Delivery (Saturday Pre 9am) | Monday | This Saturday | Sat 19 Jan |
More Information
| | |
| --- | --- |
| Availability | Available to Order |
| Despatch | Made to order (personalised) 3-5 Working Day Despatch |
| Brand | Highlight Imports |
| RRP | £4.99 |
| Weight | 69 g |
| Country of Origin | China |
| SKU | FGHOT063 |
Personalised Hot Water Bottle Cover (Animal Embroidery Design)