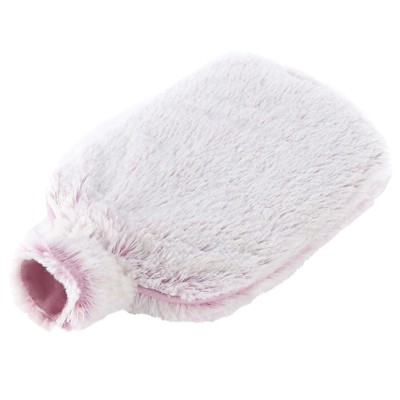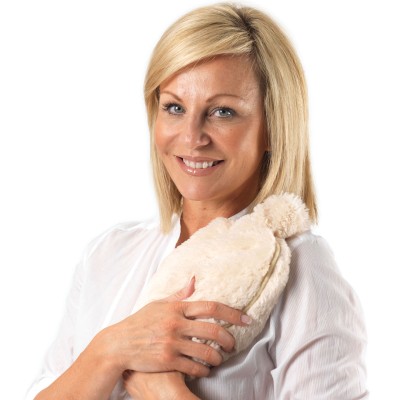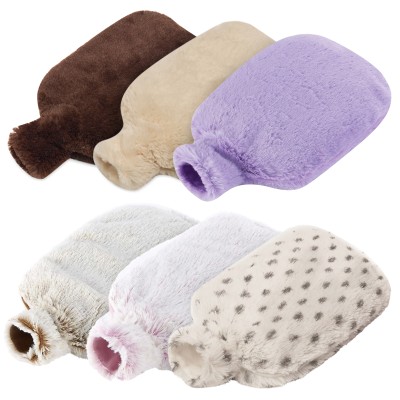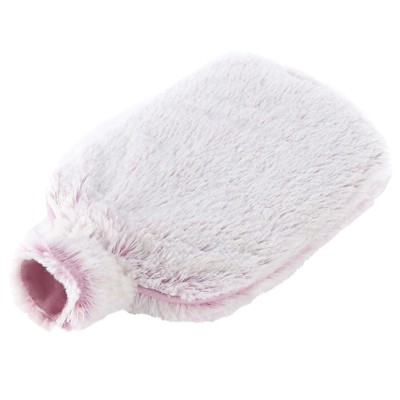 Warmies Heatable Bottle Microwave Heating Pad
BS8433
Natural Filling
Description
Warmies Microwave Bottles are fluffy and luxurious heatpacks that are perfect to snuggle down with for the winter season.
Gently scented with relaxing lavender.
Simply warm in the microwave.
Easier, quicker and much safer to use than traditional hot water bottle.
Available in brown and cream.
26cm by 18cm
Conforms to BS 8433:2004.
Each bottle made with expert care.
The furry warmers hot packs come in a traditional hot water bottle design. Each one is made from luxurious fur and gently scented with lavendar designed to soothe, comfort and relax. These microwave heat packs are easy to use and much safer than the traditional hot water bottle, simply warm the heat pack in a microwave for the time stated.
Reviews
Lovely quality
- I have had some cheaper and inferior wheat packs but this one is great. It smells nice and is very cosy well worth the money thanks (Jane , 24/06/21)
Brilliant purchase
- Excellent product. This is the third one I have bought, one for myself and the other two for members of my family (both young and old!) and they love it too. Definitely recommend. (Kim McAllister, 30/03/21)
Excellent product
- This is a great product. I bought 2. One for my elderly Mum who has arthritic hands and she loves it. No more filling a hot water bottle and running the risk of spilling boiling water over her. I use mine as I suffer from a sore back and it retains its heat well for this purpose. (Kim, 11/03/21)
Present for mum
- She loves it, very cosy and cuddleable. Much safer than a hot bottle. (Nicky, 27/02/21)
Not happy
- Ordered a wheat bag and 2 weeks later I was still waiting to receive my order, I tried to contact wheaty bags by phone, Instagram and email.. they were awfully difficult to get hold of which annoyed me even more! When I finally got a reply they told me my parcel must have got lost in the post and that they didn't have the same wheat bag In stock to be able to send another! I did not believe this at all, and I came to the conclusion they had in-fact forgot to process my order and had since sold out of the bag I ordered. Wheaty bag refunded me but I am now without the product I wanted and will not be recommending l this company to anyone! (Lola, 02/02/21)
Looks ok
- Looks ok but its a birthday present for February so hope it works well so far 5 out of five for delivery and looks (Debs, 19/01/21)
lovely!...but no discount as promised!
- This is very easy to use, lovely and soft with lavender scent and a lovely pinkish-mauve colour. My only quibble is I didn't get the discount code promised in an email (Kate 55, 19/01/21)
Jude's hot bot
- Jude loves her furry hot bottle. (Gavin, 19/01/21)
Heat Pack Review
- Does what it says on the tin except don't exert any pressure onto the item from the top down mine split open when I accidentally leaned on it and had to stitch it back together maybe stronger stitching required at the bottom apart from that great :) (Clive, 27/12/20)
Pleased
- I am pleased with this product. Very soft material. (Hilary, 22/12/20)
Wheat bags
- I bought 2 of these for my 93 yr old Mum. She loves them but says they are a bit small so she's glad I bought 2. (Jill, 17/12/20)
Thrilled
- I am absolutely made up with my wheaty bottle maybe it is all in my mind but I am sleeping much better than when I was using my old hot water bottle. I definitely recommend. (Jandy, 29/11/20)
Amazing
- so warm and just overall amazing (Millie, 10/07/20)
Lovely product
- This was actually for my son who often gets stomach pain at night. He loves how soft it is, and the warmth and lavender are very soothing and certainly seem to do the job. Great product. (Helen, 22/06/20)
Love it!
- I absolutely love my Wheatybag and wouldn't be without it. (Janet, 18/06/20)
Excellent product
- Excellent product...I use it a lot as been very cold here in Spain. 3 minutes in microwave and ready to use.Have to fight my cat for it as he likes it as well!!! (Pamela Roberts, 13/06/20)
Ken Jones
- I have not ordered a Wheaty Bag for at least six months. The bags we have had before have been effective. (Ken Jones, 01/06/20)
Wheat bag
- Very well made and holds the heat beautifully (Micaela Evans)
Cosy
- Perfect for my back as can position in a specific place Thank you (Micaela Evans)
Great Product!
- Quick and easy transaction and the product arrived really quickly! Just what my husband needs for a sore back! (Alison Bosworth)
Just the job
- Purchase as a gift. Recipient delighted & says it has helped to ease back pain, as well as keep her warm. (L.S.)
Love it!
- Couldn't be without my wheaty. So snuggly and as long as it stays in the bed next to you, is still not cold in the morning. (CC)
Great for a 93 year old
- I bought 2 in differing colours for my 93 year old mother. They are really soft and comforting and help soothe painfully hip joints. Brilliant. Thank you (Diane)
Winter Warmer
- We have several of these products and find them entirely reliable and safer than traditional hot water bottles. We have always received good service from this Company and have no hesitation in recommending them or their products. (G D Williams)
Safer than a hot water bottle
- After having a hot water bottle burst in my bed on two occasions, I decided to go for a wheat and lavender bag (two in fact). Just a couple of minutes in the microwave and it's toasty warm. It doubles as a neck warmer - I may well buy one of those too. Good value, quick service. (Jezebel)
my wife finds great comfort from this cushion, and helps to ease various pains.
- my wife finds great comfort from this cushion, and helps to ease various pains. (Gerald Serritt)
No more cold feet
- Purchased this for my 99 year old mum whose feet are always cold and who mistrusts hot water bottles in case they leak. She is absolutely delighted with it and always checks that I've got her 'furry friend' ready when she gets into bed. As well as being warm, it is beautifully soft too on her delicate skin. (nannaj)
A GOOD NIGHT'S SLEEP
- The furry hottie bottle arrived very quickly after the order was placed. It arrived in good condition and was a good price. Nighttime is never the same without a hottie. No more cold feet! (anonymous)
My sister and brother-in-law like the wheaty bags
- I liked the variety of sizes you could buy the wheaty bags in. In the shops they only seemed to have small ones. I also liked the prompty delivery. (Liz)
More Reviews
Instructions
This product is safety tested by the manufacturer and has important heating instructions attached to the product when we send it to you.
Please refer to the manufacturers heating instructions provided with your product.
Please retain the heating instructions and follow them very carefully.
FAQs
Do these bottles come with instructions?
Yes. Our factory supplies these products with full safety tested heating instructions and we suggest you refer to these carefully, and retain them on arrival for future reference.
Can I put these heatable bottles in the washing machine?
No. We advise that these products are not placed in the washing machine as it can be damaging to the fibres. Surface clean with a damp sponge or cloth then allow to dry.
Are the bottles suitable for children?
The product is not suitable for children under 3 years of age due to the risks of overheating. Any child using the heatable bottles should be supervised by an adult.
Are the bottles dangerous if heated too long in the microwave?
As with any microwavable item it is very important to check the guidelines before use. There are instructions on how long to heat the bottles but if you suspect the product has suffered from burning then throw away immediately.
Delivery
The information below is for guidance. Actual delivery costs and dates depend on the delivery address, weight and time your order is placed. Cut-off time for Overnight Orders is 12 noon.
| Price | Method | Manufacture Time | Delivery Time | Est. Delivery Date |
| --- | --- | --- | --- | --- |
| £4.99 | 2nd Class (Tracked) | 0-1 Days | 2-3 Days | Mon 11 Dec - Wed 13 Dec |
| £6.99 | 1st Class (Tracked) | 0-1 Days | 1-2 Days | Fri 8 Dec - Tue 12 Dec |
| £10.99 | Royal Mail (Special Delivery Overnight Mon-Sat Pre 1pm) | Today | Next Day (Mon-Sat) | Fri 8 Dec |
| £13.27 | DHL Courier (Economy M-F Pre 6pm) | 0-1 Days | 2-3 Days | Mon 11 Dec - Wed 13 Dec |
More Information
| | |
| --- | --- |
| Despatch | Today (Cut off time 3pm M-F) |
| Brand | Warmies (Intelex) |
| RRP | £12.99 |
| Filling | Millet Seed |
| Country of Origin | China |
| SKU | FGFUR023 |
| Gtin | 5060075683237 |
| Tariff Code | 9503004100 |
| Tariff Description | Stuffed Toys |
| Product Weight | 728 g |
| Product Dimensions | 30 x 18 x 4cm |
Product Options
Colour
Pink Marshmallow, Luxury Latte, Luxury Charcoal, Luxury Steel Grey
Product Type
Wheat Bag
Warmers For > Microwavable Heating Pad
heating pad
heat pack > microwave heat pack
Warmies

Warmies Heatable Bottle Microwave Heating Pad
- Pink Marshmallow
FGFUR025
5060075686030
£16.99
800 g
30 x 19 x 4.5cm
Warmies Heatable Bottle Microwave Heating Pad
- Luxury Charcoal
FGFUR022
5060075688119
£21.99
720 g
27 x 17 x 2cm
Warmies Heatable Bottle Microwave Heating Pad
- Luxury Steel Grey
FGFUR028
5060075688126
£21.99
720 g
27 x 17 x 2cm
Warmies Heatable Bottle Microwave Heating Pad
- Luxury Latte
FGFUR029
5060075688102
£21.99
720 g
27 x 17 x 2cm
Warmies Heatable Bottle Microwave Heating Pad