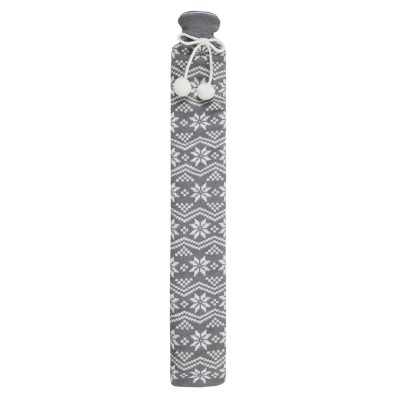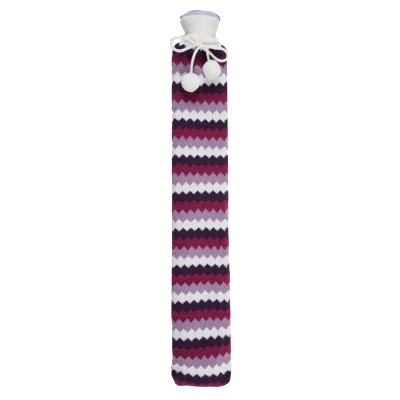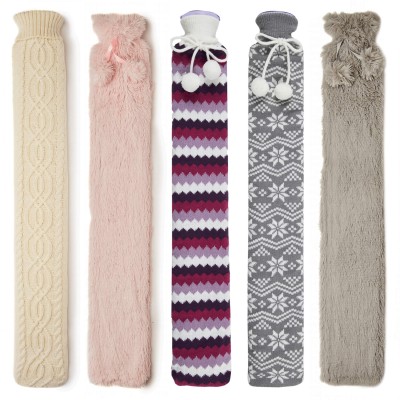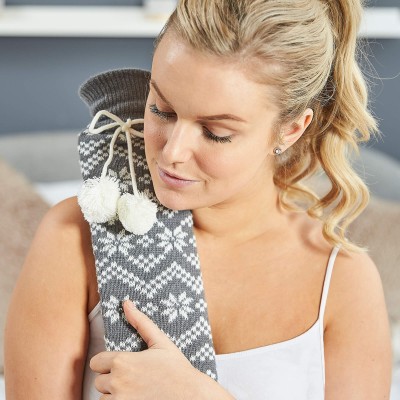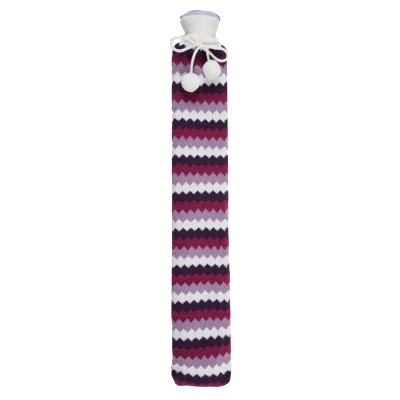 BS1970
Description
The Long Hot Water Bottle is a branded Warmies Extra Long Hot Water Bottle presented in beautifully designed and luxurious covers that make for one of the best and longest hot water bottles available.
Long Hot Water Bottle.
Luxury Hot Water Bottle Covers.
Many colour and design choices.
Approx. 32 inch size.
Trusted Warmies Hot Water Bottle Brand.
Conforms to all known safety standards including BS8433, ASTM-f963, NB Toys and EN71-1/2/3.
Reviews
Long Hot Water Bottle
- Most unusual, bought this for my wife who loves it. Will provide warmth to a large area. Obviously holds more water than standard bottles and so is heavier but not a problem in situ'. A great product. (Lordted, 11/03/21)
Very comforting
- A great product - just lovely, comforting and very addictive in a healthy positive way. Another great product. Use it in my healing tractors. (Star Breaks ReSet , 28/11/20)
Great length and softness
- Bought this for my girlfriend who suffers from menstrual pains. She loves it and its the perfect length to warm her body in different places. Overall a great water bottle that does the job well. (Noah, 13/07/20)
Really lovely and cosy
- I suffer from a painful back after gardening, and this bag is just wonderful placed down my spine (Deanna, 03/07/20)
Different
- I always have a hot water bottle in bed even through summer as I have bad circulation to my feet, this is something a bit different to your standard bottle and I love it. (Marie R, 28/02/20)
Perfect Present
- Gave this to my other half as a early birthday present and she loves it easy to heat and stays warm for ages love it x (Theo H, 27/02/20)
My Wife Loved It
- I bought one of these for my wife as a Christmas present as she's always cold and loves to cuddle up with a Hot Water Bottle in bed. She was absolutely thrilled when she opened it, thank you. (Howard East, 27/02/20)
Great buy!
- Bought as a gift for someone so can't comment on its efficiently, however just by looking at alone this is fantastic. I knew it was going to be big, but this is massive. Well chuffed. (Mohammed, 27/02/20)
Extra Long Hot Water Bottle
- I have always been a fan of hot water bottles and warmers and have a bit of a collection of both. Really like how long it is and how luxurious it feels. Would highly recommend! (Bernice W, 27/02/20)
Huge hot water bottle
- Loved this for my daughter, she's only 12 and took this to bed with her every night after Christmas when we gave it to her... it's almost full body length for her and can't recommend these long hot water bottles enough. I bought 2 more with the voucher I got from my first order. (Liz B, 26/02/20)
Instructions
Please refer to the manufacturer's instruction card that is attached to your product for your own safety. At the time of writing, the instructions supplied are as follows:
INSTRUCTIONS FOR USE
When filling this hot water bottle, do not use boiling water and fill to a maximum of two-thirds capacity or less.
Do not overfill as this may cause the bottle to burst.
Hold the bottle by the neck in an upright position and fill slowly to avoid hot water splashing back.
Expel air from the bottle by lowering it carefully onto a flat surface until water appears at the opening.
Screw the stopper sufficiently tight to ensure that there is no leakage. Finger tight should be adequate.
Finally, make sure the funnel is empty.
If there is a possibility that prolonged contact with the skin could occur, an adequate cover should be used to prevent burns.
Under no circumstances should the hot water bottle be used as a cushion and be sat on.
WARNINGS
Do not fill from water from the domestic hot water system as this can considerably shorten the life of the hot water bottle.
Prevent contact with hot surfaces.
Prevent contact with oil or grease.
When not in use, drain completely and keep, with the stopper removed, in a cool, dry, dark place.
Prevent exposure to sunlight.
Do not place anything on top of the bottle during storage.
Check the bottle and stopper for wear and damage prior to use.
Retain these instructions for future reference.
It is strongly recommended that children are supervised when using hot water bottles.
Delivery
The information below is for guidance. Actual delivery costs and dates depend on the delivery address, weight and time your order is placed. Cut-off time for Overnight Orders is 12 noon.
| Price | Method | Manufacture Time | Delivery Time | Est. Delivery Date |
| --- | --- | --- | --- | --- |
| £4.99 | 2nd Class (Tracked) | 0-1 Days | 2-3 Days | Mon 11 Dec - Wed 13 Dec |
| £7.99 | 1st Class (Tracked) | 0-1 Days | 1-2 Days | Fri 8 Dec - Tue 12 Dec |
| £13.27 | DHL Courier (Economy M-F Pre 6pm) | 0-1 Days | 2-3 Days | Mon 11 Dec - Wed 13 Dec |
| £14.99 | Royal Mail Special Delivery (Overnight Mon-Sat Pre 1pm) | Today | Next Day (Mon-Sat) | Fri 8 Dec |
More Information
| | |
| --- | --- |
| Despatch | Today (Cut off time 3pm M-F) |
| Brand | Warmies (Intelex) |
| RRP | £19.99 |
| Filling | Water |
| Country of Origin | China |
| SKU | FGHOT067 |
| Gtin | 5060075685378 |
| Tariff Code | 3924900090 |
| Tariff Description | Plastics and articles thereof; rubber and articles thereof |
| Product Weight | 724 g |
| Product Dimensions | 77 x 12 x 5cm |
Product Options
| | |
| --- | --- |
| Option | Purple Chevron Knit, Pink Fur, Grey Nordic Knit, Cream Knit, Grey Fur |
Long Hot Water Bottle
- Grey Nordic Knit
FGHOT066
5060075685361
£24.99
724 g
77 x 12 x 5cm
Long Hot Water Bottle
- Cream Knit
FGHOT070
5060075686597
£24.99
724 g
77 x 12 x 7cm
Long Hot Water Bottle
- Grey Fur
FGHOT068
5060075686108
£24.99
724 g
77 x 12 x 5cm
Long Hot Water Bottle
- Pink Fur
FGHOT069
5060075686115
£19.99
724 g
77 x 12 x 5cm
Long Hot Water Bottle
- Purple Chevron Knit
FGHOT067
5060075685378
£19.99
724 g
77 x 12 x 5cm
Long Hot Water Bottle