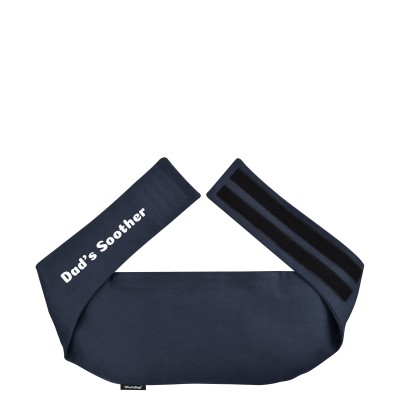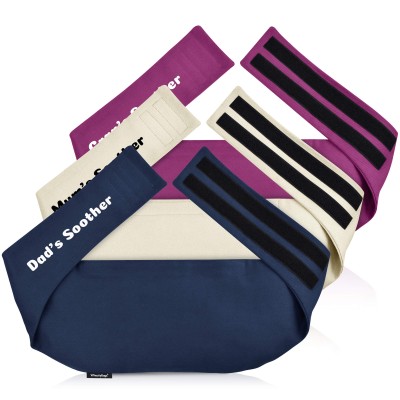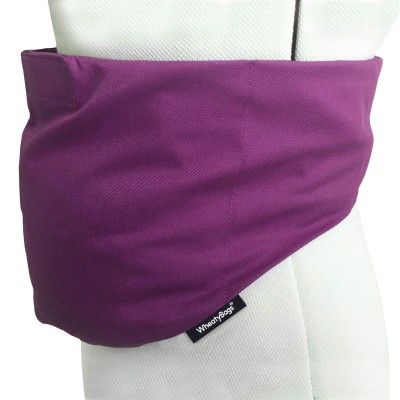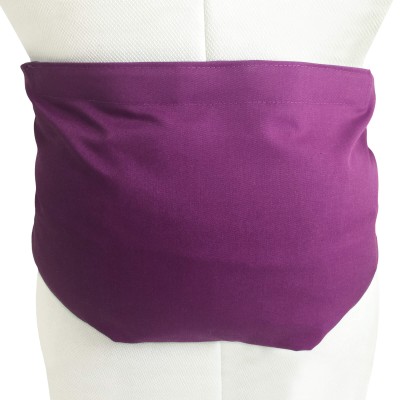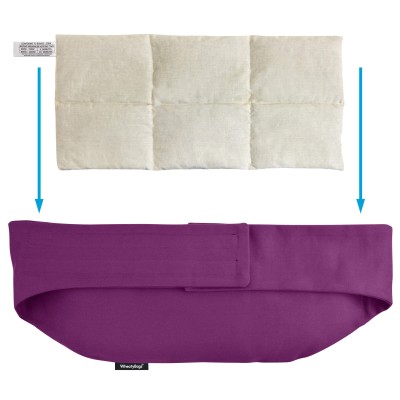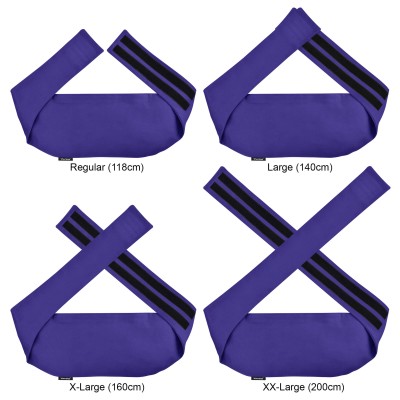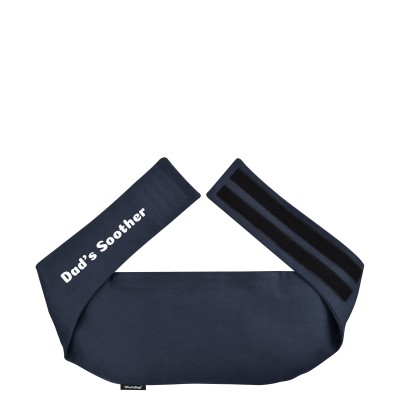 Wheat Bags Luxury Lower Back Warmer (Wearable)
UK Made
BS8433 : 2004
Natural Filling
Organic Options *
Description
Wheat Bags Lower Back Warmer is UK Made and can be fastened around the waist for your lower back or stomach area. This heat pack can also be rotated 180° to target the front, lower right hand side or lower left side and offers a variety of different waist size options.
Natural lower back wearable wheat bag.
Rotate for different positions.
Removable, washable cover.
Fully adjustable strap.
BS8433.
21cm tall with waist size options.
Trusted WheatyBags® UK Made brand.
WheatyBags® Luxury Lower Back Warming Heat Wrap is an expertly designed microwave wheat bag with integrated Velcro-style fastening. The inner heat pack is manufactured to a versatile 40cm x 21cm, provides exceptional coverage across the lower body area and can be worn beneath or on top of everyday clothing if needed.
Waist size is important to the fitting of this heat pack and each of our packs come with a fully adjustable waist belt. Regular size measures approximately 118cm in width including the heat pack inside and will adjust for many mid-sized people, men's waists from 30' up to around 40' and ladies size 10 upwards of size 16. Our XL size heat pack would be also fully adjustable and easily manages to cover a larger ladies size 22 upwards and men of similar proportions, though we also manufacture an XXL for larger than size 26 to 28 upwards. All packs are fully adjustable and cover many sizes in each product size; the product would ideally be a snug fit around the waist and sit on the hips to stay in position.
Rotate this heating patch 180° for targeted localised warmth, or remove the inner wheat bag from the outer cover belt for a phenomenal do-it-all heat pack.
The outer cover is both removable and washable and is available in a range of stunning fabric and colour variants. The inner wheat bag is comprised of a neutral coloured, natural cotton fabric and is generously filled with triple-screen cleaned, CE-approved wheat that is locally sourced.
This gorgeous microwave heating patch is British Safety Standards compliant [BS8433] and has undergone testing to ensure its safety. Personalise this product with a name, phrase or message of your choice and create a thoughtful yet practical gift for a friend or family member.
We manufacture the Luxury Back Warming Heat Wrap to order in our British factory. Buying British means buying with confidence.
Reviews
Ok
- This heating pad is so comforting on my back and helps to keep me warm while sitting in my reclining chair. I also love the aroma of warm seeds! (Beverley, 17/10/21)
Wearable Wheat
- Item came promptly and was as described. Easy to heat up and comfortable to wear in good place for back problems. (Carly, 19/09/21)
Wheatybag
- Great product. Exactly as described on website, well made and robust. Would definitely buy again. (Ann Taylor, 13/08/21)
Wheaty Bag helps to alleviate lower back pain
- Having relied on a very old wheaty bag over the last few weeks, it was good to take receipt of a new one, complete with its own "sling" which enabled me to wear the bag around "my middle". Very happy with the prompt delivery and the product itself (Lewis Payne, 01/07/21)
Prompt delivery of useful product
- Works very well having some lower back issues. A bit of a fiddle to put wheat pack into the cover. Thought would be good to use whilst standing but the pad has 6 pouches which allow the wheat to slump when standing. Perhaps small pouches would help improve that. However sitting down is fine. When using I pop a cushion behind my upper back to give more support there. We are very pleased with it both my wife and myself are very keen gardeners, we are in our mid 70's and spend too long in the garden some days, so our purchase will be a great help to us (Gj, 26/05/21)
Good buy.
- Well made and practical heat pack. (George, 19/05/21)
Lower back heating pad
- Very good service . My wife is verypleased withthis as it has given her great relief. Thank you (Optimist, 12/05/21)
Happy custmer
- As a remedial massage therapist I regularly use wheat bags when treating clients. Recently one of my client asked if I could source a wearable heat pad for him. Which I did from WheatyBags and he is delighted with both the quality and functionality. (Ian 'Healing Hands', 04/05/21)
Great idea
- After years of trying to soothe a bad back with warmed towels and substandard wheatie bags I've now found the perfect solution (Rita, 30/04/21)
Wheat Bags
- They certainly worked to relieve the back pain! (Maggie, 08/04/21)
Very helpful
- I often have lower back pain when I get up in the morning. This helps relieve it very comfortably. (Mary K, 26/03/21)
Great product
- Great product, and good design for lower back pain, as you can wear like a bum bag it sits nicely on your back whilst you rest and watch tv or read etc. The bag holds the heat well and stays warm for well over an hour. Definitely helps when lower back aches, and helps to keep muscles supple. (Julie, 23/03/21)
Outstanding product
- The service from this company is outstanding, the product is equally amazing. I purchased it for my daughter and she is over the moon with the result, thank you (Dave, 22/03/21)
Mrs
- Good but a bit expensive. (Radha, 12/03/21)
WheatyBags
- Very good and well made and allows by the different bags to be use all over the body Do measure around your stomach not the same measurement as you waist (Mark, 11/03/21)
Heat pad bag
- Great product, fits well (Mia, 01/03/21)
Fantastic product.
- I have a lot of lower back and hip pain associated with fibromyalgia and this has really helped me. Would highly recommend. (Rebecca, 27/02/21)
Wheat bag
- Well happy with it thank you (Mick, 25/02/21)
Great idea
- Great idea .Makes it so much easier to aim the heat pack to exactly where needed.Only one thing that would make it easier is the waist band was a little smaller as only have a small waist and this is the smallest size they do. (Izzie, 17/02/21)
Helpful product
- It took me a while to work out that there was a pouch for the bag - some instructions would have been useful (Neptune , 12/02/21)
Excellent pain relief
- Beautiful easy fit, comfortable, no hassle, great to walk around and utterly amazing (MAK, 31/01/21)
Great
- This is great with the strap. Means I can wear it while I'm doing housework or in bed at night to help period pains and it doesn't move about. (Jeni, 28/01/21)
Works Well
- I have had a a bad back for some weeks. After getting this Wheat Bags it has helped to ease the pain. (Barbara, 21/01/21)
Wheaty bag
- Very pleased with this product. Secure around the waist which means you can move about with it on. Holds the heat for a reasonable amount of time. (Allison, 21/01/21)
Fran
- Perfect for my back and smells gorgeous. (Fran Verey, 18/01/21)
brilliant.
- a simple idea but just so good, the benefits of heat to ease and the simplicity to put it where needed and for it to stay there in comfort. (GLM, 29/12/20)
Fine
- Very happy with back pain heating bag, thanks (PBC, 28/12/20)
S j
- Great heat pack, does exactly what i needed it for, great to wear when I'm moving around the house. (S J, 28/12/20)
I can't live without this now!
- Really wonderful and excellent quality product! I have Fibromyalgia and quite often find that heat can really help my aches and pains! This is very versatile as it can be worn which means I can move around whilst using it and also take the wheaty bag out of the wearable cover and use it in specific areas. I do still use my hot water bottles but find this a great alternative to burning myself on boiling hot water which I accidentally do quite often when filling hot water bottles up. Love the design and how safe and easy it is to use! I highly recommend this and will be purchasing again in the future! (Connie, 23/12/20)
Nice product
- Very pleased with quality of product (BB, 23/12/20)
Lower back heating pad
- I have been using the heat packs for a number of years now. I just had to have this one as you can walk around with it. Fantastic idea, I love it (Wendy, 10/12/20)
Sue
- I already had one recommended by the physio. But this does cannot be held in position. The Velcro on this one makes it easy to use because I can fix it round my waist. And the heat really helps with my back pain. (Sue, 09/12/20)
Excellent
- My daughter had corrective surgery for scoliosis when she was young. The rods inserted in her spine cause her to suffer from bad back ache from time to time. She finds the heat pad easy to use and very helpful in significantly reducing the pain (JillD, 29/11/20)
Awesome
- I suffer from back ache a lot and this has helped me no end! Recommend to everyone and anyone!! (Charlee Gardiner, 28/11/20)
British made
- Wanted a British made product and I'm very happy with the wheat bag....it's well made. I still think it's slightly overpriced though by just a few pounds and would put a lot of customers off. (AMR, 10/11/20)
Wheatybag
- I injured the joint in my lower spine so therefore bought the wheatybag as I feel heat helps. I walked around with the bag in the house and also at my allotment. I've just worn the belt on its own as support and an extra layer which I'll carry on doing during the winter when required. (Ole, 05/11/20)
Wheat Bay lower back pain heating pad
- product works very well, and the cover wraps well round the wearer held by very strong velco fastenings. Rateing 5 (John, 29/10/20)
Time will tell.....
- This is a present for my daughter so not used as yet. Item smells lovely and appears to be well made and robust. (Maria R, 24/10/20)
Heat helps
- Having used the wheatybag for back pain I have found it brings temporary relief (Lorna Mason, 16/10/20)
Excellent product
- Looks good, feels lovely and very comfortable. Keeps the heat where you need it! (Andrea, 15/10/20)
Wheatybags
- Just what I needed, immediate heat effect with no danger ie from boiling water filled hot water bottles. (Salbee, 13/10/20)
Wheat Bags
- This has been very good for easing the pain in my back and because of the strap, it means you can walk around with it, if necessary. Retains heat reasonably well, but if it needs refreshing, then it only takes 2 minutes. (Anne, 13/10/20)
Julita
- Bought for a friend suffering much back pain from Cancer. She tells me it is Great and helps a lot (Julita, 07/10/20)
Just right for lower back pain
- Just what I wanted (Susan Marks, 02/10/20)
Perfect for the Job
- The service received from Wheaty was fast with good communications. Item is very high quality and is perfect for my need which is to gently heat my dog's back, it will also be very useful for me for it's intended purpose :-) (Pendlecurl, 29/09/20)
Lower Back Pain wheat Bag
- Found that the heat has really helped with my back pain. Very good quality product and stays wam for a long time. (Judy Butler, 26/09/20)
Lower back pain
- I was very pleased to receive my wheat bag. I have used a bag from other manufacturers before which helped but the idea of wearing it made sense. Results have been very good and it has eased my pain. (Deeb, 25/09/20)
My Daughter's New Best Friend
- My daughter has been suffering with a herniated disc in her back and this wheat bag has saved her. It helps to ease the excruciating pain and it's great as she is able to strap it around her waist so she can still move about whilst still heating her back. This wheat bag has become my daughter's new best friend. (Amanda, 17/09/20)
Good review
- Very pleased with this pad, much larger than my old one and am able to walk around with it because of the wrap around. (anondorset, 25/08/20)
Lower back pain
- Very good and am very pleased (Ronald Hadley, 17/08/20)
Wheatybag
- Does what was expected. Very comfortable helped to ease my back pain, after light exercise. (Margaret, 13/08/20)
Chris Heapes
- First class the wearable cover makes it so easy.I'm beginning to get some sleep after two horrible years of pain. (Chris, 13/08/20)
Great product
- I have used a small wheat bag for a number of years to ease my lower back pain and this product takes it to a new level. It is comfortable and provides great relief, highly recommended. (Janey, 30/07/20)
Relief
- Brilliant product have had a few heat bags but this is the best one yet (C Webster, 24/07/20)
Great product
- User found this item to very helpful in dealing with aches and pains (VLD, 19/07/20)
My wheat bag
- This wheat bag is lovely and big and it is great as you can tie it around your waist while you work about the house. Great. (Bottles, 15/07/20)
Very comforting
- Suffering from sciatica at the moment and I wear this when doing chores that give me discomfort. Really helps -eg peeling potatoes (Janet, 15/07/20)
Piriformis relief
- This wheatybag has been playing a great part in helping me manage the lingering stages of piriformis. The adjustable velcro strap means I can wear it slung low right where the worst of the ache is. After two and a half minutes in the microwave it stays warm for a long enough period to significantly relieve the dull ache of piriformis. Excellent product. (Irimais, 15/07/20)
Great
- Very good product. So glad that I finally have something that can help me with pain, even when I am out and about. Would recommend. (Cath, 15/07/20)
It works
- Eases back pain, especially when standing in the kitchen (Mavis Webb, 15/07/20)
Great Product
- Very versatile because it is adjustable, you are able to place it in position easily. Relieves my back ache within 5 minutes, Not at all flimsy, a good quality product. (Scooey, 14/07/20)
Lower back pain heating pad
- Just as we entered lock down, my back went! This heating pad was a lifesaver for me, I don't know what I would have done without it. Highly recommended. Arrived very quickly too. (Claire, 12/07/20)
Cotton cumberband
- Better than I thought. It acts as lumbar role in car, heats when room heaters off and the empty cotton cover is now my work bag instead of a pocket. Shape good when holding DIY tools. (Cath, 11/07/20)
It works!
- Convenient, quick and long lasting. Has helped enormously with back pain for a 84 year old man. (Fred , 08/07/20)
Cover
- Good product for easing back pain, but hard to undo stiff Velcro for elderly fingers as cover needs to be removed before putting pad in microwave and then put back on before use. (Angela, 08/07/20)
Top nott
- Bought this on recommendation for a friend. She's very happy with it. (Captdrain, 06/07/20)
Wheatybag
- Fits nice and helped ease my back pain. I recommend the Wheatybag. Easy to use (Mark Tveit-Sherratt, 06/07/20)
Fantastic quality
- Bought for my husband who suffers a lot wth lower back pain and this really did help would highly recommend (Melz, 04/07/20)
Effective
- Husband used to ease lower back pain. Reasonably effective for short term relief. Relatively easy to use. Sizing is generous , could have easily had a smaller size. (Karen , 03/07/20)
Wheatybags
- Recommended by my physio. Absolutely superb, never looked back. Good heat retaining and the smell of lavender lasted. (Joan Calf, 30/06/20)
Perfect for easing back ache
- I purchased this to ease my back ache during pregnancy and also to help in labour. Worked perfectly! (Natalie, 30/06/20)
Excellent Product
- My Wheat Bag was very easy to prepare and use. It relieved the pain I had been suffering from in my lower back. I am very pleased with it. (Robert Pearson, 29/06/20)
Wheat bag for my Dads back
- My Dad has always suffered with his back, but after my Mum passed away suddenly I had to place my Dad in a home as he had advanced Dementia. The Carers asked me if I could find something to help his back pain. After a lot of research on the internet I came across Wheatybags.co.uk which allowed you to choose the size, Colour, add an aroma and also to personalise the removable Washable cover. I chose the large back one with Lavendar ( to calm him) and with his name embroidered on it, which is a godsend in a nursing home where inadvertently things get mixed up. I wish I had filmed his face the day I gave it to him and the Carers heated it up and put it on for him, he was so happy. He looked up at me and said how much better it made his back feel, and was even happier that he could walk about with it on as it had a large Velcro fastening which made it very secure. It takes a lot to please a grumpy old man with advanced dementia but believe me he was very happy with his wheatybag and I won't hesitate to purchase another one if needed or recommend it to anyone. (Gilly, 28/06/20)
Lower back pain relief
- I love this product for my lower back pain and can wear this out and about if need be. I'm a size 18 and it's fits me with room. (Kirsty, 27/06/20)
Backcomfort.
- Helped alot with back pain.kept me moving. (Geoffrey Reed)
Bought for a much loved friend who has everything or at least she does now.
- My friend Is a keen gardener and suffers from time to time with back pain.She already has a wheat bag however when I saw this one that would fit around her body. I thought it would suit her perfectly. I requested standard delivery directly to her home which was spot on I received emails informing of each stage the delivery was at, which was really helpful and reassuring as it was going directly to my friends home address.The wheat bag with the requested message on arrived within 4 days. She and I were very pleased with the whole process. I will certainly consider purchasing this as a gift again as the service was five star plus. (Janice Totten)
Back pain relief
- Helpful in pain relief (JF Knight)
Wheat bag bliss
- Excellent product does exactly what it should and such a clever idea to be able to remove the wheat bags and wash the cover. 10/10 (Margaret)
First rate product
- Just what I need to help back pain. Very good product speedily delivered. (Elizabeth)
Pink and perfectly formed
- A very comfortable way of wearing a heat bag. Well made - and pink (JHG)
Luxury Back Warmer Wheat Bag
- I have arthritis in my lower back. I have tried a number of wheat bags and this is the best I have used. It was easy to order and arrived on time. (anonymous)
My Aching Back
- This has been so soothing, I recently hurt my back & wanting to keep pain killers to a minimum, I sent for this & it has been great, also scented with lavender so very comforting. (Granny Jenny)
Premium quality handmade and fabulous
- Amazed at the quality of this wheaty, worth every penny! Exceeded expectations, and they were high to begin with. Place your orders ladies and gents... (John Fearns)
My wife loves her new Back Warmer
- My wife has severe Back Pain constantly and this Wheaty Bag Back Warmer is ideal for quickly warming up to give her a bit of extra relief (ScouseDab)
Excellent product
- A well made product delivered on time with simple instructions for use. Good for both back and neck pains (David Rome)
wheatybags back bag
- husband is delighted with this product.he has awful back pain and this helps to ease the discomfort. (anonymous)
DOES JUST WHAT I WANTED IT FOR!
- I have arthritis in my lower back, resulting in restricted movement, particularly in the morning when my back hasn't yet 'warmed up'. The wheat bag places the heat exactly where I need it, still allowing me to walk around. It's great! (Rita)
My back my wheat bag
- Not a cure, but my words what a comforter,i am very pleased with the purchase and service. (anonymous)
Just what I wanted
- As a sufferer of lower back pain heat really works, and this back warmer is ideal to apply long lasting warmth whilst still being able to walk about. Would recommend to others. (Di)
Comfort for my back pain
- I had an old back belt, filled with wheat, that I found most beneficial, but due to lots of use, it was badly worn, and had to be replaced. This Wheatybag is ideal, and will hopefully give years of service. (Mary Smith)
At last a decent size!
- This has proved most helpful as a sleep aid. I have arthritis in my lower back and a good warm cushion helps reduce the stiffening overnight. (DianaP)
Great back cushion
- I bought this for my husband. It is very well made and perfect for holding the wheat bag in the small of back. Very pleased. (anonymous)
HELPING MY HUSBAND'S LOWER BACK PAIN
- I bought this bag for my husband who suffers from lower back pain He likes it because the Velcro straps keep it in place and feels it is helping him. I would recommend this item. (DEW)
Helping my husband's back
- My husband likes this WheatyBag as it stays in place because of the Velcro straps and feels it is helping his constant back pain. (DEW)
Much better than buying single use heat wraps
- This back warmer is great for using after a long day dog walking. It's quite heavy, and maybe because I'm quite small it feels quite bulky compared to the single use heat wraps I've been using, but it's great quality and much better value. (Sarah)
My wife loved her birthday present
- My wife loved getting this back warmer for her birthday. The smell of the heated wheat is really nice. It stays warm for a long time and fits well over her lower back, allowing her to move around while wearing it. (Millie)
Great personalised gift
- Bought a wheat bag in cotton and personalised it for my mum in law. Fab value and great quality. Smell of lavender was beautiful too! (Hhayes18)
Delighted sister
- I purchased this for my sister who has lower back pain, and she is delighted to be able to wear this hot wheat bag while being mobile. Am considering another one for myself. (Barry)
Brilliant product
- I had one of these since they were first on sale and it's brought so much relief. I have an autoimmune form of arthritis which results in quite severe daily back pain. Wearing my back warmer around the house and garden really helps and is an ideal product for those wanting to stay active while wearing it. (Kat)
Pleased plump pensioner
- My bespoke back warmer works when painkillers don't . (Carole Reynolds)
More Reviews
Instructions
MAXIMUM MICROWAVE HEATING TIMES FOR THIS PRODUCT: MAXIMUM HEATING (AND CHILLING) TIMES FOR THE PRODUCT ARE ATTACHED TO THE PRODUCT BY SEWN-ON LABEL AND CARD SWING TAG WHICH SHOULD BE RETAINED FOR FUTURE REFERENCE.
This product is entirely natural and easy to use. It is designed as a gentle warming or chilling product though it is EXTREMELY IMPORTANT to take great care not to over-heat or over-chill the product.
Please follow our heating and chilling instructions carefully and use your own judgment - if you are experiencing any discomfort from the pack then stop using immediately. If you want medical advice, please ask your Doctor.
GENERAL INSTRUCTIONS: Please take care heating this wheat filled product and be careful not to burn the contents inside. If you smell a burnt smell, the heat pack is best thrown away and a new one purchased.
Remove all tags and ensure the product is clean and dry before use.
Use the maximum heating guide (below) to determine the correct heating times.
Ensure all grilling / browning facilities are turned off and do not place near a direct heat source.
When first heated, the product will feel damp though this is quite normal and will stop after a few uses.
After this time we recommend placing a small cup of water in the microwave when heating.
In order to comply with BS8433 : 2004 we are obliged to tell you of the following.
WARNING - THIS PRODUCT CAN CAUSE BURNS.
AVOID PROLONGED DIRECT CONTACT WITH THE SKIN.
TAKE CARE WHEN REMOVING FROM THE MICROWAVE OVEN.
DO NOT INGEST CONTENTS.
DO NOT OVERHEAT.
FOR MICROWAVE USE ONLY.
HEATED PRODUCTS SHOULD NOT BE GIVEN TO CHILDREN.
MAXIMUM HEATING (AND CHILLING) TIMES FOR THE PRODUCT ARE ATTACHED TO THE PRODUCT BY SEWN-ON LABEL AND CARD SWING TAG WHICH SHOULD BE RETAINED FOR FUTURE REFERENCE.
ONLY REHEAT FROM ROOM TEMPERATURE.
DO NOT FOLD ITEM IN HALF TO HEAT.
HEAT WITHOUT REMOVABLE COVERS IF SUPPLIED WITH THIS ITEM.
SURFACE CLEAN WITH A DAMP CLOTH.
CARE INSTRUCTIONS
Do not wash the heat pack with the wheat inside.
Only clean this part with a damp cloth.
Optional removable covers if available for this product can be removed and cleaned in accordance with the washing instructions label on the cover.
Asthma Sufferers should be aware this product contains wheatgerm.
In the event of overheating, let the item stand in a safe place and do not touch until cooled.
Dispose of in the normal household waste if worn or damaged.
Store in a cool dry place.
Ensure that the microwave turntable can rotate freely.
TO USE COLD:
Wrap the pack in a plastic bag (to keep it clean).
Place in the FRIDGE or FREEZER for 1-3 hours.
Remove from plastic bag before use.
Be cautious and check your skin to avoid any possibility of freezer-burn and use a towel on your body with the pack on top to avoid direct contact with the skin.
DO NOT PLACE THIS ITEM IN THE FREEZER IF USING ON THE EYES.
Please do not machine wash this product or get it wet. If it becomes marked or dirty, please take good care not to wet the inner contents and wipe clean with a damp cloth.
Removable Covers: If you purchase this Product with the option for "Removable Cover" for cleaning, the outer removable cover will be supplied in the fabric and colour of your choice. The inner pack will be manufactured from a fabric and colour of our choice depending on supplies available at the time of manufacture (usually our natural value cotton fabric depending on the product).
Do not wash or get the inner wheat or other filled heat packs wet.
CARELESSNESS CAUSES FIRE.
Do not wash or get the inner wheat or other filled heat packs wet.
For 100% Cotton, 100% Polycotton & 100% Polyester Fabrics (eg Fleece) Removable Covers.
Remove the outer cover before carefully cleaning the outer cover only.
Only warm hand or machine wash and cold rinse the removable cover.
Wash with like colours max. 40 degree temperature.
For best results, lay flat on a suitable surface to air-dry.
Do not bleach.
1 spot iron (Cotton / Fleece) or 2 spot iron (Polycotton).
Do not tumble dry.
FAQs
Are these products a medical product?
No. Clear Prospects Ltd manufactures WheatyBags® microwave heat packs which have been tested to safety standard BS8433:2004. We are not Doctors and our products are not medical products (our heat packs are simple microwave heat packs that provide warmth and comfort). If you are unsure about their use, we recommend you consult your doctor before using heat packs in general.
How long should the heat pack be put into the microwave or chill in the freezer?
Please read the "Instructions" shown on our website for each Product as the heating and cooling instructions vary by product. All our heat packs have been safety tested and come with instructions labels sewn into the product itself and on a card attachment to be retained for safe reference.
Is it normal that my heat pack feels damp when microwaving?
Yes. When you first microwave the heat pack the contents inside will feel damp. This will subside after a few heating cycles and is quite normal especially if you have selected the (polyester) fleece fabric covers. Cotton is much more absorbent and breathable and will lessen the initial damp effect. Do not overheat the wheat bag to attempt to dry it out.
What happens if I microwave the heat pack for too long or it burns?
Please be very careful not to overheat the heat pack. If overheated they can catch fire which is very dangerous. Overheating can be caused by food or contamination from your microwave so it is important that the microwave is clean before you heat the product.
If overheating occurs, remove it from the microwave and put it in a safe place while it cools (perhaps outside). Do not use again until the product has returned to room temperature. If it is giving off a 'burnt' smell or has small burn marks on the fabric, you have overheated the product and it must be disposed of being careful that the product is not actually burning. A replacement product would then have to be purchased.
Can I wash my Heat Pack?
Do not place the full heat pack in the washing machine or get the contents wet as it can damage the product. It is advised that you surface clean with a damp cloth or sponge to clean the product. If the product becomes wet then it needs to be dried out before the wheat inside germinates and we suggest placing the product in a warm room to dry at room temperature. If the wheat inside does germinate then we do not recommend that you use the wheat bag.
Can I purchase removable covers that can be washed for my heat pack?
On most of our products, you will see the option to purchase a removable cover for cleaning. If this is shown as an option then this cover is removable from the main heat pack and can be washed with like colours in the washing machine or by hand at a low temperature of 30 to 40 degrees.
Is it possible to warm the heat pack other than the microwave?
No. Our heat packs are safety tested to be exclusively heated in a microwave.
How do I fit a larger heat pack in my small microwave?
Some of our products are larger when flat than the size of smaller microwaves. It is ok to "loosley scrunch up" the heat pack lightly to fit into the microwave but is important not to fold the pack in half tightly as this can create hot spots when heating.
Are these heat packs suitable for young children?
No. We do not recommend that heat packs are given the very young children under the age of 3 years old. Adult supervision should always be provided and should only be heated by an adult with great care.
What are the Organic Fabric Options?
Where shown, this product has an Organic Fabric Option. We purchase organic fabric from trusted UK Fabric Merchants who are registered under the Global Organic Textile Standard (GOTS) to enable full traceability of the fabric we use through to the final product you are purchasing today.
Is the Lavender Organic?
Yes. We purchase Organic Lavender from our Grain & Seed Merchant in the UK and they have sourced genuine lavender buds for our heat packs. This is not a scent, we add the flower buds from Organic Lavender for the most exquisite fragrance.
Delivery
The information below is for guidance. Actual delivery costs and dates depend on the delivery address, weight and time your order is placed. Cut-off time for Overnight Orders is 12 noon.
| Price | Method | Manufacture Time | Delivery Time | Est. Delivery Date |
| --- | --- | --- | --- | --- |
| £4.99 | 2nd Class (Tracked) | 0-3 Days | 2-3 Days | Mon 11 Dec - Fri 15 Dec |
| £7.99 | 1st Class (Tracked) | 0-3 Days | 1-2 Days | Fri 8 Dec - Thu 14 Dec |
| £13.52 | DHL Courier (Economy M-F Pre 6pm) | 0-3 Days | 2-3 Days | Mon 11 Dec - Fri 15 Dec |
| £16.99 | Royal Mail Special Delivery (Overnight Mon-Sat Pre 1pm) | Today | Next Day (Mon-Sat) | Fri 8 Dec |
More Information
| | |
| --- | --- |
| Despatch | 0-3 Days (Made to Order) or Upgrade for Overnight Delivery at Chekout |
| Brand | WheatyBags® |
| RRP | £39.99 |
| Filling | Wheat, Optional Lavender |
| Country of Origin | United Kingdom |
| SKU | FGWHE030(120cm)COT-BNA(RC-HL) |
| Gtin | 5056656338443 |
| Tariff Code | 1001912020 |
| Tariff Description | Heat Pack - Common Wheat |
| Product Weight | 1,214 g |
| Product Dimensions | 21 x 120 x 2.5cm |
Product Options
Size
Regular (120cm), Large (140cm), XL (160cm), XXL (200cm)
Filling
Wheat
Fabric
Cotton, Luxury Cotton, Organic Cotton
Fabric Colour
Navy Blue, Purple, Natural, Red, Hot Pink, Chocolate, Gothic Blue
Removable Cover (Click to Select)
Removable Cover
Aroma (Click to Select)
Unscented, Organic Lavender Buds +
Product Type
Wheat Bag
Warmers For > Microwavable Heating Pad
Heat Pad Filling > Wheat
heating pad
heating pad for back

Wheat Bags Luxury Lower Back Warmer (Wearable)
(120cm) - Navy Blue Cotton Fabric and Removable Cover
FGWHE030(120cm)COT-BNA(RC-HL)
5056656338443
£39.99
1,214 g
21 x 120 x 2.5cm
Wheat Bags Luxury Lower Back Warmer (Wearable)
(120cm) - Navy Blue Cotton Fabric and Removable Cover (Personalised with Text)
FGWHE030(120cm)COT-BNA(RC-HL)(P)
5056261037717
£42.94
1,214 g
21 x 120 x 2.5cm
Wheat Bags Luxury Lower Back Warmer (Wearable)
(140cm) - Navy Blue Cotton Fabric and Removable Cover
FGWHE030(140cm)COT-BNA(RC-HL)
5060599194264
£44.99
1,238 g
21 x 140 x 2.5cm
Wheat Bags Luxury Lower Back Warmer (Wearable)
(140cm) - Navy Blue Cotton Fabric and Removable Cover (Personalised with Text)
FGWHE030(140cm)COT-BNA(RC-HL)(P)
5056261037847
£47.94
1,238 g
21 x 140 x 2.5cm
Wheat Bags Luxury Lower Back Warmer (Wearable)
(160cm) - Navy Blue Cotton Fabric and Removable Cover
FGWHE030(160cm)COT-BNA(RC-HL)
5056261037922
£49.99
1,250 g
21 x 160 x 2.5cm
Wheat Bags Luxury Lower Back Warmer (Wearable)
(160cm) - Navy Blue Cotton Fabric and Removable Cover (Personalised with Text)
FGWHE030(160cm)COT-BNA(RC-HL)(P)
5056261037984
£52.94
1,250 g
21 x 160 x 2.5cm
Wheat Bags Luxury Lower Back Warmer (Wearable)
(200cm) - Navy Blue Cotton Fabric and Removable Cover
FGWHE030(200cm)COT-BNA(RC-HL)
5060599194288
£54.99
1,294 g
21 x 200 x 2.5cm
Wheat Bags Luxury Lower Back Warmer (Wearable)
(200cm) - Navy Blue Cotton Fabric and Removable Cover (Personalised with Text)
FGWHE030(200cm)COT-BNA(RC-HL)(P)
5056261038080
£57.94
1,294 g
21 x 200 x 2.5cm
Wheat Bags Luxury Lower Back Warmer (Wearable)
(120cm) - Natural Cotton Fabric and Removable Cover
FGWHE030(120cm)COT-NAT(RC-HL)
5060585033300
£39.99
1,214 g
21 x 120 x 2.5cm
Wheat Bags Luxury Lower Back Warmer (Wearable)
(120cm) - Natural Cotton Fabric and Removable Cover (Personalised with Text)
FGWHE030(120cm)COT-NAT(RC-HL)(P)
5056261038059
£42.94
1,214 g
21 x 120 x 2.5cm
Wheat Bags Luxury Lower Back Warmer (Wearable)
(140cm) - Natural Cotton Fabric and Removable Cover
FGWHE030(140cm)COT-NAT(RC-HL)
5060585033379
£44.99
1,238 g
21 x 140 x 2.5cm
Wheat Bags Luxury Lower Back Warmer (Wearable)
(140cm) - Natural Cotton Fabric and Removable Cover (Personalised with Text)
FGWHE030(140cm)COT-NAT(RC-HL)(P)
5056261038172
£47.94
1,238 g
21 x 140 x 2.5cm
Wheat Bags Luxury Lower Back Warmer (Wearable)
(160cm) - Natural Cotton Fabric and Removable Cover
FGWHE030(160cm)COT-NAT(RC-HL)
5060585033447
£49.99
1,250 g
21 x 160 x 2.5cm
Wheat Bags Luxury Lower Back Warmer (Wearable)
(160cm) - Natural Cotton Fabric and Removable Cover (Personalised with Text)
FGWHE030(160cm)COT-NAT(RC-HL)(P)
5056261037649
£52.94
1,250 g
21 x 160 x 2.5cm
Wheat Bags Luxury Lower Back Warmer (Wearable)
(200cm) - Natural Cotton Fabric and Removable Cover
FGWHE030(200cm)COT-NAT(RC-HL)
5060585033515
£54.99
1,294 g
21 x 200 x 2.5cm
Wheat Bags Luxury Lower Back Warmer (Wearable)
(200cm) - Natural Cotton Fabric and Removable Cover (Personalised with Text)
FGWHE030(200cm)COT-NAT(RC-HL)(P)
5056261037779
£57.94
1,294 g
21 x 200 x 2.5cm
Wheat Bags Luxury Lower Back Warmer (Wearable)
(120cm) - Hot Pink Cotton Fabric and Removable Cover
FGWHE030(120cm)COT-PBU(RC-HL)
5060585033317
£39.99
1,214 g
21 x 120 x 2.5cm
Wheat Bags Luxury Lower Back Warmer (Wearable)
(120cm) - Hot Pink Cotton Fabric and Removable Cover (Personalised with Text)
FGWHE030(120cm)COT-PBU(RC-HL)(P)
5056261037908
£42.94
1,214 g
21 x 120 x 2.5cm
Wheat Bags Luxury Lower Back Warmer (Wearable)
(140cm) - Hot Pink Cotton Fabric and Removable Cover
FGWHE030(140cm)COT-PBU(RC-HL)
5060585033386
£44.99
1,238 g
21 x 140 x 2.5cm
Wheat Bags Luxury Lower Back Warmer (Wearable)
(140cm) - Hot Pink Cotton Fabric and Removable Cover (Personalised with Text)
FGWHE030(140cm)COT-PBU(RC-HL)(P)
5056261038028
£47.94
1,238 g
21 x 140 x 2.5cm
Wheat Bags Luxury Lower Back Warmer (Wearable)
(160cm) - Hot Pink Cotton Fabric and Removable Cover
FGWHE030(160cm)COT-PBU(RC-HL)
5060585033454
£49.99
1,250 g
21 x 160 x 2.5cm
Wheat Bags Luxury Lower Back Warmer (Wearable)
(160cm) - Hot Pink Cotton Fabric and Removable Cover (Personalised with Text)
FGWHE030(160cm)COT-PBU(RC-HL)(P)
5056261038127
£52.94
1,250 g
21 x 160 x 2.5cm
Wheat Bags Luxury Lower Back Warmer (Wearable)
(120cm) - Purple Cotton Fabric and Removable Cover
FGWHE030(120cm)COT-PUR(RC-HL)
5056261013162
£39.99
1,214 g
21 x 120 x 2.5cm
Wheat Bags Luxury Lower Back Warmer (Wearable)
(120cm) - Purple Cotton Fabric and Removable Cover (Personalised with Text)
FGWHE030(120cm)COT-PUR(RC-HL)(P)
5056261037724
£42.94
1,214 g
21 x 120 x 2.5cm
Wheat Bags Luxury Lower Back Warmer (Wearable)
(140cm) - Purple Cotton Fabric and Removable Cover
FGWHE030(140cm)COT-PUR(RC-HL)
5056261013179
£44.99
1,238 g
21 x 140 x 2.5cm
Wheat Bags Luxury Lower Back Warmer (Wearable)
(140cm) - Purple Cotton Fabric and Removable Cover (Personalised with Text)
FGWHE030(140cm)COT-PUR(RC-HL)(P)
5056261037854
£47.94
1,238 g
21 x 140 x 2.5cm
Wheat Bags Luxury Lower Back Warmer (Wearable)
(160cm) - Purple Cotton Fabric and Removable Cover
FGWHE030(160cm)COT-PUR(RC-HL)
5056261013186
£49.99
1,250 g
21 x 160 x 2.5cm
Wheat Bags Luxury Lower Back Warmer (Wearable)
(160cm) - Purple Cotton Fabric and Removable Cover (Personalised with Text)
FGWHE030(160cm)COT-PUR(RC-HL)(P)
5056261037991
£52.94
1,250 g
21 x 160 x 2.5cm
Wheat Bags Luxury Lower Back Warmer (Wearable)
(200cm) - Purple Cotton Fabric and Removable Cover
FGWHE030(200cm)COT-PUR(RC-HL)
5056261013193
£54.99
1,294 g
21 x 200 x 2.5cm
Wheat Bags Luxury Lower Back Warmer (Wearable)
(200cm) - Purple Cotton Fabric and Removable Cover (Personalised with Text)
FGWHE030(200cm)COT-PUR(RC-HL)(P)
5056261038097
£57.94
1,294 g
21 x 200 x 2.5cm
Wheat Bags Luxury Lower Back Warmer (Wearable)
(120cm) - Gothic Blue Luxury Cotton Fabric and Removable Cover
FGWHE030(120cm)COL-BGO(RC-HL)
5060585033324
£49.99
1,214 g
21 x 120 x 2.5cm
Wheat Bags Luxury Lower Back Warmer (Wearable)
(120cm) - Gothic Blue Luxury Cotton Fabric and Removable Cover (Personalised with Text)
FGWHE030(120cm)COL-BGO(RC-HL)(P)
5056261037564
£52.94
1,214 g
21 x 120 x 2.5cm
Wheat Bags Luxury Lower Back Warmer (Wearable)
(140cm) - Gothic Blue Luxury Cotton Fabric and Removable Cover
FGWHE030(140cm)COL-BGO(RC-HL)
5060585033393
£54.99
1,238 g
21 x 140 x 2.5cm
Wheat Bags Luxury Lower Back Warmer (Wearable)
(140cm) - Gothic Blue Luxury Cotton Fabric and Removable Cover (Personalised with Text)
FGWHE030(140cm)COL-BGO(RC-HL)(P)
5056261037601
£57.94
1,238 g
21 x 140 x 2.5cm
Wheat Bags Luxury Lower Back Warmer (Wearable)
(160cm) - Gothic Blue Luxury Cotton Fabric and Removable Cover
FGWHE030(160cm)COL-BGO(RC-HL)
5060585033461
£59.99
1,250 g
21 x 160 x 2.5cm
Wheat Bags Luxury Lower Back Warmer (Wearable)
(160cm) - Gothic Blue Luxury Cotton Fabric and Removable Cover (Personalised with Text)
FGWHE030(160cm)COL-BGO(RC-HL)(P)
5056261037403
£62.94
1,250 g
21 x 160 x 2.5cm
Wheat Bags Luxury Lower Back Warmer (Wearable)
(200cm) - Gothic Blue Luxury Cotton Fabric and Removable Cover
FGWHE030(200cm)COL-BGO(RC-HL)
5060585033539
£64.99
1,294 g
21 x 200 x 2.5cm
Wheat Bags Luxury Lower Back Warmer (Wearable)
(200cm) - Gothic Blue Luxury Cotton Fabric and Removable Cover (Personalised with Text)
FGWHE030(200cm)COL-BGO(RC-HL)(P)
5056261037458
£67.94
1,294 g
21 x 200 x 2.5cm
Wheat Bags Luxury Lower Back Warmer (Wearable)
(120cm) - Chocolate Luxury Cotton Fabric and Removable Cover
FGWHE030(120cm)COL-BMO(RC-HL)
5060585033331
£49.99
1,214 g
21 x 120 x 2.5cm
Wheat Bags Luxury Lower Back Warmer (Wearable)
(120cm) - Chocolate Luxury Cotton Fabric and Removable Cover (Personalised with Text)
FGWHE030(120cm)COL-BMO(RC-HL)(P)
5056261037502
£52.94
1,214 g
21 x 120 x 2.5cm
Wheat Bags Luxury Lower Back Warmer (Wearable)
(140cm) - Chocolate Luxury Cotton Fabric and Removable Cover
FGWHE030(140cm)COL-BMO(RC-HL)
5060585033409
£54.99
1,238 g
21 x 140 x 2.5cm
Wheat Bags Luxury Lower Back Warmer (Wearable)
(140cm) - Chocolate Luxury Cotton Fabric and Removable Cover (Personalised with Text)
FGWHE030(140cm)COL-BMO(RC-HL)(P)
5056261037540
£57.94
1,238 g
21 x 140 x 2.5cm
Wheat Bags Luxury Lower Back Warmer (Wearable)
(160cm) - Chocolate Luxury Cotton Fabric and Removable Cover
FGWHE030(160cm)COL-BMO(RC-HL)
5060585033478
£59.99
1,250 g
21 x 160 x 2.5cm
Wheat Bags Luxury Lower Back Warmer (Wearable)
(160cm) - Chocolate Luxury Cotton Fabric and Removable Cover (Personalised with Text)
FGWHE030(160cm)COL-BMO(RC-HL)(P)
5056261037588
£62.94
1,250 g
21 x 160 x 2.5cm
Wheat Bags Luxury Lower Back Warmer (Wearable)
(200cm) - Chocolate Luxury Cotton Fabric and Removable Cover
FGWHE030(200cm)COL-BMO(RC-HL)
5056261063174
£64.99
1,294 g
21 x 200 x 2.5cm
Wheat Bags Luxury Lower Back Warmer (Wearable)
(200cm) - Chocolate Luxury Cotton Fabric and Removable Cover (Personalised with Text)
FGWHE030(200cm)COL-BMO(RC-HL)(P)
5056261037625
£67.94
1,294 g
21 x 200 x 2.5cm
Wheat Bags Luxury Lower Back Warmer (Wearable)
(120cm) - Natural Organic Cotton and Removable Cover
FGWHE030(120cm)COO-NAT(RC-HL)
5056261063266
£46.99
1,214 g
21 x 120 x 2.5cm
Wheat Bags Luxury Lower Back Warmer (Wearable)
(120cm) - Natural Organic Cotton and Removable Cover (Personalised with Text)
FGWHE030(120cm)COO-NAT(RC-HL)(P)
5056261063273
£49.94
1,214 g
21 x 120 x 2.5cm
Wheat Bags Luxury Lower Back Warmer (Wearable)
(140cm) - Natural Organic Cotton and Removable Cover
FGWHE030(140cm)COO-NAT(RC-HL)
5056261063280
£51.99
1,238 g
21 x 140 x 2.5cm
Wheat Bags Luxury Lower Back Warmer (Wearable)
(140cm) - Natural Organic Cotton and Removable Cover (Personalised with Text)
FGWHE030(140cm)COO-NAT(RC-HL)(P)
5056261063303
£54.94
1,238 g
21 x 140 x 2.5cm
Wheat Bags Luxury Lower Back Warmer (Wearable)
(160cm) - Natural Organic Cotton and Removable Cover
FGWHE030(160cm)COO-NAT(RC-HL)
5056261063327
£56.99
1,250 g
21 x 160 x 2.5cm
Wheat Bags Luxury Lower Back Warmer (Wearable)
(160cm) - Natural Organic Cotton and Removable Cover (Personalised with Text)
FGWHE030(160cm)COO-NAT(RC-HL)(P)
5056261063181
£59.94
1,250 g
21 x 160 x 2.5cm
Wheat Bags Luxury Lower Back Warmer (Wearable)
(200cm) - Natural Organic Cotton and Removable Cover
FGWHE030(200cm)COO-NAT(RC-HL)
5056261063204
£61.99
1,294 g
21 x 200 x 2.5cm
Wheat Bags Luxury Lower Back Warmer (Wearable)
(200cm) - Natural Organic Cotton and Removable Cover (Personalised with Text)
FGWHE030(200cm)COO-NAT(RC-HL)(P)
5056261063228
£64.94
1,294 g
21 x 200 x 2.5cm
Wheat Bags Luxury Lower Back Warmer (Wearable)
(120cm) - Navy Blue Cotton Fabric Scented (Organic Lavender Buds) and Removable Cover
FGWHE030(120cm)COT-BNA(LAV)(RC-HL)
5056261038158
£42.49
1,215 g
21 x 120 x 2.5cm
Wheat Bags Luxury Lower Back Warmer (Wearable)
(120cm) - Navy Blue Cotton Fabric Scented (Organic Lavender Buds) and Removable Cover (Personalised with Text)
FGWHE030(120cm)COT-BNA(LAV)(RC-HL)(P)
5056261038219
£45.44
1,215 g
21 x 120 x 2.5cm
Wheat Bags Luxury Lower Back Warmer (Wearable)
(140cm) - Navy Blue Cotton Fabric Scented (Organic Lavender Buds) and Removable Cover
FGWHE030(140cm)COT-BNA(LAV)(RC-HL)
5056261038271
£47.49
1,239 g
21 x 140 x 2.5cm
Wheat Bags Luxury Lower Back Warmer (Wearable)
(140cm) - Navy Blue Cotton Fabric Scented (Organic Lavender Buds) and Removable Cover (Personalised with Text)
FGWHE030(140cm)COT-BNA(LAV)(RC-HL)(P)
5056261037687
£50.44
1,239 g
21 x 140 x 2.5cm
Wheat Bags Luxury Lower Back Warmer (Wearable)
(160cm) - Navy Blue Cotton Fabric Scented (Organic Lavender Buds) and Removable Cover
FGWHE030(160cm)COT-BNA(LAV)(RC-HL)
5056261037755
£52.49
1,251 g
21 x 160 x 2.5cm
Wheat Bags Luxury Lower Back Warmer (Wearable)
(160cm) - Navy Blue Cotton Fabric Scented (Organic Lavender Buds) and Removable Cover (Personalised with Text)
FGWHE030(160cm)COT-BNA(LAV)(RC-HL)(P)
5056261037816
£55.44
1,251 g
21 x 160 x 2.5cm
Wheat Bags Luxury Lower Back Warmer (Wearable)
(200cm) - Navy Blue Cotton Fabric Scented (Organic Lavender Buds) and Removable Cover
FGWHE030(200cm)COT-BNA(LAV)(RC-HL)
5056261037885
£57.49
1,295 g
21 x 200 x 2.5cm
Wheat Bags Luxury Lower Back Warmer (Wearable)
(200cm) - Navy Blue Cotton Fabric Scented (Organic Lavender Buds) and Removable Cover (Personalised with Text)
FGWHE030(200cm)COT-BNA(LAV)(RC-HL)(P)
5056261037953
£60.44
1,295 g
21 x 200 x 2.5cm
Wheat Bags Luxury Lower Back Warmer (Wearable)
(120cm) - Natural Cotton Fabric Scented (Organic Lavender Buds) and Removable Cover
FGWHE030(120cm)COT-NAT(LAV)(RC-HL)
5056261037830
£42.49
1,215 g
21 x 120 x 2.5cm
Wheat Bags Luxury Lower Back Warmer (Wearable)
(120cm) - Natural Cotton Fabric Scented (Organic Lavender Buds) and Removable Cover (Personalised with Text)
FGWHE030(120cm)COT-NAT(LAV)(RC-HL)(P)
5056261037915
£45.44
1,215 g
21 x 120 x 2.5cm
Wheat Bags Luxury Lower Back Warmer (Wearable)
(140cm) - Natural Cotton Fabric Scented (Organic Lavender Buds) and Removable Cover
FGWHE030(140cm)COT-NAT(LAV)(RC-HL)
5056261037977
£47.49
1,239 g
21 x 140 x 2.5cm
Wheat Bags Luxury Lower Back Warmer (Wearable)
(140cm) - Natural Cotton Fabric Scented (Organic Lavender Buds) and Removable Cover (Personalised with Text)
FGWHE030(140cm)COT-NAT(LAV)(RC-HL)(P)
5056261038035
£50.44
1,239 g
21 x 140 x 2.5cm
Wheat Bags Luxury Lower Back Warmer (Wearable)
(160cm) - Natural Cotton Fabric Scented (Organic Lavender Buds) and Removable Cover
FGWHE030(160cm)COT-NAT(LAV)(RC-HL)
5056261038073
£52.49
1,251 g
21 x 160 x 2.5cm
Wheat Bags Luxury Lower Back Warmer (Wearable)
(160cm) - Natural Cotton Fabric Scented (Organic Lavender Buds) and Removable Cover (Personalised with Text)
FGWHE030(160cm)COT-NAT(LAV)(RC-HL)(P)
5056261038134
£55.44
1,251 g
21 x 160 x 2.5cm
Wheat Bags Luxury Lower Back Warmer (Wearable)
(200cm) - Natural Cotton Fabric Scented (Organic Lavender Buds) and Removable Cover
FGWHE030(200cm)COT-NAT(LAV)(RC-HL)
5056261038196
£57.49
1,295 g
21 x 200 x 2.5cm
Wheat Bags Luxury Lower Back Warmer (Wearable)
(200cm) - Natural Cotton Fabric Scented (Organic Lavender Buds) and Removable Cover (Personalised with Text)
FGWHE030(200cm)COT-NAT(LAV)(RC-HL)(P)
5056261038257
£60.44
1,295 g
21 x 200 x 2.5cm
Wheat Bags Luxury Lower Back Warmer (Wearable)
(120cm) - Hot Pink Cotton Fabric Scented (Organic Lavender Buds) and Removable Cover
FGWHE030(120cm)COT-PBU(LAV)(RC-HL)
5056261037663
£42.49
1,215 g
21 x 120 x 2.5cm
Wheat Bags Luxury Lower Back Warmer (Wearable)
(120cm) - Hot Pink Cotton Fabric Scented (Organic Lavender Buds) and Removable Cover (Personalised with Text)
FGWHE030(120cm)COT-PBU(LAV)(RC-HL)(P)
5056261037731
£45.44
1,215 g
21 x 120 x 2.5cm
Wheat Bags Luxury Lower Back Warmer (Wearable)
(140cm) - Hot Pink Cotton Fabric Scented (Organic Lavender Buds) and Removable Cover
FGWHE030(140cm)COT-PBU(LAV)(RC-HL)
5056261037793
£47.49
1,239 g
21 x 140 x 2.5cm
Wheat Bags Luxury Lower Back Warmer (Wearable)
(140cm) - Hot Pink Cotton Fabric Scented (Organic Lavender Buds) and Removable Cover (Personalised with Text)
FGWHE030(140cm)COT-PBU(LAV)(RC-HL)(P)
5056261037861
£50.44
1,239 g
21 x 140 x 2.5cm
Wheat Bags Luxury Lower Back Warmer (Wearable)
(160cm) - Hot Pink Cotton Fabric Scented (Organic Lavender Buds) and Removable Cover
FGWHE030(160cm)COT-PBU(LAV)(RC-HL)
5056261037939
£52.49
1,251 g
21 x 160 x 2.5cm
Wheat Bags Luxury Lower Back Warmer (Wearable)
(160cm) - Hot Pink Cotton Fabric Scented (Organic Lavender Buds) and Removable Cover (Personalised with Text)
FGWHE030(160cm)COT-PBU(LAV)(RC-HL)(P)
5056261038004
£55.44
1,251 g
21 x 160 x 2.5cm
Wheat Bags Luxury Lower Back Warmer (Wearable)
(120cm) - Purple Cotton Fabric Scented (Organic Lavender Buds) and Removable Cover
FGWHE030(120cm)COT-PUR(LAV)(RC-HL)
5056261038165
£42.49
1,215 g
21 x 120 x 2.5cm
Wheat Bags Luxury Lower Back Warmer (Wearable)
(120cm) - Purple Cotton Fabric Scented (Organic Lavender Buds) and Removable Cover (Personalised with Text)
FGWHE030(120cm)COT-PUR(LAV)(RC-HL)(P)
5056261038226
£45.44
1,215 g
21 x 120 x 2.5cm
Wheat Bags Luxury Lower Back Warmer (Wearable)
(140cm) - Purple Cotton Fabric Scented (Organic Lavender Buds) and Removable Cover
FGWHE030(140cm)COT-PUR(LAV)(RC-HL)
5056261038288
£47.49
1,239 g
21 x 140 x 2.5cm
Wheat Bags Luxury Lower Back Warmer (Wearable)
(140cm) - Purple Cotton Fabric Scented (Organic Lavender Buds) and Removable Cover (Personalised with Text)
FGWHE030(140cm)COT-PUR(LAV)(RC-HL)(P)
5056261037694
£50.44
1,239 g
21 x 140 x 2.5cm
Wheat Bags Luxury Lower Back Warmer (Wearable)
(160cm) - Purple Cotton Fabric Scented (Organic Lavender Buds) and Removable Cover
FGWHE030(160cm)COT-PUR(LAV)(RC-HL)
5056261037762
£52.49
1,251 g
21 x 160 x 2.5cm
Wheat Bags Luxury Lower Back Warmer (Wearable)
(160cm) - Purple Cotton Fabric Scented (Organic Lavender Buds) and Removable Cover (Personalised with Text)
FGWHE030(160cm)COT-PUR(LAV)(RC-HL)(P)
5056261037823
£55.44
1,251 g
21 x 160 x 2.5cm
Wheat Bags Luxury Lower Back Warmer (Wearable)
(200cm) - Purple Cotton Fabric Scented (Organic Lavender Buds) and Removable Cover
FGWHE030(200cm)COT-PUR(LAV)(RC-HL)
5056261037892
£57.49
1,295 g
21 x 200 x 2.5cm
Wheat Bags Luxury Lower Back Warmer (Wearable)
(200cm) - Purple Cotton Fabric Scented (Organic Lavender Buds) and Removable Cover (Personalised with Text)
FGWHE030(200cm)COT-PUR(LAV)(RC-HL)(P)
5056261037960
£60.44
1,295 g
21 x 200 x 2.5cm
Wheat Bags Luxury Lower Back Warmer (Wearable)
(120cm) - Gothic Blue Luxury Cotton Fabric Scented (Organic Lavender Buds) and Removable Cover
FGWHE030(120cm)COL-BGO(LAV)(RC-HL)
5056261037410
£52.49
1,215 g
21 x 120 x 2.5cm
Wheat Bags Luxury Lower Back Warmer (Wearable)
(120cm) - Gothic Blue Luxury Cotton Fabric Scented (Organic Lavender Buds) and Removable Cover (Personalised with Text)
FGWHE030(120cm)COL-BGO(LAV)(RC-HL)(P)
5056261037434
£55.44
1,215 g
21 x 120 x 2.5cm
Wheat Bags Luxury Lower Back Warmer (Wearable)
(140cm) - Gothic Blue Luxury Cotton Fabric Scented (Organic Lavender Buds) and Removable Cover
FGWHE030(140cm)COL-BGO(LAV)(RC-HL)
5056261037465
£57.49
1,239 g
21 x 140 x 2.5cm
Wheat Bags Luxury Lower Back Warmer (Wearable)
(140cm) - Gothic Blue Luxury Cotton Fabric Scented (Organic Lavender Buds) and Removable Cover (Personalised with Text)
FGWHE030(140cm)COL-BGO(LAV)(RC-HL)(P)
5056261037489
£60.44
1,239 g
21 x 140 x 2.5cm
Wheat Bags Luxury Lower Back Warmer (Wearable)
(160cm) - Gothic Blue Luxury Cotton Fabric Scented (Organic Lavender Buds) and Removable Cover
FGWHE030(160cm)COL-BGO(LAV)(RC-HL)
5056261037519
£62.49
1,251 g
21 x 160 x 2.5cm
Wheat Bags Luxury Lower Back Warmer (Wearable)
(160cm) - Gothic Blue Luxury Cotton Fabric Scented (Organic Lavender Buds) and Removable Cover (Personalised with Text)
FGWHE030(160cm)COL-BGO(LAV)(RC-HL)(P)
5056261037533
£65.44
1,251 g
21 x 160 x 2.5cm
Wheat Bags Luxury Lower Back Warmer (Wearable)
(200cm) - Gothic Blue Luxury Cotton Fabric Scented (Organic Lavender Buds) and Removable Cover
FGWHE030(200cm)COL-BGO(LAV)(RC-HL)
5056261037557
£67.49
1,295 g
21 x 200 x 2.5cm
Wheat Bags Luxury Lower Back Warmer (Wearable)
(200cm) - Gothic Blue Luxury Cotton Fabric Scented (Organic Lavender Buds) and Removable Cover (Personalised with Text)
FGWHE030(200cm)COL-BGO(LAV)(RC-HL)(P)
5056261037571
£70.44
1,295 g
21 x 200 x 2.5cm
Wheat Bags Luxury Lower Back Warmer (Wearable)
(120cm) - Chocolate Luxury Cotton Fabric Scented (Organic Lavender Buds) and Removable Cover
FGWHE030(120cm)COL-BMO(LAV)(RC-HL)
5056261037595
£52.49
1,215 g
21 x 120 x 2.5cm
Wheat Bags Luxury Lower Back Warmer (Wearable)
(120cm) - Chocolate Luxury Cotton Fabric Scented (Organic Lavender Buds) and Removable Cover (Personalised with Text)
FGWHE030(120cm)COL-BMO(LAV)(RC-HL)(P)
5056261037618
£55.44
1,215 g
21 x 120 x 2.5cm
Wheat Bags Luxury Lower Back Warmer (Wearable)
(140cm) - Chocolate Luxury Cotton Fabric Scented (Organic Lavender Buds) and Removable Cover
FGWHE030(140cm)COL-BMO(LAV)(RC-HL)
5056261037632
£57.49
1,239 g
21 x 140 x 2.5cm
Wheat Bags Luxury Lower Back Warmer (Wearable)
(140cm) - Chocolate Luxury Cotton Fabric Scented (Organic Lavender Buds) and Removable Cover (Personalised with Text)
FGWHE030(140cm)COL-BMO(LAV)(RC-HL)(P)
5056261037427
£60.44
1,239 g
21 x 140 x 2.5cm
Wheat Bags Luxury Lower Back Warmer (Wearable)
(160cm) - Chocolate Luxury Cotton Fabric Scented (Organic Lavender Buds) and Removable Cover
FGWHE030(160cm)COL-BMO(LAV)(RC-HL)
5056261037441
£62.49
1,251 g
21 x 160 x 2.5cm
Wheat Bags Luxury Lower Back Warmer (Wearable)
(160cm) - Chocolate Luxury Cotton Fabric Scented (Organic Lavender Buds) and Removable Cover (Personalised with Text)
FGWHE030(160cm)COL-BMO(LAV)(RC-HL)(P)
5056261037472
£65.44
1,251 g
21 x 160 x 2.5cm
Wheat Bags Luxury Lower Back Warmer (Wearable)
(200cm) - Chocolate Luxury Cotton Fabric Scented (Organic Lavender Buds) and Removable Cover
FGWHE030(200cm)COL-BMO(LAV)(RC-HL)
5056261006126
£67.49
1,295 g
21 x 200 x 2.5cm
Wheat Bags Luxury Lower Back Warmer (Wearable)
(200cm) - Chocolate Luxury Cotton Fabric Scented (Organic Lavender Buds) and Removable Cover (Personalised with Text)
FGWHE030(200cm)COL-BMO(LAV)(RC-HL)(P)
5056261037526
£70.44
1,295 g
21 x 200 x 2.5cm
Wheat Bags Luxury Lower Back Warmer (Wearable)
(120cm) - Natural Organic Cotton Scented (Organic Lavender Buds) and Removable Cover
FGWHE030(120cm)COO-NAT(LAV)(RC-HL)
5056261063297
£49.49
1,215 g
21 x 120 x 2.5cm
Wheat Bags Luxury Lower Back Warmer (Wearable)
(120cm) - Natural Organic Cotton Scented (Organic Lavender Buds) and Removable Cover (Personalised with Text)
FGWHE030(120cm)COO-NAT(LAV)(RC-HL)(P)
5056261063310
£52.44
1,215 g
21 x 120 x 2.5cm
Wheat Bags Luxury Lower Back Warmer (Wearable)
(140cm) - Natural Organic Cotton Scented (Organic Lavender Buds) and Removable Cover
FGWHE030(140cm)COO-NAT(LAV)(RC-HL)
5056261063334
£54.49
1,239 g
21 x 140 x 2.5cm
Wheat Bags Luxury Lower Back Warmer (Wearable)
(140cm) - Natural Organic Cotton Scented (Organic Lavender Buds) and Removable Cover (Personalised with Text)
FGWHE030(140cm)COO-NAT(LAV)(RC-HL)(P)
5056261063198
£57.44
1,239 g
21 x 140 x 2.5cm
Wheat Bags Luxury Lower Back Warmer (Wearable)
(160cm) - Natural Organic Cotton Scented (Organic Lavender Buds) and Removable Cover
FGWHE030(160cm)COO-NAT(LAV)(RC-HL)
5056261063211
£59.49
1,251 g
21 x 160 x 2.5cm
Wheat Bags Luxury Lower Back Warmer (Wearable)
(160cm) - Natural Organic Cotton Scented (Organic Lavender Buds) and Removable Cover (Personalised with Text)
FGWHE030(160cm)COO-NAT(LAV)(RC-HL)(P)
5056261063235
£62.44
1,251 g
21 x 160 x 2.5cm
Wheat Bags Luxury Lower Back Warmer (Wearable)
(200cm) - Natural Organic Cotton Scented (Organic Lavender Buds) and Removable Cover
FGWHE030(200cm)COO-NAT(LAV)(RC-HL)
5056261063242
£64.49
1,295 g
21 x 200 x 2.5cm
Wheat Bags Luxury Lower Back Warmer (Wearable)
(200cm) - Natural Organic Cotton Scented (Organic Lavender Buds) and Removable Cover (Personalised with Text)
FGWHE030(200cm)COO-NAT(LAV)(RC-HL)(P)
5056261063259
£67.44
1,295 g
21 x 200 x 2.5cm
Wheat Bags Luxury Lower Back Warmer (Wearable)
(120cm) - Red Cotton Fabric and Removable Cover
FGWHE030(120cm)COT-RED(RC-HL)
5056656343850
£39.99
1,214 g
21 x 120 x 2.5cm
Wheat Bags Luxury Lower Back Warmer (Wearable)
(120cm) - Red Cotton Fabric and Removable Cover (Personalised with Text)
FGWHE030(120cm)COT-RED(RC-HL)(P)
5056656343898
£42.94
1,214 g
21 x 120 x 2.5cm
Wheat Bags Luxury Lower Back Warmer (Wearable)
(140cm) - Red Cotton Fabric and Removable Cover
FGWHE030(140cm)COT-RED(RC-HL)
5056656343867
£44.99
1,238 g
21 x 140 x 2.5cm
Wheat Bags Luxury Lower Back Warmer (Wearable)
(140cm) - Red Cotton Fabric and Removable Cover (Personalised with Text)
FGWHE030(140cm)COT-RED(RC-HL)(P)
5056656343904
£47.94
1,238 g
21 x 140 x 2.5cm
Wheat Bags Luxury Lower Back Warmer (Wearable)
(160cm) - Red Cotton Fabric and Removable Cover
FGWHE030(160cm)COT-RED(RC-HL)
5056656343874
£49.99
1,250 g
21 x 160 x 2.5cm
Wheat Bags Luxury Lower Back Warmer (Wearable)
(160cm) - Red Cotton Fabric and Removable Cover (Personalised with Text)
FGWHE030(160cm)COT-RED(RC-HL)(P)
5056656343911
£52.94
1,250 g
21 x 160 x 2.5cm
Wheat Bags Luxury Lower Back Warmer (Wearable)
(200cm) - Red Cotton Fabric and Removable Cover
FGWHE030(200cm)COT-RED(RC-HL)
5056656343881
£54.99
1,294 g
21 x 200 x 2.5cm
Wheat Bags Luxury Lower Back Warmer (Wearable)
(200cm) - Red Cotton Fabric and Removable Cover (Personalised with Text)
FGWHE030(200cm)COT-RED(RC-HL)(P)
5056656343928
£57.94
1,294 g
21 x 200 x 2.5cm
Wheat Bags Luxury Lower Back Warmer (Wearable)
(120cm) - Red Cotton Fabric Scented (Organic Lavender Buds) and Removable Cover
FGWHE030(120cm)COT-RED(LAV)(RC-HL)
5056656343935
£42.49
1,215 g
21 x 120 x 2.5cm
Wheat Bags Luxury Lower Back Warmer (Wearable)
(120cm) - Red Cotton Fabric Scented (Organic Lavender Buds) and Removable Cover (Personalised with Text)
FGWHE030(120cm)COT-RED(LAV)(RC-HL)(P)
5056656343973
£45.44
1,215 g
21 x 120 x 2.5cm
Wheat Bags Luxury Lower Back Warmer (Wearable)
(140cm) - Red Cotton Fabric Scented (Organic Lavender Buds) and Removable Cover
FGWHE030(140cm)COT-RED(LAV)(RC-HL)
5056656343942
£47.49
1,239 g
21 x 140 x 2.5cm
Wheat Bags Luxury Lower Back Warmer (Wearable)
(140cm) - Red Cotton Fabric Scented (Organic Lavender Buds) and Removable Cover (Personalised with Text)
FGWHE030(140cm)COT-RED(LAV)(RC-HL)(P)
5056656343980
£50.44
1,239 g
21 x 140 x 2.5cm
Wheat Bags Luxury Lower Back Warmer (Wearable)
(160cm) - Red Cotton Fabric Scented (Organic Lavender Buds) and Removable Cover
FGWHE030(160cm)COT-RED(LAV)(RC-HL)
5056656343959
£52.49
1,251 g
21 x 160 x 2.5cm
Wheat Bags Luxury Lower Back Warmer (Wearable)
(160cm) - Red Cotton Fabric Scented (Organic Lavender Buds) and Removable Cover (Personalised with Text)
FGWHE030(160cm)COT-RED(LAV)(RC-HL)(P)
5056656343997
£55.44
1,251 g
21 x 160 x 2.5cm
Wheat Bags Luxury Lower Back Warmer (Wearable)
(200cm) - Red Cotton Fabric Scented (Organic Lavender Buds) and Removable Cover
FGWHE030(200cm)COT-RED(LAV)(RC-HL)
5056656343966
£57.49
1,295 g
21 x 200 x 2.5cm
Wheat Bags Luxury Lower Back Warmer (Wearable)
(200cm) - Red Cotton Fabric Scented (Organic Lavender Buds) and Removable Cover (Personalised with Text)
FGWHE030(200cm)COT-RED(LAV)(RC-HL)(P)
5056656344000
£60.44
1,295 g
21 x 200 x 2.5cm
Wheat Bags Luxury Lower Back Warmer (Wearable)