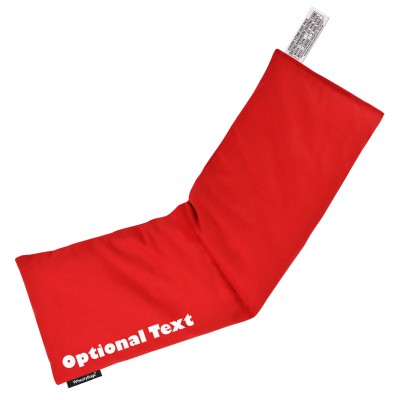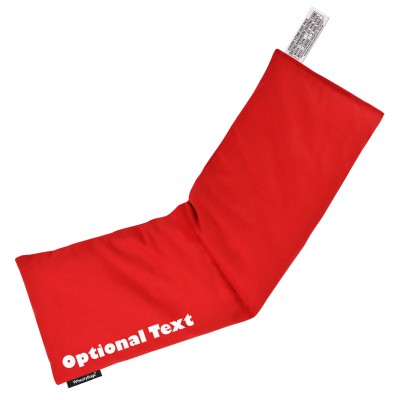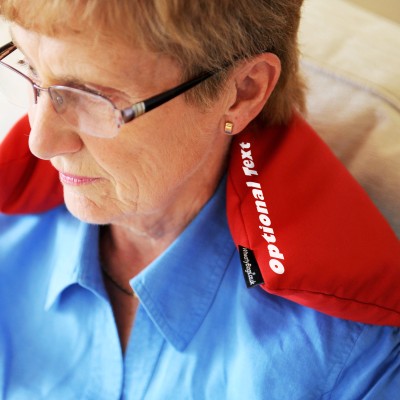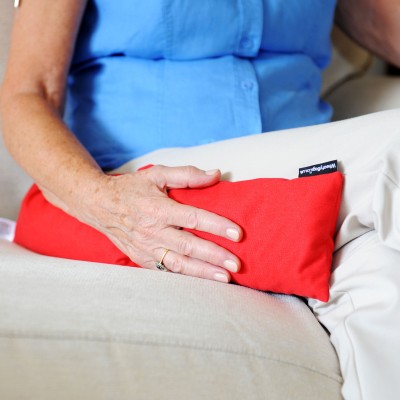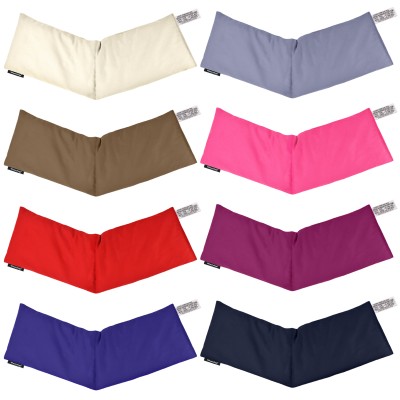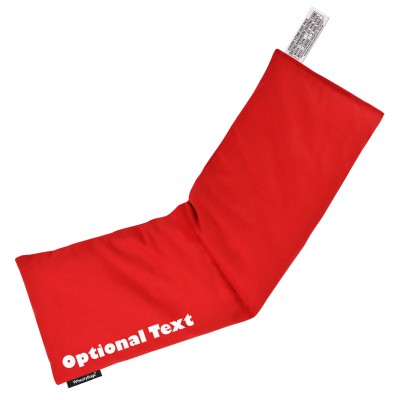 Cherry Stone Heat Pack (Rectangle)
UK Made
BS8433 : 2004
Natural Filling
Organic Options *
Description
A Large Cherry Stone Pillow Rectangular Heat Pack from WheatyBags® for warming in the microwave or chilling in the freezer.
Large Cherry Stone Heat Pack.
Filled with natural cherry stones.
Washable and with optional removable covers.
Internal stitch line to help hold the cherry stones in place.
Can be personalised.
Can be chilled in the freezer to use as a cold compress.
Trusted WheatyBags® UK Made brand.
The super large 49cm cherry stone heat pack is great where you need to provide warmth to your body in a larger area. One customer needed this super large shape to wrap around the elbow joint where he needed warmth and comfort and the size did a great job though of course it can, like all our heat packs be used open or as a wrap.
Cherry stones we have found are popular with customers that may be allergic to wheat and still need warmth from the microwave style heat packs.
Being a British Made Heat Pack, the cherry stones are sourced from a very reputable source here in the UK and each cherry stone pillow is made to our high standard. Plenty of options are presented with manu fabric and colour choices, optional provence lavander buds for a soothing and relaxing aroma and personalisation by way of text printed onto the fabric of the pack itself.
Reviews
CHERRY BAG
- Keeps hot for quite a while. (Jennie , 17/09/23)
Cherry stone rectangle heat pack 49x15cm
- Really love this. Glad I got this size as any smaller would have been too small. Does smell lovely when it comes out of the microwave.love the colour too. Only thing I will say is that is cools out quicker than I would like, but can be easily mitigated against with a scarf. Also should have been funnier when I chose personalised text. Will do next time. Yes, definitely to be recommender.my hubby even liked it for a quick warm up at the desk .wfh... also quick delivery within 3 days. thank you. (Bea Bee , 25/05/21)
Cherry Stone Heat Pack
- Excellent quality product. So pleased I ordered just before weather really turned extra cold. So easy to use instructions included plus also printed on the attached label. Fool proof 😂 Use it in small of back whilst watching tv. Snuggle up at bedtime for extra cosy feel. Containing the organic lavender the warmth from stones really makes fragrance come alive, soothing calming and aids a perfect nights sleep. Husband now wants one. (BoodyMama, 11/02/21)
My reaction to cherry stone pack
- I have been impressed by the way my order was dealt with. I am happy with the cherry stone pack but found the cover I also ordered difficult as the access is very small so I had to undo almost one side of the cover to make it easier to put the cover on the pack.g (Pamela naylor, 30/01/21)
Cherry stone heat pack
- I have been using these heat packs for quite a few years now. They are very good aching muscles, which I have a lot due to being a gardener (Wendy, 10/12/20)
Loved this
- Bag arrived on time and smells amazing. Could smell it even before I opened up the parcel. Well made bag and loved the removable cover which is a great idea. Slight issue with personalised writing however this was sorted very quickly via an e mail. (Ellie Henderson, 10/12/20)
Brilliant purchase
- The wheat bag not only smells great but it's perfect at hitting those spots that ache the most! If you get a lavender infused wheat bag the smell is so lovely and calming! (Marmite, 09/12/20)
cherry stone rectangle heatpack - 249724
- Very simple to use and most effective, even after treatment from physiotherapist for my neck and shoulder discomfort. (Sheila, 20/08/20)
ALL GOOD
- brilliant (Dave, 06/07/20)
Maria
- Perfect! (anonymous)
Cherry stone
- Couldn't do without these. My husband has fibromyalgia and I have arthritis and these are brilliant for the pain. They mould really well also if that makes sense (Madznana)
Quality
- This item is of great quality and good delivery will buy again (Yvoone metcalf)
Used to help ease stiff neck
- Sore neck from repairing the painting high ceiling. This provided excellent relief. Can recommend, Get five stars from me (Bob Jay)
Quality product and service
- For 16 years I've worked as a Sports Therapist and I see a fair few people from all walks of life suffering with musculo-skeletal conditions. One of the important aspects of recovery and rehabilitation is the application of heat; the Cherry Stone Original Super Large Heat Pack is perfect for this. (Steve)
Neck and shoulder cushion
- Very comfortable to use in any positin, keeps heat in well and is a great , conforter (Heth Mabey)
Lovely cherry stone bag
- I love my cherry stone bag with its bright pink cotton cover. I don't eat wheat, so I was very pleased to find a bag filled with an alternative natural product. I have IBS and the heated bag is very soothing for abdominal pain. Good service too, thankyou. (Angela)
Great Relief
- The pillow did a great job in easing my son's shoulder muscle strain. The design is particularly helpful in allowing the pillow to stay in place without strapping. (John Atkinson)
Very Happy :0)
- I really am glad I purchased this,I've had ones in the past that seem to get damp after being microwaved but this one does not. I got the removable cover which I am pleased with, so it can be washed. The colour is a lovely pink and it really helps my sore back,money well spent. (sparkles)
Well made and perfect for my needs
- I purchased the cherry stones super large pillow/bag.Very useful size for shoulder and or neck use.This larger size also perfect for lower back.The cover in pink was cheery and good material and well worth choosing the larger pillow as useful. (Helen)
Wheaty Bags superb
- My original wheaty Pain Relief Heat Pack is a superb help to my arthritic hand and the purchase of it could not have gone smoother, Many thanks. (Rockyjohn83)
My wife says its a great help
- This cushion is a great help to my wife who suffers from chronic pain. It stays warm much longer than your average wheat cushion and the removable cover is useful. Also it came a good fortnight earlier than promised - in time for Christmas - Result! - Many thanks (John Prys Lewis)
Beautiful product
- Got this as a present for my daughter.When I unpacked the pillow I could smell the lavender, it's beautifully made and arrived in good time.Will certainly buy again when needed. (Carolyn)
Red Cherry Stone Pillow
- This is excellent for helping with pain in my knees, the seam across the middle helping to roll it around my leg. It works as well cold from the freezer as it does warm from the oven. The nice, bright red bag cheers the day. A really useful addition to my small collection of pain relief packs (Maurice Hopper)
Directors Review of the Super Large Cherry Stone Heat Pack
- This is a large heat pack and filled with natural cherry stones to be warmed in the microwave or can also be chilled in the freezer if you need a cold compress. Pain relief is a great comfort when using heat packs and cherry stones are a great alternative to wheat.  both are a natural filling and have their own benefits though we find cherry stones popular for customers that perhaps have allergies to wheat. Thie super large heat pack is made to our usual great standard and we would welcome your own review here online if you have time as this really helps our new customers. (Michael Robinson)
More Reviews
Instructions
MAXIMUM MICROWAVE HEATING TIMES FOR THIS PRODUCT: MAXIMUM HEATING (AND CHILLING) TIMES FOR THE PRODUCT ARE ATTACHED TO THE PRODUCT BY SEWN-ON LABEL AND CARD SWING TAG WHICH SHOULD BE RETAINED FOR FUTURE REFERENCE.
This product is entirely natural and easy to use. It is designed as a gentle warming or chilling product though it is EXTREMELY IMPORTANT to take great care not to over-heat or over-chill the product.
Please follow our heating and chilling instructions carefully and use your own judgment - if you are experiencing any discomfort from the pack then stop using immediately. If you want medical advice, please ask your Doctor.
GENERAL INSTRUCTIONS: Please take care heating this cherry stone filled product and be careful not to burn the contents inside. If you smell a burnt smell, the heat pack is best thrown away and a new one purchased.
Remove all tags and ensure the product is clean and dry before use.
Use the maximum heating guide (below) to determine the correct heating times.
Ensure all grilling / browning facilities are turned off and do not place near a direct heat source.
When first heated, the product will feel damp though this is quite normal and will stop after a few uses.
After this time we recommend placing a small cup of water in the microwave when heating.
In order to comply with BS8433 : 2004 we are obliged to tell you of the following.
WARNING - THIS PRODUCT CAN CAUSE BURNS.
AVOID PROLONGED DIRECT CONTACT WITH THE SKIN.
TAKE CARE WHEN REMOVING FROM THE MICROWAVE OVEN.
DO NOT INGEST CONTENTS.
DO NOT OVERHEAT.
FOR MICROWAVE USE ONLY.
HEATED PRODUCTS SHOULD NOT BE GIVEN TO CHILDREN.
MAXIMUM HEATING (AND CHILLING) TIMES FOR THE PRODUCT ARE ATTACHED TO THE PRODUCT BY SEWN-ON LABEL AND CARD SWING TAG WHICH SHOULD BE RETAINED FOR FUTURE REFERENCE.
ONLY REHEAT FROM ROOM TEMPERATURE.
DO NOT FOLD ITEM IN HALF TO HEAT.
HEAT WITHOUT REMOVABLE COVERS IF SUPPLIED WITH THIS ITEM.
SURFACE CLEAN WITH A DAMP CLOTH.
CARE INSTRUCTIONS
Do not wash the heat pack with the cherry stones inside.
Only clean this part with a damp cloth.
Optional removable covers if available for this product can be removed and cleaned in accordance with the washing instructions label on the cover.
Asthma Sufferers should be aware this product contains cherry stones.
In the event of overheating, let the item stand in a safe place and do not touch until cooled.
Dispose of in the normal household waste if worn or damaged.
Store in a cool dry place.
Ensure that the microwave turntable can rotate freely.
TO USE COLD:
Wrap the pack in a plastic bag (to keep it clean).
Place in the FRIDGE or FREEZER for 1-3 hours.
Remove from plastic bag before use.
Be cautious and check your skin to avoid any possibility of freezer-burn and use a towel on your body with the pack on top to avoid direct contact with the skin.
DO NOT PLACE THIS ITEM IN THE FREEZER IF USING ON THE EYES.
Please do not machine wash this product or get it wet. If it becomes marked or dirty, please take good care not to wet the inner contents and wipe clean with a damp cloth.
Removable Covers: If you purchase this Product with the option for "Removable Cover" for cleaning, the outer removable cover will be supplied in the fabric and colour of your choice. The inner pack will be manufactured from a fabric and colour of our choice depending on supplies available at the time of manufacture (usually our natural value cotton fabric depending on the product).
Do not wash or get the inner wheat or other filled heat packs wet.
CARELESSNESS CAUSES FIRE.
Do not wash or get the inner wheat or other filled heat packs wet.
For 100% Cotton, 100% Polycotton & 100% Polyester Fabrics (eg Fleece) Removable Covers.
Remove the outer cover before carefully cleaning the outer cover only.
Only warm hand or machine wash and cold rinse the removable cover.
Wash with like colours max. 40 degree temperature.
For best results, lay flat on a suitable surface to air-dry.
Do not bleach.
1 spot iron (Cotton / Fleece) or 2 spot iron (Polycotton).
Do not tumble dry.
FAQs
Are these products a medical product?
No. Clear Prospects Ltd manufactures WheatyBags® microwave heat packs which have been tested to safety standard BS8433:2004. We are not Doctors and our products are not medical products (our heat packs are simple microwave heat packs that provide warmth and comfort). If you are unsure about their use, we recommend you consult your doctor before using heat packs in general.
What do these Cherry Stone heat packs contain ?
100% Natural Cherry Stones and nothing extra other than lavender when selected. Cherry Stones are the pips from the inside of a cherry fruit that are thoroughly washed and cleaned at the source before being used as a natural heat retainer in our pillows.
Do you recommend lavender ?
Yes. Cherry stones when warmed have their own aroma and many of our customers want the pleasant smell of lavender to mask the natural smell of the cherry stones.
Are the cherry stone packs heavy ?
No. Cherry stones are naturally light in weight and lighter than wheat filled heat packs. The cherry stones are more bulky and our packs are well filled to give enough bulk to hold the heat when warmed for as long as possible.
Do they hold the heat as well as wheat ?
No not quite though they do successfully hold heat long enough to use.
What are the Organic Fabric Options?
Where shown, this product has an Organic Fabric Option. We purchase organic fabric from trusted UK Fabric Merchants who are registered under the Global Organic Textile Standard (GOTS) to enable full traceability of the fabric we use through to the final product you are purchasing today.
Is the Lavender Organic?
Yes. We purchase Organic Lavender from our Grain & Seed Merchant in the UK and they have sourced genuine lavender buds for our heat packs. This is not a scent, we add the flower buds from Organic Lavender for the most exquisite fragrance.
Delivery
The information below is for guidance. Actual delivery costs and dates depend on the delivery address, weight and time your order is placed. Cut-off time for Overnight Orders is 12 noon.
| Price | Method | Manufacture Time | Delivery Time | Est. Delivery Date |
| --- | --- | --- | --- | --- |
| £4.99 | 2nd Class (Tracked) | 0-3 Days | 2-3 Days | Mon 11 Dec - Fri 15 Dec |
| £7.99 | 1st Class (Tracked) | 0-3 Days | 1-2 Days | Fri 8 Dec - Thu 14 Dec |
| £13.31 | DHL Courier (Economy M-F Pre 6pm) | 0-3 Days | 2-3 Days | Mon 11 Dec - Fri 15 Dec |
| £14.99 | Royal Mail Special Delivery (Overnight Mon-Sat Pre 1pm) | Today | Next Day (Mon-Sat) | Fri 8 Dec |
More Information
| | |
| --- | --- |
| Despatch | 0-3 Days (Made to Order) or Upgrade for Overnight Delivery at Chekout |
| Brand | WheatyBags® |
| RRP | £19.99 |
| Filling | Cherry Stones, Optional Lavender |
| Country of Origin | United Kingdom |
| SKU | FGCHE024(C)(R49x15)COT-RED(LAV) |
| Gtin | 5056656338467 |
| Tariff Code | 1001912020 |
| Tariff Description | Heat Pack - Common Wheat |
| Product Weight | 801 g |
| Product Dimensions | 15 x 49 x 2.5cm |
Product Options
Size
Approx. 49cm x 15cm
Filling
Cherry Stones
Fabric
Cotton, Luxury Cotton, Organic Cotton
Fabric Colour
Red, Navy Blue, Purple, Natural, Chocolate, Gothic Blue
Removable Cover (Click to Select)
Without Removable Cover, Removable Cover +
Aroma (Click to Select)
Unscented, Organic Lavender Buds +
Product Type
Cherry Stone Pillows
Warmers For > Microwavable Heating Pad
wheat bag
heating pad > microwavable heating pad
heat pack > microwave heat pack

Cherry Stone Heat Pack (Rectangle)
(49cm x 15cm) - Red Cotton Fabric Scented (Organic Lavender Buds)
FGCHE024(C)(R49x15)COT-RED(LAV)
5056656338467
£19.99
801 g
15 x 49 x 2.5cm
Cherry Stone Heat Pack (Rectangle)
(49cm x 15cm) - Red Cotton Fabric Scented (Organic Lavender Buds) (Personalised with Text)
FGCHE024(C)(R49x15)COT-RED(LAV)(P)
5056261035843
£22.94
801 g
15 x 49 x 2.5cm
Cherry Stone Heat Pack (Rectangle)
(49cm x 15cm) - Navy Blue Cotton Fabric Scented (Organic Lavender Buds)
FGCHE024(C)(R49x15)COT-BNA(LAV)
5056261011670
£19.99
801 g
15 x 49 x 2.5cm
Cherry Stone Heat Pack (Rectangle)
(49cm x 15cm) - Navy Blue Cotton Fabric Scented (Organic Lavender Buds) (Personalised with Text)
FGCHE024(C)(R49x15)COT-BNA(LAV)(P)
5056261035980
£22.94
801 g
15 x 49 x 2.5cm
Cherry Stone Heat Pack (Rectangle)
(49cm x 15cm) - Natural Cotton Fabric Scented (Organic Lavender Buds)
FGCHE024(C)(R49x15)COT-NAT(LAV)
5056261011663
£19.99
801 g
15 x 49 x 2.5cm
Cherry Stone Heat Pack (Rectangle)
(49cm x 15cm) - Natural Cotton Fabric Scented (Organic Lavender Buds) (Personalised with Text)
FGCHE024(C)(R49x15)COT-NAT(LAV)(P)
5056261035904
£22.94
801 g
15 x 49 x 2.5cm
Cherry Stone Heat Pack (Rectangle)
(49cm x 15cm) - Purple Cotton Fabric Scented (Organic Lavender Buds)
FGCHE024(C)(R49x15)COT-PUR(LAV)
5056261011700
£19.99
801 g
15 x 49 x 2.5cm
Cherry Stone Heat Pack (Rectangle)
(49cm x 15cm) - Purple Cotton Fabric Scented (Organic Lavender Buds) (Personalised with Text)
FGCHE024(C)(R49x15)COT-PUR(LAV)(P)
5056261035782
£22.94
801 g
15 x 49 x 2.5cm
Cherry Stone Heat Pack (Rectangle)
(49cm x 15cm) - Gothic Blue Luxury Cotton Fabric Scented (Organic Lavender Buds)
FGCHE024(C)(R49x15)COL-BGO(LAV)
5056261035621
£24.99
801 g
15 x 49 x 2.5cm
Cherry Stone Heat Pack (Rectangle)
(49cm x 15cm) - Gothic Blue Luxury Cotton Fabric Scented (Organic Lavender Buds) (Personalised with Text)
FGCHE024(C)(R49x15)COL-BGO(LAV)(P)
5056261035645
£27.94
801 g
15 x 49 x 2.5cm
Cherry Stone Heat Pack (Rectangle)
(49cm x 15cm) - Chocolate Luxury Cotton Fabric Scented (Organic Lavender Buds)
FGCHE024(C)(R49x15)COL-BMO(LAV)
5056261035706
£24.99
801 g
15 x 49 x 2.5cm
Cherry Stone Heat Pack (Rectangle)
(49cm x 15cm) - Chocolate Luxury Cotton Fabric Scented (Organic Lavender Buds) (Personalised with Text)
FGCHE024(C)(R49x15)COL-BMO(LAV)(P)
5056261035720
£27.94
801 g
15 x 49 x 2.5cm
Cherry Stone Heat Pack (Rectangle)
(49cm x 15cm) - Natural Organic Cotton Scented (Organic Lavender Buds)
FGCHE024(C)(R49x15)COO-NAT(LAV)
5056261053199
£26.99
801 g
15 x 49 x 2.5cm
Cherry Stone Heat Pack (Rectangle)
(49cm x 15cm) - Natural Organic Cotton Scented (Organic Lavender Buds) (Personalised with Text)
FGCHE024(C)(R49x15)COO-NAT(LAV)(P)
5056261053205
£29.94
801 g
15 x 49 x 2.5cm
Cherry Stone Heat Pack (Rectangle)
(49cm x 15cm) - Red Cotton Fabric Scented (Organic Lavender Buds) Removable Cover
FGCHE024(C)(R49x15)COT-RED(LAV)(RC)
5056656335268
£29.99
877 g
15 x 49 x 2.5cm
Cherry Stone Heat Pack (Rectangle)
(49cm x 15cm) - Red Cotton Fabric Scented (Organic Lavender Buds) Removable Cover (Personalised with Text)
FGCHE024(C)(R49x15)COT-RED(LAV)(RC)(P)
5056656335343
£32.94
877 g
15 x 49 x 2.5cm
Cherry Stone Heat Pack (Rectangle)
(49cm x 15cm) - Navy Blue Cotton Fabric Scented (Organic Lavender Buds) Removable Cover
FGCHE024(C)(R49x15)COT-BNA(LAV)(RC)
5056656335275
£29.99
877 g
15 x 49 x 2.5cm
Cherry Stone Heat Pack (Rectangle)
(49cm x 15cm) - Navy Blue Cotton Fabric Scented (Organic Lavender Buds) Removable Cover (Personalised with Text)
FGCHE024(C)(R49x15)COT-BNA(LAV)(RC)(P)
5056656335350
£32.94
877 g
15 x 49 x 2.5cm
Cherry Stone Heat Pack (Rectangle)
(49cm x 15cm) - Natural Cotton Fabric Scented (Organic Lavender Buds) Removable Cover
FGCHE024(C)(R49x15)COT-NAT(LAV)(RC)
5056656335282
£29.99
877 g
15 x 49 x 2.5cm
Cherry Stone Heat Pack (Rectangle)
(49cm x 15cm) - Natural Cotton Fabric Scented (Organic Lavender Buds) Removable Cover (Personalised with Text)
FGCHE024(C)(R49x15)COT-NAT(LAV)(RC)(P)
5056656335367
£32.94
877 g
15 x 49 x 2.5cm
Cherry Stone Heat Pack (Rectangle)
(49cm x 15cm) - Purple Cotton Fabric Scented (Organic Lavender Buds) Removable Cover
FGCHE024(C)(R49x15)COT-PUR(LAV)(RC)
5056656335305
£29.99
877 g
15 x 49 x 2.5cm
Cherry Stone Heat Pack (Rectangle)
(49cm x 15cm) - Purple Cotton Fabric Scented (Organic Lavender Buds) Removable Cover (Personalised with Text)
FGCHE024(C)(R49x15)COT-PUR(LAV)(RC)(P)
5056656335381
£32.94
877 g
15 x 49 x 2.5cm
Cherry Stone Heat Pack (Rectangle)
(49cm x 15cm) - Gothic Blue Luxury Cotton Fabric Scented (Organic Lavender Buds) Removable Cover
FGCHE024(C)(R49x15)COL-BGO(LAV)(RC)
5056656335312
£34.99
877 g
15 x 49 x 2.5cm
Cherry Stone Heat Pack (Rectangle)
(49cm x 15cm) - Gothic Blue Luxury Cotton Fabric Scented (Organic Lavender Buds) Removable Cover (Personalised with Text)
FGCHE024(C)(R49x15)COL-BGO(LAV)(RC)(P)
5056656335398
£37.94
877 g
15 x 49 x 2.5cm
Cherry Stone Heat Pack (Rectangle)
(49cm x 15cm) - Chocolate Luxury Cotton Fabric Scented (Organic Lavender Buds) Removable Cover
FGCHE024(C)(R49x15)COL-BMO(LAV)(RC)
5056656335329
£34.99
877 g
15 x 49 x 2.5cm
Cherry Stone Heat Pack (Rectangle)
(49cm x 15cm) - Chocolate Luxury Cotton Fabric Scented (Organic Lavender Buds) Removable Cover (Personalised with Text)
FGCHE024(C)(R49x15)COL-BMO(LAV)(RC)(P)
5056656335404
£37.94
877 g
15 x 49 x 2.5cm
Cherry Stone Heat Pack (Rectangle)
(49cm x 15cm) - Natural Organic Cotton Scented (Organic Lavender Buds) Removable Cover
FGCHE024(C)(R49x15)COO-NAT(LAV)(RC)
5056656335336
£36.99
877 g
15 x 49 x 2.5cm
Cherry Stone Heat Pack (Rectangle)
(49cm x 15cm) - Natural Organic Cotton Scented (Organic Lavender Buds) Removable Cover (Personalised with Text)
FGCHE024(C)(R49x15)COO-NAT(LAV)(RC)(P)
5056656335411
£39.94
877 g
15 x 49 x 2.5cm
Cherry Stone Heat Pack (Rectangle)
(49cm x 15cm) - Red Cotton Fabric
FGCHE024(C)(R49x15)COT-RED
5056656334940
£19.99
800 g
15 x 49 x 2.5cm
Cherry Stone Heat Pack (Rectangle)
(49cm x 15cm) - Red Cotton Fabric (Personalised with Text)
FGCHE024(C)(R49x15)COT-RED(P)
5056656335022
£22.94
800 g
15 x 49 x 2.5cm
Cherry Stone Heat Pack (Rectangle)
(49cm x 15cm) - Red Cotton Fabric Removable Cover
FGCHE024(C)(R49x15)COT-RED(RC)
5056656335107
£29.99
876 g
15 x 49 x 2.5cm
Cherry Stone Heat Pack (Rectangle)
(49cm x 15cm) - Red Cotton Fabric Removable Cover (Personalised with Text)
FGCHE024(C)(R49x15)COT-RED(RC)(P)
5056656335183
£32.94
876 g
15 x 49 x 2.5cm
Cherry Stone Heat Pack (Rectangle)
(49cm x 15cm) - Navy Blue Cotton Fabric
FGCHE024(C)(R49x15)COT-BNA
5056656334957
£19.99
800 g
15 x 49 x 2.5cm
Cherry Stone Heat Pack (Rectangle)
(49cm x 15cm) - Navy Blue Cotton Fabric (Personalised with Text)
FGCHE024(C)(R49x15)COT-BNA(P)
5056656335039
£22.94
800 g
15 x 49 x 2.5cm
Cherry Stone Heat Pack (Rectangle)
(49cm x 15cm) - Navy Blue Cotton Fabric Removable Cover
FGCHE024(C)(R49x15)COT-BNA(RC)
5056656335114
£29.99
876 g
15 x 49 x 2.5cm
Cherry Stone Heat Pack (Rectangle)
(49cm x 15cm) - Navy Blue Cotton Fabric Removable Cover (Personalised with Text)
FGCHE024(C)(R49x15)COT-BNA(RC)(P)
5056656335190
£32.94
876 g
15 x 49 x 2.5cm
Cherry Stone Heat Pack (Rectangle)
(49cm x 15cm) - Natural Cotton Fabric
FGCHE024(C)(R49x15)COT-NAT
5056656334964
£19.99
800 g
15 x 49 x 2.5cm
Cherry Stone Heat Pack (Rectangle)
(49cm x 15cm) - Natural Cotton Fabric (Personalised with Text)
FGCHE024(C)(R49x15)COT-NAT(P)
5056656335046
£22.94
800 g
15 x 49 x 2.5cm
Cherry Stone Heat Pack (Rectangle)
(49cm x 15cm) - Natural Cotton Fabric Removable Cover
FGCHE024(C)(R49x15)COT-NAT(RC)
5056656335121
£29.99
876 g
15 x 49 x 2.5cm
Cherry Stone Heat Pack (Rectangle)
(49cm x 15cm) - Natural Cotton Fabric Removable Cover (Personalised with Text)
FGCHE024(C)(R49x15)COT-NAT(RC)(P)
5056656335206
£32.94
876 g
15 x 49 x 2.5cm
Cherry Stone Heat Pack (Rectangle)
(49cm x 15cm) - Purple Cotton Fabric
FGCHE024(C)(R49x15)COT-PUR
5056656334988
£19.99
800 g
15 x 49 x 2.5cm
Cherry Stone Heat Pack (Rectangle)
(49cm x 15cm) - Purple Cotton Fabric (Personalised with Text)
FGCHE024(C)(R49x15)COT-PUR(P)
5056656335060
£22.94
800 g
15 x 49 x 2.5cm
Cherry Stone Heat Pack (Rectangle)
(49cm x 15cm) - Purple Cotton Fabric Removable Cover
FGCHE024(C)(R49x15)COT-PUR(RC)
5056656335145
£29.99
876 g
15 x 49 x 2.5cm
Cherry Stone Heat Pack (Rectangle)
(49cm x 15cm) - Purple Cotton Fabric Removable Cover (Personalised with Text)
FGCHE024(C)(R49x15)COT-PUR(RC)(P)
5056656335220
£32.94
876 g
15 x 49 x 2.5cm
Cherry Stone Heat Pack (Rectangle)
(49cm x 15cm) - Gothic Blue Luxury Cotton Fabric
FGCHE024(C)(R49x15)COL-BGO
5056656334995
£24.99
800 g
15 x 49 x 2.5cm
Cherry Stone Heat Pack (Rectangle)
(49cm x 15cm) - Gothic Blue Luxury Cotton Fabric (Personalised with Text)
FGCHE024(C)(R49x15)COL-BGO(P)
5056656335077
£27.94
800 g
15 x 49 x 2.5cm
Cherry Stone Heat Pack (Rectangle)
(49cm x 15cm) - Gothic Blue Luxury Cotton Fabric Removable Cover
FGCHE024(C)(R49x15)COL-BGO(RC)
5056656335152
£34.99
876 g
15 x 49 x 2.5cm
Cherry Stone Heat Pack (Rectangle)
(49cm x 15cm) - Gothic Blue Luxury Cotton Fabric Removable Cover (Personalised with Text)
FGCHE024(C)(R49x15)COL-BGO(RC)(P)
5056656335237
£37.94
876 g
15 x 49 x 2.5cm
Cherry Stone Heat Pack (Rectangle)
(49cm x 15cm) - Chocolate Luxury Cotton Fabric
FGCHE024(C)(R49x15)COL-BMO
5056656335008
£24.99
800 g
15 x 49 x 2.5cm
Cherry Stone Heat Pack (Rectangle)
(49cm x 15cm) - Chocolate Luxury Cotton Fabric (Personalised with Text)
FGCHE024(C)(R49x15)COL-BMO(P)
5056656335084
£27.94
800 g
15 x 49 x 2.5cm
Cherry Stone Heat Pack (Rectangle)
(49cm x 15cm) - Chocolate Luxury Cotton Fabric Removable Cover
FGCHE024(C)(R49x15)COL-BMO(RC)
5056656335169
£34.99
876 g
15 x 49 x 2.5cm
Cherry Stone Heat Pack (Rectangle)
(49cm x 15cm) - Chocolate Luxury Cotton Fabric Removable Cover (Personalised with Text)
FGCHE024(C)(R49x15)COL-BMO(RC)(P)
5056656335244
£37.94
876 g
15 x 49 x 2.5cm
Cherry Stone Heat Pack (Rectangle)
(49cm x 15cm) - Natural Organic Cotton
FGCHE024(C)(R49x15)COO-NAT
5056656335015
£26.99
800 g
15 x 49 x 2.5cm
Cherry Stone Heat Pack (Rectangle)
(49cm x 15cm) - Natural Organic Cotton (Personalised with Text)
FGCHE024(C)(R49x15)COO-NAT(P)
5056656335091
£29.94
800 g
15 x 49 x 2.5cm
Cherry Stone Heat Pack (Rectangle)
(49cm x 15cm) - Natural Organic Cotton Removable Cover
FGCHE024(C)(R49x15)COO-NAT(RC)
5056656335176
£36.99
876 g
15 x 49 x 2.5cm
Cherry Stone Heat Pack (Rectangle)
(49cm x 15cm) - Natural Organic Cotton Removable Cover (Personalised with Text)
FGCHE024(C)(R49x15)COO-NAT(RC)(P)
5056656335251
£39.94
876 g
15 x 49 x 2.5cm
Cherry Stone Heat Pack (Rectangle)