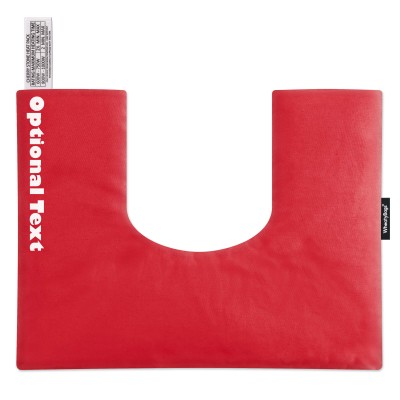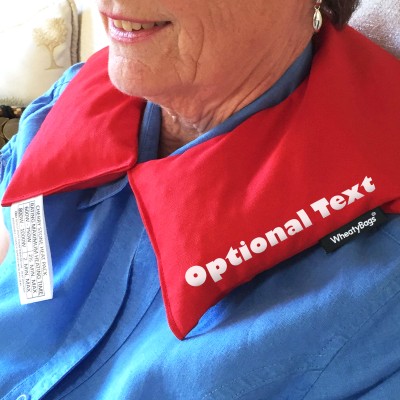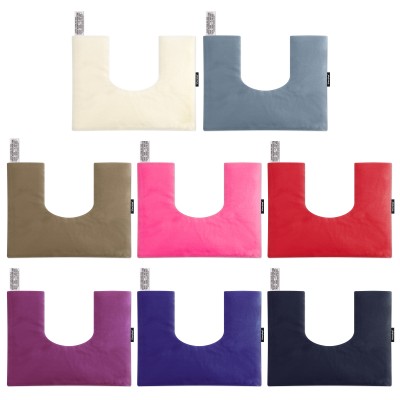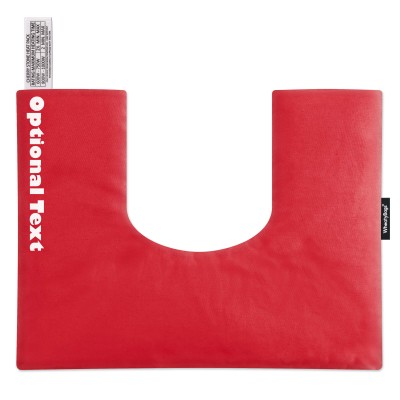 Cherry Stone Heat Pack (U-Shaped)
UK Made
BS8433 : 2004
Natural Filling
Organic Options *
Description
A Cherry Stone Neck and Shoulder Heat Pack can help with gentle warmth around the neck and shoulders and our Neck and Shoulder Heat Pack is made for such areas.
British Made Cherry Stone Pillow.
Specially shaped for the Neck and Shoulder areas.
Filled with natural cherry stones.
Removable cover option.
Can be personalised with your own text.
Trusted WheatyBags® UK Made brand.
This Cherry Stone Neck Pillow is created following the great feedback we get from customers of our Neck and Shoulder Wheat Bag Heat Pack.
Uniquely shaped, the cherry stone pillow will fit around your neck and fit on the top of the shoulders to provide a nice gentle warmth around the area.
We manufacture the packs here in the UK and as such know the quality of our workmanship is second to none and is one of the main reasons we can offer you optional removable covers, optional provence lavender and even a way to create a heat pack personalised gift by way of the personalisation text which can be printed to the outer fabric.
Each cherry stone pillow comes with a great range of both fabrics and colour with options of polyester fleece fabric, some great vivid printed fleece fabrics and a smoother polycotton drill option in a variety of colours.
Reviews
Fabulous
- Recommended to me by a massage therapist and use it twice a day to keep neck pain and headaches away. Excellent product and service. (Steve B, 07/10/23)
excellent buy.
- Its an excellent product,well made and comfortable and it stays in place.well worth the price. (stresskills , 24/02/22)
Wheat bag
- Was brilliant did help an awful lot (Kathy , 02/06/21)
Cherry stone heat pack
- It works a treat for my husband when he's cold. A couple of minutes in the microwave and then pop it round his neck and he soon warms up. It also works really well on his cold hand and the added bonus is the beautiful smell of lavender. (Rozby, 26/05/21)
Well made
- Nicely made and excellent quality. Bought this for my husbands neck pain. A bit more expensive than the cheaper versions but it's well worth it. Had a cheaper version and it was awful it smelled the whole house out and I binned it.My only negative is it could do with staying hot for a bit longer. Definitely recommend these wheaty bags. Won't hesitate to buy another. (Gilly, 11/05/21)
Very good product
- I bought this for my husband who has arthritis in his neck a doctor recommended this product to him, enjoying the soothing effects it brings him & is using it for a short period most evenings very well made & lovely aroma of lavender. I just wish I had bought it sooner! (Shelagh, 01/04/21)
My purchase
- Thank you for my purchases. Haven't come across cherry stone filling before but it works. So pleased with my goods. Thank you. (Jean, 26/03/21)
A great comfort
- Well made, sweet smelling, good value. Comfortable but could be improved by a higher neck and an attachment across the chest. (Mike, 11/03/21)
Very soothing and comforting
- I bought this because of ongoing neck and shoulder pain. It works very well, sitting comfortably on my shoulders and retains heat quite well. Very soothing for the pain and relaxing the muscles. I highly recommend it. (Finch, 03/03/21)
Soothing
- I purchased this to help a stiff neck and shoulder. The bag is very soothing to use. I was slightly disappointed that it doesn't stay warm for very long, about 15 minutes but I suppose it is unrealistic to expect more from a natural product. Would recommend. (Kala , 02/03/21)
Pain management
- Purchased as a gift for someone having aggressive chemotherapy and side effects of pain. Light weight and gently effective as part of pain management regime (Julia, 25/02/21)
Cheery stone neck bag
- Great. Helps sooth stiff, aching shoulders. Smells great too. (C3.142, 08/02/21)
Neck
- Excellent just what I was looking for, (Barbara, 23/12/20)
Very helpful
- This is just what I needed I suffer from neck and shoulder pain and this gives a pleasant ease to them. I bought 2 as plan to give one away for Christmas. (Tree, 12/12/20)
Great Purchase!!
- 2 minutes in the microwave and it's ready to use. The cherry stones make it a lighter option than the wheat bags and give a lot of heat and comfort. Would definitely recommend. (Lynn, 13/10/20)
Fabulous
- Absolutely perfect. Extremely good quality and delivery was super fast. (Polly, 03/09/20)
Neck & Shoulder Pain Heat Pack
- This was a godsend for my neck injury. So soothing. I'm so pleased with it and what a fab colour. (Rosie S, 28/08/20)
Heat bag
- 5 star item (Shipo, 17/08/20)
Poppy
- So easy to use and covers a greater area than other products . Able to be washed is a real bonus as most are wipe only . Great to have a choice of fun colours too ! (Poppy, 01/06/20)
Poppy
- Bought this at the same time as a pink one ..if one needs washing I always have another to use ! (Poppy, 01/06/20)
A life saver!
- Suffering for weeks with cervical spondylitis...a friend recommended the neck and shoulder pack and it hasreally helped in reducing pain I can walk around wearing the pack . Thoroughly recommend! (David)
Comforting cushion
- Stays on warm for a good while, this cushion isn't too heavy and smells lovely too. (Anon)
Love this wheaty,especially the shape!
- This little wheaty,will wrap around your neck,& stay in place!which straight one's won't! Love the lavender aroma too.3 (Mary)
Lighter than wheat bag
- The service was excellent.The fit was also excellent around my neck and shoulders.Probably should have ticked the aroma option but added lavender oil so that was fine. Was recommended by my therapist as alternative to wheat as kept heat longer. Not sure that is so but I do make my own wheat bags and put a lot of wheat in. So advantage that bag is lighter than my wheat one. (Margaret Stocks)
Really does the job!!
- Bought for my mother as she has a very sore neck. This fits nicely and gives her neck a lot of comfort, very happy with it! (Maggie)
Long lasting heat
- Great quality - well made, love the colour, and the shape means that it sits securely on my shoulders. The cherry stones hold heat for a long time, great for easing away tense shoulder after a day at work. (Barbara)
Welcome comfort
- This is the second order for this amazing cherry stone pillow. What a boon for anyone with persistent neck or shoulder pain, or even for self-indulgent comfort! I just had to share its benefits, so bought one as gift. (Chris)
An old tradition renewed
- I bought the cherry stone version for a friend of mine who has a frozen shoulder. I remembered that, as children, the Dutch au pair girls who came to help my mother used to make cotton bags filled with cleaned,boiled and dried plum stones, which we heated in a low oven and used as hot water bottles. The friend is delighted with the cherry stone bag as it is lighter than the wheat version. I shall now order one for myself. (Simone)
Excellent product
- This is used every day to relieve a painful neck. (schubertina)
Great product!
- It fits neck and shoulders far better than the more simple one and so the heat is easier to direct to where it is required. (Moot)
Another successful buy
- I have been using one of these brilliant cherry stone pillows for a couple of months now and wanted to share the benefit with a relation. So I ordered another one and it was much appreciated. The neck and shoulder heat pack is a clever design & very comfortable. It also has a subtle natural aroma of cherries when heated. Recommended - & a very friendly, helpful company. (Christopher D)
Fantastic for the drive to work!
- My daughters car is old and not very warm so she uses her wheatybag as additional heat on her drive to work early in the morning! Fantastic - and good value too! (Kelly - Norwich)
No more aching neck!
- AFTER JUST 30MINS ALL THE ACHES AND PAINS AT THE TOP OF THE SPINE AND SHOULDERS DISAPPEARS, VERY WARM AND COMFORTING. PAYING A BIT MORE FOR ADDED LAVENDER IS A TREAT AND RELAXING. 2MINUTES IN THE MICROWAVE AND IT IS READY. I NOW HAVE 2. THESE WEOULD MAKE GREAT CHRISTMAS PRESENTS SO I SHALL BUY MORE. (Carolyn)
Great for easing headaches
- As a sufferer of Cluster Headaches, that's Migraines with bad attitude, I am finding this bag designed brilliantly ease my pain as it is large enough to affect the head, top of the spine and shoulders. Beats normal heat bags. (Bill Smith)
Directors Review of the Cherry Stone Neck and Shoulder Heat Pack
- Our neck and shoulder wheat bag is such a popular product and we have added to our range the cherry stone version here. Cherry stones are a larger firm pip from cherry's used in main food production and provide for a clean, dust free alternative for microwave heat packs.  The full heat pack can be washed in a normal wash meaning that it has far less dust that a wheat bag which is good news for ashtma sufferers. I hope you like the cherry stone neck heat pack and can come back and write a review soon to help our other new customers make up their mind on the product and its benefits. (Michael Robinson)
More Reviews
Instructions
MAXIMUM MICROWAVE HEATING TIMES FOR THIS PRODUCT: MAXIMUM HEATING (AND CHILLING) TIMES FOR THE PRODUCT ARE ATTACHED TO THE PRODUCT BY SEWN-ON LABEL AND CARD SWING TAG WHICH SHOULD BE RETAINED FOR FUTURE REFERENCE.
This product is entirely natural and easy to use. It is designed as a gentle warming or chilling product though it is EXTREMELY IMPORTANT to take great care not to over-heat or over-chill the product.
Please follow our heating and chilling instructions carefully and use your own judgment - if you are experiencing any discomfort from the pack then stop using immediately. If you want medical advice, please ask your Doctor.
GENERAL INSTRUCTIONS: Please take care heating this cherry stone filled product and be careful not to burn the contents inside. If you smell a burnt smell, the heat pack is best thrown away and a new one purchased.
Remove all tags and ensure the product is clean and dry before use.
Use the maximum heating guide (below) to determine the correct heating times.
Ensure all grilling / browning facilities are turned off and do not place near a direct heat source.
When first heated, the product will feel damp though this is quite normal and will stop after a few uses.
After this time we recommend placing a small cup of water in the microwave when heating.
In order to comply with BS8433 : 2004 we are obliged to tell you of the following.
WARNING - THIS PRODUCT CAN CAUSE BURNS.
AVOID PROLONGED DIRECT CONTACT WITH THE SKIN.
TAKE CARE WHEN REMOVING FROM THE MICROWAVE OVEN.
DO NOT INGEST CONTENTS.
DO NOT OVERHEAT.
FOR MICROWAVE USE ONLY.
HEATED PRODUCTS SHOULD NOT BE GIVEN TO CHILDREN.
MAXIMUM HEATING (AND CHILLING) TIMES FOR THE PRODUCT ARE ATTACHED TO THE PRODUCT BY SEWN-ON LABEL AND CARD SWING TAG WHICH SHOULD BE RETAINED FOR FUTURE REFERENCE.
ONLY REHEAT FROM ROOM TEMPERATURE.
DO NOT FOLD ITEM IN HALF TO HEAT.
HEAT WITHOUT REMOVABLE COVERS IF SUPPLIED WITH THIS ITEM.
SURFACE CLEAN WITH A DAMP CLOTH.
CARE INSTRUCTIONS
Do not wash the heat pack with the cherry stones inside.
Only clean this part with a damp cloth.
Optional removable covers if available for this product can be removed and cleaned in accordance with the washing instructions label on the cover.
Asthma Sufferers should be aware this product contains cherry stones.
In the event of overheating, let the item stand in a safe place and do not touch until cooled.
Dispose of in the normal household waste if worn or damaged.
Store in a cool dry place.
Ensure that the microwave turntable can rotate freely.
TO USE COLD:
Wrap the pack in a plastic bag (to keep it clean).
Place in the FRIDGE or FREEZER for 1-3 hours.
Remove from plastic bag before use.
Be cautious and check your skin to avoid any possibility of freezer-burn and use a towel on your body with the pack on top to avoid direct contact with the skin.
DO NOT PLACE THIS ITEM IN THE FREEZER IF USING ON THE EYES.
Please do not machine wash this product or get it wet. If it becomes marked or dirty, please take good care not to wet the inner contents and wipe clean with a damp cloth.
Removable Covers: If you purchase this Product with the option for "Removable Cover" for cleaning, the outer removable cover will be supplied in the fabric and colour of your choice. The inner pack will be manufactured from a fabric and colour of our choice depending on supplies available at the time of manufacture (usually our natural value cotton fabric depending on the product).
Do not wash or get the inner wheat or other filled heat packs wet.
CARELESSNESS CAUSES FIRE.
Do not wash or get the inner wheat or other filled heat packs wet.
For 100% Cotton, 100% Polycotton & 100% Polyester Fabrics (eg Fleece) Removable Covers.
Remove the outer cover before carefully cleaning the outer cover only.
Only warm hand or machine wash and cold rinse the removable cover.
Wash with like colours max. 40 degree temperature.
For best results, lay flat on a suitable surface to air-dry.
Do not bleach.
1 spot iron (Cotton / Fleece) or 2 spot iron (Polycotton).
Do not tumble dry.
FAQs
Are these products a medical product?
No. Clear Prospects Ltd manufactures WheatyBags® microwave heat packs which have been tested to safety standard BS8433:2004. We are not Doctors and our products are not medical products (our heat packs are simple microwave heat packs that provide warmth and comfort). If you are unsure about their use, we recommend you consult your doctor before using heat packs in general.
What do these Cherry Stone heat packs contain ?
100% Natural Cherry Stones and nothing extra other than lavender when selected. Cherry Stones are the pips from the inside of a cherry fruit that are thoroughly washed and cleaned at the source before being used as a natural heat retainer in our pillows.
Do you recommend lavender ?
Yes. Cherry stones when warmed have their own aroma and many of our customers want the pleasant smell of lavender to mask the natural smell of the cherry stones.
Are the cherry stone packs heavy ?
No. Cherry stones are naturally light in weight and lighter than wheat filled heat packs. The cherry stones are more bulky and our packs are well filled to give enough bulk to hold the heat when warmed for as long as possible.
Do they hold the heat as well as wheat ?
No not quite though they do successfully hold heat long enough to use.
What are the Organic Fabric Options?
Where shown, this product has an Organic Fabric Option. We purchase organic fabric from trusted UK Fabric Merchants who are registered under the Global Organic Textile Standard (GOTS) to enable full traceability of the fabric we use through to the final product you are purchasing today.
Is the Lavender Organic?
Yes. We purchase Organic Lavender from our Grain & Seed Merchant in the UK and they have sourced genuine lavender buds for our heat packs. This is not a scent, we add the flower buds from Organic Lavender for the most exquisite fragrance.
Delivery
The information below is for guidance. Actual delivery costs and dates depend on the delivery address, weight and time your order is placed. Cut-off time for Overnight Orders is 12 noon.
| Price | Method | Manufacture Time | Delivery Time | Est. Delivery Date |
| --- | --- | --- | --- | --- |
| £4.99 | 2nd Class (Tracked) | 0-3 Days | 2-3 Days | Mon 11 Dec - Fri 15 Dec |
| £7.99 | 1st Class (Tracked) | 0-3 Days | 1-2 Days | Fri 8 Dec - Thu 14 Dec |
| £13.31 | DHL Courier (Economy M-F Pre 6pm) | 0-3 Days | 2-3 Days | Mon 11 Dec - Fri 15 Dec |
| £14.99 | Royal Mail Special Delivery (Overnight Mon-Sat Pre 1pm) | Today | Next Day (Mon-Sat) | Fri 8 Dec |
More Information
| | |
| --- | --- |
| Despatch | 0-3 Days (Made to Order) or Upgrade for Overnight Delivery at Chekout |
| Brand | WheatyBags® |
| RRP | £19.99 |
| Filling | Cherry Stones, Optional Lavender |
| Country of Origin | United Kingdom |
| SKU | FGCHE008(C)(U37x27)COT-RED(LAV) |
| Gtin | 5056656338368 |
| Tariff Code | 1001912020 |
| Tariff Description | Heat Pack - Common Wheat |
| Product Weight | 801 g |
| Product Dimensions | 27 x 37 x 2.5cm |
Product Options
Size
Approx. 37cm x 27cm
Filling
Cherry Stones
Fabric
Cotton, Luxury Cotton, Organic Cotton
Fabric Colour
Red, Navy Blue, Purple, Natural, Chocolate, Gothic Blue
Removable Cover (Click to Select)
Without Removable Cover, Removable Cover +
Aroma (Click to Select)
Unscented, Organic Lavender Buds +
Product Type
Cherry Stone Pillows
Warmers For > Microwavable Heating Pad
heating pad > microwavable heating pad
heat pack > microwave heat pack
wheat bag

Cherry Stone Heat Pack (U-Shaped)
(37cm x 27cm) - Red Cotton Fabric Scented (Organic Lavender Buds)
FGCHE008(C)(U37x27)COT-RED(LAV)
5056656338368
£19.99
801 g
27 x 37 x 2.5cm
Cherry Stone Heat Pack (U-Shaped)
(37cm x 27cm) - Red Cotton Fabric Scented (Organic Lavender Buds) (Personalised with Text)
FGCHE008(C)(U37x27)COT-RED(LAV)(P)
5056656339754
£22.94
801 g
27 x 37 x 2.5cm
Cherry Stone Heat Pack (U-Shaped)
(37cm x 27cm) - Red Cotton Fabric Scented (Organic Lavender Buds) Removable Cover
FGCHE008(C)(U37x27)COT-RED(LAV)(RC)
5056656339839
£29.99
886 g
27 x 37 x 2.5cm
Cherry Stone Heat Pack (U-Shaped)
(37cm x 27cm) - Red Cotton Fabric Scented (Organic Lavender Buds) Removable Cover (Personalised with Text)
FGCHE008(C)(U37x27)COT-RED(LAV)(RC)(P)
5056656339914
£32.94
886 g
27 x 37 x 2.5cm
Cherry Stone Heat Pack (U-Shaped)
(37cm x 27cm) - Navy Blue Cotton Fabric Scented (Organic Lavender Buds)
FGCHE008(C)(U37x27)COT-BNA(LAV)
5056656339600
£19.99
801 g
27 x 37 x 2.5cm
Cherry Stone Heat Pack (U-Shaped)
(37cm x 27cm) - Navy Blue Cotton Fabric Scented (Organic Lavender Buds) (Personalised with Text)
FGCHE008(C)(U37x27)COT-BNA(LAV)(P)
5056656339761
£22.94
801 g
27 x 37 x 2.5cm
Cherry Stone Heat Pack (U-Shaped)
(37cm x 27cm) - Navy Blue Cotton Fabric Scented (Organic Lavender Buds) Removable Cover
FGCHE008(C)(U37x27)COT-BNA(LAV)(RC)
5056656339846
£29.99
886 g
27 x 37 x 2.5cm
Cherry Stone Heat Pack (U-Shaped)
(37cm x 27cm) - Navy Blue Cotton Fabric Scented (Organic Lavender Buds) Removable Cover (Personalised with Text)
FGCHE008(C)(U37x27)COT-BNA(LAV)(RC)(P)
5056656339921
£32.94
886 g
27 x 37 x 2.5cm
Cherry Stone Heat Pack (U-Shaped)
(37cm x 27cm) - Natural Cotton Fabric Scented (Organic Lavender Buds)
FGCHE008(C)(U37x27)COT-NAT(LAV)
5056656339617
£19.99
801 g
27 x 37 x 2.5cm
Cherry Stone Heat Pack (U-Shaped)
(37cm x 27cm) - Natural Cotton Fabric Scented (Organic Lavender Buds) (Personalised with Text)
FGCHE008(C)(U37x27)COT-NAT(LAV)(P)
5056656339778
£22.94
801 g
27 x 37 x 2.5cm
Cherry Stone Heat Pack (U-Shaped)
(37cm x 27cm) - Natural Cotton Fabric Scented (Organic Lavender Buds) Removable Cover
FGCHE008(C)(U37x27)COT-NAT(LAV)(RC)
5056656339853
£29.99
886 g
27 x 37 x 2.5cm
Cherry Stone Heat Pack (U-Shaped)
(37cm x 27cm) - Natural Cotton Fabric Scented (Organic Lavender Buds) Removable Cover (Personalised with Text)
FGCHE008(C)(U37x27)COT-NAT(LAV)(RC)(P)
5056656339938
£32.94
886 g
27 x 37 x 2.5cm
Cherry Stone Heat Pack (U-Shaped)
(37cm x 27cm) - Purple Cotton Fabric Scented (Organic Lavender Buds)
FGCHE008(C)(U37x27)COT-PUR(LAV)
5056656339631
£19.99
801 g
27 x 37 x 2.5cm
Cherry Stone Heat Pack (U-Shaped)
(37cm x 27cm) - Purple Cotton Fabric Scented (Organic Lavender Buds) (Personalised with Text)
FGCHE008(C)(U37x27)COT-PUR(LAV)(P)
5056656339792
£22.94
801 g
27 x 37 x 2.5cm
Cherry Stone Heat Pack (U-Shaped)
(37cm x 27cm) - Purple Cotton Fabric Scented (Organic Lavender Buds) Removable Cover
FGCHE008(C)(U37x27)COT-PUR(LAV)(RC)
5056656339877
£29.99
886 g
27 x 37 x 2.5cm
Cherry Stone Heat Pack (U-Shaped)
(37cm x 27cm) - Purple Cotton Fabric Scented (Organic Lavender Buds) Removable Cover (Personalised with Text)
FGCHE008(C)(U37x27)COT-PUR(LAV)(RC)(P)
5056656339952
£32.94
886 g
27 x 37 x 2.5cm
Cherry Stone Heat Pack (U-Shaped)
(37cm x 27cm) - Gothic Blue Luxury Cotton Fabric Scented (Organic Lavender Buds)
FGCHE008(C)(U37x27)COL-BGO(LAV)
5056656339648
£24.99
801 g
27 x 37 x 2.5cm
Cherry Stone Heat Pack (U-Shaped)
(37cm x 27cm) - Gothic Blue Luxury Cotton Fabric Scented (Organic Lavender Buds) (Personalised with Text)
FGCHE008(C)(U37x27)COL-BGO(LAV)(P)
5056656339808
£27.94
801 g
27 x 37 x 2.5cm
Cherry Stone Heat Pack (U-Shaped)
(37cm x 27cm) - Gothic Blue Luxury Cotton Fabric Scented (Organic Lavender Buds) Removable Cover
FGCHE008(C)(U37x27)COL-BGO(LAV)(RC)
5056656339884
£34.99
886 g
27 x 37 x 2.5cm
Cherry Stone Heat Pack (U-Shaped)
(37cm x 27cm) - Gothic Blue Luxury Cotton Fabric Scented (Organic Lavender Buds) Removable Cover (Personalised with Text)
FGCHE008(C)(U37x27)COL-BGO(LAV)(RC)(P)
5056656339969
£37.94
886 g
27 x 37 x 2.5cm
Cherry Stone Heat Pack (U-Shaped)
(37cm x 27cm) - Chocolate Luxury Cotton Fabric Scented (Organic Lavender Buds)
FGCHE008(C)(U37x27)COL-BMO(LAV)
5056656339655
£24.99
801 g
27 x 37 x 2.5cm
Cherry Stone Heat Pack (U-Shaped)
(37cm x 27cm) - Chocolate Luxury Cotton Fabric Scented (Organic Lavender Buds) (Personalised with Text)
FGCHE008(C)(U37x27)COL-BMO(LAV)(P)
5056656339815
£27.94
801 g
27 x 37 x 2.5cm
Cherry Stone Heat Pack (U-Shaped)
(37cm x 27cm) - Chocolate Luxury Cotton Fabric Scented (Organic Lavender Buds) Removable Cover
FGCHE008(C)(U37x27)COL-BMO(LAV)(RC)
5056656339891
£34.99
886 g
27 x 37 x 2.5cm
Cherry Stone Heat Pack (U-Shaped)
(37cm x 27cm) - Chocolate Luxury Cotton Fabric Scented (Organic Lavender Buds) Removable Cover (Personalised with Text)
FGCHE008(C)(U37x27)COL-BMO(LAV)(RC)(P)
5056656339976
£37.94
886 g
27 x 37 x 2.5cm
Cherry Stone Heat Pack (U-Shaped)
(37cm x 27cm) - Natural Organic Cotton Scented (Organic Lavender Buds)
FGCHE008(C)(U37x27)COO-NAT(LAV)
5056656339662
£26.99
801 g
27 x 37 x 2.5cm
Cherry Stone Heat Pack (U-Shaped)
(37cm x 27cm) - Natural Organic Cotton Scented (Organic Lavender Buds) (Personalised with Text)
FGCHE008(C)(U37x27)COO-NAT(LAV)(P)
5056656339822
£29.94
801 g
27 x 37 x 2.5cm
Cherry Stone Heat Pack (U-Shaped)
(37cm x 27cm) - Natural Organic Cotton Scented (Organic Lavender Buds) Removable Cover
FGCHE008(C)(U37x27)COO-NAT(LAV)(RC)
5056656339907
£36.99
886 g
27 x 37 x 2.5cm
Cherry Stone Heat Pack (U-Shaped)
(37cm x 27cm) - Natural Organic Cotton Scented (Organic Lavender Buds) Removable Cover (Personalised with Text)
FGCHE008(C)(U37x27)COO-NAT(LAV)(RC)(P)
5056656339983
£39.94
886 g
27 x 37 x 2.5cm
Cherry Stone Heat Pack (U-Shaped)
(37cm x 27cm) - Red Cotton Fabric
FGCHE008(C)(U37x27)COT-RED
5056656339365
£19.99
800 g
27 x 37 x 2.5cm
Cherry Stone Heat Pack (U-Shaped)
(37cm x 27cm) - Red Cotton Fabric (Personalised with Text)
FGCHE008(C)(U37x27)COT-RED(P)
5056656339440
£22.94
800 g
27 x 37 x 2.5cm
Cherry Stone Heat Pack (U-Shaped)
(37cm x 27cm) - Red Cotton Fabric Removable Cover
FGCHE008(C)(U37x27)COT-RED(RC)
5056656339525
£29.99
885 g
27 x 37 x 2.5cm
Cherry Stone Heat Pack (U-Shaped)
(37cm x 27cm) - Red Cotton Fabric Removable Cover (Personalised with Text)
FGCHE008(C)(U37x27)COT-RED(RC)(P)
5056656339679
£32.94
885 g
27 x 37 x 2.5cm
Cherry Stone Heat Pack (U-Shaped)
(37cm x 27cm) - Navy Blue Cotton Fabric
FGCHE008(C)(U37x27)COT-BNA
5056656339372
£19.99
800 g
27 x 37 x 2.5cm
Cherry Stone Heat Pack (U-Shaped)
(37cm x 27cm) - Navy Blue Cotton Fabric (Personalised with Text)
FGCHE008(C)(U37x27)COT-BNA(P)
5056656339457
£22.94
800 g
27 x 37 x 2.5cm
Cherry Stone Heat Pack (U-Shaped)
(37cm x 27cm) - Navy Blue Cotton Fabric Removable Cover
FGCHE008(C)(U37x27)COT-BNA(RC)
5056656339532
£29.99
885 g
27 x 37 x 2.5cm
Cherry Stone Heat Pack (U-Shaped)
(37cm x 27cm) - Navy Blue Cotton Fabric Removable Cover (Personalised with Text)
FGCHE008(C)(U37x27)COT-BNA(RC)(P)
5056656339686
£32.94
885 g
27 x 37 x 2.5cm
Cherry Stone Heat Pack (U-Shaped)
(37cm x 27cm) - Natural Cotton Fabric
FGCHE008(C)(U37x27)COT-NAT
5056656339389
£19.99
800 g
27 x 37 x 2.5cm
Cherry Stone Heat Pack (U-Shaped)
(37cm x 27cm) - Natural Cotton Fabric (Personalised with Text)
FGCHE008(C)(U37x27)COT-NAT(P)
5056656339464
£22.94
800 g
27 x 37 x 2.5cm
Cherry Stone Heat Pack (U-Shaped)
(37cm x 27cm) - Natural Cotton Fabric Removable Cover
FGCHE008(C)(U37x27)COT-NAT(RC)
5056656339549
£29.99
885 g
27 x 37 x 2.5cm
Cherry Stone Heat Pack (U-Shaped)
(37cm x 27cm) - Natural Cotton Fabric Removable Cover (Personalised with Text)
FGCHE008(C)(U37x27)COT-NAT(RC)(P)
5056656339693
£32.94
885 g
27 x 37 x 2.5cm
Cherry Stone Heat Pack (U-Shaped)
(37cm x 27cm) - Purple Cotton Fabric
FGCHE008(C)(U37x27)COT-PUR
5056656339402
£19.99
800 g
27 x 37 x 2.5cm
Cherry Stone Heat Pack (U-Shaped)
(37cm x 27cm) - Purple Cotton Fabric (Personalised with Text)
FGCHE008(C)(U37x27)COT-PUR(P)
5056656339488
£22.94
800 g
27 x 37 x 2.5cm
Cherry Stone Heat Pack (U-Shaped)
(37cm x 27cm) - Purple Cotton Fabric Removable Cover
FGCHE008(C)(U37x27)COT-PUR(RC)
5056656339563
£29.99
885 g
27 x 37 x 2.5cm
Cherry Stone Heat Pack (U-Shaped)
(37cm x 27cm) - Purple Cotton Fabric Removable Cover (Personalised with Text)
FGCHE008(C)(U37x27)COT-PUR(RC)(P)
5056656339716
£32.94
885 g
27 x 37 x 2.5cm
Cherry Stone Heat Pack (U-Shaped)
(37cm x 27cm) - Gothic Blue Luxury Cotton Fabric
FGCHE008(C)(U37x27)COL-BGO
5056656339419
£24.99
800 g
27 x 37 x 2.5cm
Cherry Stone Heat Pack (U-Shaped)
(37cm x 27cm) - Gothic Blue Luxury Cotton Fabric (Personalised with Text)
FGCHE008(C)(U37x27)COL-BGO(P)
5056656339495
£27.94
800 g
27 x 37 x 2.5cm
Cherry Stone Heat Pack (U-Shaped)
(37cm x 27cm) - Gothic Blue Luxury Cotton Fabric Removable Cover
FGCHE008(C)(U37x27)COL-BGO(RC)
5056656339570
£34.99
885 g
27 x 37 x 2.5cm
Cherry Stone Heat Pack (U-Shaped)
(37cm x 27cm) - Gothic Blue Luxury Cotton Fabric Removable Cover (Personalised with Text)
FGCHE008(C)(U37x27)COL-BGO(RC)(P)
5056656339723
£37.94
885 g
27 x 37 x 2.5cm
Cherry Stone Heat Pack (U-Shaped)
(37cm x 27cm) - Chocolate Luxury Cotton Fabric
FGCHE008(C)(U37x27)COL-BMO
5056656339426
£24.99
800 g
27 x 37 x 2.5cm
Cherry Stone Heat Pack (U-Shaped)
(37cm x 27cm) - Chocolate Luxury Cotton Fabric (Personalised with Text)
FGCHE008(C)(U37x27)COL-BMO(P)
5056656339501
£27.94
800 g
27 x 37 x 2.5cm
Cherry Stone Heat Pack (U-Shaped)
(37cm x 27cm) - Chocolate Luxury Cotton Fabric Removable Cover
FGCHE008(C)(U37x27)COL-BMO(RC)
5056656339587
£34.99
885 g
27 x 37 x 2.5cm
Cherry Stone Heat Pack (U-Shaped)
(37cm x 27cm) - Chocolate Luxury Cotton Fabric Removable Cover (Personalised with Text)
FGCHE008(C)(U37x27)COL-BMO(RC)(P)
5056656339730
£37.94
885 g
27 x 37 x 2.5cm
Cherry Stone Heat Pack (U-Shaped)
(37cm x 27cm) - Natural Organic Cotton
FGCHE008(C)(U37x27)COO-NAT
5056656339433
£26.99
800 g
27 x 37 x 2.5cm
Cherry Stone Heat Pack (U-Shaped)
(37cm x 27cm) - Natural Organic Cotton (Personalised with Text)
FGCHE008(C)(U37x27)COO-NAT(P)
5056656339518
£29.94
800 g
27 x 37 x 2.5cm
Cherry Stone Heat Pack (U-Shaped)
(37cm x 27cm) - Natural Organic Cotton Removable Cover
FGCHE008(C)(U37x27)COO-NAT(RC)
5056656339594
£36.99
885 g
27 x 37 x 2.5cm
Cherry Stone Heat Pack (U-Shaped)
(37cm x 27cm) - Natural Organic Cotton Removable Cover (Personalised with Text)
FGCHE008(C)(U37x27)COO-NAT(RC)(P)
5056656339747
£39.94
885 g
27 x 37 x 2.5cm
Cherry Stone Heat Pack (U-Shaped)