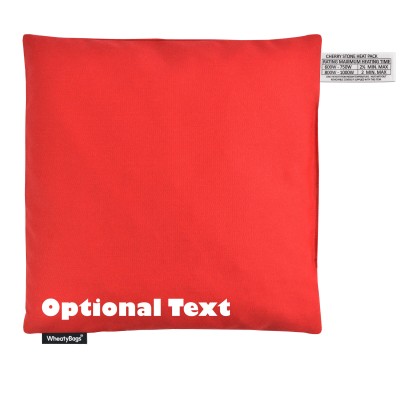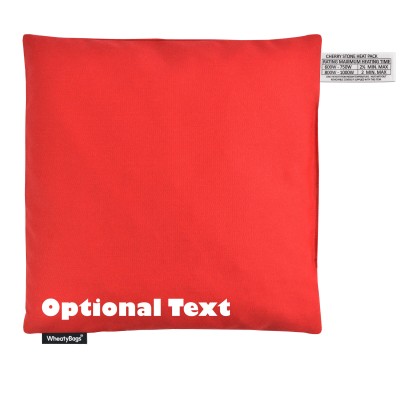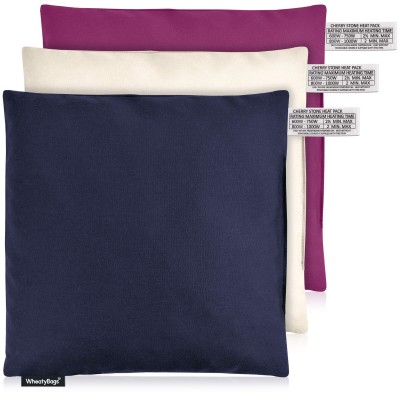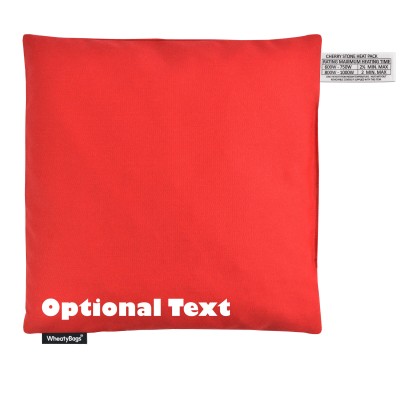 Cherry Stone Heat Pack (Square)
UK Made
BS8433 : 2004
Natural Filling
Organic Options *
Description
Cherry Stone Pillow is a Square Heat Pack, is filled with cherrystones as a microwave heat pack for general warmth and comfort.
Cherry Stone Pillow Heat Pack.
Filled with natural cherry stones.
Warmed in the microwave as a cherry stone heat bag.
Optional lavender scented or unscented.
Can be personalised with your own text.
23cm x 23cm size (9 inches).
Trusted WheatyBags® UK Made brand.
A cherry stone pillow is a lovely way to obtain warmth and comfort from this microwave heat pack. Cherry Stones are a natural product that is used to fill our British Made products and is a natural alternative to the wheat filling we usually use at WheatyBags®.
Cherry Stones are a great content for the cherry stone heat bags for people who are allergic to natural wheat or simply want a cherrystone filled thermal pillow.
We offer many options with the heat pack including fabric and colour choices and the optional Provence lavender which many people like as a natural relaxing aroma for their cherry stone pillow and to help mask the natural aroma of the heated cherry pips.
Reviews
Excellent product
- The cherry heat bags are fantastic. I have bought before from Wheatybags but they last such a long time it has been a long while since my last order. The cherry bags are so much better than the wheat bags as they do not sweat. I would highly recommend (Louise, 05/12/23)
Cherry Stone Heat Packs
- A good quality product (Malcolm, 23/11/23)
Cherry Stone Heat Pack
- 5 * (cmjhayton11 @icloud.com, 22/11/23)
wheaty Bag
- wouldnt be without it, carry it around,sit and cuddle it, take it to bed with me, keepsme warm, feel coldso mch.I try to heat more than mis advised, keeps warm lomg. (heather Mabey, 12/10/23)
DEALT WITH PROMPTLY
- HAPPY WITH SQUARE PACK (Heather Mabey, 10/06/22)
Top product
- Just as I'd hoped for and great service too. Well done! (Sean, 21/07/21)
Special heat pack
- My osteopath suggested that I should alternate a heat and ice pack to relieve pain due to a herniated disc in my lower back. This bag works a treat, it's just the right size to fit on my lower back whilst lying on the floor and about the same size as a bag of frozen peas. Excellent product. (Meinir, 11/03/21)
Sue Barty
- I love these bags have used them for years, the cherry stones are harder but I prefer them as they mould to my back and give support as well as relief. As I have breathing problems wheat filling makes it worse. Good price . (Sue Barty, 17/02/21)
As above
- Same as above (Sue Barty, 17/02/21)
Two Cherry bags
- I have had these sort of bags before and wanted to replace them as they had worn. These new ones have, I believe, fewer cherries and so do not stay warm for as long as my previous ones. It just means they have to be re-warmed to keep them going. (James Brady, 13/02/21)
Comforting
- Love this for tummy ache or ache in a shoulder (Julie, 12/02/21)
Brilliant
- Really helped me with rib pain. (Half-pint, 10/02/21)
5 star quality
- Ive been on the hunt for a good quality cherry stones bag for sometime now and fortunately found the right one with wheaty bag! Although It's more expensive than other cherry stones pillow in the market I think it's well worth it purely due to the quality and user experience of the product. The only reason I've given it a 4 star is due to the removeable cover which which I paid additionally for and unfortunately the sizing does not align and it keeps coming off but otherwise a great product. I'll be recommending it to my friends. (C.S, 28/01/21)
Instant heat
- Just perfect - good quality & exactly what I wanted. (Freda, 24/12/20)
Love it
- The bag is a nice size for my bed although it had a small gap in the seam and I wondered what I was finding in my bed. I took the opportunity to take some stones out and find it'so better slightly looser. (Norma, 28/11/20)
Perfect
- Exactly what I needed. Purchased for the other half after a knee injury caused the knee for a leg brace. Back pain followed. He says this works wonders for the back pain. (Kitty, 22/10/20)
Perfect
- Having been suffering with chronic back pain for many years this little cushion when warmed in the microwave is just perfect for relaxing the muscles in the back. (May, 05/10/20)
Natural Product
- These cherry stone heat packs are just what I wanted for my low back pain and to relax my muscles when watching TV love the fact that the covers are made of natural cotton (April, 29/09/20)
Fabulous
- Gift for family member, absolutely thrilled with it. Quality extremely high. (Polly, 03/09/20)
Brilliant
- Worth buying. Helping my ankle heal. (Ellen, 29/07/20)
Hit the right spot
- this was bought to replace an old one..... its absolutely perfect and hits the spot perfectly. My hubby also uses it as well so money well spent . (Lizzy, 15/07/20)
Handy In July!
- I would not have expected to need my cherry stone pips in July! But really useful in the cold weather. Great for snuggling up with. (Jo, 15/07/20)
Great size
- Bought for my husbands cold feet! It works really well. Great size good strong cover. Great product (MaryAnn)
My Best Friend
- My Cherry Stone Bag is my 'Best Friend' - I use regularly every day for my aches and pains. Very easy to use and it keeps me fit and active. (Geordie Dave)
Husban likes it
- Very pleased with this cushion - replacement for an old one (from another supplier) for my husband. Also purchased a cover - very good as cushion is well used. (Brenda G)
Bought to help with knee pain
- Excellent product, does a good job. I prefer these to wheat bags as they seem to hold heat a bit longer five stars from me (Bob Jay)
Bought this item for my mother who suffers with back pain
- My mother is very happy with this item, she said its best cherry pip heated pillow she has had. Great quality. (Mrs K Salter)
Cosy Cherrystones
- Perfect thank you, great service as always, fast delivery thank you. (DotD)
Very Comforting...
- My 81 year old mother has poor circulation in her hands and really feels the cold. I bought her one of these and she loves it - a couple of minutes in the microwave and it is lovely and warm and comforting. She uses it indoors throughout the day and if we go out in the car I heat it up and it keeps her warm on our journeys. I highly recommend this product. (Lesley)
Hits the spot
- Excellent item and it's not the first one I've got. The other was a gift but they're not for sharing in this weather. (David)
Cherry Stones Pillow
- I have had one of these for many years and it has helped me through various stages of back pain, neck pain and so on. Over the years have lent this to Family and Friends but now thought it was time a dear friend with a bad back had one of her own. She is finding it a great comfort to an extremely bad back. (June Byrne)
This cushion looks lovely on the sofa.
- This is great and a useful aid for backache. (Anonymous)
My second one!
- I find this type of heat bag very practical. Had to replace my previous one because where I had stored it for the summer, mice had discovered it and thought they were in heaven!! (dkj)
The Perfect Freeze/Heat product
- The Perfect Freeze/Heat product for sports muscular ailments. Get better quicker. Magic (Keith Wilmore)
Wonderful pillow
- Recommended by a fellow pkd sufferer. This warms up in a trice and can be placed wherever the pain is for relief. (Bagsey675)
Bedtime comfort
- I object to having cold feet in bed during the winter but don't want the whole bed to be heated so my cherry stone pillows solve the problem. Pop then in the microwave and hey presto - warm feet. Wriggling my toes amongst the cherry stones feels very comforting and the heat lasts and lasts! (O M Bastow)
Great cushion for my dad's sports injury
- The pillow arrived sooner than we expected it to, and was really helpful. it was a perfect size for the microwave and didn't stop turning (which was a problem with our last one) The cherry stone filling was perfect, because of my Dad's wheat allergy and the extra firmness was appreciated too. would absolutely reccommend this one :) (Ali)
Hot Stuff
- The Cherry Stone Pillow is well made, the heating instructions are clearly readable on the tag and it is far safer than a hot water bottle. A quality product. ("Handsome" Jim)
Gentle and effective
- Really great for relieving pain from mastitis. (Jules)
The Lady loves this cushion
- This cushion was bought for one of our carer's mother and she loves it. (MagsD)
My mother (93 years old) loved the gift of the embroidered pillow
- The Cherry Stone Pillow is an excellent product and delivery was prompt. (Mr S Tomczynski)
Perfect for older people.
- This is a safer replacement for a hot bottle. No boiling water! Just microwave for 2 minutes. Ready! (Teddy)
Great product
- Love the cherry stone square heat pack - 2 minutes in my microwave and it's the perfect temperature for bed. It's well made, and doesn't smell! I'm just about to buy another. (anonymous)
My Granddaughter loves this product
- This is the second Cherry Stone Pillow I've bought for my Granddaughter. She used the first one till it practically fell apart - she loved it. She really suffers from monthly stomach pains and this product was a great comfort & help to her. She's absolutely thrilled with it. (Mim)
Hot pad
- I use it to get relief for a stiff neck. (Tess)
Good Replacement Pillow
- Very prompt delivery service, I liked the choice of colours and pleased I chose the bottle green. It replaces a similar square cherry stone pillow that I've had for years but sadly wore out!. It has already provided good service. Thank you. (Trish W)
Good product
- I am very pleased with my cherry stones. Good quality and good price. (Camilla)
Bought it for my friend's bad back and she loves it!
- I have one myself so I bought one for friend who also has back problems. She finds it very comforting and easy to use. (Lynda)
great for ur nan
- brilliant (senior fordy)
GF said it was perfect
- Much better than just buying off the shelf. Nothing beats a little customisation. Cheers guys. Speedy service and delivery too. (Chris)
We share it !!
- This is the best thing have bought for ages ,my hubby and " share it " back to back ,it holds the heat longer than the grains etc (Vickie Lloyd)
Good quality item
- Bought as a gift to which I added self-knit cover. Tested before gifting and weas pleased with the warmth and no wheaty smell unlike with my other brand wheat microwave warmer. Probably not as hot as a hot water bottle filled with boiling water but was nice to use. The bag itself is well-sewn, the covering fabric nice quality, lable on the bag itself large enough to read and always to hand to remember how long to heat for. Please note that they are made to order so can take longer to arrive but the staff made an effort to deliver by the time I needed it for. Pleased all round (Tasha)
Bought as a xmas present
- I already have one that I love, and will be giving this one to my friend (Tina)
My wife finds it a gentle heat particularly for any pain
- This a product which gives a heat more gentle and long lasting compared with a hot water bottle. Do not overcook it! (Norman Millard)
Easy to use
- So very easy to heat up and so much more comfortable to put behind your back than a hot water bottle but my only criticism is everyone that comes into the room comments on the strange smell that comes from it once its hot!! (Kate Mills)
Directors Review of the Cherry Stone Heat Pack Original Square
- Cherry Stone Pillows are microwave heat packs that are simply filled with cherry stones that absorb and store heat naturally.  They are a great safe alternative filling to wheat which can tend to be heavier than cherry stones and one of the reasons why we created cherrystone pillows. It's an odd thing why these products, according to Google have started to become known as Cherry Stone "Pillows" rather than plain simple "Heat Packs."  This is a strange one to me but either way our packs are all British Made in our own factory using our significant experience in the manufacture of heat packs so you can rest assured knowing they have been made to our usual high standard. (Michael Robinson)
More Reviews
Instructions
MAXIMUM MICROWAVE HEATING TIMES FOR THIS PRODUCT: MAXIMUM HEATING (AND CHILLING) TIMES FOR THE PRODUCT ARE ATTACHED TO THE PRODUCT BY SEWN-ON LABEL AND CARD SWING TAG WHICH SHOULD BE RETAINED FOR FUTURE REFERENCE.
This product is entirely natural and easy to use. It is designed as a gentle warming or chilling product though it is EXTREMELY IMPORTANT to take great care not to over-heat or over-chill the product.
Please follow our heating and chilling instructions carefully and use your own judgment - if you are experiencing any discomfort from the pack then stop using immediately. If you want medical advice, please ask your Doctor.
GENERAL INSTRUCTIONS: Please take care heating this cherry stone filled product and be careful not to burn the contents inside. If you smell a burnt smell, the heat pack is best thrown away and a new one purchased.
Remove all tags and ensure the product is clean and dry before use.
Use the maximum heating guide (below) to determine the correct heating times.
Ensure all grilling / browning facilities are turned off and do not place near a direct heat source.
When first heated, the product will feel damp though this is quite normal and will stop after a few uses.
After this time we recommend placing a small cup of water in the microwave when heating.
In order to comply with BS8433 : 2004 we are obliged to tell you of the following.
WARNING - THIS PRODUCT CAN CAUSE BURNS.
AVOID PROLONGED DIRECT CONTACT WITH THE SKIN.
TAKE CARE WHEN REMOVING FROM THE MICROWAVE OVEN.
DO NOT INGEST CONTENTS.
DO NOT OVERHEAT.
FOR MICROWAVE USE ONLY.
HEATED PRODUCTS SHOULD NOT BE GIVEN TO CHILDREN.
MAXIMUM HEATING (AND CHILLING) TIMES FOR THE PRODUCT ARE ATTACHED TO THE PRODUCT BY SEWN-ON LABEL AND CARD SWING TAG WHICH SHOULD BE RETAINED FOR FUTURE REFERENCE.
ONLY REHEAT FROM ROOM TEMPERATURE.
DO NOT FOLD ITEM IN HALF TO HEAT.
HEAT WITHOUT REMOVABLE COVERS IF SUPPLIED WITH THIS ITEM.
SURFACE CLEAN WITH A DAMP CLOTH.
CARE INSTRUCTIONS
Do not wash the heat pack with the cherry stones inside.
Only clean this part with a damp cloth.
Optional removable covers if available for this product can be removed and cleaned in accordance with the washing instructions label on the cover.
Asthma Sufferers should be aware this product contains cherry stones.
In the event of overheating, let the item stand in a safe place and do not touch until cooled.
Dispose of in the normal household waste if worn or damaged.
Store in a cool dry place.
Ensure that the microwave turntable can rotate freely.
TO USE COLD:
Wrap the pack in a plastic bag (to keep it clean).
Place in the FRIDGE or FREEZER for 1-3 hours.
Remove from plastic bag before use.
Be cautious and check your skin to avoid any possibility of freezer-burn and use a towel on your body with the pack on top to avoid direct contact with the skin.
DO NOT PLACE THIS ITEM IN THE FREEZER IF USING ON THE EYES.
Please do not machine wash this product or get it wet. If it becomes marked or dirty, please take good care not to wet the inner contents and wipe clean with a damp cloth.
Removable Covers: If you purchase this Product with the option for "Removable Cover" for cleaning, the outer removable cover will be supplied in the fabric and colour of your choice. The inner pack will be manufactured from a fabric and colour of our choice depending on supplies available at the time of manufacture (usually our natural value cotton fabric depending on the product).
Do not wash or get the inner wheat or other filled heat packs wet.
CARELESSNESS CAUSES FIRE.
Do not wash or get the inner wheat or other filled heat packs wet.
For 100% Cotton, 100% Polycotton & 100% Polyester Fabrics (eg Fleece) Removable Covers.
Remove the outer cover before carefully cleaning the outer cover only.
Only warm hand or machine wash and cold rinse the removable cover.
Wash with like colours max. 40 degree temperature.
For best results, lay flat on a suitable surface to air-dry.
Do not bleach.
1 spot iron (Cotton / Fleece) or 2 spot iron (Polycotton).
Do not tumble dry.
FAQs
Are these products a medical product?
No. Clear Prospects Ltd manufactures WheatyBags® microwave heat packs which have been tested to safety standard BS8433:2004. We are not Doctors and our products are not medical products (our heat packs are simple microwave heat packs that provide warmth and comfort). If you are unsure about their use, we recommend you consult your doctor before using heat packs in general.
What do these Cherry Stone heat packs contain ?
100% Natural Cherry Stones and nothing extra other than lavender when selected. Cherry Stones are the pips from the inside of a cherry fruit that are thoroughly washed and cleaned at the source before being used as a natural heat retainer in our pillows.
Do you recommend lavender ?
Yes. Cherry stones when warmed have their own aroma and many of our customers want the pleasant smell of lavender to mask the natural smell of the cherry stones.
Are the cherry stone packs heavy ?
No. Cherry stones are naturally light in weight and lighter than wheat filled heat packs. The cherry stones are more bulky and our packs are well filled to give enough bulk to hold the heat when warmed for as long as possible.
Do they hold the heat as well as wheat ?
No not quite though they do successfully hold heat long enough to use.
Is the Lavender Organic?
Yes. We purchase Organic Lavender from our Grain & Seed Merchant in the UK and they have sourced genuine lavender buds for our heat packs. This is not a scent, we add the flower buds from Organic Lavender for the most exquisite fragrance.
What are the Organic Fabric Options?
Where shown, this product has an Organic Fabric Option. We purchase organic fabric from trusted UK Fabric Merchants who are registered under the Global Organic Textile Standard (GOTS) to enable full traceability of the fabric we use through to the final product you are purchasing today.
Delivery
The information below is for guidance. Actual delivery costs and dates depend on the delivery address, weight and time your order is placed. Cut-off time for Overnight Orders is 12 noon.
| Price | Method | Manufacture Time | Delivery Time | Est. Delivery Date |
| --- | --- | --- | --- | --- |
| £4.99 | 2nd Class (Tracked) | 0-3 Days | 2-3 Days | Mon 11 Dec - Fri 15 Dec |
| £7.99 | 1st Class (Tracked) | 0-3 Days | 1-2 Days | Fri 8 Dec - Thu 14 Dec |
| £13.31 | DHL Courier (Economy M-F Pre 6pm) | 0-3 Days | 2-3 Days | Mon 11 Dec - Fri 15 Dec |
| £14.99 | Royal Mail Special Delivery (Overnight Mon-Sat Pre 1pm) | Today | Next Day (Mon-Sat) | Fri 8 Dec |
More Information
| | |
| --- | --- |
| Despatch | 0-3 Days (Made to Order) or Upgrade for Overnight Delivery at Chekout |
| Brand | WheatyBags® |
| RRP | £19.99 |
| Filling | Cherry Stones, Optional Lavender |
| Country of Origin | United Kingdom |
| SKU | FGCHE005(C)(S23)COT-RED(LAV) |
| Gtin | 5056656338382 |
| Tariff Code | 63079000 |
| Tariff Description | Heat Pack - Other Made Up Articles |
| Product Weight | 801 g |
| Product Dimensions | 23 x 23 x 3cm |
Product Options
Size
Approx. 23cm
Filling
Cherry Stones
Fabric
Cotton, Luxury Cotton, Organic Cotton
Fabric Colour
Red, Navy Blue, Purple, Natural, Chocolate, Gothic Blue
Removable Cover (Click to Select)
Without Removable Cover, Removable Cover +
Aroma (Click to Select)
Unscented, Organic Lavender Buds +
Product Type
Cherry Stone Pillows
Warmers For > Microwavable Heating Pad
wheat bag
heating pad
heat pack > microwave heat pack

Cherry Stone Heat Pack (Square)
(23cm) - Red Cotton Fabric Scented (Organic Lavender Buds)
FGCHE005(C)(S23)COT-RED(LAV)
5056656338382
£19.99
801 g
23 x 23 x 3cm
Cherry Stone Heat Pack (Square)
(23cm) - Red Cotton Fabric Scented (Organic Lavender Buds) (Personalised with Text)
FGCHE005(C)(S23)COT-RED(LAV)(P)
5056261035324
£22.94
801 g
23 x 23 x 3cm
Cherry Stone Heat Pack (Square)
(23cm) - Navy Blue Cotton Fabric Scented (Organic Lavender Buds)
FGCHE005(C)(S23)COT-BNA(LAV)
5060599191409
£19.99
801 g
23 x 23 x 3cm
Cherry Stone Heat Pack (Square)
(23cm) - Navy Blue Cotton Fabric Scented (Organic Lavender Buds) (Personalised with Text)
FGCHE005(C)(S23)COT-BNA(LAV)(P)
5056261035461
£22.94
801 g
23 x 23 x 3cm
Cherry Stone Heat Pack (Square)
(23cm) - Natural Cotton Fabric Scented (Organic Lavender Buds)
FGCHE005(C)(S23)COT-NAT(LAV)
5060599191393
£19.99
801 g
23 x 23 x 3cm
Cherry Stone Heat Pack (Square)
(23cm) - Natural Cotton Fabric Scented (Organic Lavender Buds) (Personalised with Text)
FGCHE005(C)(S23)COT-NAT(LAV)(P)
5056261035386
£22.94
801 g
23 x 23 x 3cm
Cherry Stone Heat Pack (Square)
(23cm) - Purple Cotton Fabric Scented (Organic Lavender Buds)
FGCHE005(C)(S23)COT-PUR(LAV)
5060599191430
£19.99
801 g
23 x 23 x 3cm
Cherry Stone Heat Pack (Square)
(23cm) - Purple Cotton Fabric Scented (Organic Lavender Buds) (Personalised with Text)
FGCHE005(C)(S23)COT-PUR(LAV)(P)
5056261035249
£22.94
801 g
23 x 23 x 3cm
Cherry Stone Heat Pack (Square)
(23cm) - Gothic Blue Luxury Cotton Fabric Scented (Organic Lavender Buds)
FGCHE005(C)(S23)COL-BGO(LAV)
5060599194318
£24.99
801 g
23 x 23 x 3cm
Cherry Stone Heat Pack (Square)
(23cm) - Gothic Blue Luxury Cotton Fabric Scented (Organic Lavender Buds) (Personalised with Text)
FGCHE005(C)(S23)COL-BGO(LAV)(P)
5056261035126
£27.94
801 g
23 x 23 x 3cm
Cherry Stone Heat Pack (Square)
(23cm) - Chocolate Luxury Cotton Fabric Scented (Organic Lavender Buds)
FGCHE005(C)(S23)COL-BMO(LAV)
5060599194325
£24.99
801 g
23 x 23 x 3cm
Cherry Stone Heat Pack (Square)
(23cm) - Chocolate Luxury Cotton Fabric Scented (Organic Lavender Buds) (Personalised with Text)
FGCHE005(C)(S23)COL-BMO(LAV)(P)
5056261035188
£27.94
801 g
23 x 23 x 3cm
Cherry Stone Heat Pack (Square)
(23cm) - Natural Organic Cotton Scented (Organic Lavender Buds)
FGCHE005(C)(S23)COO-NAT(LAV)
5056261053151
£26.99
801 g
23 x 23 x 3cm
Cherry Stone Heat Pack (Square)
(23cm) - Natural Organic Cotton Scented (Organic Lavender Buds) (Personalised with Text)
FGCHE005(C)(S23)COO-NAT(LAV)(P)
5056261053168
£29.94
801 g
23 x 23 x 3cm
Cherry Stone Heat Pack (Square)
(23cm) - Red Cotton Fabric Scented (Organic Lavender Buds) Removable Cover
FGCHE005(C)(S23)COT-RED(LAV)(RC)
5056261035485
£29.99
886 g
23 x 23 x 3cm
Cherry Stone Heat Pack (Square)
(23cm) - Red Cotton Fabric Scented (Organic Lavender Buds) Removable Cover (Personalised with Text)
FGCHE005(C)(S23)COT-RED(LAV)(RC)(P)
5056261035362
£32.94
886 g
23 x 23 x 3cm
Cherry Stone Heat Pack (Square)
(23cm) - Navy Blue Cotton Fabric Scented (Organic Lavender Buds) Removable Cover
FGCHE005(C)(S23)COT-BNA(LAV)(RC)
5056261035171
£29.99
886 g
23 x 23 x 3cm
Cherry Stone Heat Pack (Square)
(23cm) - Navy Blue Cotton Fabric Scented (Organic Lavender Buds) Removable Cover (Personalised with Text)
FGCHE005(C)(S23)COT-BNA(LAV)(RC)(P)
5056261035454
£32.94
886 g
23 x 23 x 3cm
Cherry Stone Heat Pack (Square)
(23cm) - Natural Cotton Fabric Scented (Organic Lavender Buds) Removable Cover
FGCHE005(C)(S23)COT-NAT(LAV)(RC)
5056261035188
£29.99
886 g
23 x 23 x 3cm
Cherry Stone Heat Pack (Square)
(23cm) - Natural Cotton Fabric Scented (Organic Lavender Buds) Removable Cover (Personalised with Text)
FGCHE005(C)(S23)COT-NAT(LAV)(RC)(P)
5056261035249
£32.94
886 g
23 x 23 x 3cm
Cherry Stone Heat Pack (Square)
(23cm) - Purple Cotton Fabric Scented (Organic Lavender Buds) Removable Cover
FGCHE005(C)(S23)COT-PUR(LAV)(RC)
5056261035423
£29.99
886 g
23 x 23 x 3cm
Cherry Stone Heat Pack (Square)
(23cm) - Purple Cotton Fabric Scented (Organic Lavender Buds) Removable Cover (Personalised with Text)
FGCHE005(C)(S23)COT-PUR(LAV)(RC)(P)
5056261035300
£32.94
886 g
23 x 23 x 3cm
Cherry Stone Heat Pack (Square)
(23cm) - Gothic Blue Luxury Cotton Fabric Scented (Organic Lavender Buds) Removable Cover
FGCHE005(C)(S23)COL-BGO(LAV)(RC)
5056261035157
£34.99
886 g
23 x 23 x 3cm
Cherry Stone Heat Pack (Square)
(23cm) - Gothic Blue Luxury Cotton Fabric Scented (Organic Lavender Buds) Removable Cover (Personalised with Text)
FGCHE005(C)(S23)COL-BGO(LAV)(RC)(P)
5056261035133
£37.94
886 g
23 x 23 x 3cm
Cherry Stone Heat Pack (Square)
(23cm) - Chocolate Luxury Cotton Fabric Scented (Organic Lavender Buds) Removable Cover
FGCHE005(C)(S23)COL-BMO(LAV)(RC)
5056261035195
£34.99
886 g
23 x 23 x 3cm
Cherry Stone Heat Pack (Square)
(23cm) - Chocolate Luxury Cotton Fabric Scented (Organic Lavender Buds) Removable Cover (Personalised with Text)
FGCHE005(C)(S23)COL-BMO(LAV)(RC)(P)
5056261035393
£37.94
886 g
23 x 23 x 3cm
Cherry Stone Heat Pack (Square)
(23cm) - Natural Organic Cotton Scented (Organic Lavender Buds) Removable Cover
FGCHE005(C)(S23)COO-NAT(LAV)(RC)
5056261061408
£36.99
886 g
23 x 23 x 3cm
Cherry Stone Heat Pack (Square)
(23cm) - Natural Organic Cotton Scented (Organic Lavender Buds) Removable Cover (Personalised with Text)
FGCHE005(C)(S23)COO-NAT(LAV)(RC)(P)
5056261061453
£39.94
886 g
23 x 23 x 3cm
Cherry Stone Heat Pack (Square)
(23cm) - Red Cotton Fabric
FGCHE005(C)(S23)COT-RED
5056261035430
£19.99
800 g
23 x 23 x 3cm
Cherry Stone Heat Pack (Square)
(23cm) - Red Cotton Fabric (Personalised with Text)
FGCHE005(C)(S23)COT-RED(P)
5056261035317
£22.94
800 g
23 x 23 x 3cm
Cherry Stone Heat Pack (Square)
(23cm) - Red Cotton Fabric Removable Cover
FGCHE005(C)(S23)COT-RED(RC)
5056261035614
£29.99
885 g
23 x 23 x 3cm
Cherry Stone Heat Pack (Square)
(23cm) - Red Cotton Fabric Removable Cover (Personalised with Text)
FGCHE005(C)(S23)COT-RED(RC)(P)
5056261035126
£32.94
885 g
23 x 23 x 3cm
Cherry Stone Heat Pack (Square)
(23cm) - Navy Blue Cotton Fabric
FGCHE005(C)(S23)COT-BNA
5056261035461
£19.99
800 g
23 x 23 x 3cm
Cherry Stone Heat Pack (Square)
(23cm) - Navy Blue Cotton Fabric (Personalised with Text)
FGCHE005(C)(S23)COT-BNA(P)
5056261035584
£22.94
800 g
23 x 23 x 3cm
Cherry Stone Heat Pack (Square)
(23cm) - Navy Blue Cotton Fabric Removable Cover
FGCHE005(C)(S23)COT-BNA(RC)
5056261035140
£29.99
885 g
23 x 23 x 3cm
Cherry Stone Heat Pack (Square)
(23cm) - Navy Blue Cotton Fabric Removable Cover (Personalised with Text)
FGCHE005(C)(S23)COT-BNA(RC)(P)
5056261035225
£32.94
885 g
23 x 23 x 3cm
Cherry Stone Heat Pack (Square)
(23cm) - Natural Cotton Fabric
FGCHE005(C)(S23)COT-NAT
5056261035379
£19.99
800 g
23 x 23 x 3cm
Cherry Stone Heat Pack (Square)
(23cm) - Natural Cotton Fabric (Personalised with Text)
FGCHE005(C)(S23)COT-NAT(P)
5056261035508
£22.94
800 g
23 x 23 x 3cm
Cherry Stone Heat Pack (Square)
(23cm) - Natural Cotton Fabric Removable Cover
FGCHE005(C)(S23)COT-NAT(RC)
5056261035386
£29.99
885 g
23 x 23 x 3cm
Cherry Stone Heat Pack (Square)
(23cm) - Natural Cotton Fabric Removable Cover (Personalised with Text)
FGCHE005(C)(S23)COT-NAT(RC)(P)
5056261035324
£32.94
885 g
23 x 23 x 3cm
Cherry Stone Heat Pack (Square)
(23cm) - Purple Cotton Fabric
FGCHE005(C)(S23)COT-PUR
5056261035607
£19.99
800 g
23 x 23 x 3cm
Cherry Stone Heat Pack (Square)
(23cm) - Purple Cotton Fabric (Personalised with Text)
FGCHE005(C)(S23)COT-PUR(P)
5056261035232
£22.94
800 g
23 x 23 x 3cm
Cherry Stone Heat Pack (Square)
(23cm) - Purple Cotton Fabric Removable Cover
FGCHE005(C)(S23)COT-PUR(RC)
5056261035539
£29.99
885 g
23 x 23 x 3cm
Cherry Stone Heat Pack (Square)
(23cm) - Purple Cotton Fabric Removable Cover (Personalised with Text)
FGCHE005(C)(S23)COT-PUR(RC)(P)
5056261035416
£32.94
885 g
23 x 23 x 3cm
Cherry Stone Heat Pack (Square)
(23cm) - Gothic Blue Luxury Cotton Fabric
FGCHE005(C)(S23)COL-BGO
5056261035478
£24.99
800 g
23 x 23 x 3cm
Cherry Stone Heat Pack (Square)
(23cm) - Gothic Blue Luxury Cotton Fabric (Personalised with Text)
FGCHE005(C)(S23)COL-BGO(P)
5056261035256
£27.94
800 g
23 x 23 x 3cm
Cherry Stone Heat Pack (Square)
(23cm) - Gothic Blue Luxury Cotton Fabric Removable Cover
FGCHE005(C)(S23)COL-BGO(RC)
5056261035270
£34.99
885 g
23 x 23 x 3cm
Cherry Stone Heat Pack (Square)
(23cm) - Gothic Blue Luxury Cotton Fabric Removable Cover (Personalised with Text)
FGCHE005(C)(S23)COL-BGO(RC)(P)
5056261035331
£37.94
885 g
23 x 23 x 3cm
Cherry Stone Heat Pack (Square)
(23cm) - Chocolate Luxury Cotton Fabric
FGCHE005(C)(S23)COL-BMO
5056261035591
£24.99
800 g
23 x 23 x 3cm
Cherry Stone Heat Pack (Square)
(23cm) - Chocolate Luxury Cotton Fabric (Personalised with Text)
FGCHE005(C)(S23)COL-BMO(P)
5056261035553
£27.94
800 g
23 x 23 x 3cm
Cherry Stone Heat Pack (Square)
(23cm) - Chocolate Luxury Cotton Fabric Removable Cover
FGCHE005(C)(S23)COL-BMO(RC)
5056261035577
£34.99
885 g
23 x 23 x 3cm
Cherry Stone Heat Pack (Square)
(23cm) - Chocolate Luxury Cotton Fabric Removable Cover (Personalised with Text)
FGCHE005(C)(S23)COL-BMO(RC)(P)
5056261035515
£37.94
885 g
23 x 23 x 3cm
Cherry Stone Heat Pack (Square)
(23cm) - Natural Organic Cotton
FGCHE005(C)(S23)COO-NAT
5056261061545
£26.99
800 g
23 x 23 x 3cm
Cherry Stone Heat Pack (Square)
(23cm) - Natural Organic Cotton (Personalised with Text)
FGCHE005(C)(S23)COO-NAT(P)
5056261061576
£29.94
800 g
23 x 23 x 3cm
Cherry Stone Heat Pack (Square)
(23cm) - Natural Organic Cotton Removable Cover
FGCHE005(C)(S23)COO-NAT(RC)
5056261061354
£36.99
885 g
23 x 23 x 3cm
Cherry Stone Heat Pack (Square)
(23cm) - Natural Organic Cotton Removable Cover (Personalised with Text)
FGCHE005(C)(S23)COO-NAT(RC)(P)
5056261061422
£39.94
885 g
23 x 23 x 3cm
Cherry Stone Heat Pack (Square)