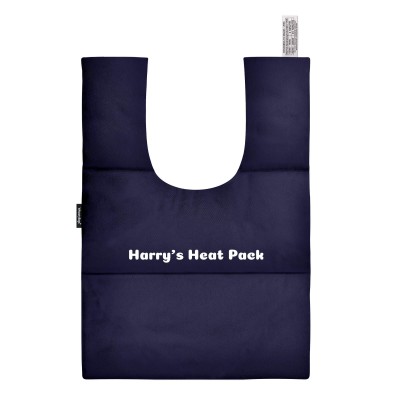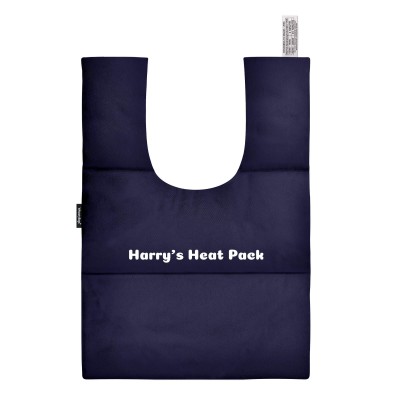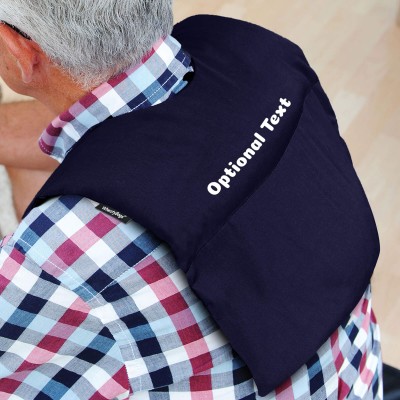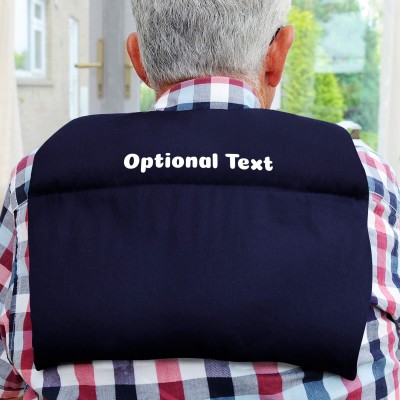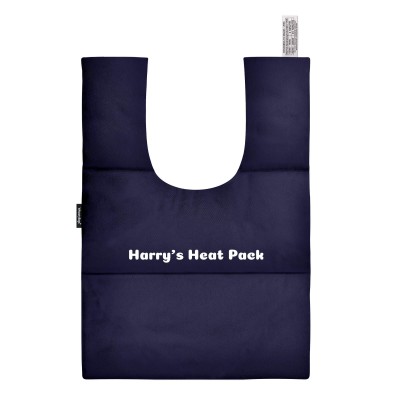 Wheat Bags Heating Pad for Back & Shoulder
UK Made
BS8433 : 2004
Natural Filling
Organic Options *
Description
Large Wheat Bag for the Upper Shoulder and Back Heat Pack available in an assortment of fabric and colours, scented or unscented and BS8433 UK Made.
Expertly designed for maximum coverage.
Very large size.
Extra stitching keeps wheat evenly distributed.
Cleaned, locally sourced, CE-approved wheat.
Lavender option.
Removable cover options.
Trusted WheatyBags® UK Made brand.
Manufactured here in the UK, our Upper Back Shoulder and Back microwave heat pack has been designed to offer an exceptional amount of coverage across the shoulder and upper back areas. The back, shoulder and neck are all areas of the body that are susceptible to strain-related injuries and we've designed this heat pack to effectively target those larger body areas. The Upper Back Shoulder Neck has been sewn into compartments so the wheat will not gather at one end or fall to the bottom of the heat pack and keep the heat evenly distributed when in use.
WheatyBags® are filled with triple cleaned, locally sourced, CE-approved wheat. As we are a textile factory, we offer an assortment of stunning premium quality fabric and colour options for you to choose from. Wheat bags make for a wonderful and thoughtful gift idea and we also offer a range of personalisation options for you to choose from, allowing you to create something truly unique. If you want your wheat bag to smell gorgeous, then please consider our scented lavender option, which has been sourced from the Provence region of France though of course this is also available as an unscented wheat bag.
The Upper Back Shoulder Neck microwave wheat pack is manufactured in our Lancashire factory to the same impeccable standards expected from the WheatyBags® range. All of our products have been rigorously tested to ensure their compliance with British Safety Standards (BS8433). This wheat bag offers exceptional heat retention and is manufactured using only the finest, long-lasting materials. Full heating instructions are provided, so please follow them carefully.
Reviews
Great heating pad!
- I am very happy with the wheat bag. It helps with my neck and shoulder pain. (Guida, 14/11/23)
Heating pad for back and shoulders
- Excellent product. Reduces pain and keeps you warm at the same time. Wish I had one ages ago. (Inger, 31/10/23)
Great product.
- I'm impressed with the heating pad and have found it to be very comfortable to wear and it is very soothing. My pain eased very quickly. A nicely constructed product too. (Patricia McDowall, 17/09/23)
Great wheat bag
- Bought as a gift for my husband, who loves it. He often has upper back discomfort and this stays in place perfectly. (Anita, 07/09/23)
Blissful comfort
- My wheatybag soon soothes away the aches and pains and was money well spent, (Celia, 18/12/21)
wheaty bag for back and upper shoulder
- well worth the money and well made (peter, 22/07/21)
A Great Hit!
- My Clients love this bag! (Therapyworks Ltd, 06/05/21)
A Great Hit!
- All my patients love the WheatyBags! (Therapyworks Ltd, 29/04/21)
Does the job, but
- Very pleased with the effectiveness of the product, but they mixed up the lavender in our order. First world problem. (H S, 24/04/21)
Wheat bag
- Eases pain (A nn Neeson , 06/04/21)
Excellent product
- A really excellent product which is perfect for warming the upper back and shoulders. This helps to relieve tension and pain in those areas. (Jean, 23/02/21)
wheat bag
- lovely fit and weight material fine does the job for shoulders and back can recomend this bag very pleased . (cal, 22/02/21)
excellent
- Quality product, aids relief for shoulder pain ( T Gilbert, 19/02/21)
Lovely!
- What i love about these bags is the shape. The beans dont all fall to the bottom as it is in section so heat is distributed evenly, the smell (lavender) is amazing. Would order for family and friends. I already have a pink and blue one. (Lynsey , 19/02/21)
Great Service and Product
- Prompt delivery, really good quality, love the lavender scent. (Jayne H, 18/02/21)
Cozy back warmer
- This was purchased after major surgery and a subsequent back injury causing upper back, shoulder and neck issues and it's just perfect. The luxury cotton and organic lavender feel relaxing and soothing. Great product but could do with a fastener at the front corners to stop it sliding backwards. Would recommend. (Jo Stevenson, 14/02/21)
Very good
- Did the business. Very comforting. (Big Pete, 11/02/21)
Wheat Bag
- Given as a present to a homeworker hunched over a computer. Very successful at easing stiff muscles. (Katie, 09/02/21)
Very good
- Ordered the slightly larger pack and it is very good. It stays in place and the heat is evenly distributed. Only downside is that it's quite heavy. (Carol, 08/02/21)
Best purchase in a year
- I bought this to help ease super tight traps from hunching closer to my tiny work laptop with all these home working days due to Covid. I've used it daily since it's arrived. Not only is it perfect for tour neck and upper back, it's great to wrap around your feet, or lay across your side and lower back while in bed. I also cuddled it to sleep once in the midst of a fever/chills night thanks to a viral bug and it was so comforting. 10/10 Have recommended it to colleagues and friends already. I would say to spring for the bags with more seams so the wheat stays in place like the one I got, as I imagine without it, it would be pretty annoying. Also the lavender smell is really nice and subtle. (Jenni, 03/02/21)
Good Shape for my shoulder pain
- Really like this pillow. The shape is great and there's no readjustment needed. Would give it 5 stars but it goes cold relatively quickly in my opinion. (Eema, 28/01/21)
Great gift
- Got this for my Mum as she suffers from back pain and neck pain and as I have one myself knew she'd love it. Such a great design as it stays in place over the shoulder. (Jeni, 28/01/21)
Warming and relaxing
- Bought for my grandson who has neck and shoulder problems (B Brown, 26/01/21)
Great buy
- I have chronic pain in my next and shoulders and have previously been using one of the long wheat bags, but that doesn't cover all the areas needed. This does. It's quick to hear, smells great and I wear it whilst sat at my laptop. The shape is really helpful. Very pleased. Swift delivery as well. (Jane, 25/01/21)
WHEAT BAG
- THIS IS ABOUT THE 3RD WHEAT BAG I HAVE ORDERED FROM YOU, IT WAS FOR MY MOTHER, AND SHE JUST LOVES THEM WHEN SHE HAS PAINS IN HER SHOULDERS, I WOULD RECOMEND THIS WHEAT BAG, GREAT VALUE AND GREAT PRICE (SUSAN, 18/01/21)
Wheat Bags Upper Shoulder & Back Pain Heat pack
- Really good with the pocketed areas of wheat - husband really pleased and it hit the spot !! (Mrs M, 18/01/21)
heat relief
- very comforting and warming both for neck and shoulder pain (sandra, 14/01/21)
Upper shoulder and back
- Its fantastic. Heat it up, then place it on your back. You'll feel like great and relaxed and warm. (Mukesh, 12/01/21)
Excellent product
- The second bag that I've bought in this style. Only replaced the first as the cover had become rather too grubby (I bought a cream coloured one first time round!). Super soothing and if this one lasts as long as the first I will be super happy. Thanks wheatybags :) (Marshian, 02/01/21)
Satisfied customer
- Love this wheatybag not to bulky fits nice good relief for shoulder arthritis. Highly recommend. Maureen Macdonald (Maureen Macdonald, 29/12/20)
Would buy again
- Item was a Christmas gift. Personalisation was great. Recipient was very happy, he hasn't used it yet but confirmed it was a good fit across shoulders, and didn't feel like it would slip. (Kaz, 29/12/20)
Shoulder heat pad
- This item has been such a godsend. It has gently relieved my pain and has relaxed my muscles which were in spasm. It smells wonderful and does not get too hot. The workmanship is excellent as is the quality. Thank you very much (Bev F, 22/12/20)
New set of wheat bags
- Having had 2 std wheat bags for about 10 years decided to replace them with new ones - all brilliant and all delivered within 3 days. Great service and great value. (Brynh, 21/12/20)
One wasn't enough for this household
- I received one of these lovely wheatbags for my birthday. It is so good that my partner is always using it, so I've now just ordered one for him for Christmas. Soon we will be happy together with our matching wheatbags. (Jess, 17/12/20)
Shoulder back pack
- Really helped relieve my shoulder and neck pain can recommend this product (Dav id, 15/12/20)
My heat bag
- I'm happy and satisfied with my product it enables me to concentrate heat to the areas needed (Abu09, 10/12/20)
Soothing
- I already had a wheaty bag for my neck which is amazing and always helps my pain. I only just discovered that you can get them for your back too! I find heat always helps my back pain. So easy, no plugging in, just stick the wheaty bags in the microwave, then slot them in! Great! (Yvonne, 04/12/20)
Absolutely does the job!!
- I bought this for my husband who has been suffering from neck and shoulder problems. He finds it great for relieving the tension build up from poor desk working posture. Would thoroughly recommend. (Anne B, 28/11/20)
Relief
- This heat pack is perfect. I hold my tension in my shoulders so if I've had a stressful day I will feel discomfort to my shoulders & upper back but as soon as I put this heat pack on I can almost feel the tension melt away and I feel so much better. The service you get from Wheatybags is excellent. I would certainly recommend this company & their products to anyone needing this type of product. (Karen, 14/11/20)
Linda Scott
- I'm so pleased with my wheat bag, it's made with good quality material and the lovely smell of lavender, it's very sturdy, much better than my old one. I'm using it every day, it keeps hot for a long time. I throughly recommend this wheat bag. (Lindy, 06/11/20)
Top Product
- This wheaty bag is excellent - the way it just sits on your shoulders and warms, shoulders, neck and back all at the same time is very therapeutic. Invest in the 'luxury' cotton as this helps prevent slippage too. (Ciderwoman, 30/10/20)
Recommend
- Perfect quality (Lewis, 24/10/20)
Warm comfort
- Having had major surgery earlier this year I now have back problems. I have found that the wheaty bag relieves the pain and the poor thing is in the microwave three or four times a day. Very worthwhile purchase. (Marion, 22/10/20)
Perfect
- After sitting in front of a computer all day this is perfect for taking away all the built up tension in your shoulders. (Lotty, 13/10/20)
Shoulder heat pack
- Well made, solid item which seems to heat up nicely. (Stephen, 24/09/20)
Wheat Bags
- Nice products (Sue, 24/09/20)
Reaching the parts!
- At last some relief from the constantly pulled muscle in my shoulder and across my back! This wheaty bag touches all the right places, bringing relief and comfort and is far batter than I thought it would be. (Su, 22/09/20)
Love it!
- Bought this for my shoulders as they get stiff after being at my desk for a while. It heats up quicker than I can make a fresh cup of tea, and lasts longer than it takes me to drink it! It really soothes my aches. (Tam, 22/09/20)
Such a relief
- This has been so helpful easing my stressed tense shoulders. The lavender is lovely and relaxing too. Arrived very quickly, clear instructions, thank you. (Soph, 22/09/20)
Wheat bag
- Pleased with it so far and it is helping my neck and shoulders (Namic, 16/09/20)
Fabulous
- I bought this for pain caused by a trapped nerve that bothers my husband's neck, shoulder and scapula region. It is the perfect size and weight for him to be able to walk around as well as sit with it on without it slipping. WheatyBags are very soothing and a great solution to aches and pains. It stays warm for a good amount of time and fits nicely in the microwave when folded up. It's been well worth the money. (Achybreaky, 21/08/20)
Chris Heapes
- It works great. I will recommend the items to friends. (Chris, 13/08/20)
Shoulder & upper back heat pad
- Sits on shoulders very comfortably (Henderson, 06/08/20)
Heat pack
- It's absolutely great as the shoulder straps enable you to wear it and still do things. I use it a great deal and find it wonderful. Because of the shoulder straps it helps take the weight distributing it more evenly. I would highly recommend. (Martine, 04/08/20)
Great purchase
- So glad that I opted for the upper shoulder & back pain wheaty as it's been really helpful with relieving a sore neck and shoulders. Would definitely recommend. (Phatrash, 17/07/20)
Perfect fit
- Fits perfectly to my shoulders. Keeps it's heat well. (Elyse, 15/07/20)
Super!
- Bought this as I have pain from arthritis. Have now consigned pills to cupboard as this helps enormously without any side effects. Great! I highly recommend. (Judithann, 12/07/20)
Excellent product
- I ordered this product when I was suffering with chronic upper back shoulder pain. It arrived soon after and definitely helped to relieve the pain. Very comfortable to wear and will definitely use again if needed. (Laura Willson, 10/07/20)
Perfect
- I have neck, shoulder and back problems and this wheatybag has really helped. It helped release a spasm I had been suffering for weeks before I bought this (Angela, 08/07/20)
Great
- Arrived in double quick time, item seems strong and durable, nice quality. (Ms Softy, 07/07/20)
Five star
- Excellent comfort and relaxation for shoulders snd back (Rita, 06/07/20)
Shoulder pain
- so pleased with wheatear, eases the pain I have in shoulder. (Sue, 06/07/20)
Bad Back Should
- Its the only thing that helps with out taking pain killers Love it ! (John, 06/07/20)
Great Product
- Great product, so easy to use, great for tight shoulders and upper back due to sitting at desks, driving etc. I would happily recommend this product. And for such a great price!! (Paula F, 06/07/20)
Great design
- Hangs well over my shoulders - great design and quality (Helen, 04/07/20)
Shoulder wheaty bag
- Excellent. Love this. Had the smaller version for a while but the shoulder one is great. Recommended. (Tim C, 02/07/20)
Marvellous heat
- I managed to burn my old wheat bag of 10 years and spent ages trying to decide what to go for next. Very pleased with this one and got in the nick of timeas got a bulging disc just as lockdown started and wrote this continously for 2 weeks. (Alice, 01/07/20)
dislocated shoulder and torn tendons
- Did its job, helped to sooth the pain (Eric, 29/06/20)
Wheaty Relief
- Having had a stuff neck for quite some time on and off, I tried the Wheaty bag and the discomfort cleared in no time. It's also very relaxing. Good for relieving stress. (Nick, 25/06/20)
Wheat bag
- Excellent product. Have bought for my daughters and son who all have found great benefit from this product (Jean, 25/06/20)
Shoulder bag
- Best product around. This is the second time I have ordered a wheaty bag. I use mine every day (Caryn, 22/06/20)
My elderly father highly recommended this
- Bought this for my elderly father and he highly recommended this (Anon, 17/06/20)
does exactly what's on the tin
- This item is great,, does exactly what's on the tin. Great heat retention and lasts a long time. Would recommend this product and this company ? (William Hutchinson, 16/06/20)
What a great product
- What a great product . I suffer from shoulder and back problems and get relief from heat . This wheatbag actually stays on the areas you need it to and covered my sore area without me having to move or adjust it . I have used alot of wheatbags and this one beats them all . (Millymolly, 12/06/20)
Norma
- My partner and I bought two Wheaty Bags for our various ailments, the neck and shoulder bag and the hip and lower back bag. Both bags do the job well and give alot of flexibility, you are able to 'wear' it while moving about if you want to, or just sit with the heat concentrated on one place. The only downside is that they are rather big to put in the microwave so you have to fold them. I have accidentally burnt small holes into the coverings because of this. I would definitely buy these again. (Norma, 11/06/20)
Lizzie T
- Amazing product. Sits over your shoulders very securely and the heat lasts a long time. Made a huge difference to my life - I no longer need to take strong painkillers for muscle and tendon pain. I'm looking to purchase a different shapes bag for my lower back. ? (Lizzie T, 09/06/20)
Very pleased
- These handmade heat packs are worth their money. Sturdy material, nice to look at and extremely useful due to the shape. I also like the weight of it. Highly recommended (Alexx Rose)
Does the job perfectly
- This cushion is excellent. I have MS and this means I can target the area of pain exactly without risking scalding myself trying to fill a hot water bottle. I can pop it in the microwave whenever it is needed. (Alison)
My husband found this cushion made him more comfortable
- This cushion fits on the shoulders and really provides warmth where it can give relief. The shape means it fits comfortably on the shoulders and doesn't slip giving warmth to the shoulders and upper back. Thank you really pleased with this purchase. (Ann)
Warmth for my upper arm and back
- Pleased with my purchase just wish it srayed warm for a little longer. (Gillian Capps)
Love it
- I love flexibility of its shaping which adapts to different parts of the body not just the back and shoulders. Excellent service. My friend has bought one on my recommendation and loves it too. (Jean D)
NECK and SHOULDER heat bag
- great service, prompt delivery, good product which really does help apply heat to a stiff neck and shoulders. A few days and it already feels better after using this product. (john balmer)
Saviour for my poor neck and shoulder
- In between going for acupuncture I used this and it was amazing, it really helped with the pain (Sue westbury)
Christmas Present
- This product was received promptly and I am informed that 'it works a treat' (Rosie)
Heated neck pack
- My 95 year old aunt has found this heated neck pack invaluable. She uses it every day to ease her pains. It also smells really nice. (Penny Smith)
Excellent product - great price
- Does exactly what it says - warms up in the microwave, then once placed stays on the shoulders and warms up your muscles. Great Price. (Stephen)
Invaluable for pain relief and muscle relaxation
- This wheat bag is the best I've found to help me manage my arthritis. It size and shape makes it adaptable and user friendly. Additional stitching helps maintain shape and consistent heating across the bag. The service is excellent. A must for all who live with pain on a daily basis. (anonymous)
Great product.
- Really great product. I ordered this for my Dad and he loves it. Excellent quality and the lavender is a really nice extra (Louise)
My wife loves the neck and shoulder Wheaty Bag.
- Prompt delivery, suburb quality and does what it says it does! (Don Marriott)
My daughter has experienced great relief from this wheatybag.
- I purchased the back and shoulder wheatybag for my daughter as she suffers from painful shoulder joints. After using them she said they are a 'god send' and so easy to use. All in all good value.Thank you. Regards Sonzie (anonymous)
I love this pad
- I am pleased with this item. It does relieve the pain. (Maureen)
A warm lavendar hug
- I recommend the wheaty bag for anyone suffering from upper shoulder and back pain relief. I ordered the lavendar scented wheaty bag with a removal cover and am really pleased with the purchase. It helps to soothe the pain and feels like a nice warm hug! (Emma)
Helpful aid during massage therapy treatments
- Excellent value and useful heat pad (Malcolm)
My wife thinks her Wheaty bag is just great
- I bought a shoulder Wheaty bag from you because by wife suffers from a constant pain down the left hadd side of her neck it has defiinitely improved her condition and I would have no hesitation in recomending your product to my friends (Alan Leitch)
Soothing
- Wish i had ordered this months ago. So soothing and warm on my stress bearing shoulders. (Jo)
My wife got so much relief from this
- Really good well made product,stays hot for a considerable time and stays in place if you want to walk about whilst it's on. (Jim Henderson)
Upper back shoulder and neck wheat bag
- Very soothing to the pain in my shoulder and neck after surgery. My cat loves the lavender smell. (Calamityjane)
Great for back and shoulder pain
- Brilliant product. Fab service and quick delivery. Bought for my husbands shoulders and upper back to ease muscle pain following Open heart surgery . Works a treat. ❤️ (Kathy)
What a relief!
- I am suffering from knots in my back, caused by stress. I am having massages regularly, and was advised to get a wheat bag. This was the best purchase....! I was kept informed regularly about my order, and when it arrived I was delighted. It is so comfortable to wear, and the heat is very soothing. Thank you so much. I would definitely recommend buying from this company. (Jane Perrin)
The relief this as borought to my wires back is incredable
- ******An excellent productt from a British company that really works and a realistic price (Fred)
More Reviews
Instructions
This product is entirely natural and easy to use. It is designed as a gentle warming or chilling product though it is EXTREMELY IMPORTANT to take great care not to over-heat or over-chill the product.
Please follow our heating and chilling instructions carefully and use your own judgment - if you are experiencing any discomfort from the pack then stop using immediately. If you want medical advice, please ask your Doctor.
GENERAL INSTRUCTIONS: Please take care heating this wheat filled product and be careful not to burn the contents inside. If you smell a burnt smell, the heat pack is best thrown away and a new one purchased.
Remove all tags and ensure the product is clean and dry before use.
Use the maximum heating guide (below) to determine the correct heating times.
Ensure all grilling / browning facilities are turned off and do not place near a direct heat source.
When first heated, the product will feel damp though this is quite normal and will stop after a few uses.
After this time we recommend placing a small cup of water in the microwave when heating.
In order to comply with BS8433 : 2004 we are obliged to tell you of the following.
WARNING - THIS PRODUCT CAN CAUSE BURNS.
AVOID PROLONGED DIRECT CONTACT WITH THE SKIN.
TAKE CARE WHEN REMOVING FROM THE MICROWAVE OVEN.
DO NOT INGEST CONTENTS.
DO NOT OVERHEAT.
FOR MICROWAVE USE ONLY.
HEATED PRODUCTS SHOULD NOT BE GIVEN TO CHILDREN.
MAXIMUM HEATING (AND CHILLING) TIMES FOR THE PRODUCT ARE ATTACHED TO THE PRODUCT BY SEWN-ON LABEL AND CARD SWING TAG WHICH SHOULD BE RETAINED FOR FUTURE REFERENCE.
ONLY REHEAT FROM ROOM TEMPERATURE.
DO NOT FOLD ITEM IN HALF TO HEAT.
HEAT WITHOUT REMOVABLE COVERS IF SUPPLIED WITH THIS ITEM.
SURFACE CLEAN WITH A DAMP CLOTH.
CARE INSTRUCTIONS
Do not wash the heat pack with the wheat inside.
Only clean this part with a damp cloth.
Optional removable covers if available for this product can be removed and cleaned in accordance with the washing instructions label on the cover.
Asthma Sufferers should be aware this product contains wheatgerm.
In the event of overheating, let the item stand in a safe place and do not touch until cooled.
Dispose of in the normal household waste if worn or damaged.
Store in a cool dry place.
Ensure that the microwave turntable can rotate freely.
TO USE COLD:
Wrap the pack in a plastic bag (to keep it clean).
Place in the FRIDGE or FREEZER for 1-3 hours.
Remove from plastic bag before use.
Be cautious and check your skin to avoid any possibility of freezer-burn and use a towel on your body with the pack on top to avoid direct contact with the skin.
DO NOT PLACE THIS ITEM IN THE FREEZER IF USING ON THE EYES.
MAXIMUM MICROWAVE HEATING TIMES FOR THIS PRODUCT: MAXIMUM HEATING (AND CHILLING) TIMES FOR THE PRODUCT ARE ATTACHED TO THE PRODUCT BY SEWN-ON LABEL AND CARD SWING TAG WHICH SHOULD BE RETAINED FOR FUTURE REFERENCE.
Please do not machine wash this product or get it wet. If it becomes marked or dirty, please take good care not to wet the inner contents and wipe clean with a damp cloth.
Removable Covers: If you purchase this Product with the option for "Removable Cover" for cleaning, the outer removable cover will be supplied in the fabric and colour of your choice. The inner pack will be manufactured from a fabric and colour of our choice depending on supplies available at the time of manufacture (usually our natural value cotton fabric depending on the product).
Do not wash or get the inner wheat or other filled heat packs wet.
CARELESSNESS CAUSES FIRE.
Do not wash or get the inner wheat or other filled heat packs wet.
For 100% Cotton, 100% Polycotton & 100% Polyester Fabrics (eg Fleece) Removable Covers.
Remove the outer cover before carefully cleaning the outer cover only.
Only warm hand or machine wash and cold rinse the removable cover.
Wash with like colours max. 40 degree temperature.
For best results, lay flat on a suitable surface to air-dry.
Do not bleach.
1 spot iron (Cotton / Fleece) or 2 spot iron (Polycotton).
Do not tumble dry.
FAQs
Are these products a medical product?
No. Clear Prospects Ltd manufactures WheatyBags® microwave heat packs which have been tested to safety standard BS8433:2004. We are not Doctors and our products are not medical products (our heat packs are simple microwave heat packs that provide warmth and comfort). If you are unsure about their use, we recommend you consult your doctor before using heat packs in general.
How long should the heat pack be put into the microwave or chill in the freezer?
Please read the "Instructions" shown on our website for each Product as the heating and cooling instructions vary by product. All our heat packs have been safety tested and come with instructions labels sewn into the product itself and on a card attachment to be retained for safe reference.
Is it normal that my heat pack feels damp when microwaving?
Yes. When you first microwave the heat pack the contents inside will feel damp. This will subside after a few heating cycles and is quite normal especially if you have selected the (polyester) fleece fabric covers. Cotton is much more absorbent and breathable and will lessen the initial damp effect. Do not overheat the wheat bag to attempt to dry it out.
What happens if I microwave the heat pack for too long or it burns?
Please be very careful not to overheat the heat pack. If overheated they can catch fire which is very dangerous. Overheating can be caused by food or contamination from your microwave so it is important that the microwave is clean before you heat the product.
If overheating occurs, remove it from the microwave and put it in a safe place while it cools (perhaps outside). Do not use again until the product has returned to room temperature. If it is giving off a 'burnt' smell or has small burn marks on the fabric, you have overheated the product and it must be disposed of being careful that the product is not actually burning. A replacement product would then have to be purchased.
Can I wash my Heat Pack?
Do not place the full heat pack in the washing machine or get the contents wet as it can damage the product. It is advised that you surface clean with a damp cloth or sponge to clean the product. If the product becomes wet then it needs to be dried out before the wheat inside germinates and we suggest placing the product in a warm room to dry at room temperature. If the wheat inside does germinate then we do not recommend that you use the wheat bag.
Can I purchase removable covers that can be washed for my heat pack?
On most of our products, you will see the option to purchase a removable cover for cleaning. If this is shown as an option then this cover is removable from the main heat pack and can be washed with like colours in the washing machine or by hand at a low temperature of 30 to 40 degrees.
Is it possible to warm the heat pack other than the microwave?
No. Our heat packs are safety tested to be exclusively heated in a microwave.
How do I fit a larger heat pack in my small microwave?
Some of our products are larger when flat than the size of smaller microwaves. It is ok to "loosley scrunch up" the heat pack lightly to fit into the microwave but is important not to fold the pack in half tightly as this can create hot spots when heating.
Are these heat packs suitable for young children?
No. We do not recommend that heat packs are given the very young children under the age of 3 years old. Adult supervision should always be provided and should only be heated by an adult with great care.
What are the Organic Fabric Options?
Where shown, this product has an Organic Fabric Option. We purchase organic fabric from trusted UK Fabric Merchants who are registered under the Global Organic Textile Standard (GOTS) to enable full traceability of the fabric we use through to the final product you are purchasing today.
Is the Lavender Organic?
Yes. We purchase Organic Lavender from our Grain & Seed Merchant in the UK and they have sourced genuine lavender buds for our heat packs. This is not a scent, we add the flower buds from Organic Lavender for the most exquisite fragrance.
Delivery
The information below is for guidance. Actual delivery costs and dates depend on the delivery address, weight and time your order is placed. Cut-off time for Overnight Orders is 12 noon.
| Price | Method | Manufacture Time | Delivery Time | Est. Delivery Date |
| --- | --- | --- | --- | --- |
| £4.99 | 2nd Class (Tracked) | 0-3 Days | 2-3 Days | Mon 11 Dec - Fri 15 Dec |
| £7.99 | 1st Class (Tracked) | 0-3 Days | 1-2 Days | Fri 8 Dec - Thu 14 Dec |
| £13.53 | DHL Courier (Economy M-F Pre 6pm) | 0-3 Days | 2-3 Days | Mon 11 Dec - Fri 15 Dec |
| £16.99 | Royal Mail Special Delivery (Overnight Mon-Sat Pre 1pm) | Today | Next Day (Mon-Sat) | Fri 8 Dec |
More Information
| | |
| --- | --- |
| Despatch | 0-3 Days (Made to Order) or Upgrade for Overnight Delivery at Chekout |
| Brand | WheatyBags® |
| RRP | £19.99 |
| Filling | Wheat, Optional Lavender |
| Country of Origin | United Kingdom |
| SKU | FGWHE006(R40x30Com4)COT-BNA |
| Gtin | 5056656338245 |
| Tariff Code | 1001912020 |
| Tariff Description | Heat Pack - Common Wheat |
| Product Weight | 1,250 g |
| Product Dimensions | 40 x 30 x 2cm |
Product Options
Size
Approx. 40cm x 30cm (4 Compartments), Premium 40cm x 30cm (8 Compartments)
Filling
Wheat
Fabric
Cotton, Luxury Cotton, Organic Cotton
Fabric Colour
Navy Blue, Purple, Natural, Hot Pink, Chocolate, Gothic Blue
Removable Cover (Click to Select)
Without Removable Cover, Removable Cover +
Aroma (Click to Select)
Unscented, Organic Lavender Buds +
Product Type
Wheat Bag
Warmers For > Microwavable Heating Pad
Heating Pad
Heat Pack
Heating Pad > Heating Pad for Back

Wheat Bags Heating Pad for Back & Shoulder
(40cm x 30cm) - Navy Blue Cotton Fabric
FGWHE006(R40x30Com4)COT-BNA
5056656338245
£19.99
1,250 g
40 x 30 x 2cm
Wheat Bags Heating Pad for Back & Shoulder
(40cm x 30cm) - Navy Blue Cotton Fabric (Personalised with Text)
FGWHE006(R40x30Com4)COT-BNA(P)
5056261078345
£22.94
1,250 g
40 x 30 x 2cm
Wheat Bags Heating Pad for Back & Shoulder
(40cm x 30cm) - Navy Blue Cotton Fabric and Removable Cover
FGWHE006(R40x30Com4)COT-BNA(RC)
5056261052727
£32.49
1,364 g
40 x 30 x 2cm
Wheat Bags Heating Pad for Back & Shoulder
(40cm x 30cm) - Navy Blue Cotton Fabric and Removable Cover (Personalised with Text)
FGWHE006(R40x30Com4)COT-BNA(RC)(P)
5056261078482
£35.44
1,364 g
40 x 30 x 2cm
Wheat Bags Heating Pad for Back & Shoulder
(40cm x 30cm) - Hot Pink Cotton Fabric
FGWHE006(R40x30Com4)COT-PBU
5056261052758
£19.99
1,250 g
40 x 30 x 2cm
Wheat Bags Heating Pad for Back & Shoulder
(40cm x 30cm) - Hot Pink Cotton Fabric (Personalised with Text)
FGWHE006(R40x30Com4)COT-PBU(P)
5056261078468
£22.94
1,250 g
40 x 30 x 2cm
Wheat Bags Heating Pad for Back & Shoulder
(40cm x 30cm) - Hot Pink Cotton Fabric and Removable Cover
FGWHE006(R40x30Com4)COT-PBU(RC)
5056261078413
£32.49
1,364 g
40 x 30 x 2cm
Wheat Bags Heating Pad for Back & Shoulder
(40cm x 30cm) - Hot Pink Cotton Fabric and Removable Cover (Personalised with Text)
FGWHE006(R40x30Com4)COT-PBU(RC)(P)
5056261078307
£35.44
1,364 g
40 x 30 x 2cm
Wheat Bags Heating Pad for Back & Shoulder
(40cm x 30cm) - Natural Cotton Fabric
FGWHE006(R40x30Com4)COT-NAT
5056261078314
£19.99
1,250 g
40 x 30 x 2cm
Wheat Bags Heating Pad for Back & Shoulder
(40cm x 30cm) - Natural Cotton Fabric (Personalised with Text)
FGWHE006(R40x30Com4)COT-NAT(P)
5056261078376
£22.94
1,250 g
40 x 30 x 2cm
Wheat Bags Heating Pad for Back & Shoulder
(40cm x 30cm) - Natural Cotton Fabric and Removable Cover
FGWHE006(R40x30Com4)COT-NAT(RC)
5056261078420
£32.49
1,364 g
40 x 30 x 2cm
Wheat Bags Heating Pad for Back & Shoulder
(40cm x 30cm) - Natural Cotton Fabric and Removable Cover (Personalised with Text)
FGWHE006(R40x30Com4)COT-NAT(RC)(P)
5056261001152
£35.44
1,364 g
40 x 30 x 2cm
Wheat Bags Heating Pad for Back & Shoulder
(40cm x 30cm) - Purple Cotton Fabric
FGWHE006(R40x30Com4)COT-PUR
5056261052710
£19.99
1,250 g
40 x 30 x 2cm
Wheat Bags Heating Pad for Back & Shoulder
(40cm x 30cm) - Purple Cotton Fabric (Personalised with Text)
FGWHE006(R40x30Com4)COT-PUR(P)
5056261052734
£22.94
1,250 g
40 x 30 x 2cm
Wheat Bags Heating Pad for Back & Shoulder
(40cm x 30cm) - Purple Cotton Fabric and Removable Cover
FGWHE006(R40x30Com4)COT-PUR(RC)
5056261052741
£32.49
1,364 g
40 x 30 x 2cm
Wheat Bags Heating Pad for Back & Shoulder
(40cm x 30cm) - Purple Cotton Fabric and Removable Cover (Personalised with Text)
FGWHE006(R40x30Com4)COT-PUR(RC)(P)
5056261078451
£35.44
1,364 g
40 x 30 x 2cm
Wheat Bags Heating Pad for Back & Shoulder
(40cm x 30cm) - Chocolate Luxury Cotton Fabric
FGWHE006(R40x30Com4)COL-BMO
5056261078277
£29.99
1,250 g
40 x 30 x 2cm
Wheat Bags Heating Pad for Back & Shoulder
(40cm x 30cm) - Chocolate Luxury Cotton Fabric (Personalised with Text)
FGWHE006(R40x30Com4)COL-BMO(P)
5056261078246
£32.94
1,250 g
40 x 30 x 2cm
Wheat Bags Heating Pad for Back & Shoulder
(40cm x 30cm) - Chocolate Luxury Cotton Fabric and Removable Cover
FGWHE006(R40x30Com4)COL-BMO(RC)
5056261000971
£42.49
1,364 g
40 x 30 x 2cm
Wheat Bags Heating Pad for Back & Shoulder
(40cm x 30cm) - Chocolate Luxury Cotton Fabric and Removable Cover (Personalised with Text)
FGWHE006(R40x30Com4)COL-BMO(RC)(P)
5056261078338
£45.44
1,364 g
40 x 30 x 2cm
Wheat Bags Heating Pad for Back & Shoulder
(40cm x 30cm) - Gothic Blue Luxury Cotton Fabric
FGWHE006(R40x30Com4)COL-BGO
5056261001282
£29.99
1,250 g
40 x 30 x 2cm
Wheat Bags Heating Pad for Back & Shoulder
(40cm x 30cm) - Gothic Blue Luxury Cotton Fabric (Personalised with Text)
FGWHE006(R40x30Com4)COL-BGO(P)
5056261078383
£32.94
1,250 g
40 x 30 x 2cm
Wheat Bags Heating Pad for Back & Shoulder
(40cm x 30cm) - Gothic Blue Luxury Cotton Fabric and Removable Cover
FGWHE006(R40x30Com4)COL-BGO(RC)
5056261078390
£42.49
1,364 g
40 x 30 x 2cm
Wheat Bags Heating Pad for Back & Shoulder
(40cm x 30cm) - Gothic Blue Luxury Cotton Fabric and Removable Cover (Personalised with Text)
FGWHE006(R40x30Com4)COL-BGO(RC)(P)
5056261078222
£45.44
1,364 g
40 x 30 x 2cm
Wheat Bags Heating Pad for Back & Shoulder
(40cm x 30cm) - Natural Organic Cotton
FGWHE006(R40x30Com4)COO-NAT
5056261001299
£26.99
1,250 g
40 x 30 x 2cm
Wheat Bags Heating Pad for Back & Shoulder
(40cm x 30cm) - Natural Organic Cotton (Personalised with Text)
FGWHE006(R40x30Com4)COO-NAT(P)
5056261000926
£29.94
1,250 g
40 x 30 x 2cm
Wheat Bags Heating Pad for Back & Shoulder
(40cm x 30cm) - Natural Organic Cotton and Removable Cover
FGWHE006(R40x30Com4)COO-NAT(RC)
5056261000988
£39.49
1,364 g
40 x 30 x 2cm
Wheat Bags Heating Pad for Back & Shoulder
(40cm x 30cm) - Natural Organic Cotton and Removable Cover (Personalised with Text)
FGWHE006(R40x30Com4)COO-NAT(RC)(P)
5056261001169
£42.44
1,364 g
40 x 30 x 2cm
Wheat Bags Heating Pad for Back & Shoulder
(40cm x 30cm) - Navy Blue Cotton Fabric Scented (Organic Lavender Buds)
FGWHE006(R40x30Com4)COT-BNA(LAV)
5056261078444
£20.99
1,251 g
40 x 30 x 2cm
Wheat Bags Heating Pad for Back & Shoulder
(40cm x 30cm) - Navy Blue Cotton Fabric Scented (Organic Lavender Buds) (Personalised with Text)
FGWHE006(R40x30Com4)COT-BNA(LAV)(P)
5056261078291
£23.94
1,251 g
40 x 30 x 2cm
Wheat Bags Heating Pad for Back & Shoulder
(40cm x 30cm) - Navy Blue Cotton Fabric Scented (Organic Lavender Buds) and Removable Cover
FGWHE006(R40x30Com4)COT-BNA(LAV)(RC)
5056261078369
£33.49
1,365 g
40 x 30 x 2cm
Wheat Bags Heating Pad for Back & Shoulder
(40cm x 30cm) - Navy Blue Cotton Fabric Scented (Organic Lavender Buds) and Removable Cover (Personalised with Text)
FGWHE006(R40x30Com4)COT-BNA(LAV)(RC)(P)
5056261078215
£36.44
1,365 g
40 x 30 x 2cm
Wheat Bags Heating Pad for Back & Shoulder
(40cm x 30cm) - Hot Pink Cotton Fabric Scented (Organic Lavender Buds)
FGWHE006(R40x30Com4)COT-PBU(LAV)
5056261001152
£20.99
1,251 g
40 x 30 x 2cm
Wheat Bags Heating Pad for Back & Shoulder
(40cm x 30cm) - Hot Pink Cotton Fabric Scented (Organic Lavender Buds) (Personalised with Text)
FGWHE006(R40x30Com4)COT-PBU(LAV)(P)
5056261052697
£23.94
1,251 g
40 x 30 x 2cm
Wheat Bags Heating Pad for Back & Shoulder
(40cm x 30cm) - Hot Pink Cotton Fabric Scented (Organic Lavender Buds) and Removable Cover
FGWHE006(R40x30Com4)COT-PBU(LAV)(RC)
5056261078475
£33.49
1,365 g
40 x 30 x 2cm
Wheat Bags Heating Pad for Back & Shoulder
(40cm x 30cm) - Hot Pink Cotton Fabric Scented (Organic Lavender Buds) and Removable Cover (Personalised with Text)
FGWHE006(R40x30Com4)COT-PBU(LAV)(RC)(P)
5056261052703
£36.44
1,365 g
40 x 30 x 2cm
Wheat Bags Heating Pad for Back & Shoulder
(40cm x 30cm) - Natural Cotton Fabric Scented (Organic Lavender Buds)
FGWHE006(R40x30Com4)COT-NAT(LAV)
5056261052765
£20.99
1,251 g
40 x 30 x 2cm
Wheat Bags Heating Pad for Back & Shoulder
(40cm x 30cm) - Natural Cotton Fabric Scented (Organic Lavender Buds) (Personalised with Text)
FGWHE006(R40x30Com4)COT-NAT(LAV)(P)
5056261078406
£23.94
1,251 g
40 x 30 x 2cm
Wheat Bags Heating Pad for Back & Shoulder
(40cm x 30cm) - Natural Cotton Fabric Scented (Organic Lavender Buds) and Removable Cover
FGWHE006(R40x30Com4)COT-NAT(LAV)(RC)
5056261001404
£33.49
1,365 g
40 x 30 x 2cm
Wheat Bags Heating Pad for Back & Shoulder
(40cm x 30cm) - Natural Cotton Fabric Scented (Organic Lavender Buds) and Removable Cover (Personalised with Text)
FGWHE006(R40x30Com4)COT-NAT(LAV)(RC)(P)
5056261036437
£36.44
1,365 g
40 x 30 x 2cm
Wheat Bags Heating Pad for Back & Shoulder
(40cm x 30cm) - Purple Cotton Fabric Scented (Organic Lavender Buds)
FGWHE006(R40x30Com4)COT-PUR(LAV)
5056261001329
£20.99
1,251 g
40 x 30 x 2cm
Wheat Bags Heating Pad for Back & Shoulder
(40cm x 30cm) - Purple Cotton Fabric Scented (Organic Lavender Buds) (Personalised with Text)
FGWHE006(R40x30Com4)COT-PUR(LAV)(P)
5056261001428
£23.94
1,251 g
40 x 30 x 2cm
Wheat Bags Heating Pad for Back & Shoulder
(40cm x 30cm) - Purple Cotton Fabric Scented (Organic Lavender Buds) and Removable Cover
FGWHE006(R40x30Com4)COT-PUR(LAV)(RC)
5056261078437
£33.49
1,365 g
40 x 30 x 2cm
Wheat Bags Heating Pad for Back & Shoulder
(40cm x 30cm) - Purple Cotton Fabric Scented (Organic Lavender Buds) and Removable Cover (Personalised with Text)
FGWHE006(R40x30Com4)COT-PUR(LAV)(RC)(P)
5056261078321
£36.44
1,365 g
40 x 30 x 2cm
Wheat Bags Heating Pad for Back & Shoulder
(40cm x 30cm) - Chocolate Luxury Cotton Fabric Scented (Organic Lavender Buds)
FGWHE006(R40x30Com4)COL-BMO(LAV)
5056261036390
£30.99
1,251 g
40 x 30 x 2cm
Wheat Bags Heating Pad for Back & Shoulder
(40cm x 30cm) - Chocolate Luxury Cotton Fabric Scented (Organic Lavender Buds) (Personalised with Text)
FGWHE006(R40x30Com4)COL-BMO(LAV)(P)
5056261078239
£33.94
1,251 g
40 x 30 x 2cm
Wheat Bags Heating Pad for Back & Shoulder
(40cm x 30cm) - Chocolate Luxury Cotton Fabric Scented (Organic Lavender Buds) and Removable Cover
FGWHE006(R40x30Com4)COL-BMO(LAV)(RC)
5056261000919
£43.49
1,365 g
40 x 30 x 2cm
Wheat Bags Heating Pad for Back & Shoulder
(40cm x 30cm) - Chocolate Luxury Cotton Fabric Scented (Organic Lavender Buds) and Removable Cover (Personalised with Text)
FGWHE006(R40x30Com4)COL-BMO(LAV)(RC)(P)
5056261078260
£46.44
1,365 g
40 x 30 x 2cm
Wheat Bags Heating Pad for Back & Shoulder
(40cm x 30cm) - Gothic Blue Luxury Cotton Fabric Scented (Organic Lavender Buds)
FGWHE006(R40x30Com4)COL-BGO(LAV)
5056261036338
£30.99
1,251 g
40 x 30 x 2cm
Wheat Bags Heating Pad for Back & Shoulder
(40cm x 30cm) - Gothic Blue Luxury Cotton Fabric Scented (Organic Lavender Buds) (Personalised with Text)
FGWHE006(R40x30Com4)COL-BGO(LAV)(P)
5056261078253
£33.94
1,251 g
40 x 30 x 2cm
Wheat Bags Heating Pad for Back & Shoulder
(40cm x 30cm) - Gothic Blue Luxury Cotton Fabric Scented (Organic Lavender Buds) and Removable Cover
FGWHE006(R40x30Com4)COL-BGO(LAV)(RC)
5056261078284
£43.49
1,365 g
40 x 30 x 2cm
Wheat Bags Heating Pad for Back & Shoulder
(40cm x 30cm) - Gothic Blue Luxury Cotton Fabric Scented (Organic Lavender Buds) and Removable Cover (Personalised with Text)
FGWHE006(R40x30Com4)COL-BGO(LAV)(RC)(P)
5056261078352
£46.44
1,365 g
40 x 30 x 2cm
Wheat Bags Heating Pad for Back & Shoulder
(40cm x 30cm) - Natural Organic Cotton Scented (Organic Lavender Buds)
FGWHE006(R40x30Com4)COO-NAT(LAV)
5056261001411
£27.99
1,251 g
40 x 30 x 2cm
Wheat Bags Heating Pad for Back & Shoulder
(40cm x 30cm) - Natural Organic Cotton Scented (Organic Lavender Buds) (Personalised with Text)
FGWHE006(R40x30Com4)COO-NAT(LAV)(P)
5056261001091
£30.94
1,251 g
40 x 30 x 2cm
Wheat Bags Heating Pad for Back & Shoulder
(40cm x 30cm) - Natural Organic Cotton Scented (Organic Lavender Buds) and Removable Cover
FGWHE006(R40x30Com4)COO-NAT(LAV)(RC)
5056261001442
£40.49
1,365 g
40 x 30 x 2cm
Wheat Bags Heating Pad for Back & Shoulder
(40cm x 30cm) - Natural Organic Cotton Scented (Organic Lavender Buds) and Removable Cover (Personalised with Text)
FGWHE006(R40x30Com4)COO-NAT(LAV)(RC)(P)
5056261001220
£43.44
1,365 g
40 x 30 x 2cm
Wheat Bags Heating Pad for Back & Shoulder
(40cm x 30cm Premium) - Navy Blue Cotton Fabric
FGWHE006(R40x30Com8)COT-BNA
5056656398799
£24.99
1,250 g
40 x 30 x 2cm
Wheat Bags Heating Pad for Back & Shoulder
(40cm x 30cm Premium) - Navy Blue Cotton Fabric (Personalised with Text)
FGWHE006(R40x30Com8)COT-BNA(P)
5056656398720
£27.94
1,250 g
40 x 30 x 2cm
Wheat Bags Heating Pad for Back & Shoulder
(40cm x 30cm Premium) - Navy Blue Cotton Fabric and Removable Cover
FGWHE006(R40x30Com8)COT-BNA(RC)
5056656398652
£37.49
1,364 g
40 x 30 x 2cm
Wheat Bags Heating Pad for Back & Shoulder
(40cm x 30cm Premium) - Navy Blue Cotton Fabric and Removable Cover (Personalised with Text)
FGWHE006(R40x30Com8)COT-BNA(RC)(P)
5056656398515
£40.44
1,364 g
40 x 30 x 2cm
Wheat Bags Heating Pad for Back & Shoulder
(40cm x 30cm Premium) - Purple Cotton Fabric
FGWHE006(R40x30Com8)COT-PUR
5056656398782
£24.99
1,250 g
40 x 30 x 2cm
Wheat Bags Heating Pad for Back & Shoulder
(40cm x 30cm Premium) - Purple Cotton Fabric (Personalised with Text)
FGWHE006(R40x30Com8)COT-PUR(P)
5056656398713
£27.94
1,250 g
40 x 30 x 2cm
Wheat Bags Heating Pad for Back & Shoulder
(40cm x 30cm Premium) - Purple Cotton Fabric and Removable Cover
FGWHE006(R40x30Com8)COT-PUR(RC)
5056656398645
£37.49
1,364 g
40 x 30 x 2cm
Wheat Bags Heating Pad for Back & Shoulder
(40cm x 30cm Premium) - Purple Cotton Fabric and Removable Cover (Personalised with Text)
FGWHE006(R40x30Com8)COT-PUR(RC)(P)
5056656398508
£40.44
1,364 g
40 x 30 x 2cm
Wheat Bags Heating Pad for Back & Shoulder
(40cm x 30cm Premium) - Natural Cotton Fabric
FGWHE006(R40x30Com8)COT-NAT
5056656398775
£24.99
1,250 g
40 x 30 x 2cm
Wheat Bags Heating Pad for Back & Shoulder
(40cm x 30cm Premium) - Natural Cotton Fabric (Personalised with Text)
FGWHE006(R40x30Com8)COT-NAT(P)
5056656398706
£27.94
1,250 g
40 x 30 x 2cm
Wheat Bags Heating Pad for Back & Shoulder
(40cm x 30cm Premium) - Natural Cotton Fabric and Removable Cover
FGWHE006(R40x30Com8)COT-NAT(RC)
5056656398638
£37.49
1,364 g
40 x 30 x 2cm
Wheat Bags Heating Pad for Back & Shoulder
(40cm x 30cm Premium) - Natural Cotton Fabric and Removable Cover (Personalised with Text)
FGWHE006(R40x30Com8)COT-NAT(RC)(P)
5056656398492
£40.44
1,364 g
40 x 30 x 2cm
Wheat Bags Heating Pad for Back & Shoulder
(40cm x 30cm Premium) - Hot Pink Cotton Fabric
FGWHE006(R40x30Com8)COT-PBU
5056656398768
£24.99
1,250 g
40 x 30 x 2cm
Wheat Bags Heating Pad for Back & Shoulder
(40cm x 30cm Premium) - Hot Pink Cotton Fabric (Personalised with Text)
FGWHE006(R40x30Com8)COT-PBU(P)
5056656398690
£27.94
1,250 g
40 x 30 x 2cm
Wheat Bags Heating Pad for Back & Shoulder
(40cm x 30cm Premium) - Hot Pink Cotton Fabric and Removable Cover
FGWHE006(R40x30Com8)COT-PBU(RC)
5056656398621
£37.49
1,364 g
40 x 30 x 2cm
Wheat Bags Heating Pad for Back & Shoulder
(40cm x 30cm Premium) - Hot Pink Cotton Fabric and Removable Cover (Personalised with Text)
FGWHE006(R40x30Com8)COT-PBU(RC)(P)
5056656398485
£40.44
1,364 g
40 x 30 x 2cm
Wheat Bags Heating Pad for Back & Shoulder
(40cm x 30cm Premium) - Chocolate Luxury Cotton Fabric
FGWHE006(R40x30Com8)COL-BMO
5056656398751
£34.99
1,250 g
40 x 30 x 2cm
Wheat Bags Heating Pad for Back & Shoulder
(40cm x 30cm Premium) - Chocolate Luxury Cotton Fabric (Personalised with Text)
FGWHE006(R40x30Com8)COL-BMO(P)
5056656398683
£37.94
1,250 g
40 x 30 x 2cm
Wheat Bags Heating Pad for Back & Shoulder
(40cm x 30cm Premium) - Chocolate Luxury Cotton Fabric and Removable Cover
FGWHE006(R40x30Com8)COL-BMO(RC)
5056656398614
£47.49
1,364 g
40 x 30 x 2cm
Wheat Bags Heating Pad for Back & Shoulder
(40cm x 30cm Premium) - Chocolate Luxury Cotton Fabric and Removable Cover (Personalised with Text)
FGWHE006(R40x30Com8)COL-BMO(RC)(P)
5056656398478
£50.44
1,364 g
40 x 30 x 2cm
Wheat Bags Heating Pad for Back & Shoulder
(40cm x 30cm Premium) - Gothic Blue Luxury Cotton Fabric
FGWHE006(R40x30Com8)COL-BGO
5056656398744
£34.99
1,250 g
40 x 30 x 2cm
Wheat Bags Heating Pad for Back & Shoulder
(40cm x 30cm Premium) - Gothic Blue Luxury Cotton Fabric (Personalised with Text)
FGWHE006(R40x30Com8)COL-BGO(P)
5056656398676
£37.94
1,250 g
40 x 30 x 2cm
Wheat Bags Heating Pad for Back & Shoulder
(40cm x 30cm Premium) - Gothic Blue Luxury Cotton Fabric and Removable Cover
FGWHE006(R40x30Com8)COL-BGO(RC)
5056656398607
£47.49
1,364 g
40 x 30 x 2cm
Wheat Bags Heating Pad for Back & Shoulder
(40cm x 30cm Premium) - Gothic Blue Luxury Cotton Fabric and Removable Cover (Personalised with Text)
FGWHE006(R40x30Com8)COL-BGO(RC)(P)
5056656398461
£50.44
1,364 g
40 x 30 x 2cm
Wheat Bags Heating Pad for Back & Shoulder
(40cm x 30cm Premium) - Natural Organic Cotton
FGWHE006(R40x30Com8)COO-NAT
5056656398737
£31.99
1,250 g
40 x 30 x 2cm
Wheat Bags Heating Pad for Back & Shoulder
(40cm x 30cm Premium) - Natural Organic Cotton (Personalised with Text)
FGWHE006(R40x30Com8)COO-NAT(P)
5056656398669
£34.94
1,250 g
40 x 30 x 2cm
Wheat Bags Heating Pad for Back & Shoulder
(40cm x 30cm Premium) - Natural Organic Cotton and Removable Cover
FGWHE006(R40x30Com8)COO-NAT(RC)
5056656398591
£44.49
1,364 g
40 x 30 x 2cm
Wheat Bags Heating Pad for Back & Shoulder
(40cm x 30cm Premium) - Natural Organic Cotton and Removable Cover (Personalised with Text)
FGWHE006(R40x30Com8)COO-NAT(RC)(P)
5056656398454
£47.44
1,364 g
40 x 30 x 2cm
Wheat Bags Heating Pad for Back & Shoulder
(40cm x 30cm Premium) - Navy Blue Cotton Fabric Scented (Organic Lavender Buds)
FGWHE006(R40x30Com8)COT-BNA(LAV)
5056656398584
£25.99
1,251 g
40 x 30 x 2cm
Wheat Bags Heating Pad for Back & Shoulder
(40cm x 30cm Premium) - Navy Blue Cotton Fabric Scented (Organic Lavender Buds) (Personalised with Text)
FGWHE006(R40x30Com8)COT-BNA(LAV)(P)
5056656398447
£28.94
1,251 g
40 x 30 x 2cm
Wheat Bags Heating Pad for Back & Shoulder
(40cm x 30cm Premium) - Navy Blue Cotton Fabric Scented (Organic Lavender Buds) and Removable Cover
FGWHE006(R40x30Com8)COT-BNA(LAV)(RC)
5056656398379
£38.49
1,365 g
40 x 30 x 2cm
Wheat Bags Heating Pad for Back & Shoulder
(40cm x 30cm Premium) - Navy Blue Cotton Fabric Scented (Organic Lavender Buds) and Removable Cover (Personalised with Text)
FGWHE006(R40x30Com8)COT-BNA(LAV)(RC)(P)
5056656398300
£41.44
1,365 g
40 x 30 x 2cm
Wheat Bags Heating Pad for Back & Shoulder
(40cm x 30cm Premium) - Purple Cotton Fabric Scented (Organic Lavender Buds)
FGWHE006(R40x30Com8)COT-PUR(LAV)
5056656398577
£25.99
1,251 g
40 x 30 x 2cm
Wheat Bags Heating Pad for Back & Shoulder
(40cm x 30cm Premium) - Purple Cotton Fabric Scented (Organic Lavender Buds) (Personalised with Text)
FGWHE006(R40x30Com8)COT-PUR(LAV)(P)
5056656398430
£28.94
1,251 g
40 x 30 x 2cm
Wheat Bags Heating Pad for Back & Shoulder
(40cm x 30cm Premium) - Purple Cotton Fabric Scented (Organic Lavender Buds) and Removable Cover
FGWHE006(R40x30Com8)COT-PUR(LAV)(RC)
5056656398362
£38.49
1,365 g
40 x 30 x 2cm
Wheat Bags Heating Pad for Back & Shoulder
(40cm x 30cm Premium) - Purple Cotton Fabric Scented (Organic Lavender Buds) and Removable Cover (Personalised with Text)
FGWHE006(R40x30Com8)COT-PUR(LAV)(RC)(P)
5056656398294
£41.44
1,365 g
40 x 30 x 2cm
Wheat Bags Heating Pad for Back & Shoulder
(40cm x 30cm Premium) - Natural Cotton Fabric Scented (Organic Lavender Buds)
FGWHE006(R40x30Com8)COT-NAT(LAV)
5056656398560
£25.99
1,251 g
40 x 30 x 2cm
Wheat Bags Heating Pad for Back & Shoulder
(40cm x 30cm Premium) - Natural Cotton Fabric Scented (Organic Lavender Buds) (Personalised with Text)
FGWHE006(R40x30Com8)COT-NAT(LAV)(P)
5056656398423
£28.94
1,251 g
40 x 30 x 2cm
Wheat Bags Heating Pad for Back & Shoulder
(40cm x 30cm Premium) - Natural Cotton Fabric Scented (Organic Lavender Buds) and Removable Cover
FGWHE006(R40x30Com8)COT-NAT(LAV)(RC)
5056656398355
£38.49
1,365 g
40 x 30 x 2cm
Wheat Bags Heating Pad for Back & Shoulder
(40cm x 30cm Premium) - Natural Cotton Fabric Scented (Organic Lavender Buds) and Removable Cover (Personalised with Text)
FGWHE006(R40x30Com8)COT-NAT(LAV)(RC)(P)
5056656398287
£41.44
1,365 g
40 x 30 x 2cm
Wheat Bags Heating Pad for Back & Shoulder
(40cm x 30cm Premium) - Hot Pink Cotton Fabric Scented (Organic Lavender Buds)
FGWHE006(R40x30Com8)COT-PBU(LAV)
5056656398553
£25.99
1,251 g
40 x 30 x 2cm
Wheat Bags Heating Pad for Back & Shoulder
(40cm x 30cm Premium) - Hot Pink Cotton Fabric Scented (Organic Lavender Buds) (Personalised with Text)
FGWHE006(R40x30Com8)COT-PBU(LAV)(P)
5056656398416
£28.94
1,251 g
40 x 30 x 2cm
Wheat Bags Heating Pad for Back & Shoulder
(40cm x 30cm Premium) - Hot Pink Cotton Fabric Scented (Organic Lavender Buds) and Removable Cover
FGWHE006(R40x30Com8)COT-PBU(LAV)(RC)
5056656398348
£38.49
1,365 g
40 x 30 x 2cm
Wheat Bags Heating Pad for Back & Shoulder
(40cm x 30cm Premium) - Hot Pink Cotton Fabric Scented (Organic Lavender Buds) and Removable Cover (Personalised with Text)
FGWHE006(R40x30Com8)COT-PBU(LAV)(RC)(P)
5056656398270
£41.44
1,365 g
40 x 30 x 2cm
Wheat Bags Heating Pad for Back & Shoulder
(40cm x 30cm Premium) - Chocolate Luxury Cotton Fabric Scented (Organic Lavender Buds)
FGWHE006(R40x30Com8)COL-BMO(LAV)
5056656398546
£35.99
1,251 g
40 x 30 x 2cm
Wheat Bags Heating Pad for Back & Shoulder
(40cm x 30cm Premium) - Chocolate Luxury Cotton Fabric Scented (Organic Lavender Buds) (Personalised with Text)
FGWHE006(R40x30Com8)COL-BMO(LAV)(P)
5056656398409
£38.94
1,251 g
40 x 30 x 2cm
Wheat Bags Heating Pad for Back & Shoulder
(40cm x 30cm Premium) - Chocolate Luxury Cotton Fabric Scented (Organic Lavender Buds) and Removable Cover
FGWHE006(R40x30Com8)COL-BMO(LAV)(RC)
5056656398331
£48.49
1,365 g
40 x 30 x 2cm
Wheat Bags Heating Pad for Back & Shoulder
(40cm x 30cm Premium) - Chocolate Luxury Cotton Fabric Scented (Organic Lavender Buds) and Removable Cover (Personalised with Text)
FGWHE006(R40x30Com8)COL-BMO(LAV)(RC)(P)
5056656398263
£51.44
1,365 g
40 x 30 x 2cm
Wheat Bags Heating Pad for Back & Shoulder
(40cm x 30cm Premium) - Gothic Blue Luxury Cotton Fabric Scented (Organic Lavender Buds)
FGWHE006(R40x30Com8)COL-BGO(LAV)
5056656398539
£35.99
1,251 g
40 x 30 x 2cm
Wheat Bags Heating Pad for Back & Shoulder
(40cm x 30cm Premium) - Gothic Blue Luxury Cotton Fabric Scented (Organic Lavender Buds) (Personalised with Text)
FGWHE006(R40x30Com8)COL-BGO(LAV)(P)
5056656398393
£38.94
1,251 g
40 x 30 x 2cm
Wheat Bags Heating Pad for Back & Shoulder
(40cm x 30cm Premium) - Gothic Blue Luxury Cotton Fabric Scented (Organic Lavender Buds) and Removable Cover
FGWHE006(R40x30Com8)COL-BGO(LAV)(RC)
5056656398324
£48.49
1,365 g
40 x 30 x 2cm
Wheat Bags Heating Pad for Back & Shoulder
(40cm x 30cm Premium) - Gothic Blue Luxury Cotton Fabric Scented (Organic Lavender Buds) and Removable Cover (Personalised with Text)
FGWHE006(R40x30Com8)COL-BGO(LAV)(RC)(P)
5056656398256
£51.44
1,365 g
40 x 30 x 2cm
Wheat Bags Heating Pad for Back & Shoulder
(40cm x 30cm Premium) - Natural Organic Cotton Scented (Organic Lavender Buds)
FGWHE006(R40x30Com8)COO-NAT(LAV)
5056656398522
£32.99
1,251 g
40 x 30 x 2cm
Wheat Bags Heating Pad for Back & Shoulder
(40cm x 30cm Premium) - Natural Organic Cotton Scented (Organic Lavender Buds) (Personalised with Text)
FGWHE006(R40x30Com8)COO-NAT(LAV)(P)
5056656398386
£35.94
1,251 g
40 x 30 x 2cm
Wheat Bags Heating Pad for Back & Shoulder
(40cm x 30cm Premium) - Natural Organic Cotton Scented (Organic Lavender Buds) and Removable Cover
FGWHE006(R40x30Com8)COO-NAT(LAV)(RC)
5056656398317
£45.49
1,365 g
40 x 30 x 2cm
Wheat Bags Heating Pad for Back & Shoulder
(40cm x 30cm Premium) - Natural Organic Cotton Scented (Organic Lavender Buds) and Removable Cover (Personalised with Text)
FGWHE006(R40x30Com8)COO-NAT(LAV)(RC)(P)
5056656398249
£48.44
1,365 g
40 x 30 x 2cm
Wheat Bags Heating Pad for Back & Shoulder