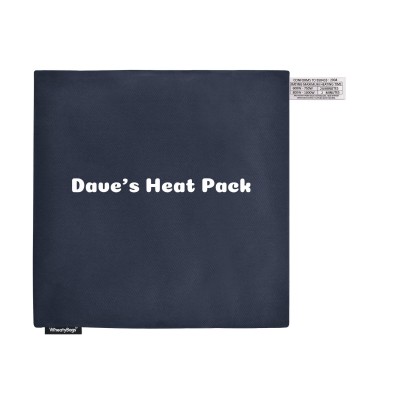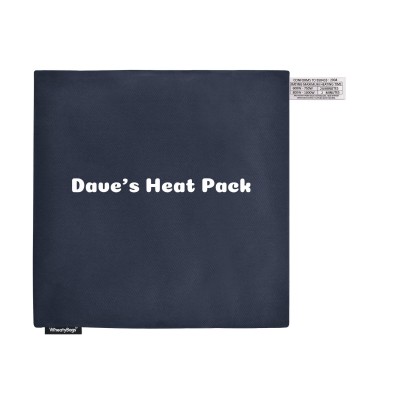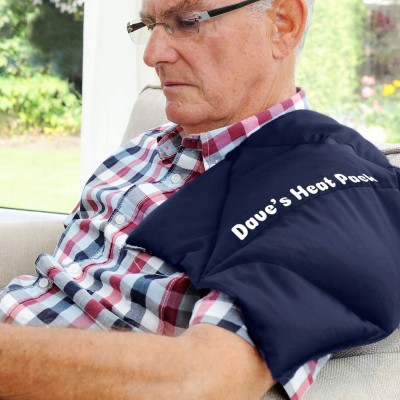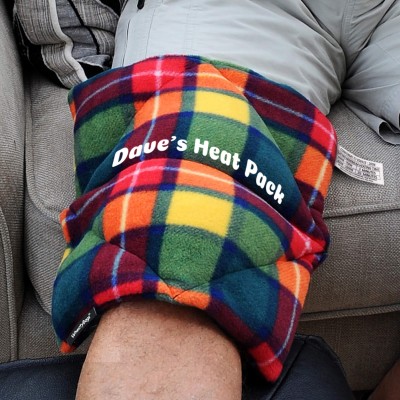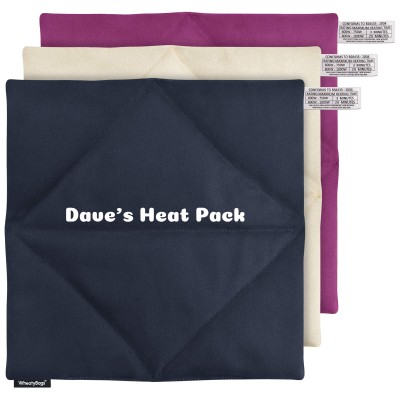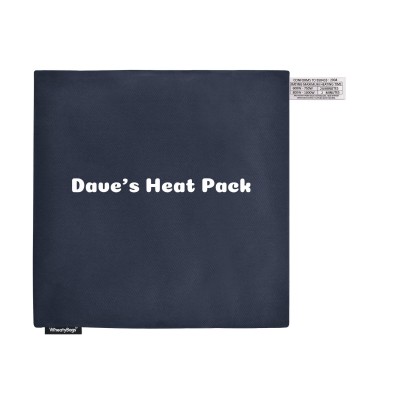 Wheat Bags Heating Pad (Squares)
UK Made
BS8433 : 2004
Natural Filling
Organic Options *
Description
Wheat Bags Square Heat Pack is perfect for moving around the body and wrapping in place where you need localised joint and muscular-related warmth and comfort.
Square heat pack.
Fabric & colour choices.
BE8433 Tested.
Use hot or cold.
Optional lavender.
Can be a personalised gift.
Trusted WheatyBags® UK Made brand.
This Square Heat Pack, like all our own brand heat packs, can be used both hot by placing in the microwave but can also be placed in the freezer to then use as a cold press.
Reviews
Exactly what I wanted
- Bought as a replacement for one I've been using for over 15 years (that had started smelling like a bakery!). I find the square shape in this size is perfect for me - fits flat in the microwave and is very adaptable for whatever part of my body is aching at that moment. Also great as a handwarmer if you suffer from very cold hands (Terry, 29/11/23)
Love my Wheaty bag
- I have bought Wheaty bags before and I find they are quick to heat up ...just a couple of minuets in the microwave.... and they hold the heat for quite some time , I use mine to help with back pain and other aches that seem to appear when the weather starts to chill down....wouldn't be without it (Sheila ODonoghue, 24/11/23)
Excellent
- Very helpful gentleman on the phone when I ordered and changed my order when I realised I had ordered the wrong size. Really pleased with the quality. Delivery very good Thank you Wheaty Bags (M Holland, 08/11/23)
Brilliant purchase
- Wouldn't be without these packs. Have two of them and the recent purchase was for a close friend who is over the moon with the result. Have been using them for many years now and there is no need to worry about hot water burns. (Carol H, 01/11/23)
Great item
- Bought 2, we heat them up and put them at the end of the bed to warm our feet up on a night, work a treat and stay warm for over an hour! No nasty coldness that you get with a hot water bottle. Can't go to bed without them now! (Ruth, 21/10/23)
work well
- These were bought as a replacement for similar bags we've had for a long time. They appear strong and work well. They were delivered within a few days of ordering. (petalouthi, 10/10/23)
Comfort cushions
- The heat (when heated in the microwave) eases the pain in my knees as I have Osteoarthritis and the cool (in the freezer) cools my feet and ankles as I also have Peripheral Neuropathy. The pads are just what I needed and a good size too. (Val, 21/09/23)
Soothing
- Quick and easy ordering and delivery process. High quality purchase and value for money. Very relaxing and soothing with the lavender. Definitely recommend (Loulou, 17/09/23)
Warming, soothing and easy to use
- i bought this wheat bag as seemed it could be a useful part of my massage toolkit and it has been. (Els, 17/08/23)
Good size
- Great size wheatbag. I find it cools quicker than another one I have, but still does the job well! (Lemmony, 21/06/22)
Essential for managing my pain
- This is the second time I've purchased wheaty bags. The first ones lasted several years of daily use. This one is getting the same use both me and my husband gave back pain and use the bag to help relieve pain and stiffness. It's quick to heat up in the microwave. The lavender smell lasted for a few months probably would have lasted longer if used less. Take care not to overheat in microwave as can get very hot. But the warmth can last for hours particularly if in bed or under a blanket. This is the best size as it drapes around knees and covers all my lower back. Cover will wipe clean with damp cloth. Would definitely buy again. (Linda, 12/05/22)
Value for money
- Value for money. Quick delivery. Safer than a hot water bottle. Happy with my purchase. (Keith., 04/05/22)
best ever
- excellent quality. (mrs. m ., 07/04/22)
Such a great product!
- Bought this for my sister as she is one of those humans that acts like a lizard and sits by a radiator. She loves it and it's so good having a larger sized cushion, perfect for going to sleep with or warming up a cold morning. (Ethan, 31/03/22)
Does The Trick
- I recently purchased this Wheaty bag for back pain and it works great After 20 mins of heat I can then get up and carry on where i left off. "EXCELLENT" I am now about to buy one for my husband. (Yellowsunflower, 22/02/22)
Wheat bag large square heat pack
- Brilliant really good for getting warmth into muscles (J, 09/02/22)
Wheat bag
- Brilliant. Well made and a decent weight . I have used it too. Really holds the heat well ( Barley, 09/12/21)
Great product.
- This is a good sized wheat bag .Extremely well made and very good quality I Have tried cheaper versions but this is the best. Wonderfully soothing for aches and pains and lovely to snuggle up with on chilly evenings. Highly recommended. (Mattie Neyton, 21/10/21)
Brilliant warmth.
- This wheat bag is my best yet. It sits right the way up my back, gets folded and put on my frozen shoulder and finally gets wrapped around my foot. I do this every evening and it really does relieve the pain at the end of the day. (Jilly, 21/09/21)
Good product
- Excellent product easy to use and very effective in helping to promote the healing of my sprained ankle. (Shirley , 13/09/21)
great benefit of your product
- i received the wheaty bag very quickly have had a knee problem.i brought numerous lotions and potions etc but all in all the wheaty bag seemed to give most relief.i rest my case! (jill norman, 25/06/21)
Wheatbag heat pad
- A fine looking piece of manufacture with which my wife is well pleased (John McEwen, 13/06/21)
Lovely product
- Nice quality and nice touch with the ability to personalise (Jenny Turner, 25/05/21)
Great
- Good product arrived on time as described (Evets, 21/05/21)
Purchased for a present
- Bought this for my father who is suffering from the effects of cancer. Just what he needed to assist with pain relief on his thighs. The stitching on the product ensures the wheat doesn't flop to one side and provides an even coverage. Product as described and arrived quickly. (Hogg, 19/05/21)
Well worth the price
- Well made item, and the large size made it Very effective for a sore knee. And my daughter found it really good for aching shoulders caused by being hunched up at her desk all day. (Ian, 14/05/21)
Mrs Fox
- Great product and fast delivery. (Vicky, 04/05/21)
First class
- I received my wheatear on time as stated. An excellent product all round. Heats up well and retains heat much better than I thought!! Couldn't have a better product for my shoulder pain 5 star from me. (Christine latus , 29/04/21)
Bloody marvellous
- A great product covering the whole of my knees the feel of the fleece is calming and soothing a couple of trips to the microwave for 3 minutes is totally worth it the heat helps my osteoarthritis a great deal wish I had brought another (Andrew, 22/04/21)
Large square heat pack
- So quick, easy and comforting (Nik, 21/04/21)
Wonderful
- More wonderful wheatybags, already in regular use, accept no substitutes, they are by far the best!! Tartan one was specially good (Kevin and Lyn, 15/04/21)
Excellent product
- 5 (John , 14/04/21)
Wheat bag
- Arrived as date promised and very satisfied has helped greatly each morning s back very sore each am (Cunners, 10/04/21)
Comfort in a bag
- In almost daily use , as alternative to hot water bottle , soothing back pack for a long term back condition, when watching tv. elderly relative with very limited mobility who loves to sit in the fresh air but cant cope with the cold usually sits out in fine weather for half an hour daily with it on her knees it really makes a big difference to her. good size the last one we had from you has lasted for 3 years in daily use l must get a removable cover for this one as the old one is very dirty but still working well 5 star rating but can only get four to light up on grid below (Jay Bennett, 07/04/21)
Good purchase
- I bought this for my elderly Mum who suffers with knee and hip pain due to arthritis. It is very easy to use and gives her some comfort. The fleecy cover is soft and helps to spread the heat out evenly. (Jacky, 25/03/21)
great product
- we have several of these, we find them great for our bad backs, we currently take 5 to bed every night and have much more comfortable nights sleep, highly recomended, the ones from Wheatybags are the best, especially with fleece covers. (Kevin & Lyn, 24/03/21)
The perfect wheat bag!
- I ordered one of the large square for myself and as my family also kept using it I have since ordered us all one! They are great, keep their warmth and easy to use. My only problem now is our dog is also partial to snuggle on them, so now do I get him his own too?? Highly recommend and amazing delivery and service! (Jess Antley, 23/03/21)
Excellent product
- Had to wait a while for delivery but it was so worth it, it really helps my arthritic shoulder pain, would thoroughly recommend (Olly, 19/03/21)
Square wheaty bag
- I bought the above for my mother who suffers from sciatica. Most of the wheat bags along the narrow, but this appears to be just the perfect shape and size for her. Very pleased with it (Carol , 11/03/21)
So cosy
- Wish I'd had these long ago. The fleece cover makes it feel very cosy. Use it to warm the bottom of the bed and keep my feet lovely and toasty!! So much better and safer than a hot water bottle. (Marjory, 03/03/21)
So cosy
- Bought this one for my husband who wishes, like me, that he'd had one long ago to warm his feet. Would definitely recommend them. (Marjory, 03/03/21)
does the job
- Perfect, heats up well and is great for the knee. (Bigmac, 22/02/21)
Medical
- Excellent bag for wife's pain relief. Disappointed in time to deliver it. (Ian, 11/02/21)
Excellent product!
- Bought this for my son and he says it is perfect for soothing a sore tummy and the colours are lovely! (Anne, 09/02/21)
Large Square Wheaty Bag
- This large Square Wheaty bag sits comfortably across my shoulder and the top of my right arm, which I hurt several weeks ago, and seems to stay in place. The gentle warmth helps with pain relief and is comforting. I chose this size and shape as it could be used on other parts of the body, if required. It's well made and well worth***** (Sue DW, 05/02/21)
Warm and cosy
- Love this wheaty, hasn't left my side since it arrived, and I'm having to wrestle my husband for it - I will need to get him his own! I chose the fleece fabric, so it is extra warm. I find it takes a while before it holds its heat for any length of time, but after the third warming of the day, it stays warm for ages, and is much better and safer than a hot water bottle. Slightly disappointed that there is a line of stitching running through the inscription, but other than that, full marks. (Barley, 04/02/21)
Perfect for Aching Limbs...
- Bought for my Mother in Law, who suffers circulation problems, this Heat Pack has brought her much comfort. Easy and safe to use, holds the warmth for ages and is large enough to be used "all over...." (*,*) (Jon, 04/02/21)
Large square heat pack
- This is an excellent product and im sure it will get lots of use but i found that the neck and shoulder heated pad was sufficient for my bad arm and shoulder. (Jo, 29/01/21)
Addition to first aid box
- Handy item to have at home and can be used hot or cold pleased with choice (Michael , 27/01/21)
Warm and Comforting
- Mostly I use my wheaty bags as hot water bottles, moving them around to whichever bits need warmth. (Catherine, 22/01/21)
Tartan Wheaty Bag
- Very good value and performance highly efficient and retains heat extremely well. Would recommend (John, 13/01/21)
Well received Xmas present
- Bought as a present for my hubby who suffers in the winter with aching knees. He says its the perfect size & shape for covering the whole of his knee & that the weight is just right in order for it to stay in position. Money well spent.Already well used. (Sue, 11/01/21)
Wheat bags
- This is the second time I have purchased from this company, the previous bags lasted ages, still using some. The new purchase bags don't seem to get as hot as the previous ones but are more snuggly. (Beach , 01/01/21)
Soothing
- Excellent. Very handy for applying heat to an old body!! (Norman Easter, 30/12/20)
Great product
- Bought as gift . Well received. Said it's bigger than most and really effective. Delivery was great . Highly recommend (Rocksocko , 29/12/20)
Better than a hot water bottle
- 150 seconds in microwave for hour and more comfortable heat to relieve the cold lower legs problem I have in the evenings. Used with a cover prior to sleeping has been a great success. Heat input can be adjusted easily and the bag is far better in use than a hot water bottle as it drapes readily over my legs, or wherever it is needed. Very glad I bought it. (Daffy, 29/12/20)
Heat Pad
- This heated pad fulfilled all my expectations. It's excellent to put on the top of my arm/shoulder when I sit up in bed reading and it helps with the aches & pains from my arthritis. Would recommend this product. (Christine Hutchings, 24/12/20)
Very good buy
- The wheat bag helps to reduce the pain from my permanently troublesome trapezius muscle. It is worth the price and helps where other methods of pain relief have failed. I am particularly impressed by Wheaty Bags Customer Services, I had ordered an item which was not suitable for my problem and they sorted out the matter quickly (Dee, 22/12/20)
Tartan Warmer
- Soft warm and comfy. A winter warmer that is well made and easy to use - I would buy again! (TMW, 14/12/20)
Large square wheat bag
- Good quality. Worth buying. (Hardy63 , 14/12/20)
Fabulous product
- If you want heat comfort this is the product for you. Super soft cover and an even heat. Fabulous. (Stevie, 11/12/20)
Excellent product and Service
- Received as ordered and delighted with the product and service. Special gratitued to Becky at customer services. Highly recommended. (Brian Higgins, 08/12/20)
Great
- Lovely soft fleece. Easy to use. Good size to ease and warm up a larger area, but can fold so it fits easily in microwave. (Dixon, 06/12/20)
*****
- These bags work so well, they are quick and easy to heat, retain the heat and ease so many aches. Brilliant product. (Sue , 02/12/20)
Wonderful Product
- We have bought several over the years, a great help for bad backs etc. (Kevin, 02/12/20)
Wheat Bag
- Very pleased with the heat bag.It retains the heat for quite a while.The size is perfect to use on neck and shoulders at the same time. (Val J, 28/11/20)
Delighted!
- Very happy with product. Good size. (Anon, 12/11/20)
Very Happy
- I am a veterinary nurse and I actually purchased these to replace the ones we had for using with our patients to help keep them warm when they are recovering from surgery. We are very pleased with these products, we don't heat them to full capacity as they are being used for animals, but they do retain their heat well. Great product and definitely worth the money. (Kyley, 30/10/20)
Muscle heat treatment
- I have used wheat bag heat treatment for over 15 years and have found it to be my favourite way of easing tired or aching areas. It is great to have them now made in different shapes and with washable covers (John, 24/10/20)
all round excellence
- Delivered swiftly and greatly appreciated by my wife who considered it to be a great improvement on previous damp ice bags. (nicholas atkinson, 22/10/20)
Purple Bag
- Very pleased with the bag (Rich, 13/10/20)
Heat pack for fracture recovery
- My physio suggested a heat pack for a recovering ankle fracture, and I chose Wheatybags as a named brand because I was concerned about putting something in the microwave to heat up. There are cheaper products on the internet but who wants to risk a fire or burns. I have been delighted with the product. Its soft to wrap around the ankle and comfortable but not too heavy. Stays warm and cosy and certainly relieves discomfort. Very pleased with my purchase. (Kiki , 12/10/20)
Excellent product
- This has been great for warming my hand and wrist to help with my physiotherapist's recommended exercises. Just a bit dear for what it is. (Mimi, 09/10/20)
My new Tartan Check Wheatybag
- This is a very good size and it is just what I need for my shoulder problem, the haet lasts well. (Sandy, 03/10/20)
Large square heat pack
- Absolutely brilliant for my hip. Am able to lie on it on my side and it stays warm for a long time. Has really helped the pain. (Judy Butler, 26/09/20)
Excellent
- An excellent product (DW, 17/09/20)
Large square heat pad
- I bought this for my mum who is 83 and has very bad arthritis in her hands and so I didn't want her handling boiling water for a hot water bottle. She has got back pain and this has been great for her. It stays warm for a long time and she is getting a lot of relief while using it, a great buy and I would definitely recommend. (Christine C, 29/08/20)
Amazing comfort
- Arrived on time, easy to use website, provides effective relief accross my hip and sacrum (Janice Rose, 18/08/20)
Large square pack
- Excellent size heat pack (Henderson, 06/08/20)
Wheat bag large square heat pack
- I'm really pleased with the size of the large wheat bag, I use it for my back, and it's so easy to heat in the microwave. (Carol, 27/07/20)
Bean bag
- Excellent product Prompt delivery (Em, 13/07/20)
Useful
- Quite handy. Rather than reaching for ibuprofen and more mouldable than a hot water bottle generally alleviates aches and pains ( as does not falling off mtb) ? (Simon, 13/07/20)
wheat bag
- Excellent.Quick delivery.It doesn't slip around ,Its flat and doesn't bunch up.Covers a large surface area.It quickly eases a my stiff back.3 of my friends have since purchased one. (jayne, 12/07/20)
Great heat where you need it!
- These heat packs are brilliant. Simple to heat in the microwave and they stay warm for ages. (MikeS33, 11/07/20)
Love them
- Have bought three wheatybags - they're great! They fit round any angle, lovely for my poor knees. You just feel the warmth seep through to your joints, lovely jubbly. (Pat, 08/07/20)
Just the job
- I purchased this wheat bag for my elderly Mum. She'd had bags before but always cheaper, inferior quality. My Mum was delighted with it. Mum really struggled to stay warm, this really helped, by giving a very steady gentle heat. Excellent quality product (Ruth, 07/07/20)
Large wheat bag
- I'm really pleased with the large wheat bag, it's great to wrap around my leg or on my hip when they are aching and it keeps nice and warm. The fabric is soft and comforting too. (Brimby, 04/07/20)
PERFECT
- Nice size feels soft lasts a long time. PERFECT (GRAHAM LESLIE, 04/07/20)
Flexible
- Handy and flexible - my dad uses it for his knee after a walk (Helen, 04/07/20)
This is one I have
- Absolutely excellent can place on shoulders neck or back !!! (Johan, 02/07/20)
Wheat bags
- Pleased with this good sized wheat bag which is easy to heat in the microwave. I use it for back ache or even when I'm feeling cold. (Rosemary Corner, 01/07/20)
A handy gift
- Gifted to a friend and much appreciated. (Anon, 30/06/20)
Good wheatbag
- This is brilliant,being larger than normal,it's really soothing for things such as a bad back! (Beaty, 30/06/20)
Thanks
- Very helpful both hot and cold (Bridget , 29/06/20)
Quality
- Great for muscle and back pain. Also used instead of hot water bottle (Nicky nacky noo, 28/06/20)
Quality
- Great for muscle and back pain. Also used instead of hot water bottle (Nicky nacky noo, 28/06/20)
Perfect for back problems
- I have been using WheatyBags for problems with sciatica for more than 3 years now.I have found nothing to beat them for quality, comfort and reasonable prices. This large pack is perfect for all-round comfort. (Kathy D, 27/06/20)
Bag with dog paws
- Wheatybag with dog pass love ❤️ take it to bed every night (Patricia, 26/06/20)
What a relief
- Having had several WheatyBags previously I can confirm that they are such a relief for back pain. I wouldn't be without one. (Nanafrost, 26/06/20)
Excellent value
- These bags are brilliant, we couldn't live without them. We use them on many old injuries. (Linda, 19/06/20)
More Reviews
Instructions
This product is entirely natural and easy to use. It is designed as a gentle warming or chilling product though it is EXTREMELY IMPORTANT to take great care not to over-heat or over-chill the product.
Please follow our heating and chilling instructions carefully and use your own judgment - if you are experiencing any discomfort from the pack then stop using immediately. If you want medical advice, please ask your Doctor.
GENERAL INSTRUCTIONS: Please take care heating this wheat filled product and be careful not to burn the contents inside. If you smell a burnt smell, the heat pack is best thrown away and a new one purchased.
Remove all tags and ensure the product is clean and dry before use.
Use the maximum heating guide (below) to determine the correct heating times.
Ensure all grilling / browning facilities are turned off and do not place near a direct heat source.
When first heated, the product will feel damp though this is quite normal and will stop after a few uses.
After this time we recommend placing a small cup of water in the microwave when heating.
In order to comply with BS8433 : 2004 we are obliged to tell you of the following.
WARNING - THIS PRODUCT CAN CAUSE BURNS.
AVOID PROLONGED DIRECT CONTACT WITH THE SKIN.
TAKE CARE WHEN REMOVING FROM THE MICROWAVE OVEN.
DO NOT INGEST CONTENTS.
DO NOT OVERHEAT.
FOR MICROWAVE USE ONLY.
HEATED PRODUCTS SHOULD NOT BE GIVEN TO CHILDREN.
MAXIMUM HEATING (AND CHILLING) TIMES FOR THE PRODUCT ARE ATTACHED TO THE PRODUCT BY SEWN-ON LABEL AND CARD SWING TAG WHICH SHOULD BE RETAINED FOR FUTURE REFERENCE.
ONLY REHEAT FROM ROOM TEMPERATURE.
DO NOT FOLD ITEM IN HALF TO HEAT.
HEAT WITHOUT REMOVABLE COVERS IF SUPPLIED WITH THIS ITEM.
SURFACE CLEAN WITH A DAMP CLOTH.
CARE INSTRUCTIONS
Do not wash the heat pack with the wheat inside.
Only clean this part with a damp cloth.
Optional removable covers if available for this product can be removed and cleaned in accordance with the washing instructions label on the cover.
Asthma Sufferers should be aware this product contains wheatgerm.
In the event of overheating, let the item stand in a safe place and do not touch until cooled.
Dispose of in the normal household waste if worn or damaged.
Store in a cool dry place.
Ensure that the microwave turntable can rotate freely.
TO USE COLD:
Wrap the pack in a plastic bag (to keep it clean).
Place in the FRIDGE or FREEZER for 1-3 hours.
Remove from plastic bag before use.
Be cautious and check your skin to avoid any possibility of freezer-burn and use a towel on your body with the pack on top to avoid direct contact with the skin.
DO NOT PLACE THIS ITEM IN THE FREEZER IF USING ON THE EYES.
Please do not machine wash this product or get it wet. If it becomes marked or dirty, please take good care not to wet the inner contents and wipe clean with a damp cloth.
Removable Covers: If you purchase this Product with the option for "Removable Cover" for cleaning, the outer removable cover will be supplied in the fabric and colour of your choice. The inner pack will be manufactured from a fabric and colour of our choice depending on supplies available at the time of manufacture (usually our natural value cotton fabric depending on the product).
Do not wash or get the inner wheat or other filled heat packs wet.
CARELESSNESS CAUSES FIRE.
Do not wash or get the inner wheat or other filled heat packs wet.
For 100% Cotton, 100% Polycotton & 100% Polyester Fabrics (eg Fleece) Removable Covers.
Remove the outer cover before carefully cleaning the outer cover only.
Only warm hand or machine wash and cold rinse the removable cover.
Wash with like colours max. 40 degree temperature.
For best results, lay flat on a suitable surface to air-dry.
Do not bleach.
1 spot iron (Cotton / Fleece) or 2 spot iron (Polycotton).
Do not tumble dry.
MAXIMUM MICROWAVE HEATING TIMES FOR THIS PRODUCT: MAXIMUM HEATING (AND CHILLING) TIMES FOR THE PRODUCT ARE ATTACHED TO THE PRODUCT BY SEWN-ON LABEL AND CARD SWING TAG WHICH SHOULD BE RETAINED FOR FUTURE REFERENCE.
FAQs
Are these products a medical product?
No. Clear Prospects Ltd manufactures WheatyBags® microwave heat packs which have been tested to safety standard BS8433:2004. We are not Doctors and our products are not medical products (our heat packs are simple microwave heat packs that provide warmth and comfort). If you are unsure about their use, we recommend you consult your doctor before using heat packs in general.
How long should the heat pack be put into the microwave or chill in the freezer?
Please read the "Instructions" shown on our website for each Product as the heating and cooling instructions vary by product. All our heat packs have been safety tested and come with instructions labels sewn into the product itself and on a card attachment to be retained for safe reference.
Is it normal that my heat pack feels damp when microwaving?
Yes. When you first microwave the heat pack the contents inside will feel damp. This will subside after a few heating cycles and is quite normal especially if you have selected the (polyester) fleece fabric covers. Cotton is much more absorbent and breathable and will lessen the initial damp effect. Do not overheat the wheat bag to attempt to dry it out.
What happens if I microwave the heat pack for too long or it burns?
Please be very careful not to overheat the heat pack. If overheated they can catch fire which is very dangerous. Overheating can be caused by food or contamination from your microwave so it is important that the microwave is clean before you heat the product.
If overheating occurs, remove it from the microwave and put it in a safe place while it cools (perhaps outside). Do not use again until the product has returned to room temperature. If it is giving off a 'burnt' smell or has small burn marks on the fabric, you have overheated the product and it must be disposed of being careful that the product is not actually burning. A replacement product would then have to be purchased.
Can I wash my Heat Pack?
Do not place the full heat pack in the washing machine or get the contents wet as it can damage the product. It is advised that you surface clean with a damp cloth or sponge to clean the product. If the product becomes wet then it needs to be dried out before the wheat inside germinates and we suggest placing the product in a warm room to dry at room temperature. If the wheat inside does germinate then we do not recommend that you use the wheat bag.
Can I purchase removable covers that can be washed for my heat pack?
On most of our products, you will see the option to purchase a removable cover for cleaning. If this is shown as an option then this cover is removable from the main heat pack and can be washed with like colours in the washing machine or by hand at a low temperature of 30 to 40 degrees.
Is it possible to warm the heat pack other than the microwave?
No. Our heat packs are safety tested to be exclusively heated in a microwave.
How do I fit a larger heat pack in my small microwave?
Some of our products are larger when flat than the size of smaller microwaves. It is ok to "loosley scrunch up" the heat pack lightly to fit into the microwave but is important not to fold the pack in half tightly as this can create hot spots when heating.
Are these heat packs suitable for young children?
No. We do not recommend that heat packs are given the very young children under the age of 3 years old. Adult supervision should always be provided and should only be heated by an adult with great care.
What are the Organic Fabric Options?
Where shown, this product has an Organic Fabric Option. We purchase organic fabric from trusted UK Fabric Merchants who are registered under the Global Organic Textile Standard (GOTS) to enable full traceability of the fabric we use through to the final product you are purchasing today.
Is the Lavender Organic?
Yes. We purchase Organic Lavender from our Grain & Seed Merchant in the UK and they have sourced genuine lavender buds for our heat packs. This is not a scent, we add the flower buds from Organic Lavender for the most exquisite fragrance.
Delivery
The information below is for guidance. Actual delivery costs and dates depend on the delivery address, weight and time your order is placed. Cut-off time for Overnight Orders is 12 noon.
| Price | Method | Manufacture Time | Delivery Time | Est. Delivery Date |
| --- | --- | --- | --- | --- |
| £4.99 | 2nd Class (Tracked) | 0-3 Days | 2-3 Days | Mon 11 Dec - Fri 15 Dec |
| £7.99 | 1st Class (Tracked) | 0-3 Days | 1-2 Days | Fri 8 Dec - Thu 14 Dec |
| £13.39 | DHL Courier (Economy M-F Pre 6pm) | 0-3 Days | 2-3 Days | Mon 11 Dec - Fri 15 Dec |
| £14.99 | Royal Mail Special Delivery (Overnight Mon-Sat Pre 1pm) | Today | Next Day (Mon-Sat) | Fri 8 Dec |
More Information
| | |
| --- | --- |
| Despatch | 0-3 Days (Made to Order) or Upgrade for Overnight Delivery at Chekout |
| Brand | WheatyBags® |
| RRP | £12.99 |
| Filling | Wheat, Optional Lavender |
| Country of Origin | United Kingdom |
| SKU | FGWHE003(S24)COT-BNA |
| Gtin | 5056656338276 |
| Tariff Code | 1001912020 |
| Tariff Description | Heat Pack - Common Wheat |
| Product Weight | 900 g |
| Product Dimensions | 24 x 24 x 2cm |
Product Options
Size
24cm Square, 34cm Square
Filling
Wheat
Fabric
Cotton, Luxury Cotton, Organic Cotton, Fleece, Polycotton
Fabric Colour
Navy Blue, Purple, Natural, Chocolate, Gothic Blue, Tartan Check
Removable Cover (Click to Select)
Without Removable Cover, Removable Cover +
Aroma (Click to Select)
Unscented, Organic Lavender Buds +
Product Type
Wheat Bag
Warmers For > Microwavable Heating Pad
Heating Pad
Heat Pack
Microwave Heat Pack

Wheat Bags Heating Pad (Squares)
(34cm) - Purple Fleece Fabric
FGWHE003(S34)FLE-PUR
5056656329717
£17.99
1,100 g
34 x 34 x 3cm
Wheat Bags Heating Pad (Squares)
(34cm) - Purple Fleece Fabric (Personalised with Text)
FGWHE003(S34)FLE-PUR(P)
5056656330065
£20.94
1,100 g
34 x 34 x 3cm
Wheat Bags Heating Pad (Squares)
(34cm) - Purple Fleece Fabric Removable Cover
FGWHE003(S34)FLE-PUR(RC)
5056656330362
£30.49
1,212 g
34 x 34 x 3cm
Wheat Bags Heating Pad (Squares)
(34cm) - Purple Fleece Fabric Removable Cover (Personalised with Text)
FGWHE003(S34)FLE-PUR(RC)(P)
5056656331147
£33.44
1,212 g
34 x 34 x 3cm
Wheat Bags Heating Pad (Squares)
(34cm) - Tartan Fleece Fabric
FGWHE003(S34)FLE-TA01
5056656329991
£19.99
1,100 g
34 x 34 x 3cm
Wheat Bags Heating Pad (Squares)
(34cm) - Tartan Fleece Fabric (Personalised with Text)
FGWHE003(S34)FLE-TA01(P)
5056656330393
£22.94
1,100 g
34 x 34 x 3cm
Wheat Bags Heating Pad (Squares)
(34cm) - Tartan Fleece Fabric Removable Cover
FGWHE003(S34)FLE-TA01(RC)
5056656330713
£32.49
1,212 g
34 x 34 x 3cm
Wheat Bags Heating Pad (Squares)
(34cm) - Tartan Fleece Fabric Removable Cover (Personalised with Text)
FGWHE003(S34)FLE-TA01(RC)(P)
5056656331437
£35.44
1,212 g
34 x 34 x 3cm
Wheat Bags Heating Pad (Squares)
(34cm) - Natural Cotton Fabric
FGWHE003(S34)COT-NAT
5056656329731
£17.99
1,100 g
34 x 34 x 3cm
Wheat Bags Heating Pad (Squares)
(34cm) - Natural Cotton Fabric (Personalised with Text)
FGWHE003(S34)COT-NAT(P)
5056656330089
£20.94
1,100 g
34 x 34 x 3cm
Wheat Bags Heating Pad (Squares)
(34cm) - Natural Cotton Fabric Removable Cover
FGWHE003(S34)COT-NAT(RC)
5056656330416
£30.49
1,212 g
34 x 34 x 3cm
Wheat Bags Heating Pad (Squares)
(34cm) - Natural Cotton Fabric Removable Cover (Personalised with Text)
FGWHE003(S34)COT-NAT(RC)(P)
5056656331161
£33.44
1,212 g
34 x 34 x 3cm
Wheat Bags Heating Pad (Squares)
(34cm) - Navy Blue Cotton Fabric
FGWHE003(S34)COT-BNA
5056656329755
£17.99
1,100 g
34 x 34 x 3cm
Wheat Bags Heating Pad (Squares)
(34cm) - Navy Blue Cotton Fabric (Personalised with Text)
FGWHE003(S34)COT-BNA(P)
5056656330102
£20.94
1,100 g
34 x 34 x 3cm
Wheat Bags Heating Pad (Squares)
(34cm) - Navy Blue Cotton Fabric Removable Cover
FGWHE003(S34)COT-BNA(RC)
5056656330430
£30.49
1,212 g
34 x 34 x 3cm
Wheat Bags Heating Pad (Squares)
(34cm) - Navy Blue Cotton Fabric Removable Cover (Personalised with Text)
FGWHE003(S34)COT-BNA(RC)(P)
5056656331185
£33.44
1,212 g
34 x 34 x 3cm
Wheat Bags Heating Pad (Squares)
(34cm) - Purple Cotton Fabric
FGWHE003(S34)COT-PUR
5056656329762
£17.99
1,100 g
34 x 34 x 3cm
Wheat Bags Heating Pad (Squares)
(34cm) - Purple Cotton Fabric (Personalised with Text)
FGWHE003(S34)COT-PUR(P)
5056656330119
£20.94
1,100 g
34 x 34 x 3cm
Wheat Bags Heating Pad (Squares)
(34cm) - Purple Cotton Fabric Removable Cover
FGWHE003(S34)COT-PUR(RC)
5056656330447
£30.49
1,212 g
34 x 34 x 3cm
Wheat Bags Heating Pad (Squares)
(34cm) - Purple Cotton Fabric Removable Cover (Personalised with Text)
FGWHE003(S34)COT-PUR(RC)(P)
5056656331192
£33.44
1,212 g
34 x 34 x 3cm
Wheat Bags Heating Pad (Squares)
(34cm) - Chocolate Luxury Cotton Fabric
FGWHE003(S34)COL-BMO
5056656329793
£22.99
1,100 g
34 x 34 x 3cm
Wheat Bags Heating Pad (Squares)
(34cm) - Chocolate Luxury Cotton Fabric (Personalised with Text)
FGWHE003(S34)COL-BMO(P)
5056656330140
£25.94
1,100 g
34 x 34 x 3cm
Wheat Bags Heating Pad (Squares)
(34cm) - Chocolate Luxury Cotton Fabric Removable Cover
FGWHE003(S34)COL-BMO(RC)
5056656330478
£35.49
1,212 g
34 x 34 x 3cm
Wheat Bags Heating Pad (Squares)
(34cm) - Chocolate Luxury Cotton Fabric Removable Cover (Personalised with Text)
FGWHE003(S34)COL-BMO(RC)(P)
5056656331222
£38.44
1,212 g
34 x 34 x 3cm
Wheat Bags Heating Pad (Squares)
(34cm) - Gothic Blue Luxury Cotton Fabric
FGWHE003(S34)COL-BGO
5056656329809
£22.99
1,100 g
34 x 34 x 3cm
Wheat Bags Heating Pad (Squares)
(34cm) - Gothic Blue Luxury Cotton Fabric (Personalised with Text)
FGWHE003(S34)COL-BGO(P)
5056656330157
£25.94
1,100 g
34 x 34 x 3cm
Wheat Bags Heating Pad (Squares)
(34cm) - Gothic Blue Luxury Cotton Fabric Removable Cover
FGWHE003(S34)COL-BGO(RC)
5056656330485
£35.49
1,212 g
34 x 34 x 3cm
Wheat Bags Heating Pad (Squares)
(34cm) - Gothic Blue Luxury Cotton Fabric Removable Cover (Personalised with Text)
FGWHE003(S34)COL-BGO(RC)(P)
5056656331239
£38.44
1,212 g
34 x 34 x 3cm
Wheat Bags Heating Pad (Squares)
(34cm) - Natural Organic Cotton
FGWHE003(S34)COO-NAT
5056656329816
£24.99
1,100 g
34 x 34 x 3cm
Wheat Bags Heating Pad (Squares)
(34cm) - Natural Organic Cotton (Personalised with Text)
FGWHE003(S34)COO-NAT(P)
5056656330164
£27.94
1,100 g
34 x 34 x 3cm
Wheat Bags Heating Pad (Squares)
(34cm) - Natural Organic Cotton Removable Cover
FGWHE003(S34)COO-NAT(RC)
5056656330492
£37.49
1,212 g
34 x 34 x 3cm
Wheat Bags Heating Pad (Squares)
(34cm) - Natural Organic Cotton Removable Cover (Personalised with Text)
FGWHE003(S34)COO-NAT(RC)(P)
5056656331246
£40.44
1,212 g
34 x 34 x 3cm
Wheat Bags Heating Pad (Squares)
(34cm) - Navy Blue Polycotton Fabric
FGWHE003(S34)POC-BNA
5056656329823
£17.99
1,100 g
34 x 34 x 3cm
Wheat Bags Heating Pad (Squares)
(34cm) - Navy Blue Polycotton Fabric (Personalised with Text)
FGWHE003(S34)POC-BNA(P)
5056656330171
£20.94
1,100 g
34 x 34 x 3cm
Wheat Bags Heating Pad (Squares)
(34cm) - Navy Blue Polycotton Fabric Removable Cover
FGWHE003(S34)POC-BNA(RC)
5056656330508
£30.49
1,212 g
34 x 34 x 3cm
Wheat Bags Heating Pad (Squares)
(34cm) - Navy Blue Polycotton Fabric Removable Cover (Personalised with Text)
FGWHE003(S34)POC-BNA(RC)(P)
5056656331253
£33.44
1,212 g
34 x 34 x 3cm
Wheat Bags Heating Pad (Squares)
(34cm) - Purple Fleece Fabric Scented (Organic Lavender Buds)
FGWHE003(S34)FLE-PUR(LAV)
5056656330751
£18.99
1,101 g
34 x 34 x 3cm
Wheat Bags Heating Pad (Squares)
(34cm) - Purple Fleece Fabric Scented (Organic Lavender Buds) (Personalised with Text)
FGWHE003(S34)FLE-PUR(LAV)(P)
5056656331475
£21.94
1,101 g
34 x 34 x 3cm
Wheat Bags Heating Pad (Squares)
(34cm) - Purple Fleece Fabric Scented (Organic Lavender Buds) Removable Cover
FGWHE003(S34)FLE-PUR(LAV)(RC)
5056656331802
£31.49
1,213 g
34 x 34 x 3cm
Wheat Bags Heating Pad (Squares)
(34cm) - Purple Fleece Fabric Scented (Organic Lavender Buds) Removable Cover (Personalised with Text)
FGWHE003(S34)FLE-PUR(LAV)(RC)(P)
5056656332229
£34.44
1,213 g
34 x 34 x 3cm
Wheat Bags Heating Pad (Squares)
(34cm) - Tartan Fleece Fabric Scented (Organic Lavender Buds)
FGWHE003(S34)FLE-TA01(LAV)
5056656331079
£20.99
1,101 g
34 x 34 x 3cm
Wheat Bags Heating Pad (Squares)
(34cm) - Tartan Fleece Fabric Scented (Organic Lavender Buds) (Personalised with Text)
FGWHE003(S34)FLE-TA01(LAV)(P)
5056656331833
£23.94
1,101 g
34 x 34 x 3cm
Wheat Bags Heating Pad (Squares)
(34cm) - Tartan Fleece Fabric Scented (Organic Lavender Buds) Removable Cover
FGWHE003(S34)FLE-TA01(LAV)(RC)
5056656332151
£33.49
1,213 g
34 x 34 x 3cm
Wheat Bags Heating Pad (Squares)
(34cm) - Tartan Fleece Fabric Scented (Organic Lavender Buds) Removable Cover (Personalised with Text)
FGWHE003(S34)FLE-TA01(LAV)(RC)(P)
5056656332519
£36.44
1,213 g
34 x 34 x 3cm
Wheat Bags Heating Pad (Squares)
(34cm) - Natural Cotton Fabric Scented (Organic Lavender Buds)
FGWHE003(S34)COT-NAT(LAV)
5056656330775
£18.99
1,101 g
34 x 34 x 3cm
Wheat Bags Heating Pad (Squares)
(34cm) - Natural Cotton Fabric Scented (Organic Lavender Buds) (Personalised with Text)
FGWHE003(S34)COT-NAT(LAV)(P)
5056656331499
£21.94
1,101 g
34 x 34 x 3cm
Wheat Bags Heating Pad (Squares)
(34cm) - Natural Cotton Fabric Scented (Organic Lavender Buds) Removable Cover
FGWHE003(S34)COT-NAT(LAV)(RC)
5056656331857
£31.49
1,213 g
34 x 34 x 3cm
Wheat Bags Heating Pad (Squares)
(34cm) - Natural Cotton Fabric Scented (Organic Lavender Buds) Removable Cover (Personalised with Text)
FGWHE003(S34)COT-NAT(LAV)(RC)(P)
5056656332243
£34.44
1,213 g
34 x 34 x 3cm
Wheat Bags Heating Pad (Squares)
(34cm) - Navy Blue Cotton Fabric Scented (Organic Lavender Buds)
FGWHE003(S34)COT-BNA(LAV)
5056656330799
£18.99
1,101 g
34 x 34 x 3cm
Wheat Bags Heating Pad (Squares)
(34cm) - Navy Blue Cotton Fabric Scented (Organic Lavender Buds) (Personalised with Text)
FGWHE003(S34)COT-BNA(LAV)(P)
5056656331512
£21.94
1,101 g
34 x 34 x 3cm
Wheat Bags Heating Pad (Squares)
(34cm) - Navy Blue Cotton Fabric Scented (Organic Lavender Buds) Removable Cover
FGWHE003(S34)COT-BNA(LAV)(RC)
5056656331871
£31.49
1,213 g
34 x 34 x 3cm
Wheat Bags Heating Pad (Squares)
(34cm) - Navy Blue Cotton Fabric Scented (Organic Lavender Buds) Removable Cover (Personalised with Text)
FGWHE003(S34)COT-BNA(LAV)(RC)(P)
5056656332267
£34.44
1,213 g
34 x 34 x 3cm
Wheat Bags Heating Pad (Squares)
(34cm) - Purple Cotton Fabric Scented (Organic Lavender Buds)
FGWHE003(S34)COT-PUR(LAV)
5056656330805
£18.99
1,101 g
34 x 34 x 3cm
Wheat Bags Heating Pad (Squares)
(34cm) - Purple Cotton Fabric Scented (Organic Lavender Buds) (Personalised with Text)
FGWHE003(S34)COT-PUR(LAV)(P)
5056656331529
£21.94
1,101 g
34 x 34 x 3cm
Wheat Bags Heating Pad (Squares)
(34cm) - Purple Cotton Fabric Scented (Organic Lavender Buds) Removable Cover
FGWHE003(S34)COT-PUR(LAV)(RC)
5056656331888
£31.49
1,213 g
34 x 34 x 3cm
Wheat Bags Heating Pad (Squares)
(34cm) - Purple Cotton Fabric Scented (Organic Lavender Buds) Removable Cover (Personalised with Text)
FGWHE003(S34)COT-PUR(LAV)(RC)(P)
5056656332274
£34.44
1,213 g
34 x 34 x 3cm
Wheat Bags Heating Pad (Squares)
(34cm) - Chocolate Luxury Cotton Fabric Scented (Organic Lavender Buds)
FGWHE003(S34)COL-BMO(LAV)
5056656330836
£23.99
1,101 g
34 x 34 x 3cm
Wheat Bags Heating Pad (Squares)
(34cm) - Chocolate Luxury Cotton Fabric Scented (Organic Lavender Buds) (Personalised with Text)
FGWHE003(S34)COL-BMO(LAV)(P)
5056656331550
£26.94
1,101 g
34 x 34 x 3cm
Wheat Bags Heating Pad (Squares)
(34cm) - Chocolate Luxury Cotton Fabric Scented (Organic Lavender Buds) Removable Cover
FGWHE003(S34)COL-BMO(LAV)(RC)
5056656331918
£36.49
1,213 g
34 x 34 x 3cm
Wheat Bags Heating Pad (Squares)
(34cm) - Chocolate Luxury Cotton Fabric Scented (Organic Lavender Buds) Removable Cover (Personalised with Text)
FGWHE003(S34)COL-BMO(LAV)(RC)(P)
5056656332304
£39.44
1,213 g
34 x 34 x 3cm
Wheat Bags Heating Pad (Squares)
(34cm) - Gothic Blue Luxury Cotton Fabric Scented (Organic Lavender Buds)
FGWHE003(S34)COL-BGO(LAV)
5056656330843
£23.99
1,101 g
34 x 34 x 3cm
Wheat Bags Heating Pad (Squares)
(34cm) - Gothic Blue Luxury Cotton Fabric Scented (Organic Lavender Buds) (Personalised with Text)
FGWHE003(S34)COL-BGO(LAV)(P)
5056656331567
£26.94
1,101 g
34 x 34 x 3cm
Wheat Bags Heating Pad (Squares)
(34cm) - Gothic Blue Luxury Cotton Fabric Scented (Organic Lavender Buds) Removable Cover
FGWHE003(S34)COL-BGO(LAV)(RC)
5056656331925
£36.49
1,213 g
34 x 34 x 3cm
Wheat Bags Heating Pad (Squares)
(34cm) - Gothic Blue Luxury Cotton Fabric Scented (Organic Lavender Buds) Removable Cover (Personalised with Text)
FGWHE003(S34)COL-BGO(LAV)(RC)(P)
5056656332311
£39.44
1,213 g
34 x 34 x 3cm
Wheat Bags Heating Pad (Squares)
(34cm) - Natural Organic Cotton Scented (Organic Lavender Buds)
FGWHE003(S34)COO-NAT(LAV)
5056656330850
£25.99
1,101 g
34 x 34 x 3cm
Wheat Bags Heating Pad (Squares)
(34cm) - Natural Organic Cotton Scented (Organic Lavender Buds) (Personalised with Text)
FGWHE003(S34)COO-NAT(LAV)(P)
5056656331574
£28.94
1,101 g
34 x 34 x 3cm
Wheat Bags Heating Pad (Squares)
(34cm) - Natural Organic Cotton Scented (Organic Lavender Buds) Removable Cover
FGWHE003(S34)COO-NAT(LAV)(RC)
5056656331932
£38.49
1,213 g
34 x 34 x 3cm
Wheat Bags Heating Pad (Squares)
(34cm) - Natural Organic Cotton Scented (Organic Lavender Buds) Removable Cover (Personalised with Text)
FGWHE003(S34)COO-NAT(LAV)(RC)(P)
5056656332328
£41.44
1,213 g
34 x 34 x 3cm
Wheat Bags Heating Pad (Squares)
(34cm) - Navy Blue Polycotton Fabric Scented (Organic Lavender Buds)
FGWHE003(S34)POC-BNA(LAV)
5056656330867
£18.99
1,101 g
34 x 34 x 3cm
Wheat Bags Heating Pad (Squares)
(34cm) - Navy Blue Polycotton Fabric Scented (Organic Lavender Buds) (Personalised with Text)
FGWHE003(S34)POC-BNA(LAV)(P)
5056656331581
£21.94
1,101 g
34 x 34 x 3cm
Wheat Bags Heating Pad (Squares)
(34cm) - Navy Blue Polycotton Fabric Scented (Organic Lavender Buds) Removable Cover
FGWHE003(S34)POC-BNA(LAV)(RC)
5056656331949
£31.49
1,213 g
34 x 34 x 3cm
Wheat Bags Heating Pad (Squares)
(34cm) - Navy Blue Polycotton Fabric Scented (Organic Lavender Buds) Removable Cover (Personalised with Text)
FGWHE003(S34)POC-BNA(LAV)(RC)(P)
5056656332335
£34.44
1,213 g
34 x 34 x 3cm
Wheat Bags Heating Pad (Squares)
(24cm) - Purple Fleece Fabric
FGWHE003(S24)FLE-PUR
5056656329847
£12.99
900 g
24 x 24 x 2cm
Wheat Bags Heating Pad (Squares)
(24cm) - Purple Fleece Fabric (Personalised with Text)
FGWHE003(S24)FLE-PUR(P)
5056656330195
£15.94
900 g
24 x 24 x 2cm
Wheat Bags Heating Pad (Squares)
(24cm) - Purple Fleece Fabric Removable Cover
FGWHE003(S24)FLE-PUR(RC)
5056656330522
£25.49
1,012 g
24 x 24 x 2cm
Wheat Bags Heating Pad (Squares)
(24cm) - Purple Fleece Fabric Removable Cover (Personalised with Text)
FGWHE003(S24)FLE-PUR(RC)(P)
5056656331277
£28.44
1,012 g
24 x 24 x 2cm
Wheat Bags Heating Pad (Squares)
(24cm) - Natural Cotton Fabric
FGWHE003(S24)COT-NAT
5056656329885
£12.99
900 g
24 x 24 x 2cm
Wheat Bags Heating Pad (Squares)
(24cm) - Natural Cotton Fabric (Personalised with Text)
FGWHE003(S24)COT-NAT(P)
5056656330232
£15.94
900 g
24 x 24 x 2cm
Wheat Bags Heating Pad (Squares)
(24cm) - Natural Cotton Fabric Removable Cover
FGWHE003(S24)COT-NAT(RC)
5056656330591
£25.49
1,012 g
24 x 24 x 2cm
Wheat Bags Heating Pad (Squares)
(24cm) - Natural Cotton Fabric Removable Cover (Personalised with Text)
FGWHE003(S24)COT-NAT(RC)(P)
5056656331314
£28.44
1,012 g
24 x 24 x 2cm
Wheat Bags Heating Pad (Squares)
(24cm) - Navy Blue Cotton Fabric
FGWHE003(S24)COT-BNA
5056656338276
£12.99
900 g
24 x 24 x 2cm
Wheat Bags Heating Pad (Squares)
(24cm) - Navy Blue Cotton Fabric (Personalised with Text)
FGWHE003(S24)COT-BNA(P)
5056656330256
£15.94
900 g
24 x 24 x 2cm
Wheat Bags Heating Pad (Squares)
(24cm) - Navy Blue Cotton Fabric Removable Cover
FGWHE003(S24)COT-BNA(RC)
5056656330614
£25.49
1,012 g
24 x 24 x 2cm
Wheat Bags Heating Pad (Squares)
(24cm) - Navy Blue Cotton Fabric Removable Cover (Personalised with Text)
FGWHE003(S24)COT-BNA(RC)(P)
5056656331338
£28.44
1,012 g
24 x 24 x 2cm
Wheat Bags Heating Pad (Squares)
(24cm) - Purple Cotton Fabric
FGWHE003(S24)COT-PUR
5056656329908
£12.99
900 g
24 x 24 x 2cm
Wheat Bags Heating Pad (Squares)
(24cm) - Purple Cotton Fabric (Personalised with Text)
FGWHE003(S24)COT-PUR(P)
5056656330263
£15.94
900 g
24 x 24 x 2cm
Wheat Bags Heating Pad (Squares)
(24cm) - Purple Cotton Fabric Removable Cover
FGWHE003(S24)COT-PUR(RC)
5056656330621
£25.49
1,012 g
24 x 24 x 2cm
Wheat Bags Heating Pad (Squares)
(24cm) - Purple Cotton Fabric Removable Cover (Personalised with Text)
FGWHE003(S24)COT-PUR(RC)(P)
5056656331345
£28.44
1,012 g
24 x 24 x 2cm
Wheat Bags Heating Pad (Squares)
(24cm) - Chocolate Luxury Cotton Fabric
FGWHE003(S24)COL-BMO
5056656329939
£17.99
900 g
24 x 24 x 2cm
Wheat Bags Heating Pad (Squares)
(24cm) - Chocolate Luxury Cotton Fabric (Personalised with Text)
FGWHE003(S24)COL-BMO(P)
5056656330294
£20.94
900 g
24 x 24 x 2cm
Wheat Bags Heating Pad (Squares)
(24cm) - Chocolate Luxury Cotton Fabric Removable Cover
FGWHE003(S24)COL-BMO(RC)
5056656330652
£30.49
1,012 g
24 x 24 x 2cm
Wheat Bags Heating Pad (Squares)
(24cm) - Chocolate Luxury Cotton Fabric Removable Cover (Personalised with Text)
FGWHE003(S24)COL-BMO(RC)(P)
5056656331376
£33.44
1,012 g
24 x 24 x 2cm
Wheat Bags Heating Pad (Squares)
(24cm) - Gothic Blue Luxury Cotton Fabric
FGWHE003(S24)COL-BGO
5056656329946
£17.99
900 g
24 x 24 x 2cm
Wheat Bags Heating Pad (Squares)
(24cm) - Gothic Blue Luxury Cotton Fabric (Personalised with Text)
FGWHE003(S24)COL-BGO(P)
5056656330300
£20.94
900 g
24 x 24 x 2cm
Wheat Bags Heating Pad (Squares)
(24cm) - Gothic Blue Luxury Cotton Fabric Removable Cover
FGWHE003(S24)COL-BGO(RC)
5056656330669
£30.49
1,012 g
24 x 24 x 2cm
Wheat Bags Heating Pad (Squares)
(24cm) - Gothic Blue Luxury Cotton Fabric Removable Cover (Personalised with Text)
FGWHE003(S24)COL-BGO(RC)(P)
5056656331383
£33.44
1,012 g
24 x 24 x 2cm
Wheat Bags Heating Pad (Squares)
(24cm) - Natural Organic Cotton
FGWHE003(S24)COO-NAT
5056656329953
£19.99
900 g
24 x 24 x 2cm
Wheat Bags Heating Pad (Squares)
(24cm) - Natural Organic Cotton (Personalised with Text)
FGWHE003(S24)COO-NAT(P)
5056656330317
£22.94
900 g
24 x 24 x 2cm
Wheat Bags Heating Pad (Squares)
(24cm) - Natural Organic Cotton Removable Cover
FGWHE003(S24)COO-NAT(RC)
5056656330676
£32.49
1,012 g
24 x 24 x 2cm
Wheat Bags Heating Pad (Squares)
(24cm) - Natural Organic Cotton Removable Cover (Personalised with Text)
FGWHE003(S24)COO-NAT(RC)(P)
5056656331390
£35.44
1,012 g
24 x 24 x 2cm
Wheat Bags Heating Pad (Squares)
(24cm) - Purple Fleece Fabric Scented (Organic Lavender Buds)
FGWHE003(S24)FLE-PUR(LAV)
5056656330911
£13.99
901 g
24 x 24 x 2cm
Wheat Bags Heating Pad (Squares)
(24cm) - Purple Fleece Fabric Scented (Organic Lavender Buds) (Personalised with Text)
FGWHE003(S24)FLE-PUR(LAV)(P)
5056656331635
£16.94
901 g
24 x 24 x 2cm
Wheat Bags Heating Pad (Squares)
(24cm) - Purple Fleece Fabric Scented (Organic Lavender Buds) Removable Cover
FGWHE003(S24)FLE-PUR(LAV)(RC)
5056656331963
£26.49
1,013 g
24 x 24 x 2cm
Wheat Bags Heating Pad (Squares)
(24cm) - Purple Fleece Fabric Scented (Organic Lavender Buds) Removable Cover (Personalised with Text)
FGWHE003(S24)FLE-PUR(LAV)(RC)(P)
5056656332359
£29.44
1,013 g
24 x 24 x 2cm
Wheat Bags Heating Pad (Squares)
(24cm) - Natural Cotton Fabric Scented (Organic Lavender Buds)
FGWHE003(S24)COT-NAT(LAV)
5056656330959
£13.99
901 g
24 x 24 x 2cm
Wheat Bags Heating Pad (Squares)
(24cm) - Natural Cotton Fabric Scented (Organic Lavender Buds) (Personalised with Text)
FGWHE003(S24)COT-NAT(LAV)(P)
5056656331673
£16.94
901 g
24 x 24 x 2cm
Wheat Bags Heating Pad (Squares)
(24cm) - Natural Cotton Fabric Scented (Organic Lavender Buds) Removable Cover
FGWHE003(S24)COT-NAT(LAV)(RC)
5056656332038
£26.49
1,013 g
24 x 24 x 2cm
Wheat Bags Heating Pad (Squares)
(24cm) - Natural Cotton Fabric Scented (Organic Lavender Buds) Removable Cover (Personalised with Text)
FGWHE003(S24)COT-NAT(LAV)(RC)(P)
5056656332397
£29.44
1,013 g
24 x 24 x 2cm
Wheat Bags Heating Pad (Squares)
(24cm) - Navy Blue Cotton Fabric Scented (Organic Lavender Buds)
FGWHE003(S24)COT-BNA(LAV)
5056656330973
£13.99
901 g
24 x 24 x 2cm
Wheat Bags Heating Pad (Squares)
(24cm) - Navy Blue Cotton Fabric Scented (Organic Lavender Buds) (Personalised with Text)
FGWHE003(S24)COT-BNA(LAV)(P)
5056656331697
£16.94
901 g
24 x 24 x 2cm
Wheat Bags Heating Pad (Squares)
(24cm) - Navy Blue Cotton Fabric Scented (Organic Lavender Buds) Removable Cover
FGWHE003(S24)COT-BNA(LAV)(RC)
5056656332052
£26.49
1,013 g
24 x 24 x 2cm
Wheat Bags Heating Pad (Squares)
(24cm) - Navy Blue Cotton Fabric Scented (Organic Lavender Buds) Removable Cover (Personalised with Text)
FGWHE003(S24)COT-BNA(LAV)(RC)(P)
5056656332410
£29.44
1,013 g
24 x 24 x 2cm
Wheat Bags Heating Pad (Squares)
(24cm) - Purple Cotton Fabric Scented (Organic Lavender Buds)
FGWHE003(S24)COT-PUR(LAV)
5056656330980
£13.99
901 g
24 x 24 x 2cm
Wheat Bags Heating Pad (Squares)
(24cm) - Purple Cotton Fabric Scented (Organic Lavender Buds) (Personalised with Text)
FGWHE003(S24)COT-PUR(LAV)(P)
5056656331703
£16.94
901 g
24 x 24 x 2cm
Wheat Bags Heating Pad (Squares)
(24cm) - Purple Cotton Fabric Scented (Organic Lavender Buds) Removable Cover
FGWHE003(S24)COT-PUR(LAV)(RC)
5056656332069
£26.49
1,013 g
24 x 24 x 2cm
Wheat Bags Heating Pad (Squares)
(24cm) - Purple Cotton Fabric Scented (Organic Lavender Buds) Removable Cover (Personalised with Text)
FGWHE003(S24)COT-PUR(LAV)(RC)(P)
5056656332427
£29.44
1,013 g
24 x 24 x 2cm
Wheat Bags Heating Pad (Squares)
(24cm) - Chocolate Luxury Cotton Fabric Scented (Organic Lavender Buds)
FGWHE003(S24)COL-BMO(LAV)
5056656331017
£18.99
901 g
24 x 24 x 2cm
Wheat Bags Heating Pad (Squares)
(24cm) - Chocolate Luxury Cotton Fabric Scented (Organic Lavender Buds) (Personalised with Text)
FGWHE003(S24)COL-BMO(LAV)(P)
5056656331734
£21.94
901 g
24 x 24 x 2cm
Wheat Bags Heating Pad (Squares)
(24cm) - Chocolate Luxury Cotton Fabric Scented (Organic Lavender Buds) Removable Cover
FGWHE003(S24)COL-BMO(LAV)(RC)
5056656332090
£31.49
1,013 g
24 x 24 x 2cm
Wheat Bags Heating Pad (Squares)
(24cm) - Chocolate Luxury Cotton Fabric Scented (Organic Lavender Buds) Removable Cover (Personalised with Text)
FGWHE003(S24)COL-BMO(LAV)(RC)(P)
5056656332458
£34.44
1,013 g
24 x 24 x 2cm
Wheat Bags Heating Pad (Squares)
(24cm) - Gothic Blue Luxury Cotton Fabric Scented (Organic Lavender Buds)
FGWHE003(S24)COL-BGO(LAV)
5056656331024
£18.99
901 g
24 x 24 x 2cm
Wheat Bags Heating Pad (Squares)
(24cm) - Gothic Blue Luxury Cotton Fabric Scented (Organic Lavender Buds) (Personalised with Text)
FGWHE003(S24)COL-BGO(LAV)(P)
5056656331741
£21.94
901 g
24 x 24 x 2cm
Wheat Bags Heating Pad (Squares)
(24cm) - Gothic Blue Luxury Cotton Fabric Scented (Organic Lavender Buds) Removable Cover
FGWHE003(S24)COL-BGO(LAV)(RC)
5056656332106
£31.49
1,013 g
24 x 24 x 2cm
Wheat Bags Heating Pad (Squares)
(24cm) - Gothic Blue Luxury Cotton Fabric Scented (Organic Lavender Buds) Removable Cover (Personalised with Text)
FGWHE003(S24)COL-BGO(LAV)(RC)(P)
5056656332465
£34.44
1,013 g
24 x 24 x 2cm
Wheat Bags Heating Pad (Squares)
(24cm) - Natural Organic Cotton Scented (Organic Lavender Buds)
FGWHE003(S24)COO-NAT(LAV)
5056656331031
£20.99
901 g
24 x 24 x 2cm
Wheat Bags Heating Pad (Squares)
(24cm) - Natural Organic Cotton Scented (Organic Lavender Buds) (Personalised with Text)
FGWHE003(S24)COO-NAT(LAV)(P)
5056656331758
£23.94
901 g
24 x 24 x 2cm
Wheat Bags Heating Pad (Squares)
(24cm) - Natural Organic Cotton Scented (Organic Lavender Buds) Removable Cover
FGWHE003(S24)COO-NAT(LAV)(RC)
5056656332113
£33.49
1,013 g
24 x 24 x 2cm
Wheat Bags Heating Pad (Squares)
(24cm) - Natural Organic Cotton Scented (Organic Lavender Buds) Removable Cover (Personalised with Text)
FGWHE003(S24)COO-NAT(LAV)(RC)(P)
5056656332472
£36.44
1,013 g
24 x 24 x 2cm
Wheat Bags Heating Pad (Squares)