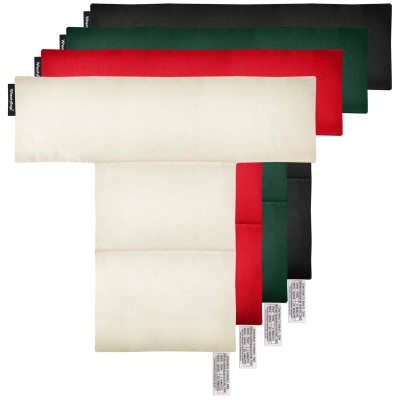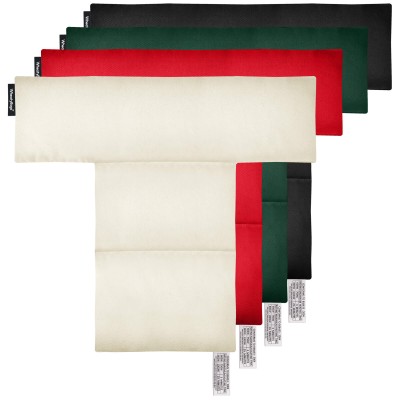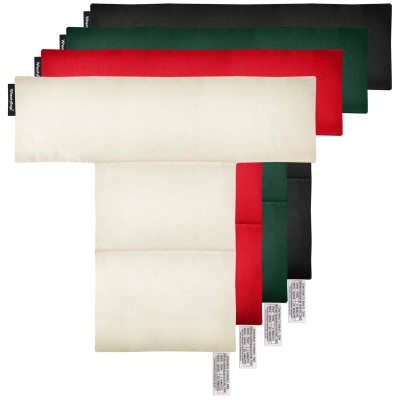 WheatyBags® Value Range Heat Pack (T-Shaped)
UK Made
Natural Filling
BS8433 : 2004
Description
This Wheat Bags Upper Neck and Back microwave heat pack is now available in our Value Range fabrics as one of the larger and most cost-effective heat packs.
Larger size heat pack.
T-Shaped to wrap around the neck and sit on top of the shoulders.
Warms the back area at the same time.
So large it can also be used anywhere on the body.
Trusted WheatyBags® UK Made brand.
NB Fabric and Colour will vary depending on stock availability at the time - See FAQ's.
Reviews
Well made
- Good sturdy fabric, does the job. (J, 20/08/23)
Wonderful WheatyBag!
- I bought this for my Dad. He has MND and it affects his neck muscles. In conjuction with starting physio sessions, he has been using this WheatyBag daily and not only enjoys the warm relaxation, but it seems to really help loosen his muscles. Over the last three to four weeks he now has greater range of movement and his neck gets less tired. It used to feel stiff and a little painful especially as the day went on, but it's much better now. The bag is comfortable, easy to use and has been perfectly durable so far. (Laura, 29/08/21)
Good relief for frozen shoulder pain
- Fast delivery, easy to use, good shape for wrapping over my shoulder and down my upper arm. It does feel quite heavy on my shoulder. I have even fallen asleep at night with it still on my shoulder a couple of times, so it must be doing a good job! Thanks (Ellen, 15/07/21)
Excellent
- Brilliant. Exactly what I needed (Susan, 29/12/20)
I like this!
- I have a lot of trouble with my neck and shoulders and this T shaped heat pack really gets to that awkward area between my shoulder blades in a way the standard shape doesn't. The neck section balances it nicely too so you can walk about without it falling off. (Jude Dornan, 10/12/20)
Totally Recommend
- This wheat bag is great for upper neck and back pain, it can also be used on other parts of the body due to the shape of it, totally recommend it. (Nicky, 10/12/20)
Excellent product - excellent value
- I am delighted with the T-shaped wheat bag - simple yet very effective design. Excellent value - I have used it every evening since I received it and have appreciated the benefits - also I am so pleased I added on the lavender. Thank-you (JenL, 13/10/20)
Very happy
- Order received very quickly. Good quality product, easy to use & bag retains the heat well. (Sharon D, 23/09/20)
Instructions
This product is entirely natural and easy to use. It is designed as a gentle warming or chilling product though it is EXTREMELY IMPORTANT to take great care not to over-heat or over-chill the product.
Please follow our heating and chilling instructions carefully and use your own judgment - if you are experiencing any discomfort from the pack then stop using immediately. If you want medical advice, please ask your Doctor.
GENERAL INSTRUCTIONS: Please take care heating this wheat filled product and be careful not to burn the contents inside. If you smell a burnt smell, the heat pack is best thrown away and a new one purchased.
Remove all tags and ensure the product is clean and dry before use.
Use the maximum heating guide (below) to determine the correct heating times.
Ensure all grilling / browning facilities are turned off and do not place near a direct heat source.
When first heated, the product will feel damp though this is quite normal and will stop after a few uses.
After this time we recommend placing a small cup of water in the microwave when heating.
In order to comply with BS8433 : 2004 we are obliged to tell you of the following.
WARNING - THIS PRODUCT CAN CAUSE BURNS.
AVOID PROLONGED DIRECT CONTACT WITH THE SKIN.
TAKE CARE WHEN REMOVING FROM THE MICROWAVE OVEN.
DO NOT INGEST CONTENTS.
DO NOT OVERHEAT.
FOR MICROWAVE USE ONLY.
HEATED PRODUCTS SHOULD NOT BE GIVEN TO CHILDREN.
MAXIMUM HEATING (AND CHILLING) TIMES FOR THE PRODUCT ARE ATTACHED TO THE PRODUCT BY SEWN-ON LABEL AND CARD SWING TAG WHICH SHOULD BE RETAINED FOR FUTURE REFERENCE.
ONLY REHEAT FROM ROOM TEMPERATURE.
DO NOT FOLD ITEM IN HALF TO HEAT.
HEAT WITHOUT REMOVABLE COVERS IF SUPPLIED WITH THIS ITEM.
SURFACE CLEAN WITH A DAMP CLOTH.
CARE INSTRUCTIONS
Do not wash the heat pack with the wheat inside.
Only clean this part with a damp cloth.
Optional removable covers if available for this product can be removed and cleaned in accordance with the washing instructions label on the cover.
Asthma Sufferers should be aware this product contains wheatgerm.
In the event of overheating, let the item stand in a safe place and do not touch until cooled.
Dispose of in the normal household waste if worn or damaged.
Store in a cool dry place.
Ensure that the microwave turntable can rotate freely.
TO USE COLD:
Wrap the pack in a plastic bag (to keep it clean).
Place in the FRIDGE or FREEZER for 1-3 hours.
Remove from plastic bag before use.
Be cautious and check your skin to avoid any possibility of freezer-burn and use a towel on your body with the pack on top to avoid direct contact with the skin.
DO NOT PLACE THIS ITEM IN THE FREEZER IF USING ON THE EYES.
MAXIMUM MICROWAVE HEATING TIMES FOR THIS PRODUCT: MAXIMUM HEATING (AND CHILLING) TIMES FOR THE PRODUCT ARE ATTACHED TO THE PRODUCT BY SEWN-ON LABEL AND CARD SWING TAG WHICH SHOULD BE RETAINED FOR FUTURE REFERENCE.
Please do not machine wash this product or get it wet. If it becomes marked or dirty, please take good care not to wet the inner contents and wipe clean with a damp cloth.
FAQs
How do the "Low Cost" or "Value" range heat bags differ to the standard range?
The Value Range heat packs from WheatyBags® are made from fabric and colours available at the time of manufacture though ALL the products are made to the same high standard from our brand. We use up fabrics left over from the main manufacture of other products from our sewing factory company and in our value range we simply don't offer you choice. Fabrics might be cotton, fleece, polycotton mixed fabrics and colours will vary depending on availability at that moment. It's a lucky-dip kind of product, or think of it as being very eco-friendly as we save wasting fabric cut-offs, though you are assured at all times of the WheatyBags® trusted brand manufacture standards.
Can I order a specific Fabric & Colour?
We offer a full range of fabric and colour choices in our standard and luxury range of WheatyBags® though just not on this value product. If you want a specific fabric or colour, have a look at All our Products or the "Related Products" below.
Are the Value Range heat packs safe to use?
Yes. All have been tested in the same way as our premium range and you can rest assured of the same safety standards used on all the products in the core WheatyBags® brand range.
Do these products come with heating instructions?
Yes. All instructions are on a sewn-on label and a card reminder label attached to the product in accordance with the safety standard guidance we follow.
Can the Value Range be personalised?
No.
Are there other options I can choose from in the Value Range products?
All options you have are shown within the product. No other options are available other than those shown online when ordering to keep matters as simple and as low-cost as possible.
Is the Lavender Organic?
Yes. We purchase Organic Lavender from our Grain & Seed Merchant in the UK and they have sourced genuine lavender buds for our heat packs. This is not a scent, we add the flower buds from Organic Lavender for the most exquisite fragrance.
How long should the heat pack be put into the microwave or chill in the freezer?
Please read the "Instructions" shown on our website for each Product as the heating and cooling instructions vary by product. All our heat packs have been safety tested and come with instructions labels sewn into the product itself and on a card attachment to be retained for safe reference.
Is it normal that my heat pack feels damp when microwaving?
Yes. When you first microwave the heat pack the contents inside will feel damp. This will subside after a few heating cycles and is quite normal especially if you have selected the (polyester) fleece fabric covers. Cotton is much more absorbent and breathable and will lessen the initial damp effect. Do not overheat the wheat bag to attempt to dry it out.
What happens if I microwave the heat pack for too long or it burns?
Please be very careful not to overheat the heat pack. If overheated they can catch fire which is very dangerous. Overheating can be caused by food or contamination from your microwave so it is important that the microwave is clean before you heat the product.
If overheating occurs, remove it from the microwave and put it in a safe place while it cools (perhaps outside). Do not use again until the product has returned to room temperature. If it is giving off a 'burnt' smell or has small burn marks on the fabric, you have overheated the product and it must be disposed of being careful that the product is not actually burning. A replacement product would then have to be purchased.
Can I wash my Heat Pack?
Do not place the full heat pack in the washing machine or get the contents wet as it can damage the product. It is advised that you surface clean with a damp cloth or sponge to clean the product. If the product becomes wet then it needs to be dried out before the wheat inside germinates and we suggest placing the product in a warm room to dry at room temperature. If the wheat inside does germinate then we do not recommend that you use the wheat bag.
Can I purchase removable covers that can be washed for my heat pack?
On most of our products, you will see the option to purchase a removable cover for cleaning. If this is shown as an option then this cover is removable from the main heat pack and can be washed with like colours in the washing machine or by hand at a low temperature of 30 to 40 degrees.
Is it possible to warm the heat pack other than the microwave?
No. Our heat packs are safety tested to be exclusively heated in a microwave.
How do I fit a larger heat pack in my small microwave?
Some of our products are larger when flat than the size of smaller microwaves. It is ok to "loosley scrunch up" the heat pack lightly to fit into the microwave but is important not to fold the pack in half tightly as this can create hot spots when heating.
Are these heat packs suitable for young children?
No. We do not recommend that heat packs are given the very young children under the age of 3 years old. Adult supervision should always be provided and should only be heated by an adult with great care.
Are these products a medical product?
No. Clear Prospects Ltd manufactures WheatyBags® microwave heat packs which have been tested to safety standard BS8433:2004. We are not Doctors and our products are not medical products (our heat packs are simple microwave heat packs that provide warmth and comfort). If you are unsure about their use, we recommend you consult your doctor before using heat packs in general.
Delivery
The information below is for guidance. Actual delivery costs and dates depend on the delivery address, weight and time your order is placed. Cut-off time for Overnight Orders is 12 noon.
| Price | Method | Manufacture Time | Delivery Time | Est. Delivery Date |
| --- | --- | --- | --- | --- |
| £4.99 | 2nd Class (Tracked) | 0-3 Days | 2-3 Days | Mon 11 Dec - Fri 15 Dec |
| £7.99 | 1st Class (Tracked) | 0-3 Days | 1-2 Days | Fri 8 Dec - Thu 14 Dec |
| £13.54 | DHL Courier (Economy M-F Pre 6pm) | 0-3 Days | 2-3 Days | Mon 11 Dec - Fri 15 Dec |
| £16.99 | Royal Mail Special Delivery (Overnight Mon-Sat Pre 1pm) | Tomorrow | Next Day (Mon-Sat) | Mon 11 Dec |
More Information
| | |
| --- | --- |
| Despatch | 0-3 Days (Made to Order) or Upgrade for Overnight Delivery at Checkout |
| Brand | WheatyBags® |
| RRP | £15.00 |
| Filling | Wheat, Optional Lavender |
| Country of Origin | United Kingdom |
| SKU | FGWHE011(T43x39)MVA-MIX |
| Gtin | 5056656337613 |
| Tariff Code | 1001912020 |
| Tariff Description | Heat Pack - Common Wheat |
| Product Weight | 1,250 g |
| Product Dimensions | 43 x 39 x 2.5cm |
Product Options
Size
Approx. 43cm x 39cm
Fabric
Varied
Fabric Colour
from Stock Available
Aroma (Click to Select)
Unscented, Organic Lavender Buds +
Product Type
Wheat Bag
Warmers For > Microwavable Heating Pad
heat pack
microwave heat pack
large heat pad

WheatyBags® Value Range Heat Pack (T-Shaped)
(43cm x 39cm) (Varied Colours from Fabrics Available)
FGWHE011(T43x39)MVA-MIX
5056656337613
£15.00
1,250 g
43 x 39 x 2.5cm
WheatyBags® Value Range Heat Pack (T-Shaped)
(43cm x 39cm) (Varied Colours from Fabrics Available) Scented (Organic Lavender Buds)
FGWHE011(T43x39)MVA-MIX(LAV)
5060089255819
£16.00
1,251 g
43 x 39 x 2.5cm
WheatyBags® Value Range Heat Pack (T-Shaped)