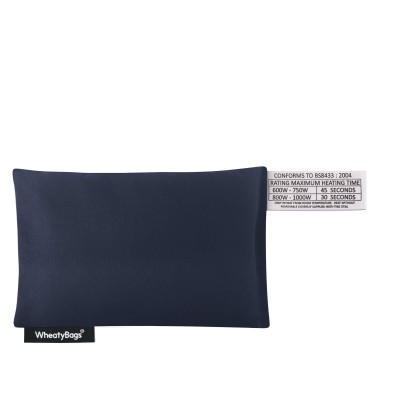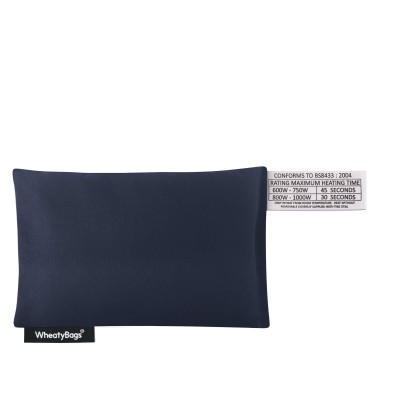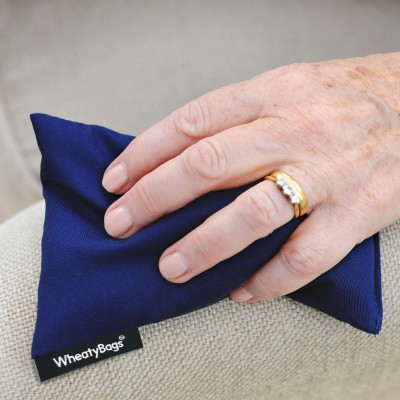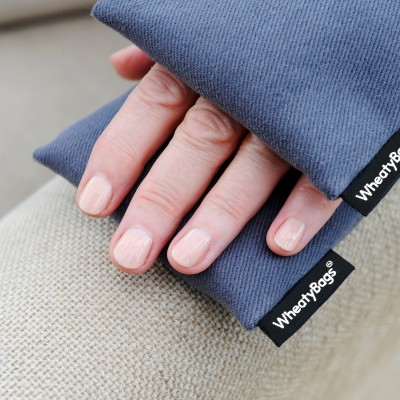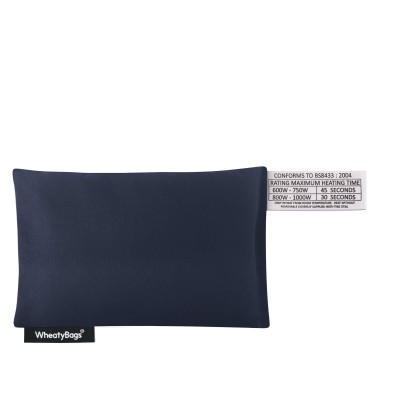 Wheat Bags Small Heat Pack
UK Made
BS8433 : 2004
Natural Filling
Organic Options *
Description
Wheat Bag Small Rectangle is a smaller sized microwave heat pack for natural soothing localised warmth & comfort.
BS8433 Safety Tested Heat Pack.
Premium quality fabric.
Optional lavender scented or unscented.
Trusted WheatyBags® UK Made brand.
We have many fabrics and colour choices available to match the customers preference and the option of having your own name or phrase printed on it gives a real personal feel.
This item comes as a twin pack so it's perfect to share, have one for each hand or maybe just keep one for spare. Be it for just to keep warm on a chilly morning, the WheatBags® small wheat bag could be just what you need.
Heat loss During Testing
When heated to the recommended guidelines (at 1000w), we tested the product fully and found the following:
The Hand and Face hot pack reached a maximum 53 degrees which is a lovely comfortable warmth.
That it retained a useful heat for an hour depending on the conditions of use.
After 1 heating cycle and 1 hours of continual use, this microwave heat pack had only lost 40% of its peak temperature heat which we consider a very good length of time for such a small item.
Reviews
Excellent product
- I brought 2 of the small bags, they are fantastic, extremely well made, the fabric is lovely. They heat up in 45 secs and the heat lasts a good while. Extremely happy with purchase. (Helen , 31/10/23)
Small wheat bags
- Perfect for applying heat to synus areas (Chrissie, 12/09/23)
Wheaty bags
- Good size for shoulder/ lower spine. Certainly eased pain. Happy with product. (Joanne D, 08/05/22)
Quick delivery
- Great value and quick delivery. I love the instruction on the label! (SB, 13/06/21)
Lovely quality.
- The material is lovely quality. Perfect hand warmers for my daughter when she goes for a walk. (Ben, 23/03/21)
What it says on package
- Good product , smells lovely (Carol Edgar, 17/03/21)
Great product
- Bought these for a colleague and they are superb. Lovely material, great quality finish, and they do the job they are designed to do. Would definitely recommend to others, in fact I already have.5 stars (Colin A, 03/03/21)
Excellent
- Very happy with my purchase! Excellent quality, thank you (Samantha, 03/03/21)
Did the job!
- Very worthwhile purchase. Holds heat and perfect for soothing earache or even lower back pain. Highly recommended (Cura, 20/02/21)
Hot Hands
- Very helpful (Brian, 12/02/21)
Donation to hospital.
- Parchased these wheaty bags to donate to local hospital cancer ward. They were very grateful. They will be put to good use. Will order some more in the coming year. Thanks. (Ravinder Chana, 26/12/20)
Hand warmers
- These little bags give out just the right amount of heat to help with my Raynaud's when I walk the dogs in the winter. I just pop them in my coat pockets and once the dogs are off the leash I can put my hands in my pockets. Probably good for watching football as well but Covid means I haven't got along this season. (Raynaud's sufferer, 22/12/20)
Very good
- The size is perfect for both my hand and my daughters shoulder. (J LEWIS, 19/12/20)
Perfect for my cold hands
- Lovely convenient way to warm up my very cold hands, I love them! (Trish Collett, 14/12/20)
Perfect for my cold hands
- I love these wheaty bags, they are perfect for my cold hands. (Trish Collett, 12/12/20)
Neat and functional
- I was happy to find a custom shop that would allow me to pick exactly what I was looking for. The materials are high quality and it is a great product. (Kenton, 04/12/20)
Great
- Very well made, effective and useful, I am very pleased with them. (JPM, 23/10/20)
Small but perfectly formed
- Just right for helping to relieve neuralgia pain on the side of the face. handy having a back-up pack. (Jane, 17/08/20)
Mrs
- I brought these wheat bags for my grand daughter to take to Uni in September, so that she has a hot bag and a cold pack should she need it. They look very pretty. (Jenny, 11/08/20)
Just right... In every way!
- Fast delivery and great price for a pain relief product in natural form. Excellent customer service and top quality items. (Tracy, 05/08/20)
Small wheaty bags great for hands
- These are the perfect size to use to relieve aching arthritis in the wrist and fingers. Delivery was swift and the quality of the wheaty bags is excellent. I will probably order different sizes! (LibbyD, 21/07/20)
Just what the doctor ordered
- Having been diagnosed with Carpel tunnel syndrome- these Wheaty bags are just perfect for hot and cold therapy to ease symptons. Heating one in microwave and cooling the other one in freezer. Extremely well made. (Yvonne, 21/07/20)
Perfect size
- As a follow up to a TMJ op I was advised by my surgeon to apply heat to my jaw. These are just the right size and do the job perfectly. (Emma, 17/07/20)
Wheat bags OK
- My daughter uses them cold from the freezer to cool her head when she has a migraine. She likes them and finds them effective. (Sue, 13/07/20)
Excellent quality
- Handy sized bags for targeted relief - like the fact that there are two in a pack as I use these primarily for sports injury relief, so one can be in the freezer while I'm using the other. (Andy, 11/07/20)
Great to use
- Lovely wheat pillows, smell great, sturdy bag, great to use. (DD, 08/07/20)
small wheat bags
- The small bags fit well into the pockets on a shoulder support. They are excellent- providing a great deal of comfort & increasing the suppports effectiveness (Helen, 08/07/20)
Lovely
- Nice and lovely bright colours (tartan especially) on offer and very handy for use anywhere really. Been using it for years and they do last a while. (nishil, 02/07/20)
lovely little wheatbags
- I bought 4 of these wheat bags. As I have problems with a lot of my joints I can use them in different places, they are ideal for what I wanted and they help relax the joint pain. As I use them all the time they no longer smell of lavender. (Linny, 01/07/20)
small heat pads
- Bought these for my sister. She found them very good for all her aches and pains. Also the shoulder heat pad was beneficial. (May, 30/06/20)
Great product
- I use these for a bad back and find them very useful. I gave one to my 90 year old mother and she also finds it helps aching joints. (Elaine R, 30/06/20)
Wheatybags
- bought for my husband who uses them a lot as he's always cold and I've used them for muscle ache, really handy to have! (WD, 29/06/20)
Perfect for bowls
- As keen lawn bowlers mychusband and granddaughter know the difference it makes to the game if their bowls are not too cold. These little bags are perfect to pop in the bowls bag when travelling to a match. (Bizzong, 28/06/20)
Best friend
- Absolutely love them.so does my daughter. Heat up to snuggle on sofa. Espeacilly good if aches or pains. (Eileen, 27/06/20)
Wheaty bags
- Excellent quality. Highly recommend (Bob, 26/06/20)
my Granny loved this
- My Granny can't lift heavy items so this smaller bean bag was perfect for her to lift and use... she said it really helped her sort shoulder (Liz, 26/06/20)
Small rectangular wheatbags
- I was advised to alternate heat and cold against my right hip.A large bag of frozen peas and then two small rectangular wheat bags heated in the microwave met the requirements. It would have been easier to have had a larger single rectangular wheatbag, but nevertheless the bags were effective and were quick to heat. A useful buy. (Barbara, 24/06/20)
Excellent product
- These are great for smaller areas that need heat applied. I use mine daily and it's showing no signs of wear. Great value and well made. (Debburnett , 19/06/20)
Easy and quick
- 30secs in microwave, then into sports shoes before we go out means that we have nice warm feet in the freezing sports hall. Easy and quick to make a great improvement. (ValW, 16/06/20)
Easily heated in the microwave and comfortable
- I used these for my dog suffering an acute exacerbation of joint pain and swelling . Easily heated in the microwave and comfortable to place on the dogs affected limb (Moya, 12/06/20)
David
- Ideal for my Wife, perfect size (David , 10/06/20)
debt56
- Have used Wheatybags for many years and wouldn't consider buying other brands. I wake with a painful neck and shoulders so use my Wheatybags every day. I know that my pain will soon ease. Highly recommended. (debt56, 10/06/20)
Paul Brennan
- Did the job. Now pain free!! (Paul Brennan, 07/06/20)
DrewD
- These were bought as adjustable rests for a photographic camera - in some locations it isn't possible to use a tripod and there is the need for adjustable levelling while resting the camera on a surface. They also work very nicely as heat bags. They are very nice quality for resting a reasonably expensive camera on. (DrewD, 04/06/20)
Hand held heatybags
- Compact size and easy to handle. (Lexy)
Small warmers
- Just ideal for my needs, excellent products and they do what they say, heat lasts a good hour, excellent. I will be buying some more (Frank Wilson)
WheatyBags are great
- Great service and a great product (Barb)
Eases the pain!
- I suffer from Dupuytrens Contracture in my left hand but this bag gives me relief from the pain. I use it a lot as I do not like filling myself with pain killers etc. Would recommend its use for any strains or joint pains. (Chalfont Lad)
No more hot water bottles
- I live in Spain and sent for the Wheatybags to help with jaw pain. My local Parafarmacia had never heard of them so I will show them in the hope that more orders will be forthcoming. Easy to use, does the job and no more boiling kettles (Ann Kenny)
Small wheatybag
- Just the right size for neck/jaw problems. Very good cover and quick to heat. (anonymous)
Soothing
- Very comforting for arthritic thump joints,kids love them as bean bags balancing them on their heads (Anne)
great for aches and pains, smells beautiful!
- Really easy to use, great quality and the lavender scent is just gorgeous (kelly)
I love my hands and face wheat bag
- I am very happy with my wheat bag. My hands won' be cold any more. Getting one as an extra alowing me to have one bag at home and second one at work. (Anna)
Quality comes in small packages
- Applying warmth to an aching jaw recommended by dentist. Although using a warmed Wheatybag may not cure the problem, it is certainly a comforting treatment and soothes the area gently. I chose the 'fleece'option which is soft and also excellent for warming your hands when the temperature drops. Excellent communication and service. (Scambs)
WheatyBags
- Perfect. Is a real comfort to my 3 month old grandson when he has a tummy ache. (Tina sparkes)
Blissful!
- I bought two hand and face Wheatybags scented with lavender for my stiff and aching neck and they do their job perfectly! They retain the heat for ages, the aroma of lavender is calming and the soft cushions ease the pain within minutes...they are really cosy. (Eileen)
Heat pad
- Really good heat pad and stays longer hotter then others I have had and used for my face. (Jan)
My husband is pleased with this purchase but it
- Excellent perfect for arthritis in the hands (Barbara Ellis)
Comforting and useful for Raynuads Pain.
- These little bags have become very valuable in my attempts to help my hands cope with Raynaud's. They are so soft and light and the heat just gently warms my frozen hands and eases the pain. I don't know if the Lavender has any pain healing properties but it smells lovely as it permeates through to everything! I have not had an ear-ache or neuralgia for a while but I will be grabbing one of these when I do! (Harrietbelle)
replacement wheat bag
- very good quality and price. Used as a replacement for my little elderly dogs bed which has a compartment for a wheat bag...but unfortunately the original got damaged. After approaching the pet shop where I purchased the dog bed and finding that they didn't sell replacements....I contacted Wheaty Bags and found them helpful and knowledgable (fran cooke)
Soothing heat
- So far the pad helps and hand is not so painful. (Ronat28)
small, but hits the spot!
- My 94 year old Mum is now on her third set of these handy warmers in different colours. Having recently purchased her new pink ones for her, my wife fell and pulled a ligament so she has been 'road testing' them. Works wonders! (anonymous)
Bought as a present
- I have bought the hand wheaty bags as a present for a friend who has bad arthritis in her hands. I was very impressed with your service. (Wilma Henderson)
love these for my cold hands
- I suffer from Raynaud's these hand warmers are great staff very helpful when I phoned in my order thank you. (female)
Lovely little cushions
- Bought one for me and one for my dog for his sore leg. They are really lovely to hold on a cold night. Very pleased with the purchase. (JuliaP)
Lovely and snuggly
- I bought the WheatyBags because they were recommended by my Consultant for facial pain. They have helped a lot and my husband also uses them to lessen the pain from his Raynaud's problem. A good product. (Gill Dorchester)
Warm and Comforting
- The Wheaty Bags offer a warm comforting solution to easing aches and pains. Simple, effective and flexible to use they provide instant targeted relief. (Anne)
Getting set for winter
- My daughter popped the handwarmers in her pocket last night and had a really cosy walk home. (Linnie)
My lad loves it
- Excellent product and service. (Katrina)
Soothing and wonderful smell of lavender
- I bought these to help with blocked sinuses and ears, a real treat last thing at night and the scent of lavender is so restful. (Susan Milnes)
Just the Job
- These wheaty bags are really great for my arthritic hands - just the job and would highly recommend them for anyone in pain. (Pauline)
Bought one got another one free!
- Very swift service with email prompts to show progress. Good product.... Two for the price of one. (B)
Impressed with service and product
- Excellent value for money and just right for the small of my back when the muscles there need a bit of heat. Was kept informed of the product's delivery status and progress. Great instructions too. Would not hesitate to purchase from WheatyBags again. (Llandaff Lady)
Brought for my husband
- My husband has arthritis in his jaw and this gives him great relief (anonymous)
Arthritis
- Following success with previous Wheatybag order purchased to help with shoulder injury now trying Wheatybag hand and face bag to see if this will help combat developing arthritis in both my thumbs. Too early to determine whether successful but these bags very quick to heat in microwave and easy to hold in place in bed at night. (Martin Knowles)
Excellent product
- The wheatybags arrived on time and have used them daily since they arrived a week ago and already find that they are making a difference to me dry eyes.excellent service and product. (Monay)
My cold hands
- I have ordered twice now and love your products, a little bit of warmth where needed on a cold day. Keep up the excellence. thank you. (Little Lyn)
Cosy
- Lovely and cosy feel, thanks (Helen)
Great for instant relief
- Bought these to try to help relieve arthritis in hands. They are ideal for an instant comfort and help to ease pain (Vikki D)
My Wife Loves this ......
- I am happy to recommend WheatyBags for their excellent service and products. My wife used the wheaty bag after her surgery to the shoulder with excellent comfort and soothing effect it gave. Our Best Wishes to the company. (Behram Dastur)
Neck heat cushions
- I got bogof which is a really good offer and good because I have pain in both shoulders, neck and back so I put one of each shoulder and cross them at the back which is a great relief. (Debbie Cannon)
Perfect handy warmers
- My 94 year old mum loves this pair of warmers, perfect to keep hands toasty or ease aches and pains anywhere else. Part of her bedtime routine: warm milk - check, wheat you bags - check, ready for sleep! (Briel)
Wheatybag
- Excellent product (Linda may)
Quick and easy heating
- Fantastic product! We needed this quickly and the whole process ran really smoothly and we received them really quickly. (Anonymous)
Very Pleased
- Very pleased with the service,Wheatybags arrived quickly,and product great. (E Florence)
Does the job
- Good quality, nice product and they are small enough to carry around. (londonjoy)
Does what it's meant to do
- I am currently suffering from neck pain diagnosed as being due to wear and tear of my spine. The wheatybag provides just what I need to provide heat for my neck - 30 secs in microwave and I have the ideal heat pad without any mess. (Gordon)
Does what it's meant to do
- I am currently suffering from neck pain diagnosed as being due to wear and tear of my spine. The wheatybag provides just what I need to provide heat for my neck - 30 secs in microwave and I have the ideal heat pad without any mess. (Gordon)
Fantastic
- I got these because I have a lot of muscle pain but can't really take regular painkillers. I initially used them for shoulder and neck pain (a bit awkward to sit them on my shoulder, but I couldn't afford the more expensive for-purpose bags) but recently wound up using them for period pain instead. They're so handy, and very easy to use. They last a good long while and they're brilliant for targeted pain relief (and keeping you warm in winter). (Emma)
Bought to help wound recovery
- I bought these for my wife after she had an operation to remove a bone in her thumb. They definitely helped to reduce the aching pain following the physio exersizes. My wife is sure she will find other uses even after her hand has fully recovered. (N.Seal)
Great purchase for arthritic problems
- Bought these wee cushions for my mother to help with her arthritic knee pain, and it seems to be working, so I would recommend them. (Ishy)
I love them
- my joints in my hands hurt and they help to ease it a lot (Louise)
hands
- very good for my purpose I am using on my hands (anonymous)
Exactly what I have been looking for!
- I am so pleased with my wheat bags, and buy one get one free was bonus. I chose a lovely bright pink so they are pleasure to see and use. The warmth on my face for stiff jaw is heavenly. It releases any tension and pain quickly and moulds to the shape of my face. As an additional use I tried one on a stiff and painful hand after too much gardening, and again - comfort and pain relief. I cannot recommend too highly. (Bren)
Wheat Bags
- These came really quickly in perfect condition. They worked a treat for my toothache and arthiritis alike. Het up in the microwave in no time an all and give hours of relief. Very happy with my purchase. Would recommend this product to friends and family. (Sandra Botwright)
Warm hands in seconds!
- When its cold outside or if you happen to suffer from very cold hands or feet, these little bags are an ideal way to warm them gently. Because you can control the amount of heat they give out they are super to calm toothache or neck Pain. (Suzanne)
Is a godsend!
- Perfect service, brilliant products, pain relief for CRPS ...thank you! (Buffabear)
Should have purchased 12 months before I did!!
- I have suffered with facial pain for over twelve months, taking pain relief tablets every day. I have found the wheatybags so easy to use, relieving my pain immensely! I normally heat a wheatybag before going to bed resting the bag between my pillow and cheek, the scent of Lavender helps me have a restful night, and my pain is less upon waking the following morning. (Amanda Fletcher)
JUST THE THINGS FOR MY EYES
- I am suffering from blepharitis. This is an eye condition and the doctor told to keep them warm for 5 minutes, then massage each lid for 10 to 15 times and then wash the lids with baby shampoo (10 % solution). This I have to do for the rest of my life. The wheaty bags are ideal for the warming. Much better than a hot flannel. (PAUL KINGSTON)
Bliss after wisdom teeth extractions!!
- I had my wisdom teeth extracted last week and was running out of ideas for something to help ease the pain. Seriously, my jaw has never been happier than is is right now with a wheatybag on each side! Total bliss! (Jason)
More Reviews
Instructions
MAXIMUM MICROWAVE HEATING TIMES FOR THIS PRODUCT: MAXIMUM HEATING (AND CHILLING) TIMES FOR THE PRODUCT ARE ATTACHED TO THE PRODUCT BY SEWN-ON LABEL AND CARD SWING TAG WHICH SHOULD BE RETAINED FOR FUTURE REFERENCE.
This product is entirely natural and easy to use. It is designed as a gentle warming or chilling product though it is EXTREMELY IMPORTANT to take great care not to over-heat or over-chill the product.
Please follow our heating and chilling instructions carefully and use your own judgment - if you are experiencing any discomfort from the pack then stop using immediately. If you want medical advice, please ask your Doctor.
GENERAL INSTRUCTIONS: Please take care heating this wheat filled product and be careful not to burn the contents inside. If you smell a burnt smell, the heat pack is best thrown away and a new one purchased.
Remove all tags and ensure the product is clean and dry before use.
Use the maximum heating guide (below) to determine the correct heating times.
Ensure all grilling / browning facilities are turned off and do not place near a direct heat source.
When first heated, the product will feel damp though this is quite normal and will stop after a few uses.
After this time we recommend placing a small cup of water in the microwave when heating.
In order to comply with BS8433 : 2004 we are obliged to tell you of the following.
WARNING - THIS PRODUCT CAN CAUSE BURNS.
AVOID PROLONGED DIRECT CONTACT WITH THE SKIN.
TAKE CARE WHEN REMOVING FROM THE MICROWAVE OVEN.
DO NOT INGEST CONTENTS.
DO NOT OVERHEAT.
FOR MICROWAVE USE ONLY.
HEATED PRODUCTS SHOULD NOT BE GIVEN TO CHILDREN.
MAXIMUM HEATING (AND CHILLING) TIMES FOR THE PRODUCT ARE ATTACHED TO THE PRODUCT BY SEWN-ON LABEL AND CARD SWING TAG WHICH SHOULD BE RETAINED FOR FUTURE REFERENCE.
ONLY REHEAT FROM ROOM TEMPERATURE.
DO NOT FOLD ITEM IN HALF TO HEAT.
HEAT WITHOUT REMOVABLE COVERS IF SUPPLIED WITH THIS ITEM.
SURFACE CLEAN WITH A DAMP CLOTH.
CARE INSTRUCTIONS
Do not wash the heat pack with the wheat inside.
Only clean this part with a damp cloth.
Optional removable covers if available for this product can be removed and cleaned in accordance with the washing instructions label on the cover.
Asthma Sufferers should be aware this product contains wheatgerm.
In the event of overheating, let the item stand in a safe place and do not touch until cooled.
Dispose of in the normal household waste if worn or damaged.
Store in a cool dry place.
Ensure that the microwave turntable can rotate freely.
TO USE COLD:
Wrap the pack in a plastic bag (to keep it clean).
Place in the FRIDGE or FREEZER for 1-3 hours.
Remove from plastic bag before use.
Be cautious and check your skin to avoid any possibility of freezer-burn and use a towel on your body with the pack on top to avoid direct contact with the skin.
DO NOT PLACE THIS ITEM IN THE FREEZER IF USING ON THE EYES.
Please do not machine wash this product or get it wet. If it becomes marked or dirty, please take good care not to wet the inner contents and wipe clean with a damp cloth.
FAQs
Are these products a medical product?
No. Clear Prospects Ltd manufactures WheatyBags® microwave heat packs which have been tested to safety standard BS8433:2004. We are not Doctors and our products are not medical products (our heat packs are simple microwave heat packs that provide warmth and comfort). If you are unsure about their use, we recommend you consult your doctor before using heat packs in general.
How long should the heat pack be put into the microwave or chill in the freezer?
Please read the "Instructions" shown on our website for each Product as the heating and cooling instructions vary by product. All our heat packs have been safety tested and come with instructions labels sewn into the product itself and on a card attachment to be retained for safe reference.
Is it normal that my heat pack feels damp when microwaving?
Yes. When you first microwave the heat pack the contents inside will feel damp. This will subside after a few heating cycles and is quite normal especially if you have selected the (polyester) fleece fabric covers. Cotton is much more absorbent and breathable and will lessen the initial damp effect. Do not overheat the wheat bag to attempt to dry it out.
What happens if I microwave the heat pack for too long or it burns?
Please be very careful not to overheat the heat pack. If overheated they can catch fire which is very dangerous. Overheating can be caused by food or contamination from your microwave so it is important that the microwave is clean before you heat the product.
If overheating occurs, remove it from the microwave and put it in a safe place while it cools (perhaps outside). Do not use again until the product has returned to room temperature. If it is giving off a 'burnt' smell or has small burn marks on the fabric, you have overheated the product and it must be disposed of being careful that the product is not actually burning. A replacement product would then have to be purchased.
Can I wash my Heat Pack?
Do not place the full heat pack in the washing machine or get the contents wet as it can damage the product. It is advised that you surface clean with a damp cloth or sponge to clean the product. If the product becomes wet then it needs to be dried out before the wheat inside germinates and we suggest placing the product in a warm room to dry at room temperature. If the wheat inside does germinate then we do not recommend that you use the wheat bag.
Can I purchase removable covers that can be washed for my heat pack?
On most of our products, you will see the option to purchase a removable cover for cleaning. If this is shown as an option then this cover is removable from the main heat pack and can be washed with like colours in the washing machine or by hand at a low temperature of 30 to 40 degrees.
Is it possible to warm the heat pack other than the microwave?
No. Our heat packs are safety tested to be exclusively heated in a microwave.
How do I fit a larger heat pack in my small microwave?
Some of our products are larger when flat than the size of smaller microwaves. It is ok to "loosley scrunch up" the heat pack lightly to fit into the microwave but is important not to fold the pack in half tightly as this can create hot spots when heating.
Are these heat packs suitable for young children?
No. We do not recommend that heat packs are given the very young children under the age of 3 years old. Adult supervision should always be provided and should only be heated by an adult with great care.
What are the Organic Fabric Options?
Where shown, this product has an Organic Fabric Option. We purchase organic fabric from trusted UK Fabric Merchants who are registered under the Global Organic Textile Standard (GOTS) to enable full traceability of the fabric we use through to the final product you are purchasing today.
Is the Lavender Organic?
Yes. We purchase Organic Lavender from our Grain & Seed Merchant in the UK and they have sourced genuine lavender buds for our heat packs. This is not a scent, we add the flower buds from Organic Lavender for the most exquisite fragrance.
Delivery
The information below is for guidance. Actual delivery costs and dates depend on the delivery address, weight and time your order is placed. Cut-off time for Overnight Orders is 12 noon.
| Price | Method | Manufacture Time | Delivery Time | Est. Delivery Date |
| --- | --- | --- | --- | --- |
| £3.99 | 2nd Class (Tracked LL) | 0-3 Days | 2-3 Days | Mon 11 Dec - Fri 15 Dec |
| £5.99 | 1st Class (Tracked LL) | 0-3 Days | 1-2 Days | Fri 8 Dec - Thu 14 Dec |
| £13.04 | DHL Courier (Economy M-F Pre 6pm) | 0-3 Days | 2-3 Days | Mon 11 Dec - Fri 15 Dec |
| £14.99 | Royal Mail Special Delivery (Overnight Mon-Sat Pre 1pm) | Today | Next Day (Mon-Sat) | Fri 8 Dec |
More Information
| | |
| --- | --- |
| Despatch | 0-3 Days (Made to Order) or Upgrade for Overnight Delivery at Checkout |
| Brand | WheatyBags® |
| RRP | £4.99 |
| Filling | Wheat, Optional Lavender |
| Country of Origin | United Kingdom |
| SKU | FGWHE020(R15x10)COT-BNA |
| Gtin | 5056261003071 |
| Tariff Code | 1001912020 |
| Tariff Description | Heat Pack - Common Wheat |
| Product Weight | 200 g |
| Product Dimensions | 10 x 15 x 2cm |
Product Options
Size
Single Item (Approx. 15cm x 10cm), Pack of 2 (Approx. 15cm x 10cm), Approx. 27cm x 11cm
Fabric
Cotton, Luxury Cotton, Organic Cotton
Fabric Colour
Navy Blue, Purple, Natural, Chocolate, Gothic Blue
Aroma (Click to Select)
Unscented, Organic Lavender Buds +
Filling
Wheat
Product Type
Wheat Bag
Warmers For > Microwavable Heating Pad
heating pad
heat pack > microwave heat pack
hand heating pad

Wheat Bags Small Heat Pack
(Pack of 2 - 15cm x 10cm) - Natural Cotton Fabric
FGWHE020(R15x10)x2COT-NAT
5056261003279
£7.99
400 g
11 x 16 x 2cm
Wheat Bags Small Heat Pack
(Pack of 2 - 15cm x 10cm) - Purple Cotton Fabric
FGWHE020(R15x10)x2COT-PUR
5056261054011
£7.99
400 g
11 x 16 x 2cm
Wheat Bags Small Heat Pack
(Pack of 2 - 15cm x 10cm) - Gothic Blue Luxury Cotton Fabric
FGWHE020(R15x10)x2COL-BGO
5056656343461
£12.99
400 g
11 x 16 x 2cm
Wheat Bags Small Heat Pack
(Pack of 2 - 15cm x 10cm) - Chocolate Luxury Cotton Fabric
FGWHE020(R15x10)x2COL-BMO
5056261003361
£12.99
400 g
11 x 16 x 2cm
Wheat Bags Small Heat Pack
(Pack of 2 - 15cm x 10cm) - Natural Organic Cotton
FGWHE020(R15x10)x2COO-NAT
5056261003224
£14.99
400 g
11 x 16 x 2cm
Wheat Bags Small Heat Pack
(Pack of 2 - 15cm x 10cm) - Natural Cotton Fabric Scented (Organic Lavender Buds)
FGWHE020(R15x10)x2COT-NAT(LAV)
5056261003262
£8.99
401 g
11 x 16 x 2cm
Wheat Bags Small Heat Pack
(Pack of 2 - 15cm x 10cm) - Purple Cotton Fabric Scented (Organic Lavender Buds)
FGWHE020(R15x10)x2COT-PUR(LAV)
5056261003491
£8.99
401 g
11 x 16 x 2cm
Wheat Bags Small Heat Pack
(Pack of 2 - 15cm x 10cm) - Gothic Blue Luxury Cotton Fabric Scented (Organic Lavender Buds)
FGWHE020(R15x10)x2COL-BGO(LAV)
5056261003248
£13.99
401 g
11 x 16 x 2cm
Wheat Bags Small Heat Pack
(Pack of 2 - 15cm x 10cm) - Chocolate Luxury Cotton Fabric Scented (Organic Lavender Buds)
FGWHE020(R15x10)x2COL-BMO(LAV)
5056261003156
£13.99
401 g
11 x 16 x 2cm
Wheat Bags Small Heat Pack
(Pack of 2 - 15cm x 10cm) - Natural Organic Cotton Scented (Organic Lavender Buds)
FGWHE020(R15x10)x2COO-NAT(LAV)
5056261003552
£15.99
401 g
11 x 16 x 2cm
Wheat Bags Small Heat Pack
(Pack of 2 - 15cm x 10cm) - Navy Blue Cotton Fabric
FGWHE020(R15x10)x2COT-BNA
5056656343478
£7.99
400 g
11 x 16 x 2cm
Wheat Bags Small Heat Pack
(Pack of 2 - 15cm x 10cm) - Navy Blue Cotton Fabric Scented (Organic Lavender Buds)
FGWHE020(R15x10)x2COT-BNA(LAV)
5056656343843
£8.99
401 g
11 x 16 x 2cm
Wheat Bags Small Heat Pack
(Single Item 15cm x 10cm) - Navy Blue Cotton Fabric
FGWHE020(R15x10)COT-BNA
5056261003071
£4.99
200 g
10 x 15 x 2cm
Wheat Bags Small Heat Pack
(27cm x 11cm) - Navy Blue Cotton Fabric
FGWHE020(O27)COT-BNA
5056656343430
£9.99
400 g
11 x 27cm
Wheat Bags Small Heat Pack
(Single Item 15cm x 10cm) - Natural Cotton Fabric
FGWHE020(R15x10)COT-NAT
5056656343362
£4.99
200 g
10 x 15 x 2cm
Wheat Bags Small Heat Pack
(27cm x 11cm) - Natural Cotton Fabric
FGWHE020(O27)COT-NAT
5056656343201
£9.99
400 g
11 x 27cm
Wheat Bags Small Heat Pack
(Single Item 15cm x 10cm) - Purple Cotton Fabric
FGWHE020(R15x10)COT-PUR
5056656343379
£4.99
200 g
10 x 15 x 2cm
Wheat Bags Small Heat Pack
(27cm x 11cm) - Purple Cotton Fabric
FGWHE020(O27)COT-PUR
5056656343218
£9.99
400 g
11 x 27cm
Wheat Bags Small Heat Pack
(Single Item 15cm x 10cm) - Chocolate Luxury Cotton Fabric
FGWHE020(R15x10)COL-BMO
5056656343409
£9.99
200 g
10 x 15 x 2cm
Wheat Bags Small Heat Pack
(27cm x 11cm) - Chocolate Luxury Cotton Fabric
FGWHE020(O27)COL-BMO
5056656343249
£14.99
400 g
11 x 27cm
Wheat Bags Small Heat Pack
(Single Item 15cm x 10cm) - Gothic Blue Luxury Cotton Fabric
FGWHE020(R15x10)COL-BGO
5056656343416
£9.99
200 g
10 x 15 x 2cm
Wheat Bags Small Heat Pack
(27cm x 11cm) - Gothic Blue Luxury Cotton Fabric
FGWHE020(O27)COL-BGO
5056656343256
£14.99
400 g
11 x 27cm
Wheat Bags Small Heat Pack
(Single Item 15cm x 10cm) - Natural Organic Cotton
FGWHE020(R15x10)COO-NAT
5056656343423
£11.99
200 g
10 x 15 x 2cm
Wheat Bags Small Heat Pack
(27cm x 11cm) - Natural Organic Cotton
FGWHE020(O27)COO-NAT
5056656343263
£16.99
400 g
11 x 27cm
Wheat Bags Small Heat Pack
(Single Item 15cm x 10cm) - Navy Blue Cotton Fabric Scented (Organic Lavender Buds)
FGWHE020(R15x10)COT-BNA(LAV)
5056656343737
£5.99
201 g
10 x 15 x 2cm
Wheat Bags Small Heat Pack
(27cm x 11cm) - Navy Blue Cotton Fabric Scented (Organic Lavender Buds)
FGWHE020(O27)COT-BNA(LAV)
5056656343553
£10.99
401 g
11 x 27cm
Wheat Bags Small Heat Pack
(Single Item 15cm x 10cm) - Natural Cotton Fabric Scented (Organic Lavender Buds)
FGWHE020(R15x10)COT-NAT(LAV)
5056656343751
£5.99
201 g
10 x 15 x 2cm
Wheat Bags Small Heat Pack
(27cm x 11cm) - Natural Cotton Fabric Scented (Organic Lavender Buds)
FGWHE020(O27)COT-NAT(LAV)
5056656343577
£10.99
401 g
11 x 27cm
Wheat Bags Small Heat Pack
(Single Item 15cm x 10cm) - Purple Cotton Fabric Scented (Organic Lavender Buds)
FGWHE020(R15x10)COT-PUR(LAV)
5056656343768
£5.99
201 g
10 x 15 x 2cm
Wheat Bags Small Heat Pack
(27cm x 11cm) - Purple Cotton Fabric Scented (Organic Lavender Buds)
FGWHE020(O27)COT-PUR(LAV)
5056656343584
£10.99
401 g
11 x 27cm
Wheat Bags Small Heat Pack
(Single Item 15cm x 10cm) - Chocolate Luxury Cotton Fabric Scented (Organic Lavender Buds)
FGWHE020(R15x10)COL-BMO(LAV)
5056656343799
£10.99
201 g
10 x 15 x 2cm
Wheat Bags Small Heat Pack
(27cm x 11cm) - Chocolate Luxury Cotton Fabric Scented (Organic Lavender Buds)
FGWHE020(O27)COL-BMO(LAV)
5056656343614
£15.99
401 g
11 x 27cm
Wheat Bags Small Heat Pack
(Single Item 15cm x 10cm) - Gothic Blue Luxury Cotton Fabric Scented (Organic Lavender Buds)
FGWHE020(R15x10)COL-BGO(LAV)
5056656343805
£10.99
201 g
10 x 15 x 2cm
Wheat Bags Small Heat Pack
(27cm x 11cm) - Gothic Blue Luxury Cotton Fabric Scented (Organic Lavender Buds)
FGWHE020(O27)COL-BGO(LAV)
5056656343621
£15.99
401 g
11 x 27cm
Wheat Bags Small Heat Pack
(Single Item 15cm x 10cm) - Natural Organic Cotton Scented (Organic Lavender Buds)
FGWHE020(R15x10)COO-NAT(LAV)
5056656343812
£12.99
201 g
10 x 15 x 2cm
Wheat Bags Small Heat Pack
(27cm x 11cm) - Natural Organic Cotton Scented (Organic Lavender Buds)
FGWHE020(O27)COO-NAT(LAV)
5056656343638
£17.99
401 g
11 x 27cm
Wheat Bags Small Heat Pack