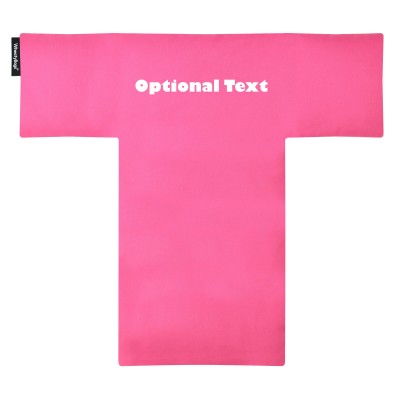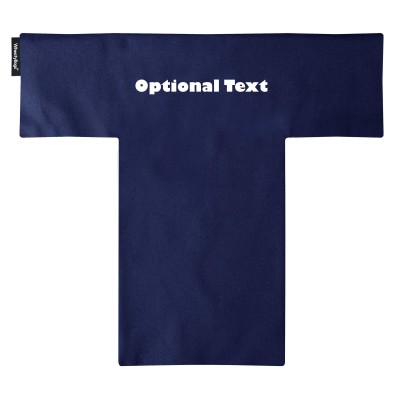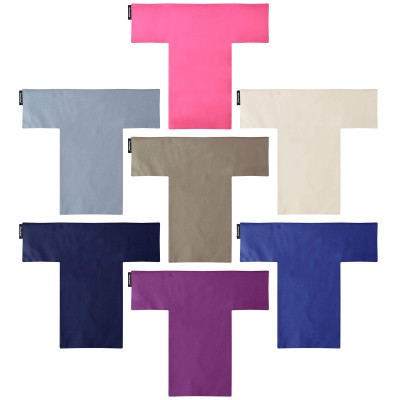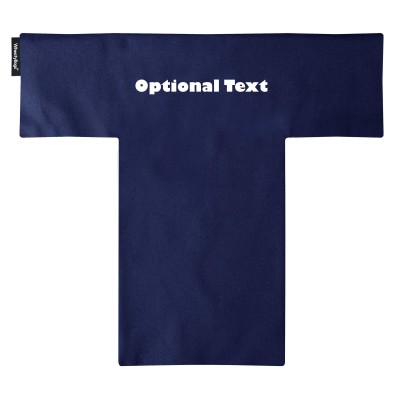 Replacement Covers for T-Shaped Heat Packs
UK Made
Organic Options *
Description
Replacement (t-shaped) removable covers specially made in our core range of fabric and colour choices to fit our own brand of WheatyBags® microwave heat packs that are "T" in shape.
Please note:
WheatyBags® own brand replacement removable covers.
Designed to fit our own products and no other brands.
Different shapes and sizes are available.
Please check the size and product name before ordering.
If unsure, please get in touch.
Reviews
Comfortable
- I've been very satisfied with the products I bought from WheatyBags, although I have some problems putting the cover on because of arthritis. The heat bags are also great. (C. Emmett, 02/05/22)
Instructions
Removable Covers: If you purchase this Product with the option for "Removable Cover" for cleaning, the outer removable cover will be supplied in the fabric and colour of your choice. The inner pack will be manufactured from a fabric and colour of our choice depending on supplies available at the time of manufacture (usually our natural value cotton fabric depending on the product).
Do not wash or get the inner wheat or other filled heat packs wet.
CARELESSNESS CAUSES FIRE.
Do not wash or get the inner wheat or other filled heat packs wet.
For 100% Cotton, 100% Polycotton & 100% Polyester Fabrics (eg Fleece) Removable Covers.
Remove the outer cover before carefully cleaning the outer cover only.
Only warm hand or machine wash and cold rinse the removable cover.
Wash with like colours max. 40 degree temperature.
For best results, lay flat on a suitable surface to air-dry.
Do not bleach.
1 spot iron (Cotton / Fleece) or 2 spot iron (Polycotton).
Do not tumble dry.
FAQs
What are the Organic Fabric Options?
Where shown, this product has an Organic Fabric Option. We purchase organic fabric from trusted UK Fabric Merchants who are registered under the Global Organic Textile Standard (GOTS) to enable full traceability of the fabric we use through to the final product you are purchasing today.
Delivery
The information below is for guidance. Actual delivery costs and dates depend on the delivery address, weight and time your order is placed. Cut-off time for Overnight Orders is 12 noon.
| Price | Method | Manufacture Time | Delivery Time | Est. Delivery Date |
| --- | --- | --- | --- | --- |
| £3.99 | 2nd Class (Tracked LL) | 0-3 Days | 2-3 Days | Mon 11 Dec - Fri 15 Dec |
| £5.99 | 1st Class (Tracked LL) | 0-3 Days | 1-2 Days | Fri 8 Dec - Thu 14 Dec |
| £12.95 | DHL Courier (Economy M-F Pre 6pm) | 0-3 Days | 2-3 Days | Mon 11 Dec - Fri 15 Dec |
| £14.99 | Royal Mail Special Delivery (Overnight Mon-Sat Pre 1pm) | Today | Next Day (Mon-Sat) | Fri 8 Dec |
More Information
| | |
| --- | --- |
| Despatch | 0-3 Days (Made to Order) or Upgrade for Overnight Delivery at Chekout |
| Brand | WheatyBags® |
| RRP | £15.00 |
| Country of Origin | United Kingdom |
| SKU | FGWHE016(T43cmx39cm)COT-BNA |
| Gtin | 5056261076600 |
| Tariff Code | 6307909899 |
| Tariff Description | Other Textiles and textile articles |
| Product Weight | 100 g |
| Product Dimensions | 43 x 39cm |
Product Options
Size
43cm x 39cm
Fabric
Cotton, Organic Cotton, Luxury Cotton
Fabric Colour
Navy Blue, Purple, Natural, Hot Pink, Chocolate, Gothic Blue
Product Type
Wheat Bag
Wheat Bags > Removable Cover
WheatyBags > Replacement Cover

Replacement Covers for T-Shaped Heat Packs
(43cm x 39cm) - Hot Pink Cotton Fabric
FGWHE016(T43cmx39cm)COT-PBU
5056656338665
£15.00
100 g
43 x 39cm
Replacement Covers for T-Shaped Heat Packs
(43cm x 39cm) - Hot Pink Cotton Fabric (Personalised with Text)
FGWHE016(T43cmx39cm)COT-PBU(P)
5056261076570
£17.95
100 g
43 x 39cm
Replacement Covers for T-Shaped Heat Packs
(43cm x 39cm) - Natural Cotton Fabric
FGWHE016(T43cmx39cm)COT-NAT
5056261076587
£15.00
100 g
43 x 39cm
Replacement Covers for T-Shaped Heat Packs
(43cm x 39cm) - Natural Cotton Fabric (Personalised with Text)
FGWHE016(T43cmx39cm)COT-NAT(P)
5056261076594
£17.95
100 g
43 x 39cm
Replacement Covers for T-Shaped Heat Packs
(43cm x 39cm) - Navy Blue Cotton Fabric
FGWHE016(T43cmx39cm)COT-BNA
5056261076600
£15.00
100 g
43 x 39cm
Replacement Covers for T-Shaped Heat Packs
(43cm x 39cm) - Navy Blue Cotton Fabric (Personalised with Text)
FGWHE016(T43cmx39cm)COT-BNA(P)
5056261076617
£17.95
100 g
43 x 39cm
Replacement Covers for T-Shaped Heat Packs
(43cm x 39cm) - Purple Cotton Fabric
FGWHE016(T43cmx39cm)COT-PUR
5056261076624
£15.00
100 g
43 x 39cm
Replacement Covers for T-Shaped Heat Packs
(43cm x 39cm) - Purple Cotton Fabric (Personalised with Text)
FGWHE016(T43cmx39cm)COT-PUR(P)
5056261076631
£17.95
100 g
43 x 39cm
Replacement Covers for T-Shaped Heat Packs
(43cm x 39cm) - Natural Organic Cotton
FGWHE016(T43cmx39cm)COO-NAT
5056261076648
£22.00
100 g
43 x 39cm
Replacement Covers for T-Shaped Heat Packs
(43cm x 39cm) - Natural Organic Cotton (Personalised with Text)
FGWHE016(T43cmx39cm)COO-NAT(P)
5056261076655
£24.95
100 g
43 x 39cm
Replacement Covers for T-Shaped Heat Packs
(43cm x 39cm) - Gothic Blue Luxury Cotton Fabric
FGWHE016(T43cmx39cm)COL-BGO
5056261076556
£25.00
100 g
43 x 39cm
Replacement Covers for T-Shaped Heat Packs
(43cm x 39cm) - Gothic Blue Luxury Cotton Fabric (Personalised with Text)
FGWHE016(T43cmx39cm)COL-BGO(P)
5056261076525
£27.95
100 g
43 x 39cm
Replacement Covers for T-Shaped Heat Packs
(43cm x 39cm) - Chocolate Luxury Cotton Fabric
FGWHE016(T43cmx39cm)COL-BMO
5056261076532
£25.00
100 g
43 x 39cm
Replacement Covers for T-Shaped Heat Packs
(43cm x 39cm) - Chocolate Luxury Cotton Fabric (Personalised with Text)
FGWHE016(T43cmx39cm)COL-BMO(P)
5056261076549
£27.95
100 g
43 x 39cm
Replacement Covers for T-Shaped Heat Packs