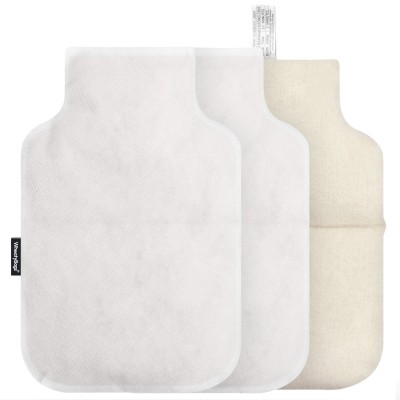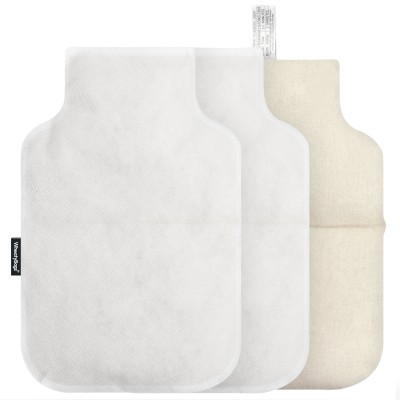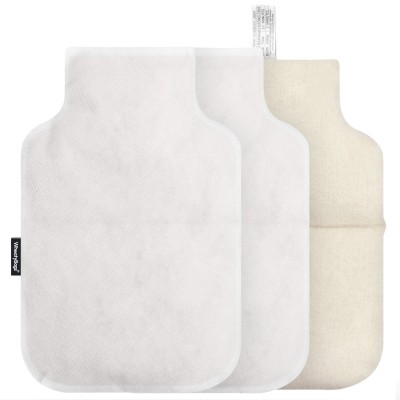 Wheat Bags Bottle Shaped Heat Pack (2 Disposable Covers)
Natural Filling
BS8433 : 2004
UK Made
Description
A Classic Bottle Shaped Wheat Bag with disposable removable covers and ready for warming in the microwave in our low cost range of heat packs.
Bottle Shaped Heat Pack.
Supplied with 2 removable covers.
Full instructions are provided.
Warm in the microwave.
Trusted WheatyBags® UK Made brand.
Reviews
Quick and Easy
- This is far better than a tradition hot water bottle. In a few minutes it's ready to use and no risk of scalding water. Love it (Lyn, 10/04/22)
Heating and comfort
- I have had these wheat packs before. I find they hold the heat better than an hot water bottle. The wheat molds into the shape of your body. I'd recommend them to anyone (Jayne S, 23/05/21)
Still not received so I can't review so where is it?
- Not received (Derek Crawford , 26/02/21)
covers
- The Wheat Bags are a lovely size, and comfortable to have in the bed. The only thing I would change is the cotton cover. It looks a little like a pillow protector. I would have preferred something softer like a fleece cover. (sandra, 15/02/21)
It's OK .
- The bag does what says and heats the bed and me . It is robustly made . I would like a softer cover . (richard, 10/02/21)
Great product
- Easy to use. Easy to heat. Ideal instead of hot water. It was to heavy for the lady it was for (chronic arthritis). But was easily solvable by cutting in half & stitching. Now they are alternated she is absolutely delighted. (Thelma , 18/01/21)
Wheat bag
- Perfect for what I bought it for (Fred, 18/12/20)
Christmas present
- It looks okay but as it's a Christmas present I haven't tried it. (Karen, 09/12/20)
Bottle shaped wheaty bag.
- This was for my Mum. She was very pleased and likes the soft cover to snuggle down at night with. (Sue, 30/11/20)
Heaven
- Great service, arrived quickly. Find it a great help on my back. (Jane, 12/07/20)
Wheaty bags
- The wheaty hot water bags are fantastic, quick and easy to heat up, I use mine for my back (Sally, 11/07/20)
Wheat bags
- Easy to use keeps heat (EOD, 09/07/20)
Great product
- Previously I've bought a different make of wheat bag but I can honestly say that the Wheaty Bags heat pack is by far the best. Whenever I need another one a I'll definitely buy it from Wheaty Bags. Great service and product (Jean Scott, 04/07/20)
so easy
- got a cheaper one as a quick solution and was not disappointed, arrived very fast and is so much easier to heat than a hot water bottle. (Ben M, 27/02/20)
Just Want I Wanted
- I needed a bog-standard wheat bag for my grandma to use to replace her tired hot water bottle covers, these were perfect for the job and a big bonus that it came with 2 covers. (Susan Philips, 27/02/20)
Brilliant for home and work
- I work in a care home and have been buying heat packs for a while. This wheat bag microwavable warmer is so useful thanks to its disposable covers. Very easy to use. Will certainly keep buying them! (Abigail, 27/02/20)
Warmers when cold
- Got these for my wife who had a spell in hospital recently. Wasnt sure if they would warm them up in hospital but they did in the microwave and she was lovely and warm at night. Bought this wheat bag as it comes with removable covers and we can throw it away when she gets home and then buy one with cotton on the outside later. (Jim Cornerstone, 26/02/20)
Instructions
MAXIMUM MICROWAVE HEATING TIMES FOR THIS PRODUCT: MAXIMUM HEATING (AND CHILLING) TIMES FOR THE PRODUCT ARE ATTACHED TO THE PRODUCT BY SEWN-ON LABEL AND CARD SWING TAG WHICH SHOULD BE RETAINED FOR FUTURE REFERENCE.
This product is entirely natural and easy to use. It is designed as a gentle warming or chilling product though it is EXTREMELY IMPORTANT to take great care not to over-heat or over-chill the product.
Please follow our heating and chilling instructions carefully and use your own judgment - if you are experiencing any discomfort from the pack then stop using immediately. If you want medical advice, please ask your Doctor.
GENERAL INSTRUCTIONS: Please take care heating this wheat filled product and be careful not to burn the contents inside. If you smell a burnt smell, the heat pack is best thrown away and a new one purchased.
Remove all tags and ensure the product is clean and dry before use.
Use the maximum heating guide (below) to determine the correct heating times.
Ensure all grilling / browning facilities are turned off and do not place near a direct heat source.
When first heated, the product will feel damp though this is quite normal and will stop after a few uses.
After this time we recommend placing a small cup of water in the microwave when heating.
In order to comply with BS8433 : 2004 we are obliged to tell you of the following.
WARNING - THIS PRODUCT CAN CAUSE BURNS.
AVOID PROLONGED DIRECT CONTACT WITH THE SKIN.
TAKE CARE WHEN REMOVING FROM THE MICROWAVE OVEN.
DO NOT INGEST CONTENTS.
DO NOT OVERHEAT.
FOR MICROWAVE USE ONLY.
HEATED PRODUCTS SHOULD NOT BE GIVEN TO CHILDREN.
MAXIMUM HEATING (AND CHILLING) TIMES FOR THE PRODUCT ARE ATTACHED TO THE PRODUCT BY SEWN-ON LABEL AND CARD SWING TAG WHICH SHOULD BE RETAINED FOR FUTURE REFERENCE.
ONLY REHEAT FROM ROOM TEMPERATURE.
DO NOT FOLD ITEM IN HALF TO HEAT.
HEAT WITHOUT REMOVABLE COVERS IF SUPPLIED WITH THIS ITEM.
SURFACE CLEAN WITH A DAMP CLOTH.
CARE INSTRUCTIONS
Do not wash the heat pack with the wheat inside.
Only clean this part with a damp cloth.
Optional removable covers if available for this product can be removed and cleaned in accordance with the washing instructions label on the cover.
Asthma Sufferers should be aware this product contains wheatgerm.
In the event of overheating, let the item stand in a safe place and do not touch until cooled.
Dispose of in the normal household waste if worn or damaged.
Store in a cool dry place.
Ensure that the microwave turntable can rotate freely.
Please do not machine wash this product or get it wet. If it becomes marked or dirty, please take good care not to wet the inner contents and wipe clean with a damp cloth.
TO USE COLD:
Wrap the pack in a plastic bag (to keep it clean).
Place in the FRIDGE or FREEZER for 1-3 hours.
Remove from plastic bag before use.
Be cautious and check your skin to avoid any possibility of freezer-burn and use a towel on your body with the pack on top to avoid direct contact with the skin.
DO NOT PLACE THIS ITEM IN THE FREEZER IF USING ON THE EYES.
FAQs
Are these products a medical product?
No. Clear Prospects Ltd manufactures WheatyBags® microwave heat packs which have been tested to safety standard BS8433:2004. We are not Doctors and our products are not medical products (our heat packs are simple microwave heat packs that provide warmth and comfort). If you are unsure about their use, we recommend you consult your doctor before using heat packs in general.
Is the Lavender Organic?
Yes. We purchase Organic Lavender from our Grain & Seed Merchant in the UK and they have sourced genuine lavender buds for our heat packs. This is not a scent, we add the flower buds from Organic Lavender for the most exquisite fragrance.
Delivery
The information below is for guidance. Actual delivery costs and dates depend on the delivery address, weight and time your order is placed. Cut-off time for Overnight Orders is 12 noon.
| Price | Method | Manufacture Time | Delivery Time | Est. Delivery Date |
| --- | --- | --- | --- | --- |
| £4.99 | 2nd Class (Tracked) | 0-3 Days | 2-3 Days | Mon 11 Dec - Fri 15 Dec |
| £5.99 | 1st Class (Tracked LLH) | 0-3 Days | 1-2 Days | Fri 8 Dec - Thu 14 Dec |
| £13.39 | DHL Courier (Economy M-F Pre 6pm) | 0-3 Days | 2-3 Days | Mon 11 Dec - Fri 15 Dec |
| £14.99 | Royal Mail Special Delivery (Overnight Mon-Sat Pre 1pm) | Today | Next Day (Mon-Sat) | Fri 8 Dec |
More Information
| | |
| --- | --- |
| Despatch | 0-3 Days (Made to Order) or Upgrade for Overnight Delivery at Checkout |
| Brand | WheatyBags® |
| RRP | £12.99 |
| Filling | Wheat, Optional Lavender |
| Country of Origin | United Kingdom |
| SKU | FGWHE033(B35x22)COV-NAT(RC-NON-WHI x2) |
| Gtin | 5056656338481 |
| Tariff Code | 1001912020 |
| Tariff Description | Heat Pack - Common Wheat |
| Product Weight | 900 g |
| Product Dimensions | 35 x 22 x 2.5cm |
Product Options
Size
Regular (35cm x 22cm)
Fabric
Value Cotton
Fabric Colour
Natural
Removable Cover (Click to Select)
+ 2 Free Removable Covers
Aroma (Click to Select)
Unscented, Organic Lavender Buds +
Filling
Wheat
Product Type
Wheat Bag
Warmers For > Microwavable Heating Pad
heating pad > microwavable heating pad
heat pack > microwave heat pack

Wheat Bags Bottle Shaped Heat Pack (2 Disposable Covers)
(35cm) - Natural Value Cotton Fabric and Removable Covers
FGWHE033(B35x22)COV-NAT(RC-NON-WHI x2)
5056656338481
£12.99
900 g
35 x 22 x 2.5cm
Wheat Bags Bottle Shaped Heat Pack (2 Disposable Covers)
(35cm) - Natural Value Cotton Fabric Scented (Organic Lavender Buds) and Removable Covers
FGWHE033(B35x22)COV-NAT(LAV)(RC-NON-WHI x2)
5060089252641
£13.99
901 g
35 x 22 x 2.5cm
Wheat Bags Bottle Shaped Heat Pack (2 Disposable Covers)