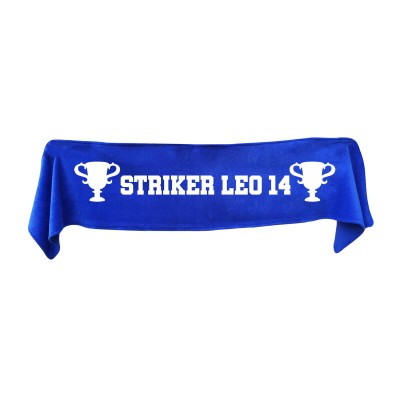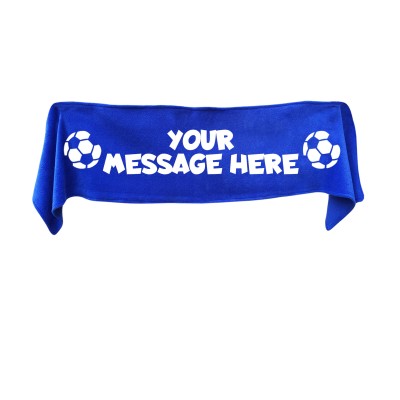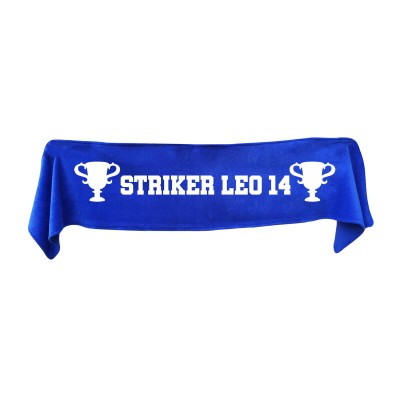 Kids Personalised Football Scarf
UK Made
Description
Kids Personalised Football Scarf, UK made, from premium fleece fabric with several colour choices and icon design. Personalise the kids football scarf with a name or text.
UK made Kids Personalised Football Scarf.
Personalised with text.
Choose your design icon.
Various fleece fabric colour options.
Sizes options.
Trusted HappySnapGifts® brand.
A perfect scarf for those football supporting kids who want a scarf in their team's colours, with their own name or message of support. Manufactured from a lovely soft fleece to also keep them warm during cold matches or when out and about.
Reviews
Instructions
For 100% Cotton, 100% Polycotton & 100% Polyester Fabrics (eg Fleece).
CARELESSNESS CAUSES FIRE.
Remove outer cover if supplied before carefully cleaning.
Warm hand or machine wash and cold rinse.
Wash with like colours at max. 40 degree temperature.
Do not bleach.
1 spot iron (Cotton / Fleece) or 2 spot iron (Polycotton).
Do not tumble dry.
Delivery
The information below is for guidance. Actual delivery costs and dates depend on the delivery address, weight and time your order is placed. Cut-off time for Overnight Orders is 12 noon.
| Price | Method | Manufacture Time | Delivery Time | Est. Delivery Date |
| --- | --- | --- | --- | --- |
| £3.99 | 2nd Class (Tracked LL) | 0-3 Days | 2-3 Days | Mon 11 Dec - Fri 15 Dec |
| £4.99 | 2nd Class (Tracked) | 0-3 Days | 2-3 Days | Mon 11 Dec - Fri 15 Dec |
| £7.99 | 1st Class (Tracked) | 0-3 Days | 1-2 Days | Fri 8 Dec - Thu 14 Dec |
| £13.01 | DHL Courier (Economy M-F Pre 6pm) | 0-3 Days | 2-3 Days | Mon 11 Dec - Fri 15 Dec |
| £14.99 | Royal Mail Special Delivery (Overnight Mon-Sat Pre 1pm) | Tomorrow | Next Day (Mon-Sat) | Mon 11 Dec |
More Information
| | |
| --- | --- |
| Despatch | 0-3 Days (to Personalise) or Upgrade at Checkout for Overnight Delivery |
| Brand | HappySnapGifts® |
| RRP | £12.99 |
| Country of Origin | United Kingdom |
| SKU | FGFAN004(R75x15)FLE-BRO(P)(FOM) |
| Gtin | 5060089252191 |
| Tariff Code | 6307909899 |
| Tariff Description | Other Made Up Articles (Polyester Fabric) |
| Product Weight | 37 g |
| Product Dimensions | 15 x 75cm |
Product Options
Size
Small (75cm x 15cm), Medium (100cm x 20cm)
Fabric
Fleece
Fabric Colour
Royal Blue, Red, Purple, Hot Pink (Fuchsia), Navy Blue, Black, Dark Green, Grey, Burnt Orange, White, Yellow
Design
Footy, Champions, We Are No. 1
Product Type
Clothing > Scarf
Home > Clothing
Personalised Gifts > Childrens Gifts
Kids Personalised Scarf
Kids Scarf

Kids Personalised Football Scarf
Small (75cm x 15cm) Football Theme - Royal Blue Fleece Fabric (Personalised with Text)
FGFAN004(R75x15)FLE-BRO(P)(FOM)
5060089252191
£12.99
37 g
15 x 75cm
Kids Personalised Football Scarf
Medium (100cm x 20cm) Football Theme - Royal Blue Fleece Fabric (Personalised with Text)
FGFAN004(R100x20)FLE-BRO(P)(FOM)
5060089252191
£17.99
62 g
20 x 100cm
Kids Personalised Football Scarf
Small (75cm x 15cm) Football Theme - Black Fleece Fabric (Personalised with Text)
FGFAN004(R75x15)FLE-BLA(P)(FOM)
5060089252191
£12.99
37 g
15 x 75cm
Kids Personalised Football Scarf
Medium (100cm x 20cm) Football Theme - Black Fleece Fabric (Personalised with Text)
FGFAN004(R100x20)FLE-BLA(P)(FOM)
5060089252191
£17.99
62 g
20 x 100cm
Kids Personalised Football Scarf
Small (75cm x 15cm) Football Theme - Dark Green Fleece Fabric (Personalised with Text)
FGFAN004(R75x15)FLE-GDA(P)(FOM)
5060089252191
£12.99
37 g
15 x 75cm
Kids Personalised Football Scarf
Medium (100cm x 20cm) Football Theme - Dark Green Fleece Fabric (Personalised with Text)
FGFAN004(R100x20)FLE-GDA(P)(FOM)
5060089252191
£17.99
62 g
20 x 100cm
Kids Personalised Football Scarf
Small (75cm x 15cm) Football Theme - Grey Fleece Fabric (Personalised with Text)
FGFAN004(R75x15)FLE-GRA(P)(FOM)
5060089252191
£12.99
37 g
15 x 75cm
Kids Personalised Football Scarf
Medium (100cm x 20cm) Football Theme - Grey Fleece Fabric (Personalised with Text)
FGFAN004(R100x20)FLE-GRA(P)(FOM)
5060089252191
£17.99
62 g
20 x 100cm
Kids Personalised Football Scarf
Small (75cm x 15cm) Football Theme - Navy Blue Fleece Fabric (Personalised with Text)
FGFAN004(R75x15)FLE-BNA(P)(FOM)
5060089252191
£12.99
37 g
15 x 75cm
Kids Personalised Football Scarf
Medium (100cm x 20cm) Football Theme - Navy Blue Fleece Fabric (Personalised with Text)
FGFAN004(R100x20)FLE-BNA(P)(FOM)
5060089252191
£17.99
62 g
20 x 100cm
Kids Personalised Football Scarf
Small (75cm x 15cm) Football Theme - Burnt Orange Fleece Fabric (Personalised with Text)
FGFAN004(R75x15)FLE-ORA(P)(FOM)
5060089252191
£12.99
37 g
15 x 75cm
Kids Personalised Football Scarf
Medium (100cm x 20cm) Football Theme - Burnt Orange Fleece Fabric (Personalised with Text)
FGFAN004(R100x20)FLE-ORA(P)(FOM)
5060089252191
£17.99
62 g
20 x 100cm
Kids Personalised Football Scarf
Small (75cm x 15cm) Football Theme - Yellow Fleece Fabric (Personalised with Text)
FGFAN004(R75x15)FLE-YEL(P)(FOM)
5060089252191
£12.99
37 g
15 x 75cm
Kids Personalised Football Scarf
Medium (100cm x 20cm) Football Theme - Yellow Fleece Fabric (Personalised with Text)
FGFAN004(R100x20)FLE-YEL(P)(FOM)
5060089252191
£17.99
62 g
20 x 100cm
Kids Personalised Football Scarf
Small (75cm x 15cm) Football Theme - Hot Pink (Fuchsia) Fleece Fabric (Personalised with Text)
FGFAN004(R75x15)FLE-PFU(P)(FOM)
5060089252191
£12.99
37 g
15 x 75cm
Kids Personalised Football Scarf
Medium (100cm x 20cm) Football Theme - Hot Pink (Fuchsia) Fleece Fabric (Personalised with Text)
FGFAN004(R100x20)FLE-PFU(P)(FOM)
5060089252191
£17.99
62 g
20 x 100cm
Kids Personalised Football Scarf
Small (75cm x 15cm) Football Theme - Purple Fleece Fabric (Personalised with Text)
FGFAN004(R75x15)FLE-PUR(P)(FOM)
5060089252191
£12.99
37 g
15 x 75cm
Kids Personalised Football Scarf
Medium (100cm x 20cm) Football Theme - Purple Fleece Fabric (Personalised with Text)
FGFAN004(R100x20)FLE-PUR(P)(FOM)
5060089252191
£17.99
62 g
20 x 100cm
Kids Personalised Football Scarf
Small (75cm x 15cm) Football Theme - Red Fleece Fabric (Personalised with Text)
FGFAN004(R75x15)FLE-RED(P)(FOM)
5060089252191
£12.99
37 g
15 x 75cm
Kids Personalised Football Scarf
Medium (100cm x 20cm) Football Theme - Red Fleece Fabric (Personalised with Text)
FGFAN004(R100x20)FLE-RED(P)(FOM)
5060089252191
£17.99
62 g
20 x 100cm
Kids Personalised Football Scarf
Small (75cm x 15cm) Football Theme - White Fleece Fabric (Personalised with Text)
FGFAN004(R75x15)FLE-WHI(P)(FOM)
5060089252191
£12.99
37 g
15 x 75cm
Kids Personalised Football Scarf
Medium (100cm x 20cm) Football Theme - White Fleece Fabric (Personalised with Text)
FGFAN004(R100x20)FLE-WHI(P)(FOM)
5060089252191
£17.99
62 g
20 x 100cm
Kids Personalised Football Scarf
Small (75cm x 15cm) Champions Theme - Royal Blue Fleece Fabric (Personalised with Text)
FGFAN004(R75x15)FLE-BRO(P)CHA
5060089252191
£12.99
37 g
15 x 75cm
Kids Personalised Football Scarf
Medium (100cm x 20cm) Champions Theme - Royal Blue Fleece Fabric (Personalised with Text)
FGFAN004(R100x20)FLE-BRO(P)CHA
5060089252191
£17.99
62 g
20 x 100cm
Kids Personalised Football Scarf
Small (75cm x 15cm) Champions Theme - Black Fleece Fabric (Personalised with Text)
FGFAN004(R75x15)FLE-BLA(P)CHA
5060089252191
£12.99
37 g
15 x 75cm
Kids Personalised Football Scarf
Medium (100cm x 20cm) Champions Theme - Black Fleece Fabric (Personalised with Text)
FGFAN004(R100x20)FLE-BLA(P)CHA
5060089252191
£17.99
62 g
20 x 100cm
Kids Personalised Football Scarf
Small (75cm x 15cm) Champions Theme - Dark Green Fleece Fabric (Personalised with Text)
FGFAN004(R75x15)FLE-GDA(P)CHA
5060089252191
£12.99
37 g
15 x 75cm
Kids Personalised Football Scarf
Medium (100cm x 20cm) Champions Theme - Dark Green Fleece Fabric (Personalised with Text)
FGFAN004(R100x20)FLE-GDA(P)CHA
5060089252191
£17.99
62 g
20 x 100cm
Kids Personalised Football Scarf
Small (75cm x 15cm) Champions Theme - Grey Fleece Fabric (Personalised with Text)
FGFAN004(R75x15)FLE-GRA(P)CHA
5060089252191
£12.99
37 g
15 x 75cm
Kids Personalised Football Scarf
Medium (100cm x 20cm) Champions Theme - Grey Fleece Fabric (Personalised with Text)
FGFAN004(R100x20)FLE-GRA(P)CHA
5060089252191
£17.99
62 g
20 x 100cm
Kids Personalised Football Scarf
Small (75cm x 15cm) Champions Theme - Navy Blue Fleece Fabric (Personalised with Text)
FGFAN004(R75x15)FLE-BNA(P)CHA
5060089252191
£12.99
37 g
15 x 75cm
Kids Personalised Football Scarf
Medium (100cm x 20cm) Champions Theme - Navy Blue Fleece Fabric (Personalised with Text)
FGFAN004(R100x20)FLE-BNA(P)CHA
5060089252191
£17.99
62 g
20 x 100cm
Kids Personalised Football Scarf
Small (75cm x 15cm) Champions Theme - Burnt Orange Fleece Fabric (Personalised with Text)
FGFAN004(R75x15)FLE-ORA(P)CHA
5060089252191
£12.99
37 g
15 x 75cm
Kids Personalised Football Scarf
Medium (100cm x 20cm) Champions Theme - Burnt Orange Fleece Fabric (Personalised with Text)
FGFAN004(R100x20)FLE-ORA(P)CHA
5060089252191
£17.99
62 g
20 x 100cm
Kids Personalised Football Scarf
Small (75cm x 15cm) Champions Theme - Yellow Fleece Fabric (Personalised with Text)
FGFAN004(R75x15)FLE-YEL(P)CHA
5060089252191
£12.99
37 g
15 x 75cm
Kids Personalised Football Scarf
Medium (100cm x 20cm) Champions Theme - Yellow Fleece Fabric (Personalised with Text)
FGFAN004(R100x20)FLE-YEL(P)CHA
5060089252191
£17.99
62 g
20 x 100cm
Kids Personalised Football Scarf
Small (75cm x 15cm) Champions Theme - Hot Pink (Fuchsia) Fleece Fabric (Personalised with Text)
FGFAN004(R75x15)FLE-PFU(P)CHA
5060089252191
£12.99
37 g
15 x 75cm
Kids Personalised Football Scarf
Medium (100cm x 20cm) Champions Theme - Hot Pink (Fuchsia) Fleece Fabric (Personalised with Text)
FGFAN004(R100x20)FLE-PFU(P)CHA
5060089252191
£17.99
62 g
20 x 100cm
Kids Personalised Football Scarf
Small (75cm x 15cm) Champions Theme - Purple Fleece Fabric (Personalised with Text)
FGFAN004(R75x15)FLE-PUR(P)CHA
5060089252191
£12.99
37 g
15 x 75cm
Kids Personalised Football Scarf
Medium (100cm x 20cm) Champions Theme - Purple Fleece Fabric (Personalised with Text)
FGFAN004(R100x20)FLE-PUR(P)CHA
5060089252191
£17.99
62 g
20 x 100cm
Kids Personalised Football Scarf
Small (75cm x 15cm) Champions Theme - Red Fleece Fabric (Personalised with Text)
FGFAN004(R75x15)FLE-RED(P)CHA
5060089252191
£12.99
37 g
15 x 75cm
Kids Personalised Football Scarf
Medium (100cm x 20cm) Champions Theme - Red Fleece Fabric (Personalised with Text)
FGFAN004(R100x20)FLE-RED(P)CHA
5060089252191
£17.99
62 g
20 x 100cm
Kids Personalised Football Scarf
Small (75cm x 15cm) Champions Theme - White Fleece Fabric (Personalised with Text)
FGFAN004(R75x15)FLE-WHI(P)CHA
5060089252191
£12.99
37 g
15 x 75cm
Kids Personalised Football Scarf
Medium (100cm x 20cm) Champions Theme - White Fleece Fabric (Personalised with Text)
FGFAN004(R100x20)FLE-WHI(P)CHA
5060089252191
£17.99
62 g
20 x 100cm
Kids Personalised Football Scarf
Small (75cm x 15cm) We Are No.1 Theme - Royal Blue Fleece Fabric (Personalised with Text)
FGFAN004(R75x15)FLE-BRO(P)NO1
5060089252191
£12.99
37 g
15 x 75cm
Kids Personalised Football Scarf
Medium (100cm x 20cm) We Are No.1 Theme - Royal Blue Fleece Fabric (Personalised with Text)
FGFAN004(R100x20)FLE-BRO(P)NO1
5060089252191
£17.99
62 g
20 x 100cm
Kids Personalised Football Scarf
Small (75cm x 15cm) We Are No.1 Theme - Black Fleece Fabric (Personalised with Text)
FGFAN004(R75x15)FLE-BLA(P)NO1
5060089252191
£12.99
37 g
15 x 75cm
Kids Personalised Football Scarf
Medium (100cm x 20cm) We Are No.1 Theme - Black Fleece Fabric (Personalised with Text)
FGFAN004(R100x20)FLE-BLA(P)NO1
5060089252191
£17.99
62 g
20 x 100cm
Kids Personalised Football Scarf
Small (75cm x 15cm) We Are No.1 Theme - Dark Green Fleece Fabric (Personalised with Text)
FGFAN004(R75x15)FLE-GDA(P)NO1
5060089252191
£12.99
37 g
15 x 75cm
Kids Personalised Football Scarf
Medium (100cm x 20cm) We Are No.1 Theme - Dark Green Fleece Fabric (Personalised with Text)
FGFAN004(R100x20)FLE-GDA(P)NO1
5060089252191
£17.99
62 g
20 x 100cm
Kids Personalised Football Scarf
Small (75cm x 15cm) We Are No.1 Theme - Grey Fleece Fabric (Personalised with Text)
FGFAN004(R75x15)FLE-GRA(P)NO1
5060089252191
£12.99
37 g
15 x 75cm
Kids Personalised Football Scarf
Medium (100cm x 20cm) We Are No.1 Theme - Grey Fleece Fabric (Personalised with Text)
FGFAN004(R100x20)FLE-GRA(P)NO1
5060089252191
£17.99
62 g
20 x 100cm
Kids Personalised Football Scarf
Small (75cm x 15cm) We Are No.1 Theme - Navy Blue Fleece Fabric (Personalised with Text)
FGFAN004(R75x15)FLE-BNA(P)NO1
5060089252191
£12.99
37 g
15 x 75cm
Kids Personalised Football Scarf
Medium (100cm x 20cm) We Are No.1 Theme - Navy Blue Fleece Fabric (Personalised with Text)
FGFAN004(R100x20)FLE-BNA(P)NO1
5060089252191
£17.99
62 g
20 x 100cm
Kids Personalised Football Scarf
Small (75cm x 15cm) We Are No.1 Theme - Burnt Orange Fleece Fabric (Personalised with Text)
FGFAN004(R75x15)FLE-ORA(P)NO1
5060089252191
£12.99
37 g
15 x 75cm
Kids Personalised Football Scarf
Medium (100cm x 20cm) We Are No.1 Theme - Burnt Orange Fleece Fabric (Personalised with Text)
FGFAN004(R100x20)FLE-ORA(P)NO1
5060089252191
£17.99
62 g
20 x 100cm
Kids Personalised Football Scarf
Small (75cm x 15cm) We Are No.1 Theme - Yellow Fleece Fabric (Personalised with Text)
FGFAN004(R75x15)FLE-YEL(P)NO1
5060089252191
£12.99
37 g
15 x 75cm
Kids Personalised Football Scarf
Medium (100cm x 20cm) We Are No.1 Theme - Yellow Fleece Fabric (Personalised with Text)
FGFAN004(R100x20)FLE-YEL(P)NO1
5060089252191
£17.99
62 g
20 x 100cm
Kids Personalised Football Scarf
Small (75cm x 15cm) We Are No.1 Theme - Hot Pink (Fuchsia) Fleece Fabric (Personalised with Text)
FGFAN004(R75x15)FLE-PFU(P)NO1
5060089252191
£12.99
37 g
15 x 75cm
Kids Personalised Football Scarf
Medium (100cm x 20cm) We Are No.1 Theme - Hot Pink (Fuchsia) Fleece Fabric (Personalised with Text)
FGFAN004(R100x20)FLE-PFU(P)NO1
5060089252191
£17.99
62 g
20 x 100cm
Kids Personalised Football Scarf
Small (75cm x 15cm) We Are No.1 Theme - Purple Fleece Fabric (Personalised with Text)
FGFAN004(R75x15)FLE-PUR(P)NO1
5060089252191
£12.99
37 g
15 x 75cm
Kids Personalised Football Scarf
Medium (100cm x 20cm) We Are No.1 Theme - Purple Fleece Fabric (Personalised with Text)
FGFAN004(R100x20)FLE-PUR(P)NO1
5060089252191
£17.99
62 g
20 x 100cm
Kids Personalised Football Scarf
Small (75cm x 15cm) We Are No.1 Theme - Red Fleece Fabric (Personalised with Text)
FGFAN004(R75x15)FLE-RED(P)NO1
5060089252191
£12.99
37 g
15 x 75cm
Kids Personalised Football Scarf
Medium (100cm x 20cm) We Are No.1 Theme - Red Fleece Fabric (Personalised with Text)
FGFAN004(R100x20)FLE-RED(P)NO1
5060089252191
£17.99
62 g
20 x 100cm
Kids Personalised Football Scarf
Small (75cm x 15cm) We Are No.1 Theme - White Fleece Fabric (Personalised with Text)
FGFAN004(R75x15)FLE-WHI(P)NO1
5060089252191
£12.99
37 g
15 x 75cm
Kids Personalised Football Scarf
Medium (100cm x 20cm) We Are No.1 Theme - White Fleece Fabric (Personalised with Text)
FGFAN004(R100x20)FLE-WHI(P)NO1
5060089252191
£17.99
62 g
20 x 100cm
Kids Personalised Football Scarf