2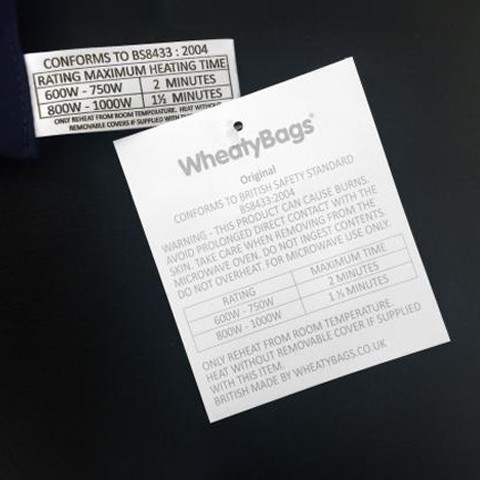 "Stay Warm - Stay Safe Wheat Bags"
The safety of our customers using WheatyBags is absolutely paramount and, as a reputable manufacturer of microwave heat packs, our products are independently safety tested to ensure that they are compliant with British Safety Standard BS8433.
This standard is unfortunately not a legal requirement in the UK and as such, there has been a proliferation of negative press surrounding wheat bags and this is where "Stay Warm - Stay Safe" comes into play.
Clear Prospects Ltd are launching a year-long campaign to educate the public on the safe and proper usage of microwave heat packs and to let the world know something that our customers have known for years... Wheat bags are safe.
FOR IMMEDIATE RELEASE 23rd February 2015
"Stay Warm – Stay Safe."
Today, Clear Prospects Ltd announces the launch of "Stay Warm – Stay Safe" – a campaign created to provide education on the safe use and correct heating of wheat bag microwave heat packs.
Astonishingly there is no known legal requirement in the UK for safety testing and the clear labelling of wheat bags and the boom in their use as alternatives to traditional hot water bottles and a way to save money on fuel bills has led many manufacturers to launch heat packs into the market without regard to consumer safety.
There is a voluntary safety standard in place and microwave heat packs currently reside in an industry that is unregulated so it's important to buy from a manufacturer whose products are compliant with BS8433 and that consumers follow the heating instructions provided.
BS8433 is a British Standard that will force a manufacture to rigorously test their products, provide heating instructions that are clear and easy to use and borne out of the heat testing exercise rather than estimated, are easy to read by defined font sizes so everyone can read the instructions and most importantly require the labels to be sewn into the product itself as well as an easy to read swing tag.
Recent news reports regarding the dangers of wheat bags can be disconcerting but more importantly, misleading. Millions of owners reap the therapeutic benefits of wheat bags on a daily basis and do so in a safe and effective manner and recent proliferation of negative news reports surrounding wheat bags should not discourage potential buyers. Such accidents could have been easily prevented if the owners had followed the manufacturers' guidelines and if the instructions had followed the British Standard.
Stay Warm – Stay Safe will be a year-long campaign of releases to educate consumers on the importance of proper wheat bag usage and what to look for if you're a potential consumer looking to purchase one. In addition, we will provide clear guidance on how the testing and heating instructions are created. Guidance will also be provided on the danger signs of products made by less reputable suppliers, seen and sold on Amazon and other such web sites available as an outlet to home-manufacturers.
Some immediate tips from Clear Prospects Ltd would be:
Only buy from a reputable manufacturer, preferably in the UK and ones that supply their name and address on all correspondence including their web site.
Only buy a wheat bag that is BS8433 British Safety Standards compliant.
Follow the instructions very carefully and do not use heat bags without instructions.
Only reheat your wheat bag from room temperature and never while still warm.
Never fold your bag in half when heating.
Avoid food contamination from your microwave as this can create hotspots.
Ensure your microwave turntable can rotate freely when heating.
Michael Robinson, Director of Clear Prospects Ltd – a leading manufacturer of microwave wheat bags said, "The long term goal is to ensure that compliancy with British Safety Standards becomes mandatory for all manufacturers, but until then, we will continue to educate the public on how effective and safe heat packs can be when used properly". Stay Warm – Stay Safe will provide the public with a set of easy-to-follow guidelines to ensure safe wheat bag usage.