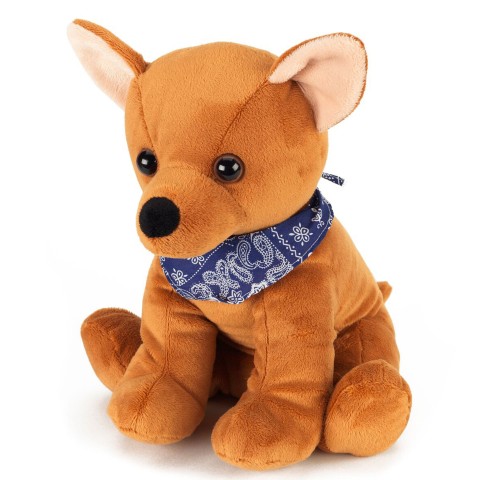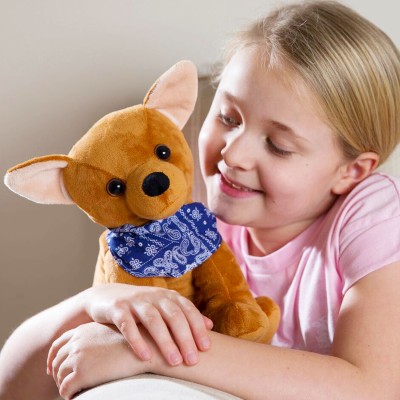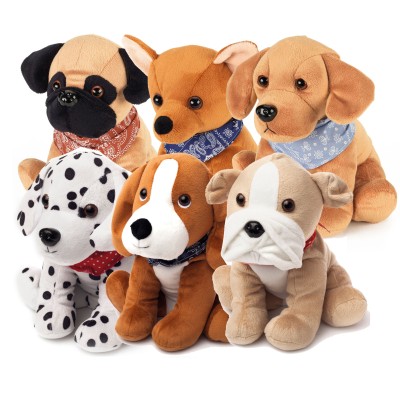 Warmies Heatable Soft Toy Pets Microwave Heat Packs
Description
Lovely cute Cozy Pets are an adorable gifts for any dog lover available in a range of popular designs and made from superior quality soft fur material.
Heatable toys.
Cute pet designs.
Safety tested and approved.
Detachable bandana.
Warm in the microwave.
These cute adorable Cozy Pets are an ideal microwave heatable toy for any dog lover.
Manufactured in high quality soft fur material and finished with a detachable bandana, these microwave heat pack toys are irresistible and sure to be loved by anyone this season.
Reviews
Well made and very cute
- Bought this for my daughter who loves the comfort from a warm wheat bag. It looks very well made, lovely plush material and I know she will love it.
By MrsB (Apr 2018)
Brilliant
- Both my boys love these. They are beautifully made and arrived promptly. I could not have asked for better.
By Anne (Jan 2018)
Great quality, v cute
- My 3yo loves her dalmatian dog. He has a very good surface fabric, softer than the picture looks. great for not getting too dirty and easy to wipe clean if needed.
By Alison H (Nov 2017)
Good product
- Bought as a Christmas present. Very happy with purchase. Not tried them out yet
By Rebecca (Nov 2017)
Pug cushion wheat bag for my 5yr old
- We have a Pug that my daughter adores. Was looking for some sort of teddy Pug and came across this. She loves it. Very good quality, soft material for cuddling
By Llou11 (Feb 2016)
Excellent quality and service.
- Delighted with my wheaty bottles,excellent quality and value,friendly helpful service.
By Sheena (Dec 2015)
Instructions
This product is safety tested by the manufacturer and has important heating instructions attached to the product when we send it to you.
Please refer to the manufacturers heating instructions provided with your product.
Please retain the heating instructions and follow them very carefully.
FAQs
Do these microwave toys come with lavender?
Yes. Each heat pack comes with lavender as standard and there is no option to remove it.
What are the contents inside the heat pack?
Each supplier uses their own content and each may vary.  Typically a toy heat pack may be filled with wheat, millet, other seeds or even silica so if this is important to you to know in advance, please select the toy you are interested in and contact us to ask for the precise contents before placing your order. Each item will be clearly labelled on each product.
Can I wash the heat pack toy?
Each manufacturer we use for the toy heat pack have their own special instructions that will come supplied with your product.  As a guide all the heat packs can be sponge cleaned with a damp sponge being careful not to get the contents wet, though some of our suppliers allow machine washing.
What are the covers made from?
Typically all heat pack toys are made from polyester though please look at the labelling that will be supplied with your product to be sure.  If you have any concerns or want to know for sure in advance of your purchase please contact us before placing your order.
How long do I heat the product for?
Please refer to the manufacturers instructions that will be clearly labelled on the product you purchase.
Do you offer size and colour options on these products?
All options are shown to you when ordering the product.  If non are shown then all information you may need about the size and colours will be shown in the description text on our web site or images shown otherwise, there will be no options to select from.
Are these heat packs suitable for toddlers?
The manufacturer of these items says that they should not be used by children under the age of 3 years at the time of writing.  Adult supervision should always be given when in use with children.
Shipping
The information below is for guidance. Actual delivery costs and dates depend on the delivery address, weight and time your order is placed. Cut-off time for Overnight Orders is 12 noon.
| Price | Method | Manufacture Time | Delivery Time | Est. Delivery Date |
| --- | --- | --- | --- | --- |
| £2.95 | Royal Mail - 2nd Class | 1-2 Days | 2-4 Days | Tue 24 Sep - Fri 27 Sep |
| £4.96 | Royal Mail - 1st Class | 1-2 Days | 1-3 Days | Mon 23 Sep - Thu 26 Sep |
| £10.16 | Courier - Economy (M-F Pre 6pm) | 1-2 Days | 2-3 Days | Tue 24 Sep - Thu 26 Sep |
| £12.95 | Courier - Overnight (M-F Pre 6pm) | 1-2 Days | 1-2 Days | Mon 23 Sep - Wed 25 Sep |
| £12.95 | Royal Mail - Special Delivery (Pre 1pm) | Monday | Next Working Day | Mon 23 Sep |
| £14.95 | Royal Mail - Special Delivery (Saturday Pre 1pm) | Monday | This Saturday | Sat 21 Sep |
| £24.95 | Courier - Economy (M-F Pre 6pm) | 1-2 Days | 2-4 Days | Tue 24 Sep - Fri 27 Sep |
| £24.95 | Royal Mail - Special Delivery (Pre 9am) | Monday | Next Working Day | Mon 23 Sep |
| £29.95 | Royal Mail - Special Delivery (Saturday Pre 9am) | Monday | This Saturday | Sat 21 Sep |
More Information
| | |
| --- | --- |
| Availability | Available to Order |
| Despatch | Priority 1-2 Days (Overnight Delivery Available) |
| Brand | Warmies (Intelex) |
| RRP | £12.95 |
| Filling | Millet Seed |
| Weight | 863 g |
| Country of Origin | China |
| SKU | FGCOZ |
| Tariff Code | n/a |
| Tariff Description | Heat Pack - Toys |
Warmies Heatable Soft Toy Pets Microwave Heat Packs