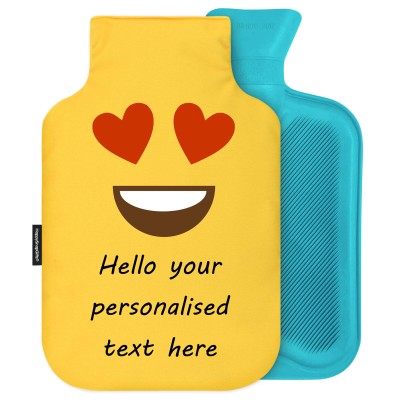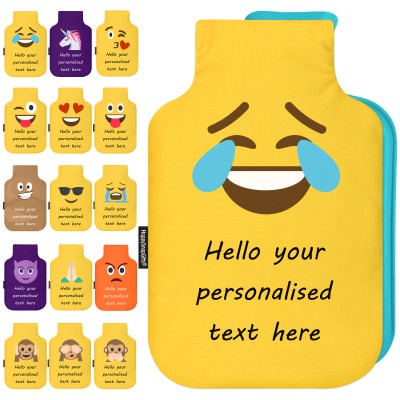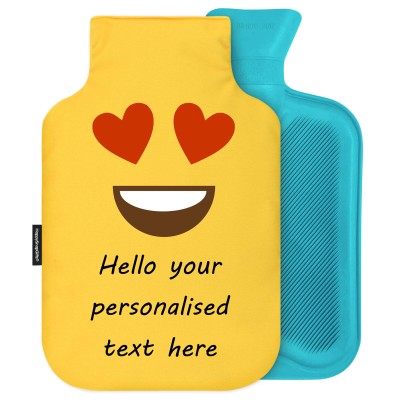 Personalised Hot Water Bottle (Smiley Face)
BS1970
Description
Personalised Hot Water Bottle Smiley Face Covers with Emoticon Gift Design by WheatyBags® features your favourite emoticon, can be personalised with a message or phrase of your choice, and come with a free rubber hot water bottle.
Personalised hot water bottle cover.
Approved Emoticon design.
Free safety approved rubber hot water bottle.
2 Litre Rubber bottle size.
UK Made with mock-suede photo fabric.
Trusted WheatyBags® brand.
Personalised UK Made Smiley Face Hot Water Bottle Covers come with a Free Hot Water Bottle available (2 litre size), featuring one of a wide range of emoticons and with the option of adding your own personalised message these UK made smiley face hot water bottle covers make an excellent gift for any occasion.
Personalised emoticon gifts are a great and thoughtful way to treat a loved one on a special day, so choose from our wide range of designs and tell someone how you really feel, share an inside joke or simply add their name to their new hot water bottle cover. Your personalised text will be printed to the front of the cover to really make your message stand out. The emoticons availabe to choose from include:
Happy Poo.
Smiley Face.
Kissing Face.
Winking Face.
Laughing Face.
Devil Face.
Angry Face.
Heart-Shaped Eyes.
Sunglasses.
Crying.
Unicorn.
Praying Hands.
Hear No Evil Monkey.
See No Evil Monkey.
Speak No Evil Monkey.
Your customised emoticon gift will be printed using state of the art processes onto a luxury mock suede photo fabric ensuring premium results and quality every time. Each hot water bottle cover is manufactured with a super soft-touch fleece backing for added luxury and warmth when cuddling up on a cold night. With every cover purchased you will receive a free rubber hot water bottle.
Reviews
Really Nice!!
- Thank you so much! It came and it was the exact product that it described. The feel was nice and soft and the bottle was good quality! (Micky Mouse 613, 22/02/22)
Apology gift
- Worked a treat as I was forgiven with the kiss emoji. Allowed me to write my message on it. Rubber ribbed hot water bottle with a fleece cover. (Joshua, 28/02/20)
Great Quality
- Got the laughing emoji one for my neice and she loves it, adds another layer to her hot water bottle and helps shield the heat, delivery was very fast as well. (Bill G, 28/02/20)
Funny and Practical
- Keeps me warm and looks great, I love it. (Monica Keys, 28/02/20)
Secret Santa
- This made a great secret santa present for a co-worker personalised with a reference to an inside joke. (Natalie , 27/02/20)
hot water bottle cover
- Gift for a friend she loved it and found it comfortable- it was value for money. Good quality hot water bottle too and fleece (Jamal, 27/02/20)
My emoji hot water bottle is great
- I wanted a yellow hot water bottle cover, so when I saw this emoji cover with a 2 litre bottle I bought it immediately. My crying with laughter emoji design hot water bottle is now my favourite thing! (Priyesh, 27/02/20)
LOL'd at this hot water bottle emoji gift
- We all LOL'd when I bought one for each of the family and we now have all 4 of us using hot water bottles with emoji personalised covers on watching tv each night together. (LOL, 26/02/20)
Cute
- Lovely gift for kids, they will be delighted! (Kerri)
Superb Personalised Gift For My Daughter
- I bought this lovely emoji hot water bottle cover for my daughter as a part of her birthday surprise. She is always using emoticons in her texts so I thought this would go down a treat, and I was not wrong. I opted for the crying with laughter emoji and personalised the hot water bottle cover with a happy birthday message, my daughter was absolutely thrilled. The quality of the cover and rubber bottle are amazing and I will definitely be using this company again. (Leslie Pierce)
Instructions
Please refer to the manufacturer's instruction card that is attached to your product for your own safety. At the time of writing, the instructions supplied are as follows:
INSTRUCTIONS FOR USE (MUST BE CARRIED OUT BY AN ADULT)
FOR MAXIMUM SAFETY AND HOT WATER BOTTLE LIFE, PLEASE OBSERVE THE FOLLOWING INSTRUCTIONS AND WARNINGS BEFORE USE.
This hot water bottle is manufactured to the specification os British Standard 1970:2012 from natural rubber.
When filling this hot water bottle, do not use boiling water and fill to a maximum of two thirds capacity or less. Do not overfill as this may cause the bottle to burst.
Hold the bottle by the neck in an upright position and fill slowly to avoid hot water splashing back.
Expel air from the bottle by lowering it carefully onto a flat surface until water appears at the opening.
Screw the stopper sufficiently tight to ensure that there is no leakage, finger tight should be adequate. Finally, make sure the funnel is empty.
If there is a possibility that prolonged contact with the skin could occur, an adequate cover should be used to prevent burns.
Under no circumstances should the hot water bottle be used as a cushion and be sat on.
Do not fill from water from the domestic hot water system as this can considerably shorten the life of the hot water bottle.
Prevent the bottle from contact with hot surfaces.
Prevent contact with oil and grease.
Check the bottle and stopper for wear and damage prior to use.
When not in use, drain completely and store with the stopper removed in a cool dry dark place. Prevent exposure to sunlight. Do not place anything on top of the bottle during storage.
Always ensure the water bottle is not too hot before giving to a child.
Always use under adult supervision.
WARNING
Carefully inspect the entire bottle and stopper before the first use and before each subsequant use. Disgard immediately if signs of water damage or defects are found.
WARNING - HOT WATER BOTTLES CAN CAUSE BURNS. AVOID PROLONGED DIRECT CONTACT WITH THE SKIN.
Removable Covers: If you purchase this Product with the option for "Removable Cover" for cleaning, the outer removable cover will be supplied in the fabric and colour of your choice. The inner pack will be manufactured from a fabric and colour of our choice depending on supplies available at the time of manufacture (usually our natural value cotton fabric depending on the product).
Do not wash or get the inner wheat or other filled heat packs wet.
CARELESSNESS CAUSES FIRE.
Do not wash or get the inner wheat or other filled heat packs wet.
For 100% Cotton, 100% Polycotton & 100% Polyester Fabrics (eg Fleece) Removable Covers.
Remove the outer cover before carefully cleaning the outer cover only.
Only warm hand or machine wash and cold rinse the removable cover.
Wash with like colours max. 40 degree temperature.
For best results, lay flat on a suitable surface to air-dry.
Do not bleach.
1 spot iron (Cotton / Fleece) or 2 spot iron (Polycotton).
Do not tumble dry.
FAQs
Do you have any more Smiley Faces I can use on this product?
Yes. Let us know which smiley face you want on your emoji gift and we will see if we can find a licensed version and add it to our range.
Are these Smiley Face Gifts officially licensed?
Yes. We are licensed to use a vast set of Smiley Faces on our gifts that you will see on our website. There are literally thousands of Smiley Faces we can use but can't show them all on our website.
What is a "Sanger" Hot Water Bottle?
Sanger is a premium manufacturer of rubber hot water bottles and the bottles meet the TUV, BS 1970:2012 and EN71 requirements. When you receive your Sanger hot water bottle you will know the difference in just how luxurious and 'thick' the rubber feels. This is the premium brand we prefer if you are buying a hot water bottle when you have a choice of brand.
What is a "Generic" Hot Water Bottle?
Targeted to give you a value product but one that still is safe and meets the required testing standards, our generic brand bottles will be available from a variety of manufacturing sources and are available from mixed colours of stock available at the time. If you prefer to know which colour your are getting with your bottle, choose one where we present a colour option at checkout.
Can I personalise the hot water bottle covers with a name?
Yes. Our hot water bottle covers can be personalised if the Personalise this Product button is shown as a selection.
What size are these covers?
Size information is supplied in the Product Information and where appropriate, we may also offer Size Options to choose from. Where no size option is shown, the covers are a generic 2 litre size appropriate for our own supplied (and possibly other) rubber hot water bottles.
What age do you suggest these covers may be suitable for?
The covers are suitable for all ages however please refer to the Instructions details we supply if you are purchasing a rubber hot water bottle to match these covers for special safety information on users of different ages.
Delivery
The information below is for guidance. Actual delivery costs and dates depend on the delivery address, weight and time your order is placed. Cut-off time for Overnight Orders is 12 noon.
| Price | Method | Manufacture Time | Delivery Time | Est. Delivery Date |
| --- | --- | --- | --- | --- |
| £4.99 | 2nd Class (Tracked) | 0-3 Days | 2-3 Days | Mon 11 Dec - Fri 15 Dec |
| £6.99 | 1st Class (Tracked) | 0-3 Days | 1-2 Days | Fri 8 Dec - Thu 14 Dec |
| £10.99 | Royal Mail (Special Delivery Overnight Mon-Sat Pre 1pm) | Today | Next Day (Mon-Sat) | Fri 8 Dec |
| £13.12 | DHL Courier (Economy M-F Pre 6pm) | 0-3 Days | 2-3 Days | Mon 11 Dec - Fri 15 Dec |
More Information
| | |
| --- | --- |
| Despatch | 0-3 Days (to Personalise) or Upgrade at Checkout for Overnight Delivery |
| Brand | HappySnapGifts® |
| Filling | Water |
| Country of Origin | United Kingdom |
| SKU | FGHOT008PSVMLEEMO-(RC)(P) |
| Gtin | 5060089254935 |
| Tariff Code | 3924900090 |
| Tariff Description | Plastics and articles thereof; rubber and articles thereof |
| Product Weight | 425 g |
| Product Dimensions | 34 x 22.5 x 2cm |
Product Options
Size & Colour
2 Litre (Random Coloured Bottle)
Fabric
Soft Velvet Polyester
Print Theme
Emoji Theme
Character Choice
Love Heart Eyes, Happy Poo, Crying with Laughter, Angry Face, Crying, Kiss with a Wink, Monkey Hear no Evil, Monkey See no Evil, Monkey Speak no Evil, Praying Hands, Purple Devil, Sunglasses, Tongue Out, Tongue with a Wink, Unicorn
Removable Cover (Click to Select)
+ Free Removable Cover
Product Type
Hot Water Bottles
Personalised Gifts > Smiley Face Gifts
Hot Water Bottle Cover
Kids Hot Water Bottle
Personalised Hot Water Bottles

Personalised Hot Water Bottle (Smiley Face)
- 2 Litre (Random Coloured Bottle) - Happy Poo Soft Velvet Polyester Fabric Removable Cover (Personalised with Text)
FGHOT015PSVHAPEMO-(RC)(P)
5056656324804
£19.99
458 g
34 x 22.5 x 2cm
Personalised Hot Water Bottle (Smiley Face)
- 2 Litre (Random Coloured Bottle) - Crying with Laughter Soft Velvet Polyester Fabric Removable Cover (Personalised with Text)
FGHOT015PSVCWLEMO-(RC)(P)
5056656324842
£19.99
458 g
34 x 22.5 x 2cm
Personalised Hot Water Bottle (Smiley Face)
- 2 Litre (Random Coloured Bottle) - Angry Face Soft Velvet Polyester Fabric Removable Cover (Personalised with Text)
FGHOT015PSVANGEMO-(RC)(P)
5056656324897
£19.99
458 g
34 x 22.5 x 2cm
Personalised Hot Water Bottle (Smiley Face)
- 2 Litre (Random Coloured Bottle) - Crying Soft Velvet Polyester Fabric Removable Cover (Personalised with Text)
FGHOT015PSVCRYEMO-(RC)(P)
5056656324941
£19.99
458 g
34 x 22.5 x 2cm
Personalised Hot Water Bottle (Smiley Face)
- 2 Litre (Random Coloured Bottle) - Kiss with a Wink Soft Velvet Polyester Fabric Removable Cover (Personalised with Text)
FGHOT015PSVKIWEMO-(RC)(P)
5056656324996
£19.99
458 g
34 x 22.5 x 2cm
Personalised Hot Water Bottle (Smiley Face)
- 2 Litre (Random Coloured Bottle) - Love Heart Eyes Soft Velvet Polyester Fabric Removable Cover (Personalised with Text)
FGHOT015PSVMLEEMO-(RC)(P)
5056656325030
£19.99
458 g
34 x 22.5 x 2cm
Personalised Hot Water Bottle (Smiley Face)
- 2 Litre (Random Coloured Bottle) - Hear no Evil Monkey Soft Velvet Polyester Fabric Removable Cover (Personalised with Text)
FGHOT015PSVMHEEMO-(RC)(P)
5056656325078
£19.99
458 g
34 x 22.5 x 2cm
Personalised Hot Water Bottle (Smiley Face)
- 2 Litre (Random Coloured Bottle) - See no Evil Monkey Soft Velvet Polyester Fabric Removable Cover (Personalised with Text)
FGHOT015PSVMSEEMO-(RC)(P)
5056656325108
£19.99
458 g
34 x 22.5 x 2cm
Personalised Hot Water Bottle (Smiley Face)
- 2 Litre (Random Coloured Bottle) - Speak no Evil Monkey Soft Velvet Polyester Fabric Removable Cover (Personalised with Text)
FGHOT015PSVMSPEMO-(RC)(P)
5056656325146
£19.99
458 g
34 x 22.5 x 2cm
Personalised Hot Water Bottle (Smiley Face)
- 2 Litre (Random Coloured Bottle) - Praying Hands Soft Velvet Polyester Fabric Removable Cover (Personalised with Text)
FGHOT015PSVPRHEMO-(RC)(P)
5056656324743
£19.99
458 g
34 x 22.5 x 2cm
Personalised Hot Water Bottle (Smiley Face)
- 2 Litre (Random Coloured Bottle) - Purple Devil Soft Velvet Polyester Fabric Removable Cover (Personalised with Text)
FGHOT015PSVPDEEMO-(RC)(P)
5056656324781
£19.99
458 g
34 x 22.5 x 2cm
Personalised Hot Water Bottle (Smiley Face)
- 2 Litre (Random Coloured Bottle) - Sunglasses Soft Velvet Polyester Fabric Removable Cover (Personalised with Text)
FGHOT015PSVSUNEMO-(RC)(P)
5056656324828
£19.99
458 g
34 x 22.5 x 2cm
Personalised Hot Water Bottle (Smiley Face)
- 2 Litre (Random Coloured Bottle) - Tongue Out Soft Velvet Polyester Fabric Removable Cover (Personalised with Text)
FGHOT015PSVTOOEMO-(RC)(P)
5056656324866
£19.99
458 g
34 x 22.5 x 2cm
Personalised Hot Water Bottle (Smiley Face)
- 2 Litre (Random Coloured Bottle) - Tongue with a Wink Soft Velvet Polyester Fabric Removable Cover (Personalised with Text)
FGHOT015PSVTOWEMO-(RC)(P)
5056656324910
£19.99
458 g
34 x 22.5 x 2cm
Personalised Hot Water Bottle (Smiley Face)
- 2 Litre (Random Coloured Bottle) - Unicorn Soft Velvet Polyester Fabric Removable Cover (Personalised with Text)
FGHOT015PSVUNIEMO-(RC)(P)
5056656324965
£19.99
458 g
34 x 22.5 x 2cm
Personalised Hot Water Bottle (Smiley Face)